Courtesy Photo
Sammy Kingsley at the Ronald McDonald House in Burlington
It's a parent's worst nightmare: learning that your child has cancer.
When Shondra and Ryan Kingsley got the call that their 3-year-old son, Sammy, had leukemia, they rushed him to the hospital near their home in Brushton, N.Y. But the care he needed was three hours away, at the University of Vermont's Children's Hospital.
Figuring out where to stay while Sammy got treatment was the last thing Shondra and Ryan wanted to think about. Fortunately, they didn't have to: The staff at the Children's Hospital referred them to Burlington's Ronald McDonald House, located barely a mile away, at the corner of Pearl Street and South Winooski Avenue.
The couple stayed there that first weekend. Then Ryan went home to work and be with Sammy's three older siblings. Shondra remained with their son, sleeping at the Ronald McDonald House downtown or at the organization's Family Room at the hospital. On the weekends, Ryan and the other kids sometimes joined Shondra in the stately brick house, where staff and volunteers provided their meals.
While they were in Burlington, the Kingsleys got to focus on what was most important: spending time with Sammy.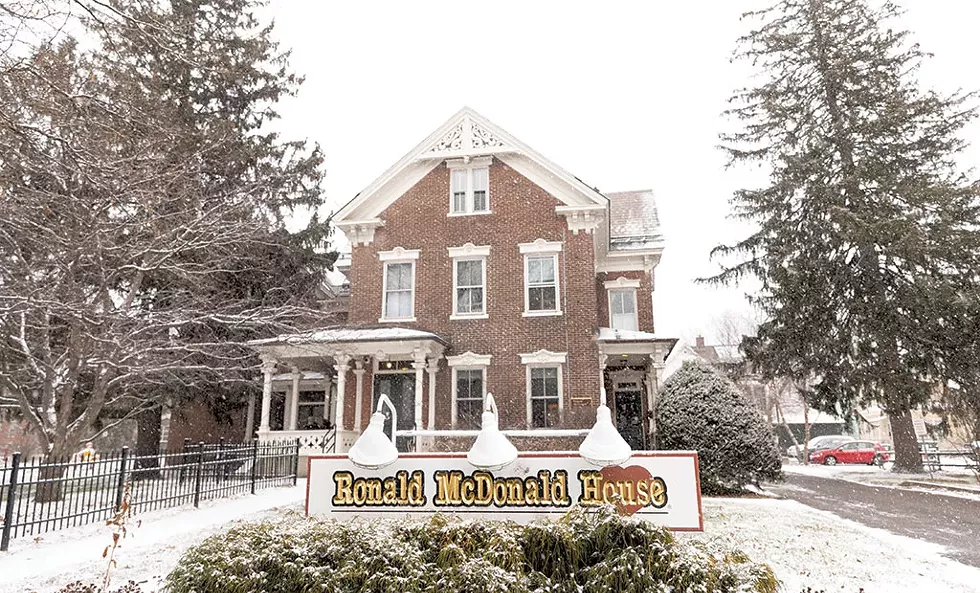 Cat Cutillo
Burlington's Ronald McDonald House
Their story is not unique. The Kingsleys are one of millions of families around the world who benefit from Ronald McDonald Houses each year. The organization runs more than 675 programs that support families of children experiencing medical crises.
Despite its name, the organization is not part of the McDonald's fast-food chain; it was founded in 1974 in partnership with McDonald's, and it collects donations at McDonald's restaurants. Last year, customers donated more than $126 million.
Burlington's Ronald McDonald House opened in 1984 in the former parsonage of the First Congregational Church. It features 12 private bedrooms, including four suites with private bathrooms.
Families staying there are encouraged to make themselves at home. They have access to the lovingly decorated living room, dining room, playroom and kitchen, with home-cooked meals every night. They can even come down in their pajamas and make coffee in the morning. And though they can't bring their own pets, they can cuddle with the house dog, an Australian labradoodle named Mike.
Cat Cutillo
Kristine Bickford, the executive director of Burlington's Ronald McDonald House, with Mike
The two full-time employees and three part-timers deck the halls for the holidays, making it feel as homey as possible — "like a nice grandmother's house," says executive director Kristine Bickford. "It's beautiful. It's home."
To be eligible to stay at Burlington's Ronald McDonald House, families must live outside of Chittenden County and have an ill or injured child age 21 or younger who's receiving care at the hospital; medical professionals there give referrals. The patients range from women with high-risk pregnancies and infants in the neonatal intensive care unit to college students from nearby schools such as UVM and Champlain College. Many of the families hail from rural Vermont or, like the Kingsleys, northern New York. But the house has logged visitors from 39 states and several foreign countries.
Some stay for just a few nights; some move in for months. If they arrive following an accident or a sudden illness, they might not have much time to prepare, Bickford says: "Sometimes they don't have a change of clothes. They just come here."
Housing a family costs roughly $100 a night. The organization doesn't require that anyone pay, though it accepts donations; the suggested amount is just $10 a night. No one is turned away.
"It doesn't matter if you have money or if you don't have money. You can come," Bickford says.
She's helmed the organization for seven years, the last two during a pandemic. In normal times, her staff relies on volunteers to help cook for guests and check them in, but they've had to restrict volunteer access because of COVID-19.
An innkeeper lives on-site, so the house is staffed 24-7, but when he's not available, "I come in and I sleep here," Bickford says.
Cat Cutillo
The kitchen
The pandemic has forced the cancellation of many of the house's fundraisers, but one big, bright opportunity has arisen. In the summer, the organization announced a $2.5 million capital campaign to buy its building — the church was ready to sell the property.
By December, the campaign had nearly met its goal, raising $2.1 million from local and regional donors, including owners of McDonald's franchises.
That's great news for families such as the Kingsleys, who will always have a place to stay where they can enjoy meals on the porch and play on the playground. It's a place that's within easy walking distance of the Church Street Marketplace and close to the Burlington waterfront.
The Kingsleys' story is part of a booklet that the organization made for the capital campaign. It explains that, during their time at the house, they came to think of the staff and volunteers as their "Vermont family."
Sammy is now 6 and is thriving as a cancer survivor. Burlington's Ronald McDonald House played a powerful role in his recovery.
Though its occupants are often enduring challenging times, the house is not a sad place, Bickford says: "This house is filled with hope and love."
Fast Facts
Cat Cutillo
The living room
Ronald McDonald Houses serve families of ill or injured children. The Burlington house is open to families of patients receiving treatment at the University of Vermont Children's Hospital.
The McDonald's company doesn't fund Ronald McDonald Houses directly. The programs benefit from money donated by customers at McDonald's restaurants. Many franchise owners and operators donate to and volunteer with the charity.
Burlington's Ronald McDonald House is seeking donations to help it purchase its building. Learn more about making a contribution at rmhcvt.org.
Mike, an Australian labradoodle, lives at Burlington's Ronald McDonald House. According to the staff, the certified therapy dog possesses the innate ability to sense family members who are hurting but holding in their emotions. Mike heads right to them, offering comfort, distraction and hope.
This article was commissioned and paid for by Pomerleau Real Estate.