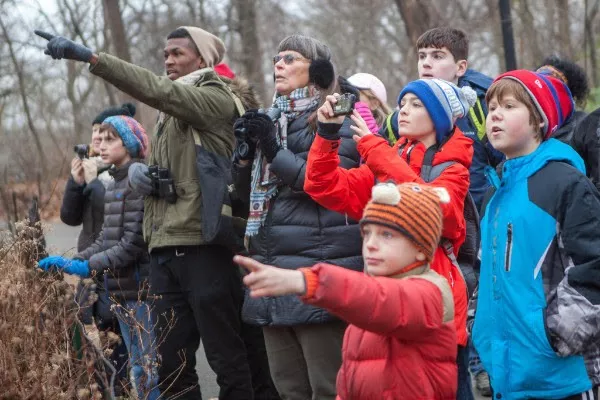 Camilla Cerea/National Audubon Society
Christmas Bird Count
Kids get a chance to practice more than just math skills during the National Audubon Society's annual Christmas Bird Count, taking place across Vermont between December 14 and January 5. The information they collect will help ornithologists and conservation biologists track the health of bird populations.
Vermonters will join more than 70,000 bird counters at more than 2,400 sites across the Western Hemisphere as part of the 118th annual event. The practice started in 1900 on Christmas Day, as an alternative to the traditional Christmas "side hunt," in which hunters would divide into teams to see which one could kill the most birds and animals. Ornithologist and Audubon Society officer Frank M. Chapman proposed a "Christmas Bird Census" to count birds instead of hunting them. The census is now the nation's longest running citizen science bird project. Citizen science, says the
Cornell Lab of Ornithology
, is when "volunteers partner with scientists to answer real-world questions."
Each bird count is conducted in a circle with a diameter of 15 miles. At least 10 volunteers break into small groups and count every bird they see along an assigned route or at a bird feeder.
Interested families can find contact information for Vermont's 23 bird count sites
here
. In mid-February, the
Great Backyard Bird Count
gives avian enthusiasts another opportunity to count birds, this time on their own property.

Learn more about Audubon Vermont at vt.audubon.org.