Jeb Wallace-Brodeur
The Statehouse during peak foliage
L
ooking for a day trip that combines outdoor recreation with COVID-safe shopping, delicious food and drink, a side of history
and
small-town charm? Try Montpelier.
With a population of about 7,500, Montpelier is the nation's smallest state capital. If you haven't been there since your fourth-grade field trip, this fall is the time to return. The pandemic may have shut down the Statehouse, but it's opened up new outdoor dining options — and freed up parking spaces — downtown. And it's coincided with the completion of six more miles of
mountain biking trails
at nearby
North Branch Park
. That's in addition to 10 miles of trails in city-owned
Hubbard Park
and the 3.7-mile riverside
Siboinebi Path
, formerly the Montpelier Bike Path.
It's All About Montpelier:
In short, there's enough to do downtown to keep you busy, but enough space to make you feel safe.
Three Penny Taproom
general manager Jay Bothwell offers this advice: "You just get out and walk, and there are lots of little interesting things to do and discover."
We did some research and checked in with locals, including Bothwell, to compile this list of suggestions for an ideal autumn outing.
Learning From the Past
Jeb Wallace-Brodeur
A stuffed catamount at the Vermont History Museum
Montpelier became Vermont's capital in 1805, and the layout of the city hasn't changed all that much since, according to Victoria Hughes, the Vermont Historical Society's museum and education manager. If someone could time travel from the 19th century, she says, "they would recognize the streets." Many of those quaint streets are lined with houses and office buildings built more than a century ago. In fact, Montpelier is home to the state's largest National Register of Historic Places district.
Visitors can explore the city's yesteryears at the
Vermont History Museum
, located in the Pavilion Building on State Street, next to the Supreme Court and the Statehouse lawn. Pro tip: This is also a convenient place to use the public restroom, located just inside the building's entrance, before the admission desk.
The museum experience has changed somewhat because of the pandemic. Playful signs on the doors instruct visitors to keep "one catamount apart," a nod to the famous stuffed mountain lion that's part of the collection. A Plexiglas barrier separates the masked staff member on duty from visitors preparing to enter.
Hughes notes that the interactive exhibits have been altered, as well. For example, vintage dress-up clothes are now affixed to a mirror instead of available to try on. Kids can position themselves in front of it to see their reflection.
She also points out that history buffs can find lots of material online at the society's website. A page called
Vermont History Outside
aggregates information about walking tours throughout the state, including four in Montpelier. A museum intern wrote and recorded three of the four Capital City audio tours over the summer. They include maps marking notable sites.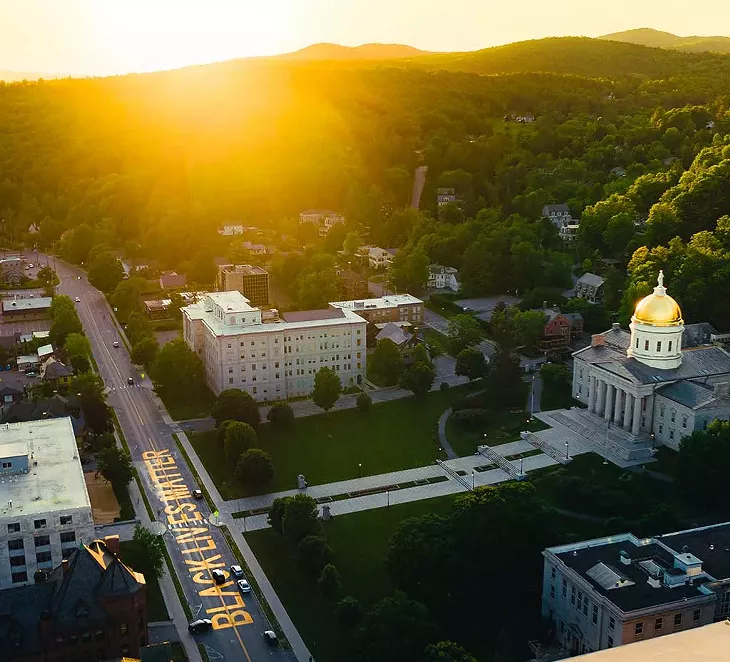 Ben Carpenter for Montpelier Alive
An aerial view of the Statehouse and the Black Lives Matter mural
The most obvious of these is the
Statehouse
, with its standout golden dome, topped by a recently rebuilt statue of Ceres, the Roman goddess of agriculture. Also to be found on the Statehouse grounds: a statue of Ethan Allen, a plaque on one of the entrance pillars that indicates the water line from the disastrous 1927 flood, and a historical marker recognizing the 2000 passage of legislation creating civil unions — making Vermont the first state to legally recognize same-sex couples.
Though lawmakers aren't gathering there at present, Montpelier is still a proudly political city, evident from the handmade signs in front yards and hanging from apartment windows. On Fridays, visitors arriving between noon and 1 p.m. might encounter some sign-toting activists in front of the post office. They've been gathering there weekly since 1994, according to Montpelier resident Ann Burcroff.
The protests started out as being anti-war, she says, but "now there are all kinds of issues we all care about." On a recent Friday, for example, the placards focused on economic inequality and racial justice. The signs echoed the message that civic-minded volunteers painted earlier this year in large gold letters on State Street: Black Lives Matter.
But more than political protests take place around the Statehouse, notes Hughes. Its lawn, next door to her office, "really is sort of a public park, and people use it like that," she says. "There's plenty of space to spread out." Travelers, take note: The grassy expanse in front of the Capitol is a great place for a picnic.
Buying Local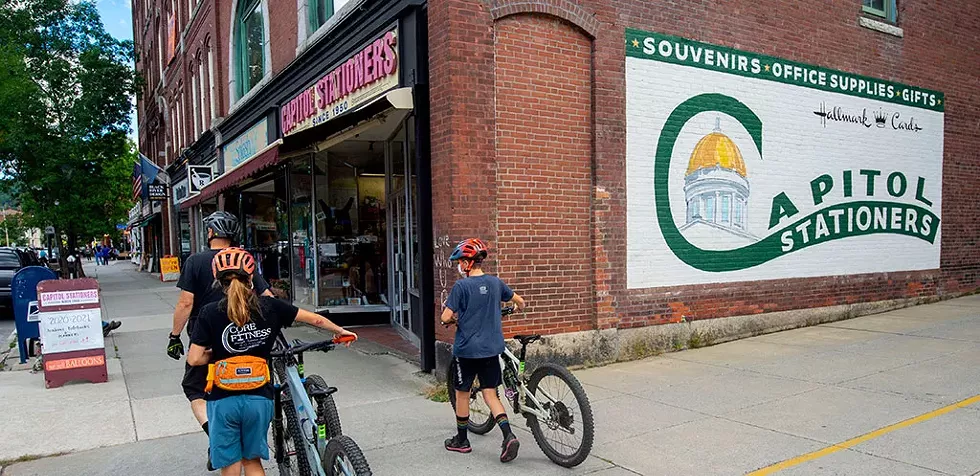 Jeb Wallace-Brodeur
Outside Capitol Stationers on Main Street in Montpelier
Just blocks from the Statehouse, Montpelier's lively shopping district offers a downtown experience reminiscent of an earlier era. In fact, some of the stores have been there for quite some time.
Eric Bigglestone's grandfather opened
Capitol Stationers
in 1950; his father, Don, ran the business and expanded it for a time in the 1980s. The Main Street store, now owned by Eric and his brother, Kent, celebrated its 70th anniversary in May.
Jeb Wallace-Brodeur
Kent Bigglestone, co-owner of Capitol Stationers
The inventory has shifted somewhat over the years. Shelves once filled with office supplies now also include souvenir T-shirts, sunglasses, cookies shaped like maple leaves, and Lake Champlain Chocolates. The store still stocks a good selection of moleskine journals and greeting cards, too. Those haven't gone out of style. "You don't text Grandma to thank her," observes Bigglestone. "You send her a thank-you card."
Capitol Stationers was closed during the early spring coronavirus shutdown. Like most local stores, it reopened with a see-through barrier between customers and the cash register, and with hand sanitizer available at the entrance.
Bigglestone says the city's business owners work together and try not to step on each other's toes. A new children's clothing and toy store,
Minikin
, is expected to open in October, but he points out that its toy offerings will be a bit different from what shoppers might find at
Woodbury Mountain Toys
two doors down. "We try to complement one another," he says.
That sense of community is part of what makes Montpelier special. "People are really conscious of what we have here," Bigglestone says.
Residents and visitors alike will celebrate that community spirit during Montpelier Alive's
Montpelier Madness
event, Thursday through Saturday, October 15 through 17. Organizers decided to forge ahead with a combination of outdoor and physically distanced in-person events this year, including sales, restaurant specials, pop-up entertainment and giveaways.
Bigglestone encourages those who appreciate Montpelier's Main Street vibe to visit and shop downtown. "It's easy to click one button online, or get something for a dollar," he says, but for stores like his to survive during this challenging time, "now, more than ever, we need Vermonters to support Vermonters."
Getting Out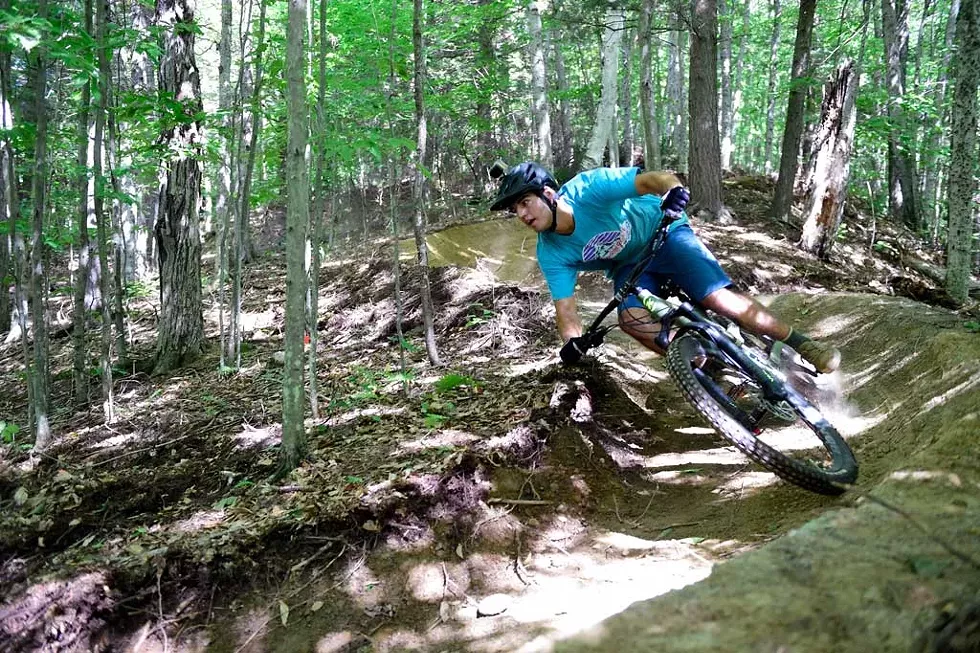 Jeb Wallace-Brodeur
A mountain biker at North Branch Park in Montpelier
Bigglestone's other big recommendation? Check out the mountain biking trails at North Branch Park, which he calls "a great asset" to the city.
Designed by a professional trail builder and funded by the Montpelier Area Mountain Bike Association, the new trails are a short ride from the center of the city.
Onion River Outdoors
co-owner Kip Roberts recommends riding there from downtown via the bike lane on Route 12, which takes about five to eight minutes, he says.
Mountain bikers of all levels can spend an hour or two on the flowy, machine-built trails without having to complete "a heinous climb," he says. The routes wind through forest paths, offering thrilling terrain and varying levels of difficulty. Roberts calls the park a "one-stop shop" for biking enthusiasts, and adds that the trails turn into fat-bike trails in the winter.
Mountain bikers interested in continuing the adventure can keep going and link up to the
Sparrow Farm
trail in East Montpelier. Those looking for a less strenuous outing can opt for the
Siboinebi Path
, named for the Abenaki word for "river water" and pronounced "see-bo-WE-nah-bee." It parallels the Winooski River and passes by the
Caledonia Spirits
distillery. More interested in a nearby day hike? Roberts' wife, Jen, co-owner of Onion River Outdoors, can recommend one; she literally wrote the book on the subject:
AMC's Best Day Hikes in Vermont
. Copies are available for sale at their store.
Ben Carpenter for Montpelier Alive
An aerial view of the Stone Tower in Hubbard Park, Montpelier
Montpelier Parks and Trees director Alec Ellsworth spends more time in the city's other 200-acre escape:
Hubbard Park
, a wooded area accessible from behind the Statehouse that he calls "a semi-hidden gem." Ellsworth actually lives there, with his wife and two children, in a house on the property.
Ellsworth is looking forward to showing off the park on Friday and Saturday, October 9 and 10, during the annual
Enchanted Forest
event, when the paths are lit by candles and adorned with pumpkins. Tickets are available in advance and sell out every year, he says.
He suggests starting a day in Montpelier by finding a place to park near the Statehouse, then walking up to its right and accessing the foot path that leads to Hubbard Park's
stone tower
. Built between 1915 and 1930, the tower looks out over the Green and the Worcester mountains. Camel's Hump is clearly visible in the distance.
One thing you can't really see from there: Montpelier itself. Ellsworth recommends following the park paths and emerging on Corse Street for a good view of the city.
A huge metropolis Montpelier is not, but right now, it's got everything you need.
* * *
Where to Explore, Dine and Shop in Montpelier
→ Find an interactive downtown map on the Montpelier Alive website.
Jeb Wallace-Brodeur
Cycling the Montpelier Bike Path
Explore
Hubbard Park:
A walk out of town and into the woods on these winding trails allows you to engage in the restorative practice the Japanese call "forest bathing." Says Eric Bigglestone: "You can walk into Hubbard Park and feel like you're in the Northeast Kingdom."
Access off Court Street behind the Statehouse.
North Branch Park:
This 200-acre city-owned park offers extensive multi use trails, as well as access to biking and mountain biking routes.
Ride there on Route 12 or park at the North Branch Nature Center or in the parking area on Poolside Drive.
Morse Farm Maple Sugarworks:
Savor a maple creemee, feed the goats and enjoy the view at this family farm a short drive from downtown.
1168 County Road.
Sculpture Garden:
Between the offices for the Vermont Arts Council and the Capital Region Visitor's Center on State Street is a small public art exhibit titled "The State of Sculpture … an Overview of Vermont Sculptors." Pause here to contemplate three large yellow spoons dangled from a tree — "For a Spoonful" by sculptor and puppeteer Ria Blaas — and "Converse," three stark posts of carved cedar by multimedia artist Clark Derbes.
136 State Street.


Siboinebi Path:
This 3.7-mile trail named for the Abenaki word for "river water" winds along the Winooski River.
Access via Dog River Recreation Area or Granite Street.
Vermont History Museum:
Open to the public Wednesday through Saturday, this museum offers an engaging overview of the people and events that have shaped the state.
109 State Street.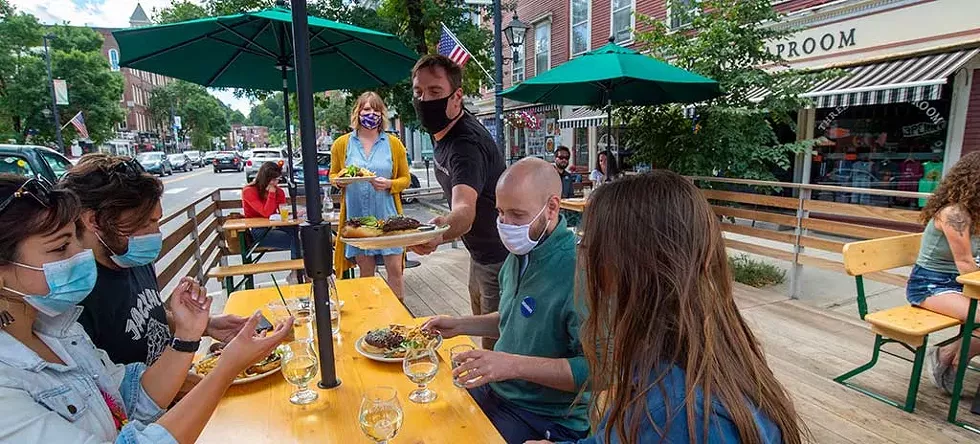 Jeb Wallace-Brodeur
Dining al fresco at Three Penny Taproom in Montpelier
Dine
For breakfast and coffee
Birchgrove Baking:
Get fresh pastries, take-and-bake treats, and custom cakes from this longtime local eatery.
279 Elm Street.
Bohemian Bakery:
Pick up pastries and coffee drinks from the step-up window of this bakery that Alec Ellsworth calls "super delicious."
78 Barre Street.
Capitol Grounds:
If you're downtown and need a cuppa joe, this is where you go.
27 State Street.

For a bigger meal
Buddy's Famous:
Montpelier doesn't have a McDonald's, but it does have this awesome old-school burger and malt shop.
15 Barre Street.
Mad Taco:
Call to order your tacos and enchiladas made from ingredients grown on the owner's Fayston farm, then pick up at a table by the front door.
72 Main Street.
Pho Capital:
Get Vietnamese specialties from this eatery just down the block from the Statehouse, and eat in the outdoor seating area.
107 State Street.
The Skinny Pancake:
Sample sweet or savory crêpes at this local chain with locations in Burlington, Quechee and Stowe, among other towns. Outdoor seating available.
89 Main Street.
Sarducci's Restaurant and Bar:
This Italian eatery is now serving its fresh dishes in an outdoor parklet seating area.
3 Main Street.
Three Penny Taproom:
Get a four-pack or a crowler to go from Montpelier's finest gastropub. But if you want to sample one of the best selections of Hill Farmstead brews in the state, you'll have to do it inside or in the new outdoor seating area. The burgers, salads and wraps are yummy, too.
108 Main Street.
Wilaiwan's Kitchen:
This no-frills, hole-in-the-wall Thai joint is only open from 11 a.m. to 2 p.m. on weekdays and Saturdays. And it only offers three entrées, which change weekly — and which may sell out if you wait too long to order. The crowd you encounter while waiting to pick up your food from the walk-up window may be the biggest you find downtown.
34 State Street.
For cocktails on the fly
Caledonia Spirits:
Conveniently located along the Montpelier Bike Path, this distillery on Gin Lane is closed to tours during the pandemic, but its bartenders will happily prepare craft cocktails to-go. Made from Barr Hill Gin, Tom Cat Gin or Barr Hill Vodka, these drinks come packaged in an adorable stoppered bottle that travels well in a knapsack if necessary.
116 Gin Lane.


Julio's Cantina:
Bartenders here are now mixing their famous margaritas to-go — a silver lining of the pandemic. Julio's serves food, too, in an outdoor eating area.
54 State Street.
Find more food and drink options at
goodtogovermont.com
. Check websites for hours of operation, which are subject to change.
Richardson Photography for Montpelier Alive
Bear Pond Books
Shop
Artisans Hand:
Find prints, photographs, pottery, wearable art and jewelry made by more than 120 local artisans at this nationally recognized gallery, a reliable source for unique gifts.
89 Main Street, Suite #8.
Bear Pond Books:
One of Vermont's finest independent bookstores — and winner of the Seven Daysies award for best bookstore outside Chittenden County — this downtown shop has been a fixture in Montpelier since 1973.
77 Main Street.
The Book Garden:
Gamers and comics fans gravitate to this indie shop, which sells graphic novels along with board games, dice and supplies for Pokémon and Magic: The Gathering.
50 State Street.
Capitol Stationers:
Stop for a journal, souvenir hat or T-shirt at this family-owned shop.
65 Main Street.
Notion Fabric & Craft:
Opened in 2019, this whimsical boutique offers an array of high-quality knitting, sewing and embroidery items.
68 Main Street.
Onion River Outdoors:
If you're planning an outdoor adventure around town, Kip and Jen Roberts can offer tips and get you geared up. Want to rent a bike? Be sure to call in advance.
20 Langdon Street.
The Quirky Pet:
Animal lovers, don't miss an opportunity to stock up here on a lovingly curated selection of chew toys, grooming supplies and sundry other products — all made in the U.S.A.
5 State Street.
Woodbury Mountain Toys:
Legos, dolls, trains, puppets, science kits, razor scooters, lava lamps — this beloved local toy store has it all. If you walk by with small children, they will not be able to resist entering.
24 State Street.
Zutano:
Speaking of small children, find snuggly baby booties, clothes and hats for them at the Zutano outlet store.
79 Main Street.
Suggested Montpelier Intineraries
→ Find more itineraries on the Montpelier Alive website.
On foot
Park in a city-owned public parking lot, the Stonecutter's Way parking lot, or find free parking on nearby residential streets.
Walk to the Statehouse and peruse the grounds.
Follow the trail behind the Statehouse to the tower at Hubbard Park.
Follow the trails in Hubbard Park and emerge on Corse Street.
Get lunch downtown. Eat outdoors or picnic on the Statehouse lawn.
Stop by the Vermont History Museum.
Pick up a few souvenirs.
Return to your car and drive to Caledonia Spirits to pick up a couple of cocktails to-go for later.
Drive to Morse Farm Maple Sugarworks to get a maple creemee — and feed the goats.
By bike
Park near Onion River Outdoors.
Grab your bike and ride to North Branch Park via the bike lane on Route 12.
Spend an hour or two on the trails.
Bike back to town and stop for lunch. Eat outdoors or picnic on the Statehouse lawn.
Pick up a few souvenirs.
Bike back to the car, stop for a maple creemee at Morse Farm Maple Sugarworks — and feed the goats — on the way home.
This article was commissioned and paid for by Montpelier Alive.