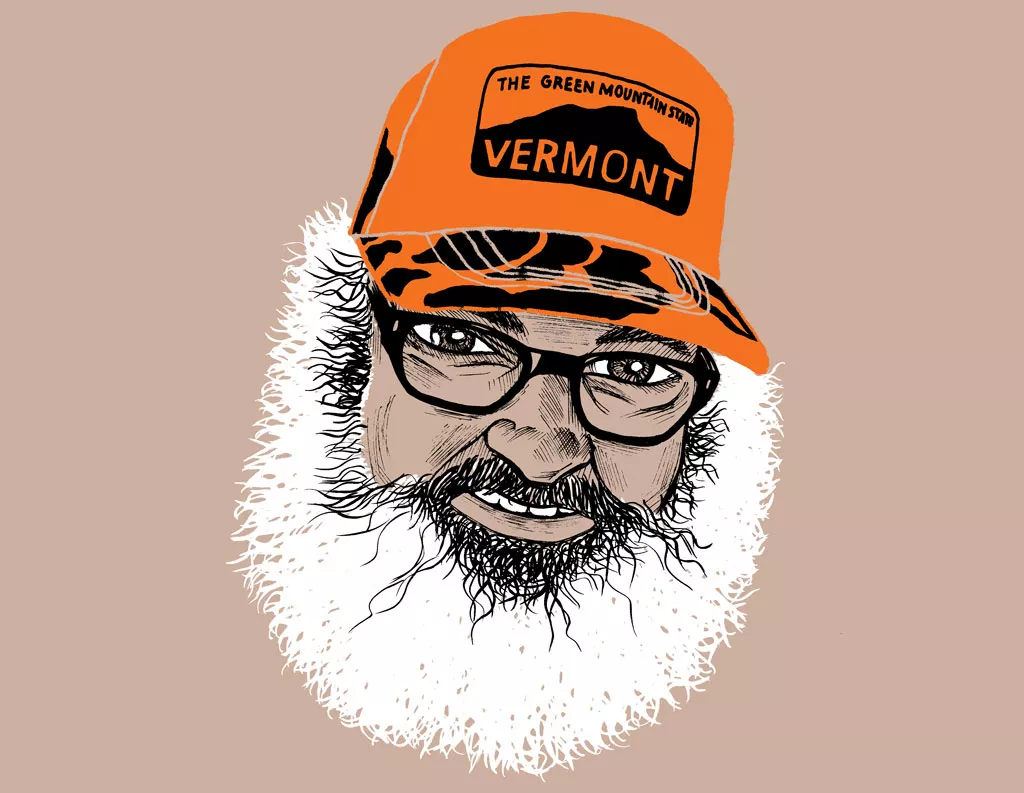 Aaron Shrewsbury
Randy Quaid
Aaron Shrewsbury
Evi Quaid
Randy Quaid was sitting in a Vermont prison cell on October 14, watching a WCAX-TV broadcast. The fire chief in tiny Lincoln was telling the news anchor about the difficulty of recruiting volunteer firefighters, who are required to undergo 200 hours of training, to be on call 24-7 and to participate in events such as the annual Christmas parade.
To Quaid, 65, it must have seemed like fate. In 2010, the actor who played obnoxious goofball Cousin Eddie in the National Lampoon's Vacation movies fled his home state of California with his wife, Evi, 52. They left behind numerous arrest warrants and what they claimed was a cabal of assassins out to kill them. The two have spent most of the past five years in Canada and were arrested as fugitives trying to cross back into the U.S. through Vermont.
They told authorities they planned to move to Lincoln, where Evi's ailing father lives. And when a Franklin County judge dismissed the charges against them, that's where they headed. A few days later, the Lincoln fire chief found a note wedged in the station's door that he read over the phone to a reporter: "'Hey boys, count me in for 200 hours. And, I wish to be your Santa Claus —Randy.'"
In pursuit of one of the quirkiest cops-and-court stories in years, I set out to find the bearded Hollywood refugee in a town renowned for embracing and protecting eccentrics.
The story of how Quaid and his Vermont native wife wound up in the Green Mountain foothills is like something out of a madcap Hollywood film. In 2009, the pair was charged with defrauding an innkeeper after skipping out on a $10,000 bill at a California hotel. The Quaids were arrested again in 2010 for squatting in a house they once owned.
When they blew off court dates and refused to pay fines, it resulted in the outstanding criminal charges that continue to dog them today.
In recent years, the Quaids came to believe that a group of killers, whom they dubbed the Hollywood Star Whackers, were out to kill them. They alleged the same group had already done away with two actors: Heath Ledger, with whom Quaid appeared in Brokeback Mountain; and David Carradine, whom the couple considered a friend.
The felony warrants from California remained active when they skipped the country, seeking refugee status to protect them from their would-be killers. While authorities granted citizenship to Evi Quaid, whose father is Canadian, they rejected Randy's request.
He was scheduled for deportation on October 14, but in an apparent preemptive move, the couple crossed from Canada into Vermont on October 9. U.S. customs officials arrested them at Highgate.
The Quaids were held in prison for six days — until Franklin County Superior Court Judge Alison Arms, citing flaws in the paperwork from California authorities, declared there was no basis for the fugitive charge. The freed Quaids told reporters on the courthouse steps that they planned to move to Lincoln to care for Evi's father, George Motolanez, a former Middlebury College Russian professor who lives on a dirt road overlooking Lincoln village.
The picturesque town of 1,200 set in the hills above Bristol has long lured colorful characters in search of spiritual refuge. Lincoln is home to two Tibetan Buddhist groups: the Sunray Peace Village and Meditation Society, a community built on Native American and Buddhist teachings; and the Metta Earth Institute, a holistic retreat center.
Students of geomancy, a form of divination that relies on lines, figures and geographic features, say that Lincoln is uniquely positioned as a place of spirituality, Seven Days reported in a July 2011 story.
While it is difficult to ascertain the exact nature of their beliefs, the Quaids are clearly on a quest for ... something.
They have posted videos and written screeds railing against Warner Brothers and News Corporation, among other Hollywood entities, and the legal system. Randy, who has grown a flowing white beard, has said they were surviving in a "living hell of biblical proportion."
"Warner Brothers even had my wife and I falsely arrested six times by TMZ," Quaid explained in one video. "No, for real, that's really how it works. Hashtag PMC — police-media corruption."
In another video, Evi Quaid donned a mask of News Corporation founder Rupert Murdoch and danced while Randy sang "God Bless America." The couple made a pornographic version and posted the homemade sex tape on social media.
But no one in Lincoln is saying anything negative about the Quaids — though many acknowledged having seen Randy and Evi driving around with their dog in a black pickup truck — and some are actively shielding the couple from prying reporters like myself.
They'd been in the Lincoln General Store, but staffers were reluctant to talk, beyond saying only that they welcomed the couple to town.
"Lincoln has always been a community where people are very open-minded and will accept any kind of diversity," said longtime Lincoln resident Ethan Ready. "People have been attracted to this town for many different reasons. I'm sure they will find a way to exist here, and people are going to be OK with it. It's always been that type of place."
Fire Chief Dan Ober said Quaid would be welcome to join his department, as long as he establishes residency and follows through on the training requirement. Another Lincoln firefighter told Seven Days he thought Quaid would be invaluable, providing comfort and perhaps comic relief to victims in distress.
"We would treat him like everybody else and give him the anonymity he probably wants," Ober said.
A reliable tipster told Seven Days the Quaids had been spotted at Kimball Office Services in nearby Bristol, patiently waiting their turn in line. Then they strolled across the street to the Bristol Bakery & Café, ate bowls of soup and chatted with the regulars.
Following up on the tip, I visited the office supply store, where the owner assured me that, despite what I had heard, the Quaids had not been there.
But as I walked outside, I saw a black pickup parked nearby. In the driver's seat was a man with a white beard, with a barking dog next to him. A middle-aged woman with long black hair hopped out and walked into Kimball's. I recognized Evi right away and approached the truck.
Randy Quaid rolled down his window far enough to offer a handshake. He said he was trying to avoid the press and didn't want to do a long, formal interview.
But as he waited for Evi to return, he chatted for 10 minutes about his life in Vermont. Though his on-screen characters are often oddballs, and his social media persona is even stranger, in person, Quaid was warm. He called Vermont his "favorite place."
"My wife said it hasn't changed in 20 years. That's good. LA has no history. Things get torn down all the time," he said.
Since his release from prison, he said, he and Evi had spent a lot of time driving around and getting acquainted with the Lincoln area.
He had some questions about Vermont's escalating drug problem. Another was: Do most small towns rely on volunteer firefighters? He said that his offer to become a firefighter was no joke. "I'd like to do something nice for the community," Quaid said. He added that he really did want to play Santa Claus.
As he chatted, Doji, the couple's Australian cattle dog, barked nonstop, glaring at the stranger who had approached uninvited.
Quaid also seemed wary of attention — as much as a man who sports a long white beard and orange trucker hat and has released his own sex tape can be — but was too polite to be rude.
Quaid said he was tired of the spotlight. He thought small-town life would offer a refuge. "You feel like a freak, a sideshow, and I don't want that," he said. "Vermont is good. People here aren't impressed. They don't care."
It's not the first time he has voiced frustration at being branded an oddity. He told Vanity Fair in 2011 that he resented being typecast as "goofy, the sort of comic-relief thing."
His comedic work has long overshadowed more sober accomplishments: Quaid was nominated for an Academy Award for the 1973 film The Last Detail, in which he starred alongside Jack Nicholson as a young sailor about to be sent to prison. And he won a Golden Globe for his portrayal of a young Lyndon Johnson in a 1976 television movie. His performance as the rancher boss in 2005's Brokeback Mountain was also well received.
Quaid wasn't eager to discuss his court case, but he said he believed law enforcement in Vermont would leave him alone.
Quaid acknowledged that he and Evi don't have much in the way of a plan. He talked one minute of putting down roots in Lincoln. In the next breath, he joked about making a run for it.
"We might go to all 50 states!" he exclaimed, and threw his head back and chuckled loudly. The Santa Barbara, Calif., sheriff's department has said it's exploring options in the criminal case against the couple.
Evi Quaid emerged from Kimball Office Services and introduced herself with a firm handshake. She paused only to explain that the owner of the store had lied to me because she was covering for Evi. She is a regular, Evi said, and her family goes way back with the owner. In fact, she said, she considers the store "our CIA dead drop."
Then she slipped into the truck alongside her dog and husband, and they pulled into the southbound lane.
They didn't say where they were going.