Glenn Russell
Mike Ingalls examining the roots of a silver maple seedling ready for planting
On a late August afternoon near the Winooski River in Burlington, crew members from the Intervale Conservation Nursery planted saplings in a bed of soil prepared for growing young trees.
Using a tool called a dibbler, they dug holes for the seedlings and planted hundreds of trees per row — a mix of species including speckled alder, red oak, slippery elm and white willow. The saplings that went in the ground that day belong to a set of 30,000 to 35,000 young-stock trees that the nursery crew will plant before winter.
Irrigated by river water, the seedlings — about 300 to 400 of them per acre — will grow for two to three years in eight acres at the Intervale. From there, most of the trees will be dug up and planted for riparian conservation and restoration projects around the state.
"It's a production nursery," said manager Mike Ingalls. "We get 'em in to grow, and we get 'em out to plant."
The nursery, which is part of the Intervale Center, transplants about 18,000 trees a year to locations around Vermont. But the native saplings — which the nonprofit nursery grows using sustainable practices — are also available to the general public. The whips, or unbranched seedlings, are an affordable and accessible option; homeowners can purchase bare-roots saplings or small potted trees from the nursery for $3 to $12 each. They can be planted in yards and gardens from now into late fall.
"Our price point is pretty awesome, and our product is pretty awesome," Ingalls said, extolling the quality of the soil at the Intervale. "I haven't sprayed pesticides or herbicides in 10 years. In turn, I think we have some of the healthiest trees out there."
Like other tree experts, Ingalls notes that fall can be an optimal time for planting trees, and he takes advantage of the season.
"We plant right up until it starts to snow, and into the snow," Ingalls said. "We're also planting native trees — rugged trees and shrubs that are a little tougher than what you're buying from a nursery center."
Trees planted in the fall have a "jump start" on the season when they awaken from their winter dormancy, Ingalls said.
"You can get stuff in the ground, and you just walk away," he said. "The trees are in place and ready to go in the spring, starting to grow in their forever home. They're already popping."
He recommends that homeowners plant a variety of native trees, shrubs and flowers to attract birds and butterflies to their yards.
In Charlotte, Charlie Proutt and his wife, Eileen Schilling, own Horsford Gardens & Nursery and its affiliated landscape design business, Distinctive Landscaping. Proutt starting working at Horsford some 40 years ago, when he was a student at the University of Vermont. He's been connected with the nursery, as employee or owner, for about one-third of its 125-year existence.
The roots of tree planting in Vermont, Proutt observed, are pretty basic: "In traditional Vermont landscaping, dad digs a tree up in the woods and puts it in the front yard."
Transplanting trees in the fall can present a "digging hazard," Proutt cautioned, meaning that certain trees, including birches, red maples and oaks, don't like to be dug up in the fall.
As noted by Burlington city arborist V.J. Comai (see below), these are among the types of trees that should not be planted in autumn. Alternatively, one could plant such a tree if it were dug up in the spring and properly cared for through the summer.
The plus side of fall planting: The water requirements are lower than in the spring, the tree wakes up in place, and its colors will be on display so you can see what it looks like in autumn. Echoing the Intervale's Ingalls, Proutt said it's OK to plant even if the ground is very cold.
"It doesn't really matter to the tree if it gets into frozen ground," he said. "The roots need to be protected from the coldest temperatures, and the ground does that."
Horsford's 47-acre nursery grows and sells scores of deciduous and evergreen trees and shrubs, including horse chestnut, crab apple, mountain ash, willow, maple and "fake-out" hydrangea (the term Proutt uses to describe a hydrangea bush that grows from a tree trunk). The inventory includes a selection of sizable trees that come in 10- or 15-gallon pots.
For planting, Proutt advises digging a hole that's two to three times wider than the pot, and no deeper. For faster growth, he recommends fertilizing the tree.
"One round of fertilizer each spring will make a huge difference," he said.
For homeowners looking to grow their own fruit, Shelburne Orchards offers a niche market of big plum and apple trees, with apple varieties including Empire, Golden Delicious and Gala. The apple trees, 8 to 12 years old and with a trunk diameter of up to four inches, are dug up in the spring before they leaf out. The orchard typically has a tree sale in late April or early May, but it also has fruit trees available for fall planting.
"It's nice to have the trees go through winter dormancy where they're going to be," orchard owner Nick Cowles commented. "They come awake in the normal spring progression."
Fall Tree Planting Tips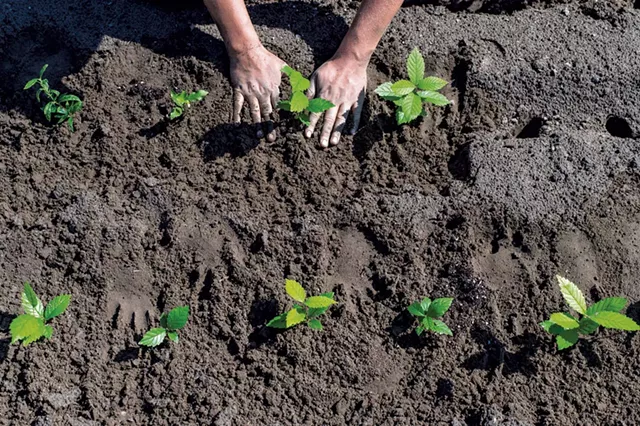 Glenn Russell
Emily Anderson planting slippery elm seedlings at the Intervale Conservation Nursery in Burlington
Burlington city arborist V.J. Comai shared the following advice with Nest.
Fall can be a great time to plant due to cooler temperatures and typically more precipitation, both of which are more conducive to establishment of the trees than the hot and dry weather of midsummer.
Trees that are balled and burlapped or grown in a container can be planted until the ground freezes. The exception would be evergreens, which I would not recommend planting after early October, as they can be prone to winter injury when not fully rooted in and established. (Other trees to avoid planting in fall include birches, willow and red oak.)
Any newly planted tree should be watered regularly after planting with about 20 gallons of water per week when we have not received an inch or more of rain in that week. This should continue up until the ground freezes.
Homeowners should thoroughly inspect trees purchased in the fall that have been sitting above ground all summer to be certain that the trees have good, viable buds out to the tips of the branches. If they don't, it may indicate that they may have [been] repeatedly dried out during the summer and be severely stressed, which will compromise their survivability.
It is important to make sure that the right tree is planted in the right spot. Considerations include type of soil and drainage, exposure to sunlight, sun versus partial or full shade, and space to account for the future growth of the tree, as well as the future growth of adjacent trees and shrubs. Will there be room for the tree in 20 to 30 years?
It is critical that [the] tree gets planted correctly and at the correct depth. Before planting a tree, homeowners should call Dig Safe [see digsafe.com] to have all underground utilities in the area marked to ensure that none will be compromised in the planting process.