Dorrance Dance: ETM: The Initial Approach at the Flynn MainStage on October 29
"Good evening, and thanks for joining us at the beginning of the 2015-16 performing arts season! It is my duty and my honor to thank our sponsors, without whom we couldn't do this..."
So said Steve MacQueen last Thursday at his season's debut act, the Sweet Remains, in the FlynnSpace, and the remarks are familiar to anyone who frequents the theater. It was the first of many times this year that the amiable artistic director of the Flynn Center for the Performing Arts will introduce a show, applaud its underwriters and remind us to turn off our cellphones. And the script isn't rote; MacQueen, like presenters everywhere, is genuinely grateful for both donors and ticket buyers. After they've worked so hard to plan the party, it would be a bummer if no one showed up.
The Sweet Remains drew a full house — a welcome kickoff for the Flynn. While few shows are guaranteed to do well, that doesn't stop area presenters from booking far more of them than we can wave our credit cards at. For local aficionados of the performing arts, that's a good problem to have.
Of course, now that the 2015-16 brochures are out, presenters aren't just resting on their laurels and hanging out with patrons; they're on to the next season, and the next. "The job of booking is always happening," says MacQueen. "Some projects take years."
Where do presenters find all of their acts? One place to begin is New York City in January. That's when the Association of Performing Arts Presenters puts on a giant global "marketplace" for its 1,600 members. Artistic directors, such as MacQueen, Margaret Lawrence at Dartmouth College's Hopkins Center for the Arts and Natalie Neuert at the University of Vermont Lane Series, attend to see performances, network with agents and, often, confer with one another. If the Flynn, the Hop and perhaps another New England venue can help an act book a regional tour, that cooperation can cut down on expenses.
Lawrence won an award from APAP last January for "programmatic excellence" and wrote an article in the association's magazine about the art of booking. "You always have to be thinking about how to move a situation forward, even in a baby way," she recaps. "The euphemism people use for me in that regard is 'pushy,' but that's fine with me."
Lawrence and her peers typically don't have large budgets for travel, but most attend APAP and another conference or two each year. Even so, "most of the work happens in between conferences," she says. "When I'm lucky, I'm invited — as is Steve — to a festival where I can see work in another country. Maybe a country or a foundation is paying."
And after seeing dozens of performers in a year's time, how do the programmers choose? It's a juggling act, to say the least — starting with "some really important factors like availability and money," says MacQueen. "I don't have a spreadsheet, but we're a mission-driven organization, so we think educationally. We have a commitment to dance and jazz and things like that, but it's got to work financially."
Diversity of acts is key — something for every taste. Presenters tend to know both what their audiences enjoy and what they're able to pay. Still, nearly every season contains an envelope pusher or two. One example on the Flynn's program this year could be Tanya Tagaq, an Inuk throat singer from Nunavut, the northernmost territory in Canada. "I saw her at Joe's Pub [in New York City]," says MacQueen. "My first thought was, That's gotta come to town. Let's see if that small space [FlynnSpace] can contain that huge thing she does."
Like the Flynn and Lane in Burlington, the Hopkins Center in Hanover "straddles campus and community," notes Lawrence. "So we're looking for work that is very significant or familiar, such as [opera star] Renée Fleming. But we're also looking for exciting, emerging artists who people haven't quite heard of yet."
DakhaBrakha, a folk-punk quartet from Kiev, Ukraine, fits that bill. "They are so hard to describe," Lawrence says. "They've invented a band form that is something completely new, [wearing] crazy costumes they invented. People just go nuts for them."
The Hopkins Center places a premium on performers who can interact with students — in fact, says Lawrence, nearly every artist participates in some kind of residency, often in multiple college departments.
At UVM, the Lane Series now has an enhanced opportunity to "engage students and work with curriculum," says Neuert. That's because the performing-arts series has been shifted from its longtime aegis, Continuing and Distance Education, to the College of Arts and Sciences. And the Lane office has moved into the music building — under the same roof as the Recital Hall. "It's a really good match for us," Neuert says, "from an emotional and a programmatic base. And there's a lot less schlepping."
Many smaller presenters around the state, such as the Chandler Center for the Arts in Randolph and KCP Presents in St. Johnsbury, have the surrounding communities rather than colleges in mind when they book a season. Accordingly, their offerings tend to be more conventionally appealing and affordable. Though the Paramount Theatre in Rutland partners with nearby Castleton University on some shows — including its new "civic engagement" series, Project 240 — its programming relies heavily on popular music and comedy. In fact, the Paramount takes the cake this year for the sheer number of standup acts and musicals — especially of the parody variety.
Note to fans of musical theater: If you've gotten into a lather thinking The Book of Mormon is coming to Vermont, calm down. It's actually The Book of Moron — a one-man act by Robert Dubac. The Paramount promises that the show is "comedy on steroids," though, so there's that.
As we do every year in this issue, we've provided a sampling of the hundreds of shows coming our way (not including local theater, which we'll cover in later issues). Many of the artists we've chosen to spotlight are one of a kind, but where possible we've tagged them with a Pandora-like selection of acts in the same genre. Find contact info for the organizations presenting these performances on page 32.
And now, on with the shows. Please turn off your cellphones.
— Pamela Polston
Zahra Noorbakhsh
Friday, October 2, 8 p.m. (sold out) and 10:30 p.m., at Bentley Theater, Hopkins Center for the Arts. $22.50-25.
Zahra Noorbakhsh's one-woman show "All Atheists Are Muslim" is an autobiographical comedy that examines and lampoons cross-cultural issues in modern America. But at its heart, the acclaimed performance piece draws on a theme as old as Shakespeare — or at least the Fresh Prince. Namely, parents just don't understand.
Noorbakhsh is a San Francisco-based Iranian American writer, satirist and comedian. "All Atheists," codirected by W. Kamau Bell and Martha Rynberg, is based on a two-week period in her twenties during which Noorbakhsh moved in with her white, atheist boyfriend, Duncan. Her Iranian immigrant parents, devout Muslims, were none too pleased — particularly when they learned that Noorbakhsh planned neither to marry nor to convert him.
Much of the show's keen insight and humor come from the comic's efforts to reconcile thousands of years of Muslim religious doctrine and Iranian cultural tradition with the progressive worldview of a young American feminist. But, as Noorbakhsh told SFGate when the show debuted in 2011, the plight of her star-and-crescent-crossed lovers transcends cultural boundaries.
"The story is about a young woman doing something that her parents don't approve of," she said. "That's definitely a universal tale."
If you like this, also try...
Janice Perry, "Naked at the Met," Friday, September 25, 7:30 p.m., FlynnSpace. $21-25.
Craig Ferguson: The New Deal Tour, Monday, September 28, 8 p.m., Paramount Theatre. $39.75-69.75.
"Male Intellect: An Oxymoron," Thursday, October 1, 7 p.m., Paramount Theatre. $20.
Lisa Lampanelli: Leaner Meaner Tour, Thursday, October 15, 8 p.m., Paramount Theatre. $39.50-59.50.
Paul Reiser, Friday, October 16, 8 p.m., Spruce Peak Performing Arts Center. $20-42.
David Sedaris, Sunday, October 18, 7:30 p.m., Lebanon Opera House. $25-63.
John Mulaney, Monday, October 26, 8 p.m., Higher Ground Presents at Flynn MainStage. $31.50-36.75 advance; $34.50-39.75 door.
Kathy Griffin, Friday, October 30, 8 p.m., Higher Ground Presents at Flynn MainStage. $27-69.
Jim Breuer, Saturday, January 9, 8 p.m., Paramount Theatre. $36.75.
Bob Marley, Friday, January 22, 8 p.m., Paramount Theatre. $19.75-30.75.
Etta May, Thursday, January 28, 7:30 p.m., Spruce Peak Performing Arts Center. $20-38.
Paula Poundstone, Saturday, February 27, 8 p.m., Paramount Theatre. $39.75.
Second City, Saturday, April 2, 7:30 p.m., Spruce Peak Performing Arts Center. $20-42.
Louie Anderson, Saturday, May 14, 8 p.m., Paramount Theatre. $25.75-35.75.
— Dan Bolles
Ry Cooder, Sharon White and Ricky Skaggs
Monday, November 16, 7:30 p.m., at the Flynn MainStage. $27-70.50.
When Ry Cooder, Sharon White and Ricky Skaggs perform together in Burlington, it's a good bet that they'll set a record for the number of Grammy Awards represented on the Flynn MainStage at one time: 20. Mandolin master Skaggs has 14; virtuosic roots guitarist Cooder has six. Oddly enough, White doesn't have a Grammy — unless you count her appearance on the Grammy-winning soundtrack for O Brother, Where Art Thou? But if White is the least decorated musician onstage, you can bet it's gonna be one hell of a show.
Whether solo or with her family band, the Whites, Sharon White is among the most beloved and respected singers in country music. Her 2014 duets album, Hearts Like Ours, was a trad-country stunner. That, of course, had something to do with her partner, husband Ricky Skaggs. Simply put, he is one of the two or three finest mando players in history.
And then there's Cooder. The mercurial guitar player rarely performs live these days. But he's still regarded as a six-string genius virtually without peer. To wit: Rolling Stone dubbed him the "eighth greatest guitarist of all time."
The individual accolades are undoubtedly impressive. But the union of these three roots giants — backed by members of the Whites, no less — has been causing a stir at concert halls across the country. Don't just take our word for it. Let's ask Cooder. Ry?
"You are going to hear four-part singing from the heart, the finest and best instrumental activity in the land, songs you know and love, and, to top it off, the indomitable Buck White on piano, who will turn your money green. Now, who's happy?"
We are, Ry. We are.
If you like this, also try...
Punch Brothers with Gabriel Kahane, Saturday, September 19, 8 p.m., Higher Ground Presents at Flynn MainStage. $31.50-48.25 advance; $34.50-51.25 door.
Lyle Lovett & John Hiatt, Thursday, October 8, 8 p.m., Higher Ground Presents at Flynn MainStage. $41-72.50 advance; $44-75.50 door.
Dom Flemons, Saturday, November 14, 7:30 p.m., Chandler Music Hall. $5-20.
Donna the Buffalo & Peter Rowan, Thursday, November 15, 7 p.m., Spruce Peak Performing Arts Center. $20-35.
Howard Fishman Quartet, "The Basement Tapes," Wednesday, January 20, 7 p.m., Casella Theater, Castleton University. $12-18.
Taj Mahal Trio, Friday, February 12, 7:30 p.m., Barre Opera House. $24-48.
Molly Mason & Jay Ungar, Sunday, May 8, 4 p.m., Chandler Music Hall. $5-25.
— Dan Bolles
Chicago Children's Theatre: Red Kite, Brown Box
Sunday, October 4, five shows from 10:30 a.m. to 3:30 p.m., in Hoehl Studio, Flynn Center for the Performing Arts. $15-25.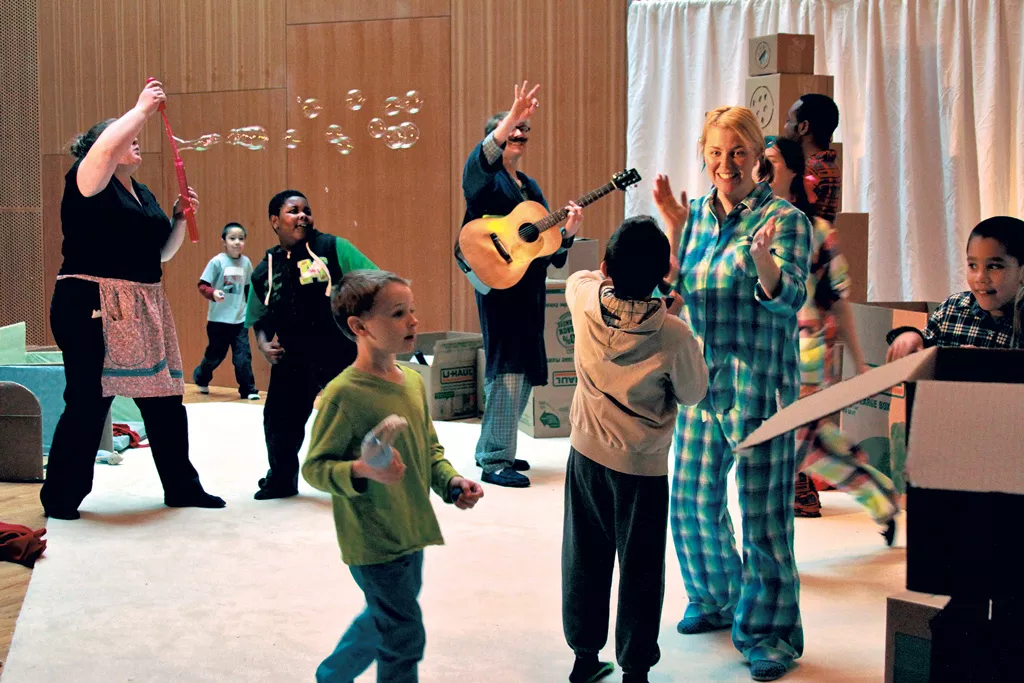 Bringing children to live theater is always a gamble, and that's especially true for kids on the autism spectrum. Many parents avoid live shows altogether because they worry that their child won't sit still, or will make too much noise and disturb other patrons.
Chicago Children's Theatre has devised a way to relieve Mom and Dad of such concerns. Red Kite, Brown Box is the fourth Red Kite production, part of a series of "theatrical adventures" designed specifically for this often-overlooked population. It's a multisensory experience that not only allows audience members to interact with the performers, but actively encourages them to do so. The kids help the actors create the show by wearing hats, shining flashlights, dancing and blowing bubbles. Everyone is free to experience the performance in his or her own way, at any level of participation.
Inspired by the book Not a Box by Antoinette Portis, the show tells the story of Papa Nick, whose family has just moved to a new home. Problem is, Papa Nick's kids are having trouble falling asleep because they'd rather explore and find treasures in the empty moving boxes that are still strewn about.
Red Kite, Brown Box is appropriate for ages 5 to 14. The audience size for each performance is limited to 15 kids (with parents or guardians). Chicago Children's Theatre cast and crew are especially trained to make each child feel comfortable, safe and welcome.
If you like this, also try...
(Most venues offer plenty of kids' and family-friendly programming, though not all is suitable for children on the autism spectrum. Here's a sample.)
Junie B.'s Essential Survival Guide to School, Theatreworks USA, Sunday, September 25, 3 p.m., Spaulding Auditorium, Hopkins Center for the Arts. $13-23.
Good Night Moon & The Runaway Bunny, Friday, October 16, 10 a.m., Lebanon Opera House. $4-10.
Clifford the Big Red Dog Live!, Wednesday, November 4, 7 p.m., Paramount Theatre. $21.50-26.50.
A Christmas Carol, Nebraska Theatre Caravan, Friday, December 11, 7 p.m., Flynn MainStage. $15-45.
Mumenschanz, Tuesday, January 19, 7 p.m., KCP Presents at Fuller Hall. $15-54.
The Monster Who Ate My Peas, ArtsPower, Wednesday, March 23, 10 a.m., Chandler Music Hall. $6.
— Ken Picard
DakhaBrakha
Wednesday, January 13, 7 p.m., Spaulding Auditorium, Hopkins Center for the Arts. $17-30.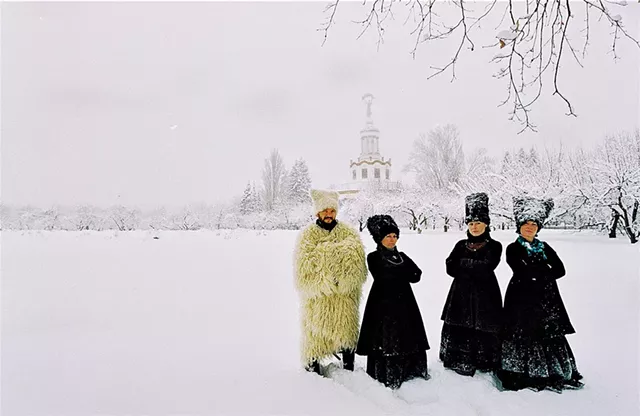 Courtesy Of Badym Kulikov
Much of the news emanating from Ukraine in the past 18 months has focused on the bloody conflict with Russian-backed separatists. So you may not have heard of the country's other self-described "ethnic chaos," DakhaBrakha.
The Ukrainian folk-punk quartet formed in 2004 at Kiev's Center for Contemporary Art under the leadership of avant-garde theater director Vladyslav Troitskyi. The group's name, which translates as "give/take," seems fitting. DakhaBrakha borrows from, and then reinterprets, disparate traditions of Indian, Arabic, African, Russian and Australian folk music.
As the theatrical foursome takes the stage, it's clear DakhaBrakha is something unique. The group's sole male performer, Marko Halanevych, often appears in a Shakespearean-like tunic, accompanied by three women dressed in heavy black robes or white gowns, matched with crimson beads and furry hats that tower above them like Marge Simpson's hair.
Their piercing vocal harmonies can swing from haunting and surreal to joyous and upbeat. "Moolamantra" sounds primal and meditative, simultaneously ancient and futuristic, like something you might hear in the Star Wars alien saloon. "Oy za lisochkom" is more evocative of the Middle East, like an accompaniment to Salome's "Dance of the Seven Veils." "Za duby" is feverish and percussive, like an East African wedding celebration. Little wonder that Rolling Stone dubbed DakhaBrakha a "Ukrainian folkdrone Björkpunk quartet" and named them the best breakout act of the 2014 Bonnaroo Music and Arts Festival.
Nothing is like DakhaBrakha, but if you like international options, also try...
The Journey to Mystic India, Friday, November 27, 3 and 7 p.m., Spruce Peak Performing Arts Center. $20-48.
GlobalFest Live!, Wednesday, February 24, 7:30 p.m., Flynn MainStage. $15-36.
"Rhythm and Dance of India," Thursday, March 3, 7 p.m., Moore Theater, Hopkins Center for the Arts. $17-25.
Tanya Tagaq, Saturday, May 14, 8 p.m., FlynnSpace. $21-25.
— Ken Picard
Companhia Urbana de Dança
Friday and Saturday, April 8 and 9, 8 p.m., Moore Theater, Hopkins Center for the Arts. $17-40. Also, Thursday, April 14, 7:30 p.m., Flynn MainStage. $15-44.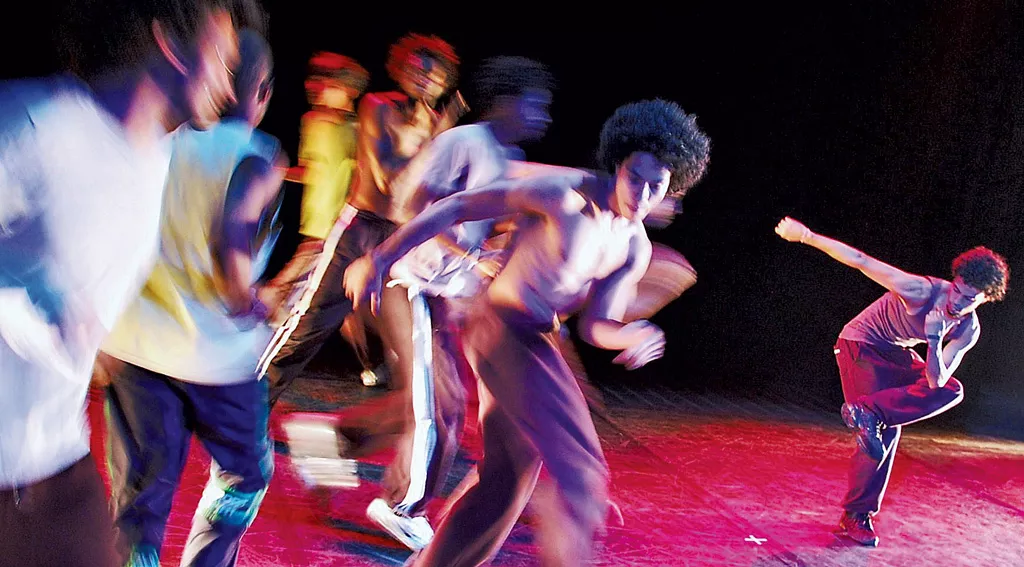 What happens when a white, female, classically trained dancer from an upscale Brazilian suburb teams up with black, mostly male street dancers from the slums? In Rio de Janeiro, the answer is Companhia Urbana de Dança. Since its formation in 2004, the troupe has traveled a long way from the city's notorious favelas and has achieved international acclaim. Its engaging mix of hip-hop, capoeira and samba hinges on the unique dialogue between founder and choreographer Sonia Destri Lie and her impassioned dancers.
Destri, as she is also known, works collaboratively with her crew, exploring personal narratives that develop into socially weighty yet energetic performances. Take the work titled "I, You, We ... All Black!" Originally given the more provocative title "Nêgo," a derivative of the Portuguese "negro," that piece addresses the nuances of race relations in Brazil.
The company members' socioeconomic backgrounds are unusual in the contemporary dance world, but Destri doesn't overemphasize the challenges her dancers have hurdled. "For me, [the favelas were] just the place they came from," the choreographer told Time Out New York in 2013. "I wanted respect because they were good dancers ... because the work was good." For these Brazilian breakers, all that matters is creating exceptional dance.
According to critics in the northern hemisphere, they have done just that. The New York Times declared last year after the troupe's Joyce Theater performance, that "Companhia Urbana de Dança is so wonderful that it seems miraculous."
If you like this, also try...
Lucky Plush, The Queue, Saturday, October 3, 8 p.m., Flynn MainStage. $15-36.
Push Physical Theatre, Tuesday, October 13, 7 p.m., Casella Theater, Castleton University. $12-18.
Dorrance Dance, ETM: THE INITIAL APPROACH, Thursday, October 29, 7:30 p.m., Flynn MainStage. $15-40.
Monica Bill Barnes & Co., Happy Hour, Thursday, December 3, 7 and 9 p.m., FlynnSpace. $26-30.
Paul Taylor II, Sunday, March 13, 3 p.m., Paramount Theatre. $29.75-34.75.
Jessica Lang Dance, Saturday, April 2, 7:30 p.m., KCP Presents at Alumni Auditorium, Lyndon Institute. $15-64.
Stomp, Thursday and Friday, April 14 and 15, 8 p.m., Paramount Theatre. $44.50-54.50.
— Sadie Williams
La Santa Cecilia
Wednesday, October 7, 7 p.m., Spaulding Auditorium, Hopkins Center for the Arts. $17-25.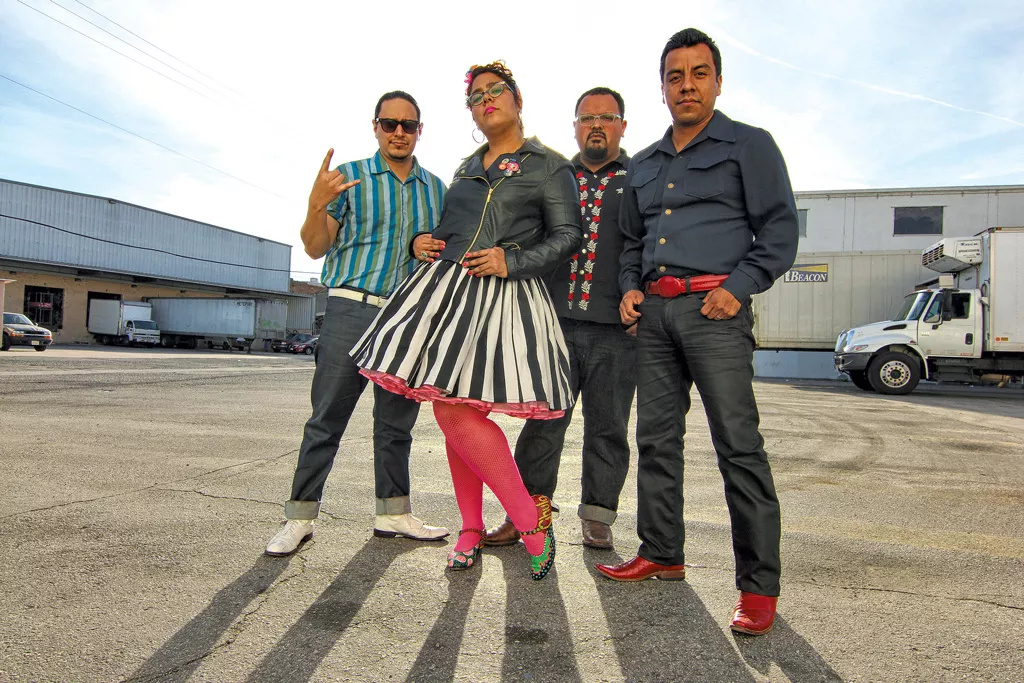 Courtesy of Humberto Howard
Sometimes, bossa nova plus rumba plus klezmer equals a Grammy Award for Best Latin Rock Album. At least, that equation worked for La Santa Cecilia, who swoop in from the left coast to heat up New England just in time for plummeting autumnal temps. Promising "music and love from LA," the photogenic foursome addresses themes ranging from immigration reform to baking from scratch in their mix of Pan-American sounds.
Front woman Marisol "La Marisoul" Hernandez is a magnetic performer who captivates listeners with her larger-than-life vocals and colorful attire. Born and raised in the City of Angels, she and fellow members Alex Bendaña, Miguel Ramirez and Jose "Pepe" Carlos bring kitsch, old-fashioned fun and a touch of politics to the tunes they croon. "Ice El Hielo" is as layered as a Vermont winter slope with allusions to the U.S. Immigration and Customs Enforcement agency. The band's "Strawberry Fields Forever" is a revelatory Beatles cover you never expected to hear.
"La Santa Cecilia spreads joy every time its members plug in to do a show," said a National Public Radio commentator in 2013. "They do it one dance step at a time, with cumbias, corridos, elegant mambos, and plain old rock and roll."
La Santa Cecilia is one of a kind, but you can also get your Spanish on with...
Nano Stern, Thursday, October 8, 7:30 p.m., Lane Series at UVM Recital Hall. $10-20.
La Voz de Tres with guest Michael Zsoldos, Friday, December 11, 7:30 p.m., Pentangle Arts at Woodstock Town Hall Theatre. $20-25.
— Sarah Tuff Dunn
Samuel Beckett Trilogy: Not I/Footfalls/Rockaby
Wednesday, March 23, 7:30 p.m., at Flynn MainStage. $15-50.
My favorite Samuel Beckett play used to be Breath, which consists of a cry, an inhale, an exhale and a final cry while lights rise and fall on a garbage-strewn stage. How better to sum up a life, and language's part in it?
Now that I've read Not I, one of three slightly longer Beckett plays coming to the Flynn Center for the Performing Arts in March, I may have to reconsider. A woman delivers the nine-minute monologue with such frenetic intensity that the story she insists is about she can only have happened to the speaker herself.
Or, rather, to the mouth itself: Throughout the play, the woman's spotlighted mouth is the only thing visible on an otherwise black stage, thanks to black makeup and a head immobilizer for the actor. What the mouth describes is a woman at 70, orphaned and formerly mute, who experienced a trauma of some kind and now seems driven to repeat the story in a torrent of sentence fragments.
Footfalls and Rockaby follow Not I in this well-traveled, hourlong trilogy performed by Scottish actor Lisa Dwan. Dwan's range of movement barely increases in the other two plays: In Footfalls, she paces a tiny strip of the stage, and in Rockaby, she's confined to a rocking chair. Nonetheless, Beckett's plays are crucially dependent on their actors, and critics are hailing Dwan as heir to the infinitely picky playwright's muse, Billie Whitelaw. "Breathtaking virtuosity," raved the Guardian in June. At least she gets to speak.
There is nothing like Beckett, but theater lovers should keep an eye on the Seven Days calendar for numerous productions, both local and touring, throughout the year.
— Amy Lilly
Tina Packer's Women of Will
Force and Heat: The Early Plays, Saturday, February 20, 8 p.m., and Chaos and Redemption: The Later Plays, Sunday, February 21, 7 p.m., at Wright Memorial Theatre, Middlebury College. $6-20.First Folio is on view February 2 through 28 at Overbrook Gallery, Middlebury College Museum of Art. Find more related lectures and events on the website.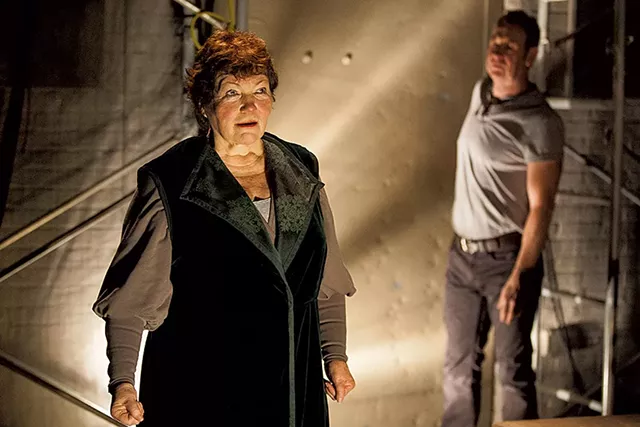 Courtesy Of Matthew Murphy
Nothing is simple when it comes to Shakespeare's women. In a culture that forbade women to appear onstage, the Bard created some of western literature's most sympathetic and complex heroines — and a few of its icons of womanly weakness (Reviving Ophelia, anyone?).
Tina Packer, founding artistic director of Shakespeare & Company in Lenox, Mass., knows these "women of Will" intimately. The award-winning actor and playwright spent 15 years developing a five-night theatrical series that combines in-depth discussion of the evolution of Shakespeare's female characters with illustrative excerpts, performed by Packer and Nigel Gore. In one scene, for instance, Packer transforms rapidly from Desdemona (of Othello) to Rosalind (of As You Like It) and back, thereby demonstrating how much power a woman in Shakespeare's world could gain by the simple act of donning trousers.
Since 2010, Packer has performed Women of Will around the world. This February she brings an abbreviated two-night version to Middlebury College as part of a month of special Bard-themed events. The college has been selected to display a copy of Shakespeare's First Folio — the first printed collection of his plays, of which only 233 copies exist — on the 400th anniversary of his death. Look for other dramatic doings all month on campus and around the state, including lectures on the Elizabethan stage and "Shakespeare in America."
If you can't get enough Shakespeare, also try these...
As You Like It, in rotation September 24 to October 24, various times, Lost Nation Theater at Montpelier City Hall. $10-30.
The Improvised Shakespeare Company, Thursday through Saturday, November 12 to 14, 8 p.m.; and Saturday, November 14, 2 p.m., FlynnSpace. $26-30.
Twelfth Night, Filter Theatre Productions with Royal Shakespeare Company, Friday and Saturday, January 15 and 16, 8 p.m., Moore Theater, Hopkins Center for the Arts. $17-35.
A Midsummer Night's Dream, Actors From the London Stage, Thursday and Friday, February 25 and 26, 8 p.m., Lane Series at FlynnSpace. $31-35.
— Margot Harrison
Red-Eye to Havre de Grace
Friday and Saturday, April 1 and 2, 8 p.m., Moore Theater, Hopkins Center for the Arts. $17-35.
Edgar Allan Poe had an end worthy of his status as a master of mystery and the macabre. In 1849, at age 40, the author disappeared for five days, only to turn up in Baltimore — not his planned destination — where he soon died of unknown causes. In the century and a half since, theories have abounded: Was Poe felled by epilepsy? Delirium tremens? Rabies? The 2012 movie The Raven went so far as to posit that he was murdered by a fan who also happened to be a prolific serial killer.
Billed as an "action opera," Red-Eye to Havre de Grace offers a version of Poe's final days that isn't quite as outlandish as Hollywood's. Instead, it's poetic, surreal and surprisingly witty. Narrated by a chipper park ranger at a modern-day Poe historic site, the four-character musical drama shows us what might have happened after the writer took the fatal train of the title. This Poe grapples with spectral visions of his dead child bride and fends off admirers who torment him by insisting he recite his greatest hit, "The Raven."
Avant-garde theater company Lucidity Suitcase Intercontinental collaborates on Red-Eye with composing-performing duo Wilhelm Bros. and Co. The project was more than a decade in the making — and the result, writes Charles Isherwood in the New York Times, is "from quirky start to haunting finish a feast of entrancing visual allurements ... among the most original musical theater works I've seen in years." In other words, worthy of the strange mind of Poe himself.
Nothing is quite like Red-Eye, but the season is rich with theatrical productions of all kinds. Keep an eye on the Seven Days calendar.
— Margot Harrison
Soovin Kim: 'Beethoven Project, Parts I AND II'
Part I: Soovin Kim with the Lake Champlain Chamber Music Festival Trio, Saturday, September 26, 8 p.m.; and Sunday, September 27, 2 p.m., at FlynnSpace. $26-30.Part II: Ying Quartet with Kim, February 27, 8 p.m.; and Sunday, February 28, 2 p.m., at FlynnSpace. $36-40.
Courtesy of Matthew Murphy
Last year, first violinist Soovin Kim and his Johannes String Quartet performed Beethoven's opus 135 with National Public Radio classical host Fred Child as the explainer. That was the fourth and last of Child's turns in Burlington as historical and musical illuminator of a program.
Those who enjoyed that approach — and all four performances sold out — will be keen to know that Kim, who is artistic director of the Lake Champlain Chamber Music Festival, will continue it with Beethoven's other late quartets. As LCCMF executive director Jody Woos notes, those five complex works can be difficult for audiences to absorb, so parsing and sampling them before giving a sustained performance helps.
Kim will dedicate two concerts in the 2015-16 season to unpacking op. 132 and 131. Both works were written in the last two years before Beethoven's death in 1827. For op. 132, which has a hymnlike theme in the third movement, Kim will join a trio from this year's LCCMF. The Ying Quartet, resident artists at the Eastman School of Music, will play 131 and contribute to Kim's commentary on the powerful, seven-movement work.
Next year, Kim will tackle the other two late quartets, according to Woos. The Beethoven Project will be an education about five monumental works that have had an immeasurable impact on music and listeners alike.
If you like this, also try...
Takács Quartet, Friday, September 25, 8 p.m., Spaulding Auditorium, Hopkins Center for the Arts. $17-50.
Shanghai Quartet with Wu Man, Thursday, October 29, 7:30 p.m., Middlebury College. $6-25. Friday, October 30, 7:30 p.m., Lane Series at UVM Recital Hall. $10-40.
Beethoven's Ninth Symphony at Green Mountain Mahler Festival, Saturday, January 2, 7:30 p.m., Spruce Peak Performing Arts Center. $10-25.
Heath Quartet, Thursdays, January 14 and 21, 7:30 p.m., Robison Hall, Middlebury College. Free. Thursday, February 4, 7:30 p.m. $6-20.
Michael Arnowitt, piano: Beethoven & Arnowitt VIII, Tuesday, February 2, 7 p.m., Casella Theater, Castleton University. $12-18.
Harlem Quartet with Ida Kavafian, Friday, February 26, 7:30 p.m., Lane Series at UVM Recital Hall. $10-40.
Chiara String Quartet, Saturday, March 12, 7:30 p.m., Chandler Music Hall. $5-40.
Jupiter String Quartet, Wednesday, March 23, 7:30 p.m., Robison Hall, Middlebury College. $6-25.
Dover Quartet, Friday, April 22, 7:30 p.m., Lane Series at UVM Recital Hall. $10-35.
— Amy Lilly
Sequentia: 'The Monk Sings the Pagan'
Thursday, April 28, 7 p.m. at Rollins Chapel, Dartmouth College. $17-20. Friday, April 29, 7:30 p.m., Lane Series at UVM Recital Hall. $10-35.
Courtesy of Stephanie Berger
A decade or so ago, Gregorian chant experienced a swell of popularity, evidenced by the best-selling 1994 album titled simply Chant. Recorded by the Spanish Benedictine Monks of Santo Domingo de Silos, the collection went double platinum in the U.S. alone. The soothing sounds were marketed — not without basis — as an antidote to stress. Indeed, even atheists can find calm in the hypnotic music, given that its religious messages are couched in Latin. Who cares what those monks are singing?
But here's the thing: Latin was not the native tongue of the medieval monks who originated the chants, and they had to learn it somehow. According to music scholars such as Benjamin Bagby, director of the internationally renowned medieval music ensemble Sequentia, they learned it from pagans. Manuscripts dating from the ninth to the 12th centuries reveal that the texts of some monastic songs were decidedly not Christian.
Rather, the monks studied surviving texts by Roman authors, poets, dramatists, teachers, philosophers and historians. Many of those texts found their way into the chants. In this way, explains Sequentia's website, "the Christian monk gave voice to his pagan ancestors, passing on stories and ideas which resonate to this day."
How monks learned Latin as a second language is not a question most of us have considered. But Bagby and his fellow researchers did, and still do. Their so-called Lost Songs Project informed Sequentia's current program, intriguingly titled "The Monk Sings the Pagan: Medieval Songs of Heroes, Gods and Strong Women." It comes to Dartmouth's Hopkins Center for the Arts and the University of Vermont Lane Series next spring. And don't worry, Lane director Natalie Neuert says translations will be provided, so 21st-century English speakers can tell sacred from profane.
If you like this, also try...
Anonymous 4 Holiday Concert: The Last NoEl, Saturday, December 12, 7:30 p.m., KCP Presents at North Congregational Church, St. Johnsbury. $15-39.
— Pamela Polston
Henry Butler with Steven Bernstein AND the Hot 9
Friday, October 23, 8 p.m. at Flynn MainStage. $15-36.
Courtesy Of Stephanie Berger
Henry Butler is a polyglot in the many musical languages of his native New Orleans, and the same can be said of Steven Bernstein, even if he does live in New York. So when the singer-pianist and trumpeter team up, along with Bernstein's band the Hot 9, fans of the Crescent City sound can expect a party — not to mention virtuosic performances.
Butler, who has been blind since birth, quite literally has a feel for the piano, and watching him play is a jaw-dropping experience. For more than 40 years, he's been performing — either as a soloist, with his own blues and jazz ensembles, with other musicians such as Bernstein and co., or backing other artists. You may have heard him on the HBO series "Treme." Butler has toured the world and handily earned the accolade "legendary." So he's a great role model at the camp he created for visually impaired teen musicians, which was the subject of a documentary titled The Music's Gonna Get You Through.
That's exactly what sustained Butler in the aftermath of Hurricane Katrina, which wrecked his house and swallowed his piano, his braille scores and his recording equipment. The beloved ambassador of New Orleans music was left "pretty much homeless," he told reporters. If it's true that you have to experience the blues to play it, Butler has that covered.
But you wouldn't know it to hear Viper's Drag, his 2014 album with Bernstein. One critic called the mix of originals and early hot jazz "vampy, bouncy, playful and saucy."
Sounds like the perfect antidote to stick season in Vermont.
Butler and Bernstein represent New Orleans this season, but if you like jazz piano, also try...
Matthew Shipp Trio, Friday, September 18, 8 p.m., FlynnSpace. $21-25.
— Pamela Polston
Patricia O'Callaghan Trio
Saturday, February 13, 7:30 p.m., Lane Series at UVM Recital Hall. $10-35.
In its publicity for Patricia O'Callaghan's concert, the Lane Series asks, "Where else would you want to be on Valentine's eve?" It's a legitimate question — especially if Leonard Cohen and Kurt Weill music is your idea of romantic. O'Callaghan, who last appeared at the Lane in 2013 with the Gryphon Trio, is calling her Valentine program "A Thousand Kisses Deep." That's the title of a Cohen song — and, in case you don't know it, the rest of the lyrics aren't quite as mushy as the name suggests.
For their part, critics have gone gaga for O'Callaghan's voice, with its "smoky" lower notes and an upper register that "vibrates with passion." JazzTimes magazine calls her "the stunning Canadian chanteuse with the chilling soprano voice."
Though her name gives away her Irish heritage, O'Callaghan was born in Ontario. As a child, she was torn between becoming a nun and a rock star, she has told interviewers. Perhaps she somehow split the difference by studying opera. Since then, O'Callaghan has developed an international reputation for her performances in contemporary opera and 20th-century cabaret, as well as for interpreting the songs of her Montréal-based countryman. In fact, O'Callaghan's latest CD is Matador: The Songs of Leonard Cohen.
It wasn't just the singer's vocal prowess that inspired Lane Series director Natalie Neuert to invite her back. O'Callaghan has "a striking stage presence" and creates a warm intimacy with her audience, says Neuert. In her view, "A Thousand Kisses Deep" is perfect Valentine material — even if you just love Leonard.
If you like this, also try...
Francesca Blanchard, Saturday, October 3, 8 p.m., Spruce Peak Performing Arts Center. $20-25.
Julie Fowlis, "Music of the Scottish Isles," Thursday, October 8, 7 p.m., KCP Presents at Fuller Hall. $15-44. Also Friday, October 9, 7:30 p.m., Lane Series at UVM Recital Hall. $10-30.
Susan Werner, Saturday, October 24, 7:30 p.m., Spruce Peak Performing Arts Center. $20-45.
Renée Fleming, Tuesday, October 27, 7 p.m., Spaulding Auditorium, Hopkins Center for the Arts. $45-100. (Sold out except for tickets held for students.)
Patty Griffin, Sara Watkins and Anaïs Mitchell, Tuesday, March 8, 7 p.m., KCP Presents at Fuller Hall. $15-64.
Ana Moura, Friday, April 29, 8 p.m., Flynn MainStage. $15-40.
— Pamela Polston