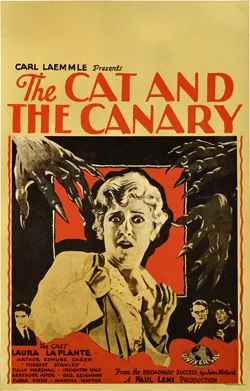 Fall is film series season. While you wait for the Vermont International Film Festival, which starts on October 21, check out some of these local opportunities to see new, rare or foreign fare on a big screen.
Spooky manifestations in an old mansion terrorize a young heiress in the silent classic The Cat and the Canary (1927). Catch one of the grandaddies of American horror film in the Brandon Town Hall, with a restored print and live musical accompaniment.
'That's All Folks!: Nuclear Holocaust Films of the '80s'
Thursdays, October 6 (Threads); October 13 (When the Wind Blows); and October 20 ("Special Bulletin"), all at 7 p.m., at the BCA Center, Burlington. Free. burlingtoncityarts.org
Scary in a whole different way is the BCA Center's series of three seldom-seen "Nuclear Holocaust Films of the '80s." Everyone who grew up during the Cold War remembers "The Day After," but the UK films Threads and When the Wind Blows, both about everyday people in the aftermath of an attack, are said to be even bleaker. "Special Bulletin," an American TV movie from 1983, is one of the best-known early examples of the faux-documentary; it simulates news coverage of a terrorist attack. Repeat to yourself, "It's only a movie..."
'Freedom'
Thursday, October 13, 7 and 9:15 p.m., at Merrill's Roxy Cinemas, Burlington. Regular admission, $5.50-9.25. thefreedomfilm.com
For a less apocalyptic view, catch two screenings of the alternative-energy documentary Freedom next week at Merrill's Roxy Cinemas. It explores strategies for freeing ourselves from oil dependency — and, less expectedly, asks us to reexamine ethanol. The filmmakers, Vermont native (Rebecca Harrell Tickell and her husband, Josh Tickell, will be on hand for a Q&A. Rebecca's mom, Rae Harrell, is a fiber and mixed-media artist with a gallery in Hinesburg.)
The Tickells' previous doc, Fuel, won a Sundance audience award, and their new exposé of the BP oil spill, The Big Fix, played last spring at Cannes. The couple will drive their biofueled mobile learning lab, the "Freedom Bus," to Champlain Valley Union High School, Rebecca's alma mater. You can climb aboard the green vehicle outside the Roxy, too.
UVM Film Series
Thursdays, October 6 (Sex Is Comedy); November 10 (Blackboards); February 9 (Rosenstrasse); and March 15 (An Angel at My Table). Prefilm lectures at 6 p.m.; screenings at 6:45 p.m., in Billings Lecture Hall, UVM, Burlington. $10 per film ($4 for students); or $25 for membership (whole series). uvm.edu/laneseries/film/uvm-film-series
Female filmmakers are the focus of this year's University of Vermont Film Series, which kicks off this Thursday with Sex Is Comedy. The 2002 drama about the difficulties of filming a movie sex scene comes from French provocatrice Catherine Breillat (Romance, Fat Girl). After films from Iranian Samira Makhmalbaf and German Margarethe von Trotta, the series will close in March with Jane Campion's transcendent biopic of writer Janet Frame, An Angel at My Table.
Barre Historical Society presents labor films
Friday, October 14, 7 p.m., at the Socialist Labor Party Hall, 46 Granite Street, Barre. Donations. Info, 456-7456. oldlaborhall.com
Labor Day may be over, but the ongoing Wall Street protests are making America's history of worker activism seem pretty relevant. The Barre Historical Society helps viewers explore that tradition with two films, one about life in the Winooski mills (The Spirit of '43: The Coming of Age of Labor in Vermont); and the other about a summer school that trained working women for activism from 1921 to 1938 (The Women of Summer).
'Tin Can'
Friday, October 21, 8:30 p.m., at the Palace 9 Cinemas, South Burlington. $5 suggested donation. tincanmovie.com; vtiff.org
Tin Can, the locally made sci-fi film we wrote about last June — featuring an intricate spaceship interior constructed in a Milton garage — has won the Most Artistic Film award at the Buffalo Niagara Film Festival. See it on Vermont International Film Festival's opening night at the Palace 9.
'Fear in Three Acts'
Saturday, October 29, 7 p.m., at the North Country Food Co-op, 25 Bridge Street, Plattsburgh, N.Y. Free. Info, serious_61@yahoo.com.
Finally, horror fans living anywhere in the vicinity of Plattsburgh should mark their calendars for a special triple feature on 16-millimeter film, happening on the Saturday before Halloween at the North Country Food Co-op. We recently learned that the Plattsburgh establishment hosts a hotbed of film cultists and celluloid preservationists. Watch for more details in an upcoming issue.