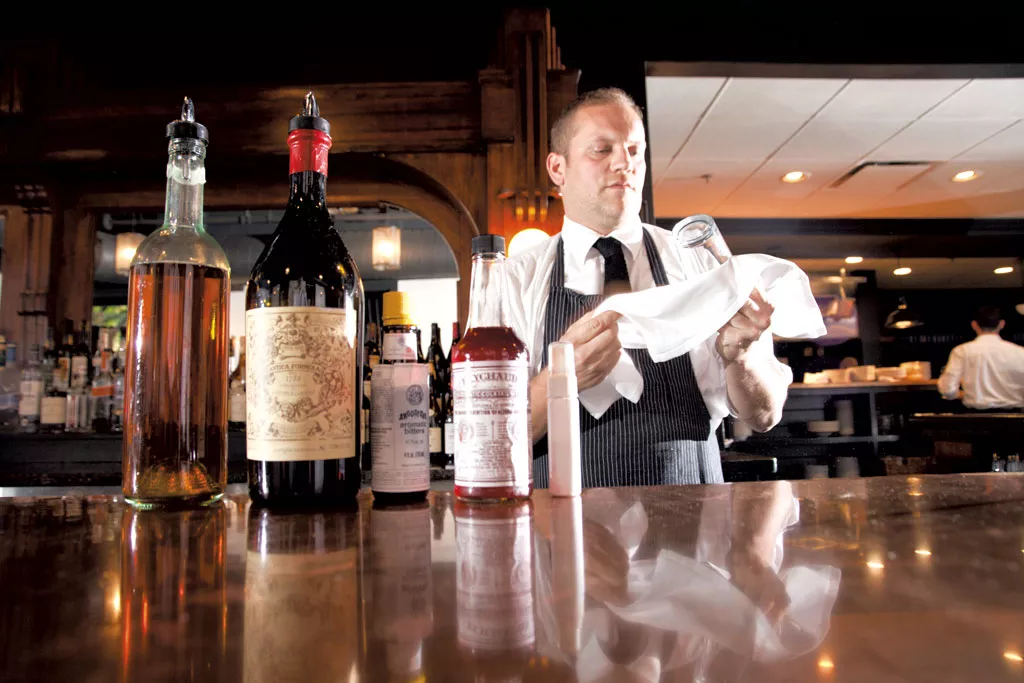 Matthew Thorsen
Scott Doherty at Bluebird Tavern
In New York City, nary a bar opens without a serious cocktail list — whether the tipples are new twists on classics like the Negroni or the Old Fashioned, or original concoctions with ingredient lists a mile long.
Matthew Thorsen
Matt Marrier, Sotto Enoteca
Here in Vermont, drinkers have been slower to warm up to cocktail culture. Maybe the beer is too distracting: With 40-plus local breweries pumping suds into ever more draught lines statewide, Vermonters can try a new brew every time they go out. And that exciting new beer will always cost less than a well-mixed cocktail, which can run $12 or more, depending on where you drink.
But the tide may be turning. As Ken Picard wrote in a recent Seven Days cover story, more and more Vermonters are now distilling liquor. Bartenders are happy to work with the increasing inventory of local spirits, and enterprising boozers are more willing to take a chance on a pricey cocktail when it's spiked with indigenous intrigue.
In downtown Burlington, St. Paul Street is home to a growing number of bartenders making sophisticated drinks for discerning adults. "This part of town is really growing up," says Jeffrey Murray, general manager of Trattoria Delia and Sotto Enoteca. With a new hotel going in across the street and the Gryphon catering to a mature crowd around the corner, Murray says these downtown blocks are "coming into their own," and developing a neighborhood feel.
At Bluebird Tavern, lead bartenders Scott Doherty and Ian Cyr are infusing liquors in-house, while just across the park, Murray and Pizzeria Verità bar manager Sam Nelis both work with exhaustive lists of Italian amari and other fine liqueurs. At the Gryphon, which opened on the corner of Main and St. Paul in mid-September, Niall McMahon and Kat Funk showcase classic flavor profiles rooted in the American South.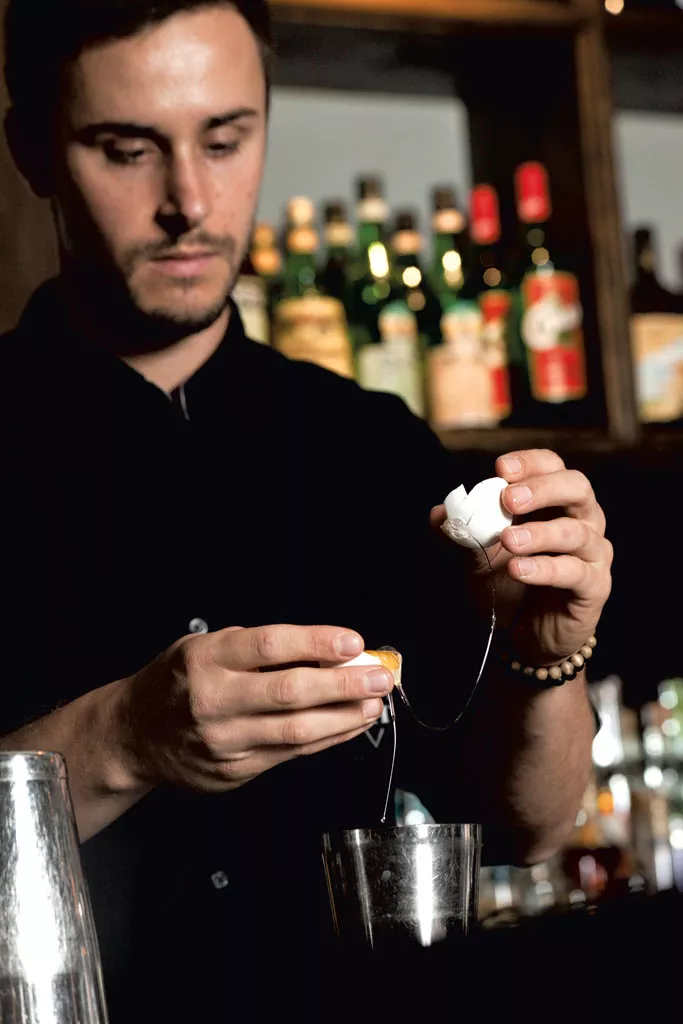 Matthew Thorsen
Eddie DiDonato, Pizzeria Verità
At Pizzeria Verità, Nelis says mixed drinks are starting to come out of the cupboard. "The cocktail culture in Burlington is 100 percent, if not 200 percent, bigger than it was a year ago," he says. "Every new restaurant has a cocktail list." Though many patrons will always choose a fresh new malt over a pricey cocktail, Nelis says Vermont's flourishing beer culture, along with patrons' interest in eating local, are helping to push mixed drinks and spirits into the limelight. What's more, he adds, "People are taking the craft of bartending seriously. I think it's becoming more and more of a career in a very positive way. And it's not only among the bartenders; the customers are noticing, too."
At Sotto Enoteca, Murray says that, despite being late to the party, Burlington's already ahead of the curve. "I just read an article in the New York Times about overreaching with cocktails — being unique just for the sake of being unique," he says. "It was great to see that article, but it was also great to see that we're not having such a problem with that around here. Bartenders have put a lot of thought into what they're putting on their lists." Knowing when to hold back, Murray says, is just as important as knowing when to use that cool new ingredient.
Matthew Thorsen
Niall McMahon, The Gryphon
At the Gryphon, McMahon also likes to keep things simple. "I don't like the word 'craft' cocktail," he says. "It just sounds a little snootsy." He's content to mix interesting drinks without the fancy buzzwords. "Cocktails can be a great way to expose someone to something new or different," McMahon says. "But they shouldn't be done in a way that alienates anyone. There needs to be a point of accessibility."
Like everything food-related, spirited drinks can correspond with the changing seasons — fall is a time for darkening flavors laden with spice, earth tones and hints of citrus fruits, which are about to come into season down south. And with the leaves and temperature dropping, great pleasure can be found in a glass of well-mixed booze.
But you don't have to barhop to enjoy a spirited concoction. With the holidays approaching in all their dinner-party, family-filled, merrymaking glory, more and more Vermonters will be mixing drinks in the warmth and comfort of their own homes. For those who want to wow their guests with a top-shelf beverage, the good barkeeps of St. Paul Street were kind enough to spill some of their secrets.
In the spirit of sharing, here are four of their latest creations.
Pêche Manhattan
Bluebird Tavern, 86 St. Paul Street, 540-1786. bluebirdtavern.com
Matthew Thorsen
Scott Doherty making a Pêche Manhattan
"When it's cold out, whiskey's warm, and the spices in this drink are all warming and comforting. It's something to sit with: a long drink, not a short drink." — Scott Doherty
Cinnamon perfume* or cinnamon aromatic bitters
3 ounces peach-infused** bourbon whiskey
1/4 ounce Carpano Antica Formula sweet vermouth
A couple dashes Angostura bitters
A couple dashes Peychaud's bitters
Amarena cherries, for garnish

Rinse glass with cinnamon perfume or aromatic bitters and set aside. Mix the remaining ingredients in a large glass, add ice, stir until everything is chilled and strain into a martini glass. Garnish with amarena cherries or whichever fruit you prefer.
*To make the perfume: Place one cinnamon stick, five cloves and a couple of unsulfured, dehydrated peaches in a jar. Fill the jar with high-proof whiskey and let sit for a week or more until the whiskey takes on the scent of the spices.
**To infuse the whiskey: Place 10 whole, unsulfured, dehydrated peaches in a large, sealable jar and pour a full 750-milliliter bottle of bourbon over them. (Doherty uses McAfee's Benchmark, but any high-quality, smooth bourbon will do.) Let sit for about a week, agitating occasionally, until the whiskey absorbs the scent and flavor of the peaches.
Tocco Amaro
Sotto Enoteca, 52 St. Paul Street, 864-5253. trattoriadelia.com
Matthew Thorsen
Tocco Amaro
"At Trattoria Delia and Sotto Enoteca, we try not to get too far afield from an Italian sensibility. We look at what's going on in Italy in terms of cocktails and focusing on classic flavor profiles." — Jeffrey Murray
2 ounces Espolón Blanco Tequila
3/4 ounce Aperol
1/4 ounce Cointreau
1 ounce fresh-squeezed grapefruit juice
Grapefruit peel, for garnish

Combine all ingredients in a mixing glass. Add ice and shake gently. Strain over fresh ice (one-inch-square cubes, if possible) into an Old Fashioned glass. Garnish with grapefruit peel.
The Matterhorn
Pizzeria Verità, 156 St. Paul Street, 489-5644. pizzeriaverita.com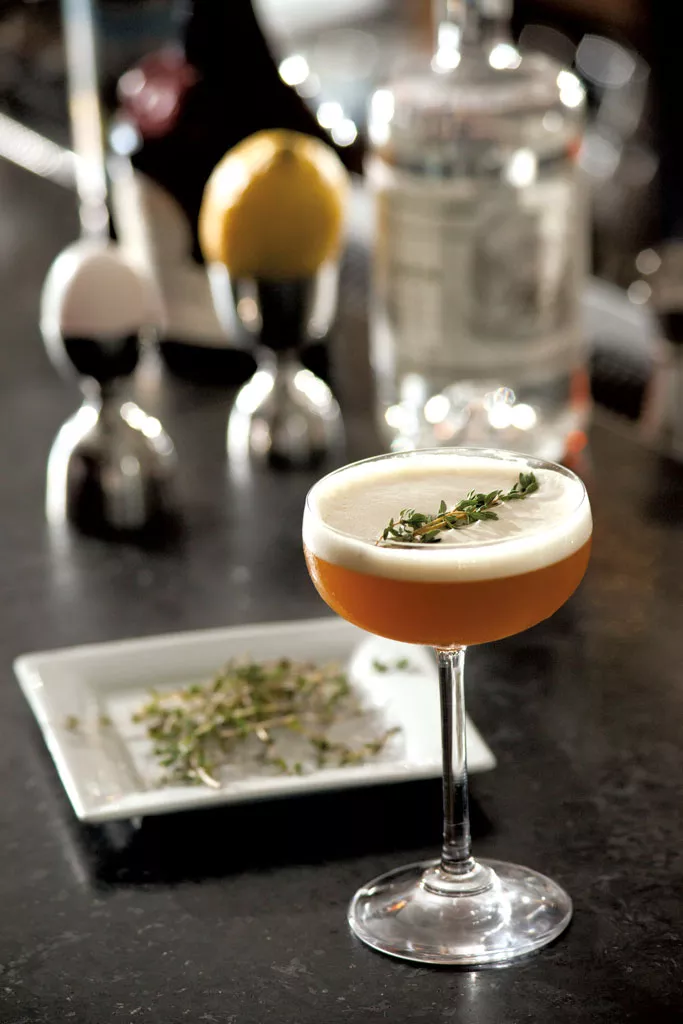 Matthew Thorsen
The Matterhorn
"This drink really feels like walking through the woods on a cold fall day, all earthy and crisp and bright and leaves on the ground. It's a great example of seasonal flavor; you drink it, and it tastes like fall." — Sam Nelis
1 ounce St. George Spirits Terroir gin 1 ounce Braulio Amaro
3/4 ounce fresh lemon juice
1/2 ounce Bénédictine
1 egg white
Orange twist
Sprig of fresh thyme, for garnish

Combine the ingredients in a large glass or shaker and shake for about 30 seconds. Add ice and shake again, for another 15 to 20 seconds. Double strain into a coupe glass and squeeze the orange skin over the top. Garnish with thyme and serve.
Fall Flip
The Gryphon, 131 Main Street, 489-5699. thegryphonvt.com
Matthew Thorsen
Fall Flip
"One night a few weeks ago, this guy and his girlfriend came in, and they were the only people at the restaurant. Come to find out, it was Andrew Leichthammer ... of [Winooski's] Mule Bar ... We got to talking, and I said I wanted to make a bourbon-based drink, something really fall-like. He jumped behind the bar, and we played around until we came up with this one. It's kind of like a bourbon eggnog." — Niall McMahon
1 1/2 ounces Buffalo Trace or other fine bourbon
1/2 ounce simple syrup
3/4 ounce Art in the Age SNAP liqueur
1/4 ounce applejack liqueur
1 whole egg
Combine ingredients in a large glass or shaker and shake vigorously for 30 seconds. Fill the shaker with ice and shake for another 30 seconds or so, until the shaker gets frosty. Strain into a coupe glass and serve.
The original print version of this article was headlined: "Cocktail Strip"