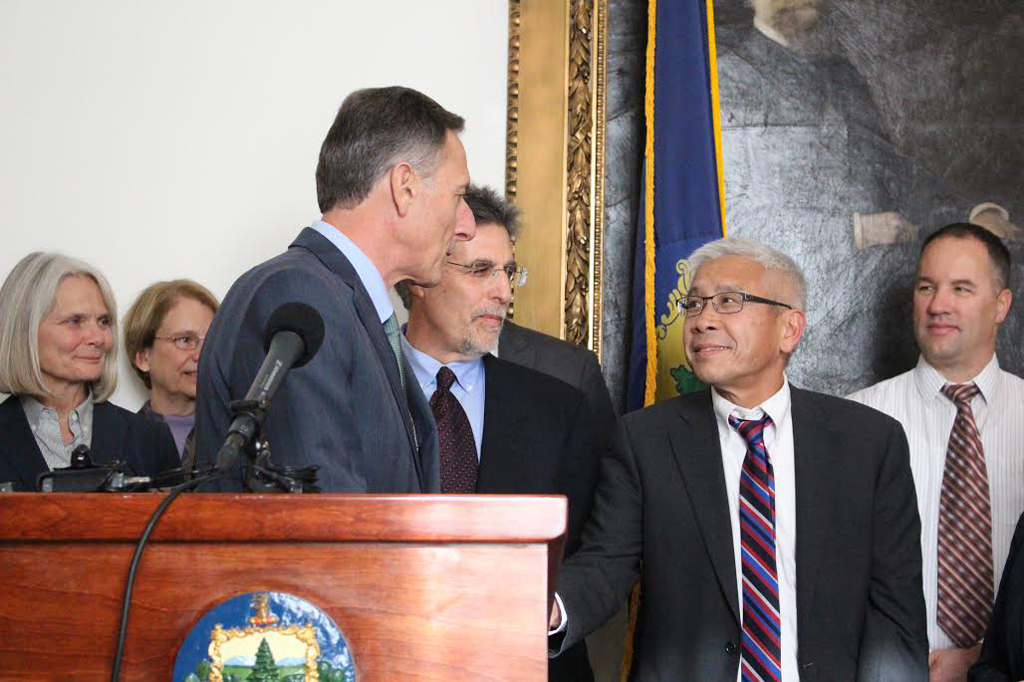 Paul Heintz
Gov. Peter Shumlin and Health Commissioner Harry Chen in December 2014
As a measles outbreak continued to spread from California to 16 other states last week, an outbreak of vaccination debate infected U.S. politics.
Vermont was hardly immune.
In an interview with Vermont Public Radio's Alex Keefe last Tuesday, Vermont Department of Health Commissioner Harry Chen warned that measles is "only one plane ride or one car ride away." Noting that in a handful of Vermont schools only 30 to 40 percent of students are fully immunized from measles, mumps and rubella, Chen said an outbreak could "absolutely" happen here.
"In some of those schools, you could have an outbreak very easily, and it could get very big, very quickly," he said.
That's why Chen, a former emergency room doctor and state representative, has long believed that Vermont should do away with its so-called "philosophical exemption," which allows parents to keep their unvaccinated children in school.
"My position has always been fairly clear: that I do think that vaccination is the safest thing you can do for your children and that it's our responsibility to ensure that all kids in school — especially those that can't be vaccinated — are protected," he told Keefe. "So I am not in favor of the philosophical exemption."
Chen's boss, Gov. Peter Shumlin, sees it differently.
At a press conference in Burlington the next day, Shumlin echoed many of Chen's points and urged parents to, "Do the right thing: Vaccinate your kids. They work."
But he also defended a compromise he helped strike in May 2012, the last time the vaccination debate swept through Vermont. After the Senate voted 24 to 4 in favor of killing the exemption, anti-vaccination activists stormed the Statehouse and convinced the House to rewrite the bill.
In the end, lawmakers signed off on a compromise allowing parents with "religious or philosophical convictions opposed to immunization" to continue to skip vaccinating their children, so long as they signed a statement saying they understood the risks to their kids and others'. The bill also called on Chen's department to collect and publicize each school's vaccination rate.
At Wednesday's presser, Shumlin called the law an "elegant" way to strike a "balance" between opposing beliefs. Asked whether he would prefer to "leave it alone," the gov answered in the affirmative.
As VPR's Taylor Dobbs noted in a story that aired later Wednesday, Shumlin's argument mirrored one articulated two days earlier by New Jersey Gov. Chris Christie, who's expected to run for president in the Republican primary.
Christie said vaccinations are "an important part" of protecting children's health, adding, "I also understand that parents need to have some measure of choice in things as well, so that's the balance the government has to decide."
Said Shumlin, "We have to find the balance between what we believe and individual liberties."
The gov's head spin meister, deputy chief of staff Scott Coriell, didn't like the comparison. He took to Twitter that night to publicly shame Dobbs, writing, "@taylordobbs, this story is not accurate. @GovPeterShumlin did not question the science & told #VT'ers to get vaccinated."
Later, Coriell accused Dobbs over Twitter of "shoddy journalism" and "trying for a headline & that's why you mention christie. It's selective reporting not worthy of @vprnet."
Coriell is right that his boss never questioned the science of vaccines, but Dobbs never said he did. Asked via email what, precisely, VPR got wrong, Coriell suddenly clammed up and declined to respond. Dobbs' boss, VPR news director John Dillon, defended his reporter, calling the story "fair, accurate and very timely."
The next day, Sen. Kevin Mullin (R-Rutland) held a Statehouse press conference to announce that he would again seek to ditch Vermont's philosophical exemption.
"We're going in the wrong direction," Mullin said later. "It's time for people to realize that they're not just making a decision for themselves, because if their child becomes sick, their child may well survive. But it might be their best friend's baby who dies."
By the time Mullin held his press conference, Shumlin appeared to have reined in Chen.
In a written statement released soon after, the rogue commissioner said that while vaccinations are "the most important action you can take" to protect your child, "We are not convinced that removing the philosophical exemption will contribute to improved childhood immunization rates."
Wait, what?! Was this the same ER doc who just days earlier told VPR he opposed the exemption?
"I'm torn," Chen explained in a phone interview. "Right? I mean, it's clear that this is not an easy decision to come to. In 2012, I certainly supported removing the exemption, and if you could just snap your fingers and have it done, it would probably, from a pure public health perspective, make sense."
But after discussions with his staff, Chen said, he had come to the conclusion that another "contentious, polarizing debate" would only give voice to those who falsely claim that vaccinations do more harm than good.
"The science of vaccines is really clear, in terms of being effective and being safe," he said. "The science of how you get people vaccinated is a little different, and I'm not sure the science says removing the exemption will actually be successful."
Mullin doesn't think much of that argument.
"The whole country is having this debate right now," the Rutland Republican said. "The commissioner and the governor can put their heads in the sand and not participate in a national debate, but the debate's here."
Chen may have a point. In a recent study published by Erika Franklin Fowler and Sarah Gollust, which they wrote about this week in the Washington Post, the social science professors found that "the more news media devote[s] attention to the political controversy, the less the public support[s] vaccination."
Whoops!
As for Chen's precipitous and public switcheroo, was the good doctor taking a little too much public health advice from the governor, who wasn't exactly trained in the field?
"It would be silly not to know what my boss' position is," Chen said, adding that he believes Shumlin's views on vaccines may be moving closer to his own.
It wouldn't be the first time Shumlin found himself at odds with his Department of Health. Chen has argued for stronger regulation of tobacco products and toxic chemicals and against legalizing marijuana — positions not exactly in keeping with Shumlin's.
"That's one of the toughest things about this job," Chen said. "That's a calculation you have to make all the time. But I have to say: I always feel free to stand with what the science says."
So what does the data collected by the Department of Health say about how well Vermont's philosophical exemption is working?
A year after Vermont passed its last law extending the practice, the number of fully vaccinated children entering kindergarten dropped by slightly more than 1 percent — from 86.9 percent to 85.8 percent. While only 11 of the 6,771 students in that grade sought a medical exemption and 13 a religious exemption, 399 students requested a philosophical exemption.
Last Friday Neal Goswami of the Vermont Press Bureau asked Shumlin about the growing number of unvaccinated children in Vermont. The governor paused and said, "I just am not that familiar with the numbers from the last 12 months."
So it seems.
Dept. of No Ovation
Sitting in his office on the second floor of the Statehouse, House Speaker Shap Smith (D-Morristown) opined recently that the $93 million budget gap facing the legislature is "really being glossed over."
"We seem to sort of hack away at current programs and not necessarily just say, 'You know what, we're not going to do this anymore,'" he said. "I guess the question is, well, you know, at $93 million, is there something you just say we're not going to do anymore? So I think it's worth putting something like that on the table, to show people what would that mean."
What program or department would Smith recommend axing?
"I'll get back to you in the next 10 days," he said with a laugh. "How's that?"
But two minutes later, Smith had already come up with an answer.
"I'll tell you one right now: Is the Department of Information and Innovation doing what it should do? And do we really need to have it?" he said. "We could outsource it to Vermont firms. There are plenty of IT firms in Vermont."
A week later, Senate President Pro Tem John Campbell (D-Windsor) answered the question in much the same way.
"If I had to look at one area I'd consider, it would certainly be DII," he said, arguing that the department had created a "fiefdom" and was widely seen as "obstructionist."
"I have not heard one person speak well of DII and the people they have to deal with. It's just like they've gone out of their way trying to be nasty," Campbell said. "What it comes down to is: I think DII has to be put under a microscope."
What is DII? Essentially, the state's in-house information technology department. Created in 2003 to centralize IT services, DII's 123 employees handle everything from internet connectivity to major software projects. Its annual budget, currently $21.9 million, is slated to grow more than 65 percent next year to $36.2 million, if the legislature adopts Shumlin's recommendations.
"We're happy to be put under a microscope," says DII Commissioner Richard Boes, the state's chief information officer. "I have not received any specific complaints from department heads or legislators."
According to Boes, DII has actually managed to cut the costs of many basic services it provides to other departments and agencies by renegotiating network contracts and centralizing Microsoft licensing. The reason for the budget increase, he says, is that other branches of state government have requested expensive systems overhauls.
Rep. Sam Young (D-Glover), who makes a living as a web developer, says the government's never any good at coping with technology.
"The technology is always moving so fast, and the bureaucracy is moving so slow," he says. "This is the Department of Information and Innovation, but are they really keeping pace with innovation? I don't think so."
Boes disagrees.
"I'm very proud of what DII delivers and the efficiencies we've brought to state government," he says. "I think we've got a positive story to tell."
Time to start telling it.
Media Notes
Longtime Burlington Free Press reporter Molly Walsh is leaving the paper at the end of the month to join Seven Days.
Walsh has worked at the Freeps since 1987, when the USA Today researcher volunteered to take part in Gannett's employee loaner program — and fell in love with Burlington. Since then, she says, she's "worked in every department at the Free Press except sports." Walsh is currently covering Chittenden County and Burlington's mayoral race.
"I've worked with some great people, and I'll certainly miss my colleagues," Walsh says. "There's been a lot of change. I think some of the changes are for the better and some are questionable. Time will tell which work out. I certainly hope the Free Press succeeds."
According to Seven Days publisher and coeditor Paula Routly, Walsh will join staff writer Alicia Freese in covering Burlington and the rest of Chittenden County. Her hiring, which takes effect March 9, follows that of former Freeps reporters Terri Hallenbeck and Nancy Remsen, who now cover the Statehouse for Seven Days.
Routly, a former Freeps reporter herself, has known Walsh since they worked side by side at the paper in 1987 and 1988.
"Molly will give us the editorial firepower to write about the city the way we have always wanted," Routly says. "She is a versatile and productive reporter and a natural storyteller — just the kind of writer who can spread her wings and thrive at Seven Days."
Disclosure: Paul Heintz's partner, Shayla Livingston, is an analyst at the Vermont Department of Health.