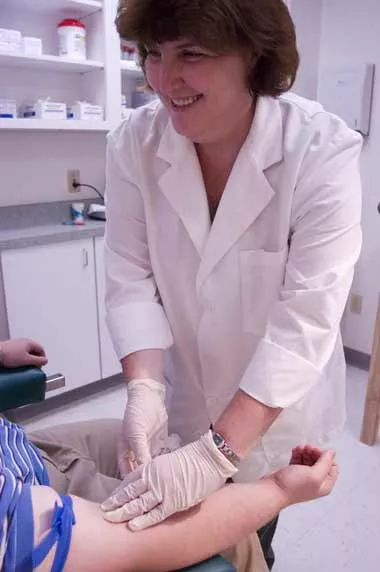 On Labor Day 2007, many Vermonters will go through a practiced, patriotic schlep: banners, barbecue, and so forth. But those who once worked in the state's decommissioned manufacturing facilities will be left out of the party.
Caving to overseas trade pressures, Vermont lost almost one in four manufacturing jobs between 2000 and 2006. And in the new global economy, the state's saga mirrors national trends.
Last week, Seven Days talked with three middle-aged ex-factory workers from three recently closed plants: Standard Register in Middlebury, Capital City Press in Berlin and Specialty Filaments in Burlington. One meeting took place in a sunlit kitchen, the others in bustling coffee shops. The profiles don't represent an exhaustive analysis of Vermont's economy. Rather, they address general themes germane to labor, trade and technology in the Green Mountains.
SKIP PATTERSON, MIDDLEBURY
Heading south from Middlebury on Route 7, most drivers don't think about what goes on inside that monolithic warehouse just beyond the A&W drive-in. But for more than 40 years, the space was one of rural Addison County's manufacturing meccas.
Starting in 1965, the building belonged to the Standard Register Company (SRC). In the '80s, as many as 250 employees were producing reams of "registers" - a.k.a., business forms and secure documents - for export all over the United States. Citing economic considerations, the Dayton, Ohio-based business closed its Middlebury location in January 2007, laying off 112 workers.
The SRC plant was the largest manufacturer in town from the early '90s till its closing. Middlebury resident Skip Patterson worked there for 37 years. His comments paint a nuanced portrait of a county that, despite a proportionately diminished manufacturing sector, appears to be reinventing its industrial image.
Patterson, 63, lives on a side street about a mile from his old workplace. The jovial former line worker, who by 2005 was making $20 per hour, wasn't blindsided by the closing. "Most everybody had a general idea that, somewhere down the road, the Middlebury plant would be terminated," says Patterson. "It's just a progressive tightening of the market."
If his reaction to getting laid off sounds oddly casual, that's because Patterson already had a few other irons in the fire when he got the word about SRC. Two or three years before he lost his job, he started driving for Middlebury Transit, a local shuttle and limousine service. His experience is not unusual. "Some people I've talked to have found other jobs," Patterson reports, adding that he knows three people working at the B.F. Goodrich tire plant in Vergennes, and another three driving trucks. "Others are just, oh, waitin' it out [to] see if they can't find something decent instead of taking the first thing that [comes] along," he adds.
According to Jamie Stewart, executive director of the Addison County Economic Development Corporation, Patterson's layoff echoes regional trends. A decade ago, he says, manufacturing accounted for 18 percent of total employment in the county; in the last decade, that figure has dropped by half.
Still, notes Stewart, that doesn't mean Middlebury's economy is suffering from the upheaval. Far from it: Even as a business like SRC goes under, others are taking off. Stewart cites Otter Creek Brewing in Middlebury, Nathaniel Group electronics in Vergennes and Autumn Harp cosmetics in Bristol as small, manufacturing-based companies that have been successful in selling specialized products. Between such niche businesses and an innovative agricultural sector, Stewart says, the region is well prepared to hold its own in an increasingly globalized marketplace.
The former SRC facility itself appears to illustrate his claim. By September, a new business - Connor Building Company - will be installed in the 116,000-square-foot space. President Michael Connor, whose company manufactures pre-designed homes, has already hired a few former SRC workers. Speaking by phone from the still-empty factory, he asserts that despite market upheavals, the storied "Vermont brand" still enjoys a perceived cachet among clients.
Connor and Stewart agree, however, that their analysis won't comfort some of Patterson's less fortunate former colleagues. "When you have employees that have been in a place for 30 years . . . that doesn't transfer to a new employer," Stewart says. "Somebody who's in their twenties? It's early enough in their life that they can make some changes and go in a new direction. They don't have as much invested in one place."
Skip Patterson agrees. Heaving a sigh, he says most of the former SRC employees he knows who've found new jobs have taken at least a 50 percent pay cut. In addition, there's what he calls the "mental aspect" of readjustment. "For people who've been there for 30 to 35 years, it's like a home to them," he reflects. "If all of a sudden [they've] got no more job, they have a hard time dealing with the fact that they've gotta find something else."
GARY MURPHY, SOUTH RYEGATE
Gary Murphy lost his job at Capital City Press in Berlin on the morning of August 31, 2005 - three days after Hurricane Katrina hit New Orleans. By the time he stepped out for a 10 o'clock cigarette break, the price of gas had risen by 35 cents per gallon.
Murphy, 58, a former high-ranking union rep at Capital City, was one of about 250 workers to get a pink slip. In the two years since that layoff, Katrina has faded from the general public's view, and Murphy and his colleagues have quietly reconfigured their lives. But according to this printing guru, finding well-paying jobs in Vermont is tough. And, he predicts, the crisis in America's manufacturing sector is about to get even worse.
Murphy now has a new daily routine. Half the week, he works at a supermarket in New Hampshire for $7.50 per hour. That pales in comparison to his former gig, which paid $16.25 plus benefits. When he's not working, he takes computer-programming courses - most of them online - at Community College of Vermont.
Despite having a knack for web design, Murphy hasn't been able to find anything comparable to his former situation. "I mean, you're talking about people who are highly trained, specialized," he says of his printing colleagues. "We had a lot of trouble finding jobs. I can't even tell you . . . I must have put out about 60 or 70 resumes, maybe more." One of his rejections came, ironically, from the state Department of Labor.
According to former Capital City union rep Dan Brush, Murphy's experience is par for the course. Brush, currently a regional vice president for the Amalgamated Lithographers of America, helped Murphy and his colleagues fight for Trade Adjustment Act benefits after the plant closing. But he admits that, even with TAA-sponsored training, it's hard for ex-factory workers to break into a changing economy. "There aren't a whole lot of jobs that provide a livable wage and comforts to people," Brush reports. And now that so many manufacturing plants have closed in Vermont, he adds, competition for service-sector jobs is "very fierce."
Though he no longer works at a unionized plant, Murphy is active in the labor movement. A Barre native, he's done worker advocacy for about 25 years, both independently and with groups such as the Vermont Labor Council and the Vermont Workers' Center. In the last five or six years, he observes, workers at Fletcher Allen Health Care and the University of Vermont have made organizing progress, bucking a national anti-labor trend.
For advocates such as Murphy and Brush, the fight for local representation and livable wages is inextricable from politics and trade policy. Murphy is quick to criticize Governor Jim Douglas' alleged resistance, two or three years ago, to include a rep from organized labor on the Workforce Development Council. But he recalls, too, that Democratic Governor Howard Dean supported the controversial Central American Free Trade Agreement. Along the same lines, Murphy faults President George W. Bush for brokering irresponsible trade policies, but he cautions, "I can't see that most Democratic presidents we've had recently have been any better."
Surveying the current economy, Murphy admits he doesn't have an "optimistic outlook" for the state or country. "By sending all these manufacturing jobs to other countries," he suggests, "we're going to lose the knowledge base of how to do the jobs."
He adds: "That's a security risk right there, as far as I'm concerned."
CARRIE JUSTICE, HINESBURG
From 7 a.m. to 3:30 p.m. every weekday, Carrie Justice draws blood in a South Burlington medical office. The work space is more pleasant than her last, which didn't have air conditioning. But her new situation isn't perfect by any means: Justice, 46, won't have health insurance until November.
Justice - née LaValley - is one of about 150 workers who were laid off in 2005 from the former Specialty Filaments (SF) plant on Pine Street in Burlington. The company, still based in Middlebury, makes plastic bristles for items such as vacuums and toothbrushes. Its Burlington digs have since been taken over by Lake Champlain Chocolates and Dealer.com, an online automotive resource. For Justice and other ex-SF workers, however, making a new beginning has been bittersweet.
Justice joined the company in 1983 to work as a "cutter packer" - back then, she recalls, just one employment option among many. Her father had started at Specialty Filaments in 1960, but before following in his footsteps, Justice considered jobs at other large factories in Chittenden County, such as IBM. "You would think, Oh, I could get into manufacturing," she explains. "Because you knew you could get good benefits."
Health and dental care notwithstanding, the work was difficult. Likening the facility to a "sweatshop," Justice says many of her co-workers suffered from repetitive-motion injuries such as carpal tunnel syndrome. Plus, she often had to speak up for workers' - and women's - rights. When she got pregnant in 1990, she says, SF tried to put her on short-term disability leave - at $99 per week - rather than switch her to a less physically demanding task. "They didn't know what to do with a fertile female," she deadpans, "so I took them to court." After that debacle, Justice became a union steward for the UNITE HERE Local 438.
When the plant closed in 2005, SF workers scattered. According to Justice, many of her coworkers moved on to manufacturing jobs at Champlain Cable Corporation in Colchester, Asten Johnson Filaments in Williston, Green Mountain Coffee Roasters in Waterbury and Twincraft Soap in Winooski. That includes her husband: He scored work at Super Temp Wire and Cable, also in Winooski.
Justice, on the other hand, decided she'd had enough of manufacturing. "If you asked me two years ago if I'd be drawing blood, I'd tell you you were crazy," she says with a laugh. "But I've had a change in my life. No one ever likes changes, but I like it."
The switch has resulted in both hardship and opportunity. All told, Justice and her husband, who live in a Hinesburg mobile home, have lost half their income. But, like Gary Murphy, she received money from the federal Trade Adjustment Act to pay for her computer classes at the local Community College of Vermont. She speculates that someday she'd like to get a job at Fletcher Allen Health Care as a medical assistant or radiologist.
In the meantime, Justice moonlights as a union rep for former SF workers. That's because older ones still seek her advice on pension claims. "They have to fight for their information," she laments. "I think when [SF] filed for bankruptcy, they didn't give a rat's ass about anyone."
Asked to comment for this story, U.S. Senator Bernie Sanders (I-VT) says Justice's predicament is "not unusual." This fall, Sanders says, he'll push for an expansion of the same federal Trade Adjustment Act she benefits from. He'll also oppose "fast-track authorization" - a clause that grants President Bush greater authority over Congress on trade policy - and a slew of other new so-called "free trade" agreements.
The loss of manufacturing jobs in the last six years "has been really painful for Vermont workers," Sanders notes. Current conditions make it easy "for American companies to throw workers . . . out on the street, move to China, pay people there 50 cents an hour and bring their products back into this country," he adds.
Like Sanders, Justice has been critical of U.S. trade policy for years. In the early '90s, her union resisted the North American Free Trade Agreement, which loosened labor and environmental standards. Today, she worries not just about American workers but also about their foreign counterparts working under dismal conditions. "I don't have a problem with our jobs leaving," she says, "but what happens when [Chinese workers] get sick? Who's going to help them out?"
Justice herself has an ominous answer. "Most likely," she suggests, "it will be us to help them out, one way or another."