Upon entering the Burlington High School library, visitors confront a large multimedia display that's intended to provoke and challenge them. It focuses on the white supremacist rally in Charlottesville, Virginia, in August and the violence that erupted afterward.
One enlarged photo shows white supremacist demonstrators carrying tiki torches. Another captures the moment when several people were thrown into the air by a car that slammed through a crowd of counter-protesters. Another shows a candlelight vigil. All three are positioned around an American flag.
Also on display are an array of books, from nonfiction texts about hate crimes and extremist groups to the graphic novel March by U.S. Congressman and civil rights champion John Lewis. The books surround a computer monitor showing a Politico story from August 24 titled "Our left-right media divide told through Charlottesville." It's an analysis of articles that left- and right-leaning Twitter users shared during and after the events there.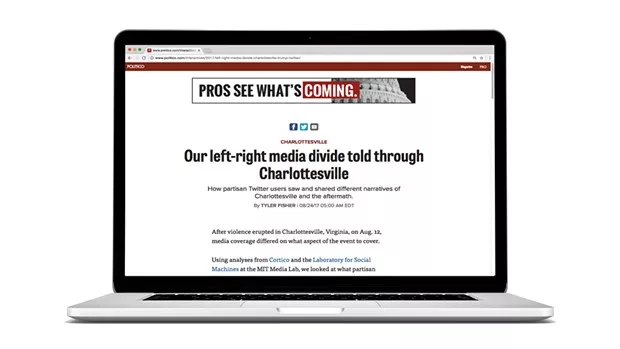 It shows that liberal-leaning users shared a CNN story promising to reveal "Donald Trump's incredibly unpresidential statement on Charlottesville." Meanwhile, conservative-leaning Tweeters shared a Fox News article entitled "Trump condemns 'egregious display of hatred, bigotry and violence' in Charlottesville."
How are these articles different from each other? Which is more accurate? Why did they resonate with different audiences, and what does this pattern suggest about the health of our democracy?
The exhibit prompts teachers and students to consider those questions, and serves as a resource to help them explore those topics. It's also indicative of how some school libraries are evolving in the digital age.
Shannon Walters, Burlington High School's teacher librarian and technology integration specialist created the display. Librarians are in the information business, she explained. That includes teaching kids how to access, analyze and use it across different subjects. In the days of encyclopedias, almanacs and the Dewey Decimal System, that was a relatively straightforward task. But with an unlimited and constant flow of information online, it's become much more complicated.
Donna Sullivan-Macdonald, library media and instructional technology specialist at Orchard School in South Burlington and president of the Vermont School Library Association, concurs. Teaching kids strategies for accessing and evaluating information "is much different than when I first became a librarian," more than two decades ago, she wrote via email. "The availability of much more sophisticated electronic resources means that I need to spend much more time on evaluating the quality of the material and its ethical use."
Though our kids are commonly referred to as "digital natives" who've never experienced a world without the internet, research shows that they still have a lot to learn about navigating that world. A recent Stanford University study of middle, high school and college students in 12 states showed that, across the board, students' civic online reasoning — their "ability to judge the credibility of information that floods young people's smartphones, tablets and computers" — was "bleak."
One illuminating finding: At the middle school level, more than 80 percent of students believed that a native advertisement on Slate's homepage — which resembles an article but is paid for by an advertiser to promote their product and labeled as "sponsored content" — was a real news story.
Amy Blauvelt, library media specialist at Tuttle Middle School in South Burlington, said teaching kids to evaluate online information is one of her most challenging jobs. That's because middle schoolers often lack the critical-thinking skills to judge the accuracy, relevance and reliability of what they find on the web, she said. "They do a Google search, and take the first source they see."
So how can parents and educators help kids become critical consumers of this vast trove of digitized info? The Burlington High School library display suggests one approach: Address tricky topics, like identifying deceptive or biased news, head on. Vermont Secretary of Education Rebecca Holcombe echoed this in a memo she sent to educators. When teachers asked how they should address the events in Charlottesville, she wrote, "Don't be afraid to tackle hard issues: your students are already marinating in them through family conversations, social media and the press."
Emma Chaffee, editor in chief of Burlington High School's award-winning student newspaper the BHS Register, suggests that actually making media has helped her understand it better. "When we're creating it ourselves, we have to be so careful and make sure our opinions aren't in there and it's just the facts," she said.
Kids VT recently talked with librarians Walters, Sullivan-Macdonald and Blauvelt about the specific methods and resources they use to teach kids how to be savvy consumers of information in the 21st century.
Identifying a Credible Source
Walters teaches high school students the CRAAP Test, originated by the California State University system, to help students evaluate information. It's an acronym that represents the five things to consider when judging whether something is credible and useful: currency, or the timeliness of the information; relevance, or how important it is to the task at hand; authority, or the source of the information; accuracy, or the reliability, truthfulness and correctness of the information; and purpose, or the reason the information exists. Find the test here: http://ucsd.libguides.com/preuss/webeval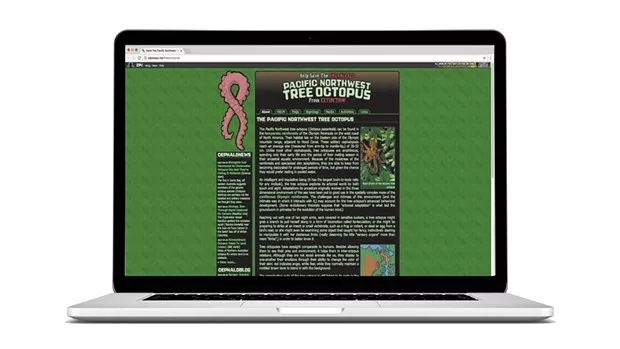 Walters also uses images — like a photo from National Geographic that at first appears to show camels but in fact depicts the camels' shadows — to illustrate the importance of looking at something critically and asking questions. Sometimes, that process leads people to change their minds. She also shows students hoax websites — like "Save the Pacific Northwest Tree Octopus" — and has conversations about how to tell the site is a spoof.
Last year, Sullivan-Macdonald piloted Google's Be Internet Awesome program with third graders, which focuses on the fundamentals of digital citizenship and explores the idea that people and situations online aren't always what they seem.
Thinking About Personal and Media Bias
Walters uses allsides.com, a news service that shows how current issues from single-payer health care to North Korea are written about in left-, center- and right-leaning publications, to show that "there are smart people articulating arguments from many sides." Walters and Blauvelt subscribe to pro/con databases — Gale's Opposing Viewpoints in Context is one example — that present different sides of controversial topics.
Walters also talks to students about the concept of the "filter bubble," the idea that people often aren't even exposed to information that challenges their worldview because web companies tailor news and search results to personal tastes. She illustrates this by having students search the same topic and seeing the different results that come up based on their search patterns. She recommends Eli Pariser's TED Talk, "Beware online 'filter bubbles'" for an introduction to this topic.
Being Aware of 'Digital Tattoos'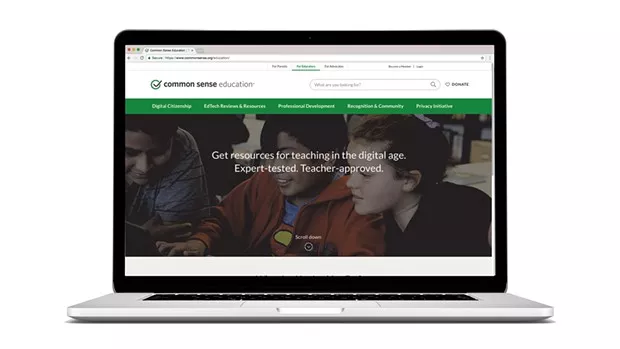 Walters calls the personal information about students that's on the internet a tattoo, rather than a footprint, because of its permanence. She asks students to closely consider what they're posting about themselves online, as well as what their friends and family are posting about them, and encourages them to speak up if they object to something being shared. Prospective employers often do internet searches when considering a candidate for a job, she reminds them. Walters says she tries to model this with her own teenagers, which means not tagging them or referring to them by name in her own social media posts.
For fourth and fifth graders, Sullivan-Macdonald uses Common Sense Media's Digital Passport program, which helps students learn about topics like what's appropriate to share online, and how to take action if they or their friends are cyberbullied. Blauvelt suggests that parents create an account on Common Sense Media, where they can learn more about many different topics related to media literacy, from guidelines for social media use to setting screen time limits.