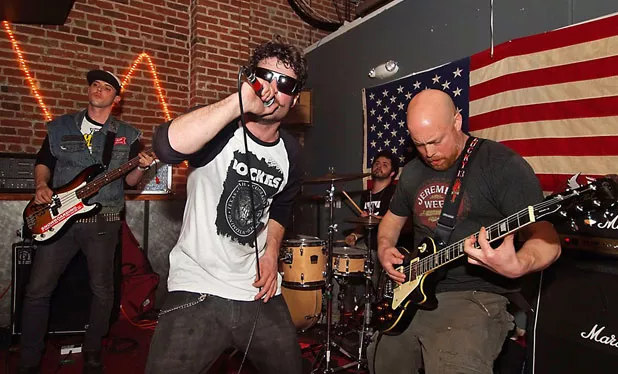 Everything you are about to read concerning Vermont punk band Spit Jack is absolutely, 100 percent true. Well, most of it's true. OK, at the very least, some of it is. Or, as Stephen Colbert might say, there is "truthiness" in every word that follows. Mostly.
In the roughly 18 months since they formed in central Vermont, Spit Jack have earned a reputation as the state's rowdiest band, and a fantastic mythology has sprung up around them. To wit, you may have heard they've been kicked out of every show they've ever played. What you may not know is that even in civilian life, they try to get booted from wherever they go: the library, grocery stores, a nephew's bris. And yes, sometimes they go to the library.
During a recent interview with a local music journalist, the band and journalist were nearly kicked out of a Burlington dive bar over a misunderstanding with the bartender involving a pitcher of PBR.
Spit Jack once broke the power grid in Burlington during a particularly raucous set. Bassist George Eget was nearly arrested afterward.
Guitarist Tom Theohary has an "Elvis room" in his house, crammed with Elvis Presley memorabilia. He also has a Pomeranian named, simply, the King. The King has sideburns, which Theohary meticulously grooms each week.
Vocalist Mike Toohey was once kicked out of a Stowe nightclub after a Spit Jack set because he vomited in a water pitcher and proceeded to fling its contents around the greenroom, painting the walls like Jackson Pollock on a bender. He was then assaulted by the club's manager. Apparently she has a hell of a left hook.
An after-party following the band's first paying show at a Waterbury bar ended in fisticuffs when a drunk townie hit on the band members' girlfriends. Yes, all of their girlfriends.
The band formed in the fall of 2010 after some basement jam sessions playing Misfits covers, in which they discovered a shared inability to play their instruments.
At a show in Colorado, Eget literally kicked the CEO of a prominent shoe company off the stage after the latter repeatedly — and drunkenly — tried to grab the microphone from Toohey. Fed up, the bassist planted a foot squarely into said CEO's back, launching him into the crowd, which surfed him to the back of the room before unceremoniously dumping him on his head and knocking him out. The CEO later emailed the band to say it was the best show he'd ever seen.
Several months ago, drummer Mike Forester was knocked unconscious when an audience member hurled a shot glass at his head, an event which happens with some regularity. Now, following each practice, the other members of Spit Jack take turns throwing shot glasses at him while he plays, to simulate a real-show environment. It's working. Forester says he's developed a Matrix-like ability to dodge incoming projectiles. "I just sense them now," he says. "I don't even see them anymore."
Toohey got his start singing karaoke in ski bars. He used to host his own karaoke night at a popular Stowe watering hole. That is, until he got banned for life from the bar. He is still widely acknowledged as the "karaoke king of Stowe."
Forester, who is from Detroit, once planned to become a professional jazz drummer, before moving to Vermont to work as a freelance graphic designer and play punk. He does not sing karaoke.
Spit Jack will release their debut EP, Whiskey Eyes, this Wednesday, March 28, at Club Metronome in Burlington. Though the band got its start playing punk covers, the album is composed entirely of original material. And it rocks. It was mastered by Nolan Rossi of RF Productions in Nashville. Rossi's brothers are members of the American Secrets, better known as "the band in those freecreditreport.com commercials."
At a show last fall, the band became friends with Jonathan Goldsmith, the "Most Interesting Man in the World" from the Dos Equis beer commercials. Goldsmith, who lives in Manchester, Vt., proclaimed Spit Jack the "Most Interesting Band in the World." He then threw a shot glass at Forester. He missed.
OK. That last one was completely made up. But admit it: You believed it for a second, right?
Spit Jack have a crew of devoted fans, unofficially dubbed the Spit Jack Army, who accompany the band to every show. They are legion and all wear SJ hats and T-shirts. Collectively, they have never had a bar tab less than $2000.
Despite the band's boozy reputation, Forester never drinks at gigs. "Someone has to keep these assholes in line," he says before downing a double shot of Jack Daniel's.
The band is secretive about its name. They won't tell you what it means. But they will reveal what it doesn't. It is not a reference to a crude sexual act, as has often been suggested by fans and media. Nor is it a reference to audience members spitting whiskey at the stage, which happens routinely — usually as a mistaken homage to the band's moniker.
Despite the unseemly shenanigans that constantly follow the band, each member swears he doesn't do anything to instigate the phenomenon. "Shit just seems to happen to us," says Forester. "Maybe it's our music?"
Spit Jack release Whiskey Eyes at Club Metronome in Burlington this Wednesday, March 28. Stone Bullet, Skulls and DJ Rekkon open. The band will also be at Charlie O's in Montpelier this Friday, March 30, with riot grrrls Doll Fight!