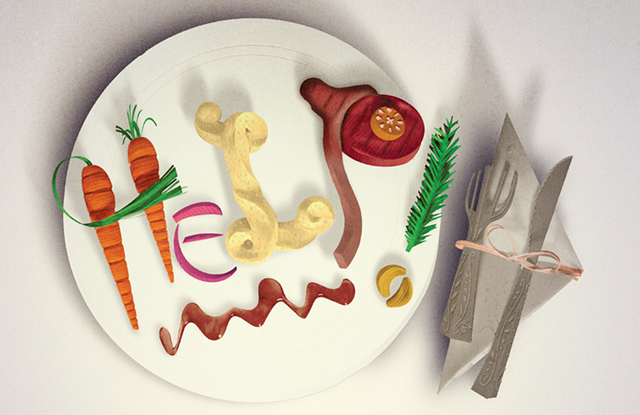 The unemployment rate in Vermont is at a historic low. That's a good thing, right?
Not if you're a restaurant owner. The Vermont Department of Labor reported a seasonally adjusted unemployment rate of 2.1 percent in July, which happened to be the lowest in the country. One unfortunate outcome: The state's restaurant kitchens have been getting slammed with a staffing crisis.
This is not a new problem nor one unique to Vermont. But this past summer in particular, local restaurant owners reported that the lack of available line cooks, dishwashers and other back-of-house staff made an always-busy season even more challenging.
"The staffing crisis has definitely come to a head this summer, and it's forcing people operating restaurants to think outside the box," said Matt Corrente, chef and co-owner of the Arcadian in Middlebury. Kate Hays, director of dining services at Shelburne retirement community Wake Robin and a former caterer, called the situation "scary."
Diners may not have noticed; unless you're sitting at a chef's counter looking into an open kitchen, the goings-on of food prep tend to be shrouded in mystery. But patrons do notice when restaurants close — some for an afternoon or a day, others permanently. More than one owner of a recently shuttered business has said that the staffing problem was a contributing factor.
"When I look at other restaurants having to close early or close for the day, and the sales that are lost because of a staffing challenge, that's obviously not going to help our tourism and our local economy," said Nicole Grenier of Stowe Street Café, who had to close her Waterbury restaurant early several times this summer because of staffing shortages.
The restaurant industry is notorious for its long hours, low pay and lack of benefits — and for attracting employees who face barriers to employment such as lack of experience or a criminal record. People from this part of the worker pool have historically been willing to work for low wages, and the restaurant industry has benefited from hiring them. That's because of programs including the Work Opportunity Tax Credit, a federal tax credit that incentivizes restaurants to increase employee diversity by hiring people who have faced significant barriers to employment, such as low-income and ex-felon job seekers.
In today's Vermont, however, the low unemployment rate has joined other factors — the restaurant industry's growth and the aging workforce — to create a job seeker's market. Facing the ongoing shortage, chefs and owners are starting to think creatively about how to keep the line full and the doors open.
Work-Life Balance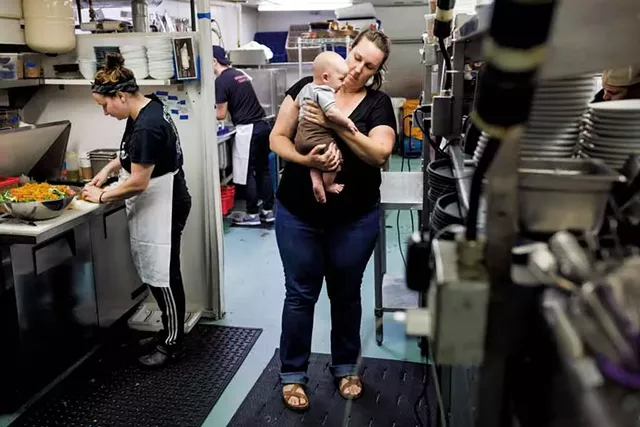 Oliver Parini
Cara Chigazola Tobin and her 3-month-old son, Gus Tobin, in the Honey Road kitchen
Icebreakers and team building are great when you're 12 years old and hanging out on a ropes course with your BFFs. But as adults, and at work? No, thank you. At Honey Road in Burlington, chef-owner Cara Chigazola Tobin defines "forced fun" in a different way. Instead of making her staff do trust falls and "two truths and a lie," she's dogmatic about scheduling.
Employees at the restaurant work four 10-hour shifts per week. They still put in 40 hours, but they have one day to "get shit done," as Chigazola Tobin put it, one day to relax and a bonus day to pursue other interests.
The four-day schedule, which she first encountered while working at Oleana in Cambridge, Mass., catches some new employees off guard. "Sometimes they'll argue with me, saying, 'No, I want to work all the time,'" she said. "Then they get used to it and say that they could never go back to working five days."
Chigazola Tobin sees a schedule that gives employees time to have a life outside work as a way to provide them with something they didn't even know they wanted. In a business with tight profit margins, these "soft benefits" can be key to keeping employees long-term without raising costs.
The schedule seems to work for Honey Road, which has had good luck retaining staff. "People seem to thrive, and they stick around because they're not working these crazy 12-hour days five or six times a week," Chigazola Tobin said. "The line cooks perform better when they're here, too, because they're rested and engaged."
In an industry notorious for burnout, time off is a luxury for workers — but the four-day schedule benefits the restaurant, too. "It helps us with payroll, because we're not running a lot of overtime. We try to pay competitively, but it's hard in the restaurant industry because we don't make any money," Chigazola Tobin said. "This is a win-win for everybody."
Honey Road is known locally for closing on holidays: the Fourth of July, Thanksgiving, even Election Day and Halloween. "We close for any holiday that our employees might wish they could celebrate like everyone else," Chigazola Tobin said. "That turns out to be all of them."
Holidays tend to be big days for restaurants, making it potentially risky to miss out on that revenue. But according to Chigazola Tobin, Honey Road is busy enough the rest of the year that the restaurant can afford to let its employees watch fireworks, eat turkey, vote and dress up in frightful costumes.
Having holidays off is practically a mythical phenomenon in the restaurant biz, where most job postings specify "must work nights and weekends." But when competition for employees is fierce, restaurateurs need to think creatively about what they can offer potential new hires — and retain them by keeping their promises.
For restaurants that can afford it, benefits such as health insurance, a 401k plan and paid family leave — all standard at many companies in other industries — could be what gets a qualified candidate to submit a résumé and consider a restaurant career.
Honey Road doesn't currently offer health insurance to its 35 employees, but it does offer paid family leave. "That was actually more important to me, because Vermont does offer pretty good health care, but they're not going to offer paid family leave," said Chigazola Tobin, herself a mother of two. "We just take care of it."
On maternity leave when she met with Seven Days for this story, the chef feels strongly about modeling work-life balance for her staff. "I try to approach it from a top-down situation, especially for the women in the kitchen," she said. "I want them to see that it's possible to have a family and take the time they need."
Chigazola Tobin thinks that support might be one of the reasons Honey Road has so many female employees; this summer, women outnumbered men in the kitchen.
"This is the hospitality industry; we take care of people," she said. "If I can take care of the staff, as well, and make them feel special, that's huge."
Pooling Resources
Oliver Parini
Nicole Grenier at Stowe Street Café
Honey Road is an example of a restaurant that stays well staffed by doing everything right — supporting employees, keeping them happy and serving damn good food. But bigger hurdles face restaurant owners who try similar approaches outside greater Burlington, as Chigazola Tobin herself acknowledged. "We have it easy in Burlington," she said. "I don't know how restaurants outside the city do it."
It's true: Outside Chittenden County — even in areas bolstered by tourism — the numbers often do not add up for restaurants.
"In Waterbury, there is an added challenge," said Stowe Street Café's Grenier. "On top of the unprecedented unemployment rate, there's just not a very large pool of folks looking for the types of jobs that we're offering, and those that are looking can't afford to live here."
The affordable housing problem isn't unique to the restaurant industry. It's also a cause of staffing challenges in Grenier's work outside the café; she's the director of Children, Youth & Family Services of Washington County Mental Health Services. "We're not just talking about saving restaurants," she said. "This is a discussion that, in these somewhat uncharted waters of never having an unemployment rate quite so low, we need to be thinking about — how we can make life more affordable to live here in Vermont."
In both fields, Grenier also sees a need to address affordable childcare at a statewide, systemic level. She has brought these concerns to the economic development committee of Revitalizing Waterbury, a nonprofit that works to preserve, promote and enhance the town's vitality.
"Affordable housing and affordable childcare might not be what first comes to mind in terms of what we do to support our local businesses," Grenier said, but those benefits help fill jobs and keep people in them. Many of the employees at Stowe Street Café are single mothers, and while the café's daytime hours usually line up with children's school days, the lack of other affordable childcare options can affect their availability.
Like Chigazola Tobin, Grenier strives to keep a balance between work life and family life. In the café setting, that means scheduling with everyone's needs in mind. "I'm a mom of two young kids," Grenier said. "Our head chef [Stephanie Biczko] is a single mom of a high schooler, and another one of our cooks is a single mom of a young kid. So, to keep our team intact and feeling supported means making difficult decisions about what we're going to do and what we're going to limit."
During this particularly difficult summer, staffing challenges forced Stowe Street Café to close as early as noon on several occasions. Other restaurants in the area experienced similar shortages. On July 7, Doc Ponds in Stowe announced a Sunday evening to Tuesday afternoon closure on Instagram with the caption: "We are not immune to the current challenges of staffing a kitchen. It's never an easy decision to close, but our team has been crushing it and we need to give them a break!"
The post has since been removed, but the sentiment prevailed among restaurant owners and operators. As reported by the Addison Independent, Middlebury's Daily Grind closed for good in August, citing the struggles to draw and retain staff.
Waterbury-area restaurant owners are brainstorming short-term solutions to the problem, including the possibility of building a "fill-in" list for staffing emergencies. Staff pooling is tricky in practice because of the unique tasks and training each kitchen requires, but Grenier thinks it's worth exploring.
"I look at pools of retired teachers who are happy to do some short-term substituting," she said. "Could we look at that for our industry, as well, and see how we might draw upon a lot of experienced people out there that don't want a full-time gig?"
In a food-and-drink town like Waterbury, restaurants have an outsize impact on the economy. If they're struggling, Grenier pointed out, that could discourage other businesses from coming to town. And while overarching policy changes to housing and childcare won't happen quickly, she's ready to consider even unlikely solutions.
"We need to find ways that we can put collaboration ahead of competition," Grenier said.
Institutional Knowledge
The seasonal demands of tourism and events in Vermont add another layer of stress to some parts of the industry, creating fluctuations of under- and overstaffing. Wake Robin's Hays said things always got hard for her former business, Dish Catering, when school started again in the fall.
"I don't cater anymore, so this is an anxiety attack from the past," said Hays. "But most of my staff were actually teachers who wanted to pick up money during the summer. When school started, I had to scramble."
In her current role, Hays deals with a "totally different ballgame," she said. Institutional food service in retirement homes, universities and hospitals escapes most of the staffing struggles that smaller, independent restaurants face, thanks to the scale of these operations and their integration into the larger institution.
"I have the luxury of offering full- or part-time work," Hays said. "And for my full-time employees, I have the super luxury of offering benefits." Those benefits, along with the earlier hours (the last dining room at Wake Robin closes at 8:30 p.m.), are attractive to cooks who are burned out on the late nights and work-hard-play-hard culture prevalent in so many restaurants.
Hays has found that the quality of life her employees can expect attracts overqualified applicants: People with sous chef and executive chef experience are often willing to take a pay cut to work at Wake Robin.
"Cooking is still romantic and sexy enough that people want to do it, if it's a beautiful place and you're playing with great ingredients," Hays said. "I can offer the high-end ingredients and the benefits, so I get really talented people."
Institutional food service offers Hays herself a big benefit as a manager: a human resources team. Though a normal aspect of many other industries, HR teams are rare in all but the largest restaurant groups.
"I have three talented, wonderful people in HR who do the most amazing job recruiting," Hays said. "We all look at the unemployment numbers and how hard it is, and they still have no shortage of people coming through the door."
Nicole Cannon, human resource manager at University of Vermont Dining, never stops recruiting. "I'm at the Department of Labor every single Monday," she said. UVM Dining is operated by Sodexo and has 18 different locations across the Burlington campus. Cannon said the flexibility she can offer employees because of the institution's scale is her biggest selling point, particularly for those looking for part-time work.
Sodexo is the 19th largest employer in the world, according to its website. For UVM Dining's full-time employees — who, Cannon noted, make up about 60 percent of the 500-plus-person staff — that means benefits ranging from health insurance to cellphone discounts. The company also offers training and mentorship programs; a hire-from-within pipeline; the LifeWorks employee assistance program with counseling and legal services; and perks such as clothing, car and theme park discounts.
It's nearly impossible for locally owned restaurants to compete with that kind of benefits package. Even so, Cannon said, UVM Dining has felt the staffing shortage just like everybody else this year. To attract new staff at the beginning of the school year, the corporation offered a $150 signing bonus.
One problem with staffing institutional food service at schools and universities is that the work is inherently seasonal; many locations close when students leave campus. Still, the benefit packages and holiday closures keep many long-term employees coming back year after year, Cannon said.
"We try to retain as many employees as we can," she said, "and we have a lot of employees who are OK with being laid off in the summers, because they don't have to pay for childcare in those off-season times, and they can spend time with their families."
A Bucket of Beer for the Kitchen
Oliver Parini
Kitchen staff prepping for a busy Friday evening at Honey Road
Beyond offering employee benefits, some restaurants are implementing consumer-facing solutions to close the wage gap between employees who work out front and those who work in the kitchen. In most restaurants, kitchen staff cannot legally receive compensation from the gratuities that diners leave on their bills. That goes to servers, who are typically paid a lower hourly wage: The current basic wage for tipped employees in Vermont is $5.39. Those servers often end up with paychecks significantly higher than those of their back-of-house coworkers.
In most cases, operating a tip-pooling or sharing arrangement isn't a viable solution, because back-of-house staff can only legally participate in a tip pool if servers and other front-of-house employees are paid the full minimum wage of $10.78 per hour. That's an unusual, and unappealing, payroll structure for most restaurants.
So some Vermont restaurants are trying out playful solutions of their own. These might come in the form of a line on the menu: "Thank the Kitchen, Buy Them a Bucket of Beer!" or "Buy a Round for the Kitchen." At Doc Ponds, that round will run you $10; at Honey Road, $8. It's a steal for a bucket of beer — but that's not the point. The "round for the kitchen" model generally works as an optional way to thank the kitchen staff.
"In the cities right now, restaurants are adding a tax that goes directly to the kitchen, but I think we're a little ways out from introducing that," Chigazola Tobin said. At Honey Road, the suggestion of an $8 donation reminds customers that, even though they're tipping their server, another group of people in the restaurant is doing a big job that deserves some thanks.
And don't worry, those people aren't tossing back buckets of High Life on the job. "If the kitchen staff drank all the beer that people bought, it would be a problem," Chigazola Tobin said. "We tally it all at the end of the month and give them cash."
Other restaurants take a more straightforward, albeit less whimsical, approach. They've added service charges earmarked for the kitchen staff, either to supplement hourly wages or to serve as an end-of-the-month bonus. Winooski's Waterworks Food + Drink added a 2 percent kitchen fee to guest checks in 2016; Montpelier's Down Home Kitchen did the same in 2017. Waterworks shares information about the charge, which is not intended to subsidize hourly wages and goes into a bonus pool, on its menu and with the check.
At the Arcadian in Middlebury, a 4 percent charge goes directly to kitchen staff to increase hourly wages without slashing the restaurant's profit margins. According to co-owner Corrente, the charge was adopted to attack the wage inequality between front and back of house.
"Every position, whether you're a dishwasher, server, bartender or cook, is valuable to the restaurant, and our mission was to figure out a way to keep everybody," Corrente said. The solution was to create this new revenue stream, which he said "didn't need to be a big stream, just a trickle."
The Arcadian doesn't explicitly mention the 4 percent charge to customers, but it shows up as a few extra cents in each of the menu items. At the bottom of the menu, a statement reads: "Our menu makes cents, and the cents that you see go directly towards paying the kitchen staff a livable wage."
The revenue trickle adds an extra few dollars an hour to the wages of back-of-house employees, and that's what they need to maintain the quality of life and stability that keep them in their jobs, Corrente said. The supplement helps the restaurant avoid frequent turnover in a difficult small-town market. Corrente is thankful to have a pool of quality employees, some of whom drive 45 minutes each way to work at the Arcadian.
The staffing crisis is "obviously a hot topic for us in the restaurant community, but the more people know about it, the less they'll blink when they see that the restaurant's doing something to help pay the kitchen staff more money," Corrente said.
Raising consumer consciousness, whether through a few extra cents, a service charge or an unexpected closure, can only help to correct the wage disparities that make it difficult to keep kitchens adequately staffed.
With a national conversation buzzing around increasing the minimum wage to $15 an hour, Corrente sees the Arcadian's "cents" as a way of preparing his restaurant, and his customers, for price increases that will have to happen sooner or later.
"Restaurants are going to be one of the industries that are hit hardest [by a change to the minimum wage], because it's been status quo to pay 11 or 12 bucks an hour, even in the nice restaurants," he said. "And, if you have to give them a $3 raise because of a federal mandate, that can't be a huge shock to your economics."
For Popolo, a restaurant in tiny Bellows Falls, $15 per hour is already the standard. The community-funded restaurant was founded on a strong set of values meant to increase the vitality of the town's economy. But at the start, employees still received minimum wage, and there was "tremendous turnover" in the staff, according to general manager and co-owner Gary Smith.
"We took a public position that workers need a livable wage," Smith said in an email to Seven Days. Increasing pay meant adding a 6 percent service charge, since the restaurant wasn't making enough money to cover the costs outright. To make the reasons for the increase clear to its customers, Popolo framed the service charge, which it added in 2016, as a "living wage adjustment."
Reactions at the time were mixed, Smith said, and many customers expressed confusion. "To my surprise, some people were opposed to the staff being guaranteed $15 per hour, even though it added less than $2 to the average check," he said. "Our Facebook page was blowing up with comments from all sides, some of which wished death upon us, and some called us heroes."
The feedback from staff was mixed, as well; servers were concerned that the added charge would lower their tips. But Smith found that tips actually increased because diners were tipping on the new, higher total. Three years later, he doesn't even think about the adjustment; it's just part of how the restaurant does things.
"I suspect employees stay longer because they can't easily run to another restaurant job that pays them more," Smith said. "I wish we were a wildly successful restaurant, which is damn near impossible in a town with just a few thousand people. If we were, everyone would have full health care, weeks of paid vacation, childcare, continuing education, and all the bells and whistles workers deserve. That's unrealistic on our skinny margins, but a guy can dream."
The problems facing the restaurant industry have no easy solutions. Hours aren't going to get shorter, benefits are unlikely to magically appear and the number of people willing to work long, hot shifts on the line won't increase, no matter how much food media romanticize chef life. The work is hard. While restaurant owners are doing their part to think creatively and compensate employees where they can, diners will continue to see closures and stressed-out staff until larger, systemic changes take place.
"We need to get people motivated and excited about the industry again," Chigazola Tobin said.
In the meantime, we can buy the kitchen a bucket of beer.