Ken Picard ©️ Seven Days
René Kaczka-Vallière driving the Zamboni at C. Douglas Cairns Recreation Arena
Shortly after 5 p.m. on a weekday evening, René Kaczka-Vallière crossed center ice at C. Douglas Cairns Recreation Arena in South Burlington. The name of the 43-year-old Charlotte resident looks like it should be emblazoned across the back of a Montréal Canadiens jersey. But Kaczka-Vallière wasn't at the rink that night to play hockey, or even skate. As one of the arena's Zamboni drivers, he was making ice.
Tiny fountains of hot water gurgled up from the rear carriage of the machine as Kaczka-Vallière piloted the blocky white vehicle in looping ovals around the empty rink. While a smattering of spectators watched from the stands, the Zamboni turned swaths of chalky, scuffed-up ice into a smooth, glassy surface. Less than 10 minutes after he started, Kaczka-Vallière steered back to an opening in the boards, passing a team of 8-year-old hockey players waiting on the bench to resume their practice. Kaczka-Vallière beeped his horn as he drove by, and the kids cheered.
As maintenance vehicles go, none is as popular or as mesmerizing as the fabled Zamboni, a trademarked name that's become synonymous with ice resurfacing machines. It erases bumps, gouges and scrapes for a better skating experience, and watching a Zamboni at work can be as meditative as a Zen sand garden. People often gaze, transfixed, as the machine satisfies some deep psychological yearning to start over with a clean slate.
Even Kaczka-Vallière, who drives a Zamboni three days a week at Cairns Arena, isn't immune to its hypnotic appeal. While attending a Boston Bruins game last year, he recalled, "There I was, in between periods, watching the Zamboni. And I'm like, Why am I doing this?"
Despite the Zamboni's popularity, rink managers throughout Vermont are struggling this winter to find qualified drivers. Due to the job's typically low pay and irregular hours, it's a perennial hiring problem that's gotten worse with the pandemic-fueled worker shortage. As a consequence, many rink managers are hoping they can skate by this season with the few operators they have.
One of the busiest ice rinks in the state, Cairns Arena has three full-time and two part-time Zamboni drivers. The latter includes Kaczka-Vallière, who is also a social worker for Vermont Adult Protective Services.
Five drivers may sound like plenty, but the nonprofit arena, the only one in Vermont with two NHL-size rinks, has to be staffed seven days a week, often from 6:30 a.m. until midnight, said assistant manager Chris Cooper. Its rinks are used for public skating as well as hockey games and practices for three youth leagues, three high schools, and teams from the University of Vermont and Saint Michael's College. In any given week, Cooper noted, more than 1,000 skaters hit the ice, which needs to be resurfaced about every hour it's in use.
In December, Cooper lost a Zamboni driver who'd worked at Cairns Arena for about a decade. He took a job at Gordon H. Paquette Ice Arena in Burlington, a city-owned rink where he can earn more money. Municipally owned rinks, like those in Burlington and Stowe, often have year-round maintenance staff who drive the Zamboni in winter and do other tasks, such as mow lawns, in warmer months.
"It's a tough business, because most of our work is nights and weekends," Cooper said.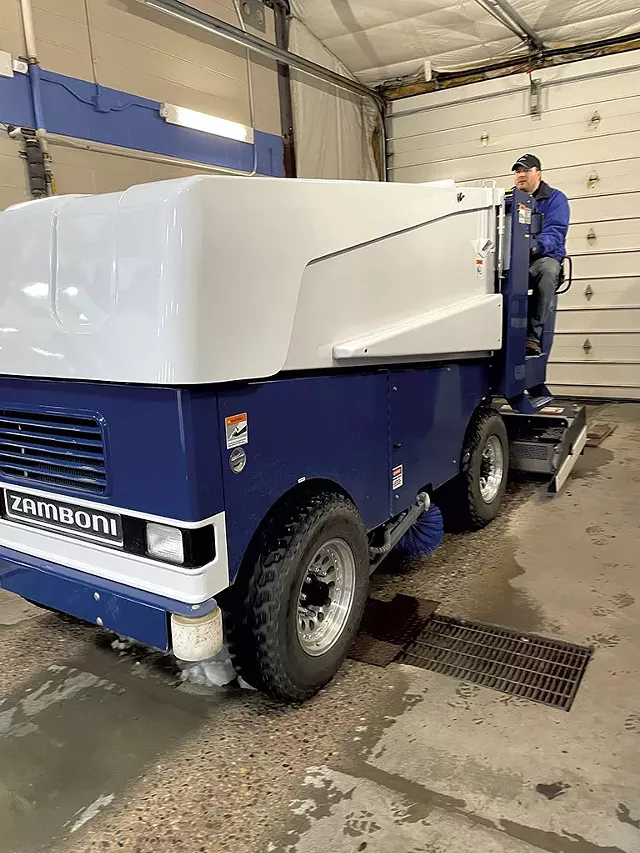 Ken Picard ©️ Seven Days
René Kaczka-Vallière
And it's not like anyone can just climb aboard and let the machine do all the work. During college in Massachusetts in the late 1990s, Kaczka-Vallière learned to drive a Zamboni at the Boston Common Frog Pond. The outdoor rink, which is used primarily for public skating, is in a different league than those used for hockey and figure skating.
"That was kind of a walk in the park," Kaczka-Vallière said. "You don't get a lot of wear and tear on the ice."
Part of the challenge is learning how much ice to shave off, Kaczka-Vallière explained. Essentially, a Zamboni is a giant cutting blade that removes the top layer of ice and applies cold water to clean the surface, then hot water to create a fresh coat. The quality of the new ice is affected by several variables, including the blade's height and the arena's air temperature; the latter affects how quickly the ice sets.
While it may look like the Zamboni driver is out for a leisurely spin, Kaczka-Vallière explained that he's constantly tweaking the blade height and water levels while monitoring the augers that lift the snow off the ice and into a storage tank. Put down too much water, and it can create a wet, slushy mess. Set the blade too low, and the Zamboni can shave off the hockey lines and markers painted on the ice itself.
"It's a fine balance," Kaczka-Vallière added. "I'm always trying to hone those skills."
Most of those skills are developed on the job. The nonprofit U.S. Ice Rink Association offers national ice resurfacing certification programs primarily for elite Zamboni drivers who work professional hockey games, national and international figure skating competitions, and Olympic-related events. But the vast majority of Zamboni training happens locally, and community rinks rarely have the resources to provide formal training.
"You don't just hop on a Zamboni and voilà, you're great at it after one or two trips around," said EJay Bishop, executive director of the Union Arena Community Center in Woodstock. It takes 20 to 30 "ice makes" just to get a handle on the machine's basic operations, he said. But even that much experience won't guarantee that a driver makes a good sheet of ice.
"Not to say that it's rocket science. It's not. But there's definitely an art to it," Bishop added. "These guys that do it well make it look easy. It's not."
Bishop feels lucky this winter: Unlike many other rinks in Vermont, Union Arena is fully staffed with four Zamboni drivers, a first in Bishop's nine years there.
"But to be honest, it's just luck," he added. "That could change tomorrow."
Ken Picard ©️ Seven Days
René Kaczka-Vallière rinsing off a Zamboni
Tom Eyman isn't as fortunate. The manager of the Fenton W. Chester Arena in Lyndon Center isn't sure how he'll get through the winter season, which ends in March.
"I lost a lot of sleep last summer worrying about fully staffing this place and being able to operate it," Eyman said. For now, he's getting by with four drivers, though one is leaving in the coming weeks. And because Chester Arena is the only indoor rink in the Northeast Kingdom — the next closest ones are more than an hour away — he doesn't have a deep pool of applicants.
When Eyman took the job two years ago, he didn't know how to drive a Zamboni, a machine which he likened to a Rube Goldberg contraption.
"We pretty much taught ourselves," he said, though the former rink manager at Lyndon Institute offered some rudimentary tips. "It was basically, 'Here's how it works. Take a couple of spins around, and call me if you have any questions.'"
To be clear, Zamboni drivers aren't considered essential workers, and no one interviewed for this story thought it would spell disaster if their ice maintenance teams weren't fully staffed.
Still, as Cooper at Cairns Arena pointed out, rookie mistakes that impact the machine can be costly: A new Zamboni has to be ordered months in advance and costs more than $120,000. In October 2020, one in Rochester, N.Y., started leaking hydraulic fluid, then caught fire. The dramatic event, captured on video, shows the machine fully engulfed in flames. But the driver kept his cool long enough to pilot the vehicle off the ice and out of the building.
Despite such risks, Eyman at Chester Arena said he's beating the bushes for anyone who's willing to commit to driving a Zamboni 20 hours a week, whether they're qualified to do so or not.
"We'll make it work, one way or the other," he said.