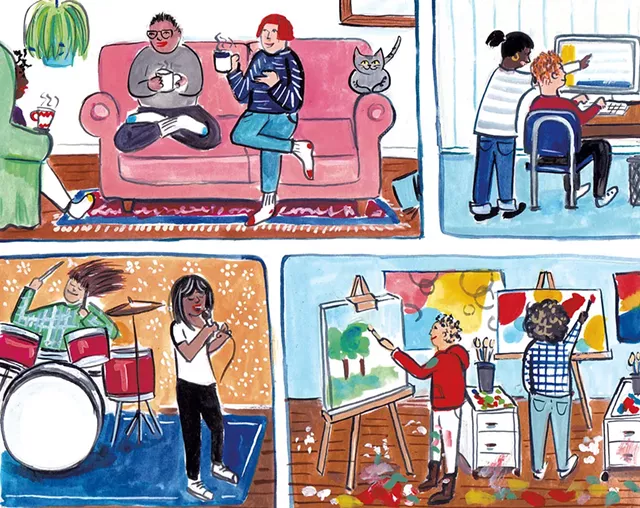 It's no secret that the internet is a scary place. It's home to bullies and scammers of every stripe. It may be slowly sucking the souls of America's children (just kidding, sort of). But there's one corner of the web, on Facebook, where Burlington "babes" have gathered to find solace, solidarity and safe access to resources of every variety.
Sensi-Babeington was founded in early 2015 by Dana Heng, Claire Macon and Sarah Attridge, all University of Vermont alums. Since then, the closed group has accrued nearly 1,500 members and passed to two new co-moderators: musician, barista, community organizer and Seven Days contributing writer Amelia Devoid and bartender Oliv Hoover.
Together they oversee the forum where babes — a gender-neutral term, according to the group's "About" page — convene to share everything from available housing information to stories of assault, or simply to inquire after Crock-Pots, financial literacy courses, cat sitters or femme-friendly soccer leagues.
The group's format combines the attributes of Front Porch Forum, Craigslist, an emotional support group and a networking venue. And, while it's an entirely virtual forum, it's designed to promote real-world exchanges and interactions.
Sensi was born from a dinner conversation among Heng, who no longer lives in Vermont, and her friends. "We thought it would be a good idea to start a forum for queers and femmes in the Burlington community," she writes in an email. "We wanted to create a space for folks to feel safe posting about housing and other queer/womyn/femme-sensitive recommendations, as well as a place to cultivate ideas and collaborate." ("Womyn" is a feminist spelling used by some to avoid the suffix "-man" or "-men.")
The closed-group format, in which joining requires an invitation from a current member, was a deliberate choice. Burlington residents who identify as any gender are welcome, provided they support the needs of femme and queer people. "It was meant to be an open forum to combat the exclusive nature of communities," Heng says, "but technically remains a 'closed group' to make sure it centers [on] the people it was created for."
The name references those people, as well. Heng says "sensi" is a slang term for "sensitive" that she uses with her friends and "refer[s] to vulnerability and the strength of being vulnerable." "Babeington" comes from splicing together the words "babe" and "Burlington."
In its current form, all members can approve new members. Moderators Devoid and Hoover delete posts that seem inappropriate, remove users who cause problems and help mediate any debates that may arise. Devoid says the majority of people using Sensi are in their mid-twenties, but there's a strong showing of middle-aged women. The group has been an effective resource for single mothers, as well, she notes.
Content on Sensi-Babeington spans a wide range. Most of the posts concern housing, with some members looking for subletters, some for full-time roommates, others for a room rental.
Some posters are seeking cat sitters or new homes for their animals. Others offer up physical goods for free or for sale.
"Hey artist babes," someone posted in mid-November, "I have two big bags of clean, white packing paper that could be good for lots more than in mailing things. I also have about 35 one-ish gallon white plastic buckets. They are also clean, never been used. Can anyone use these things? Let me know."
Members lined up within a day for the buckets. One poster asked to take the paper for a preschool class.
Judging by their posts, many of the "babes" are focused on creative endeavors. On November 14, musician Eric George asked if members would consider making an appearance at the monthly Radio Bean open-mic night. "I would love your assistance in overthrowing the pattern of male singer-songwriters dominating the evening," he posted. George says four of the 12 people who performed at the most recent open mic told him they came because of that post.
Still other members find support for their organizations in Sensi-Babeington. Among them is musician and community organizer Katy Hellman, the founder of Tuned In, a femme- and queer-friendly music collective.
"By the time I got invited [to Sensi-Babeington] about two years ago, it was really encouraging to see a space already formulated for people who share a lot of these values around inclusion and safety and compassion," Hellman says. "[There were] a lot of people I already knew and a ton of new faces. In regards to Tuned In, I think it's been an awesome platform to connect with a community that's already established, that incorporated [our] values."
Hellman describes both Sensi and Tuned In as "sacred spaces." She admits that, to some, such femme- and queer-focused environments can feel exclusive. "People can call them [that]," she says, "but they feel really sacred [in the way they] provide for women and nonbinary [people]. It creates this sense of a capacity to be vulnerable, [to be] safe being vulnerable, and I feel like a lot of cool, transformative stuff can come from there."
In addition, most spaces, both online and in the physical world, are dominated by men and are not necessarily queer-friendly. Devoid says that's one of the main reasons the group focuses on creating room for marginalized voices.
"Statistically, there's an overwhelming amount of violence directed toward people that don't conform [to typical gender roles]," she says. Sensi creates a space where those people are protected.
Toward that end, Devoid notes, she will remove from the group anyone who violates that standard. So far, she can recall only four such instances, which she declines to share for the protection of those involved.
Devoid does provide an example, however, of a situation that might result in expulsion from the group: "If that person can't understand why their very subtle racism or sexism might hurt others, and they're unwilling to have a conversation about it, that's grounds for removal." Conversely, she adds, "if they're willing to have a conversation, they're super welcome."
While the bulk of posts on Sensi are geared toward sharing resources, some members have shared stories of sexual assault. Devoid estimates at least five people have come forward with that type of post in the past year.
"There's a system of trust based on the concept of protecting each other, and especially protecting each other from misogyny," she says.
"I think, overall, having a space where you can share these stories is the most important," Devoid continues. "It's not anyone's job in the group to have a solution or offer a solution. It's purely a safe space to speak."