Worried about the way your kids use social media? Well, you're not alone. On Tuesday night, Attorney General Bill Sorrell appeared at Essex High School with representatives from Facebook to talk about keeping kids safe online. The goal: to educate parents, teachers and teens about some of Facebook's new safety regulations and how to use them.
Sorrell just launched his eighth reelection campaign — he's fending off a primary challenger, T.J. Donovan — and Internet safety is a big part of his platform. He admitted that while he began using the social networking site to stay in touch with his college-age kids, he remains somewhat mystified by Facebook and, like those in the audience, was "here to learn." Though Facebook is a "wonderful new technology," there are also downsides, he said, citing "horror stories" about cyber-bullying — like that of Essex teen Ryan Halligan, who committed suicide in 2003 after being bullied both on- and offline — and cases in which teens have released too much information, later regretting it when applying for college, graduate school, or employment.
After Sorrell's welcome, Facebook representative Brook Oberwetter, part of both Facebook's public policy and safety teams based in Washington, D.C., gave a presentation outlining some tips for parents hoping to keep their children safe online. Here's her list:
1. Check out your own privacy settings. From the drop-down arrow on the top bar, choose "Privacy Settings," and peruse your own privacy controls. You can set your default settings to "Public," "Friends," or "Custom": in other words, as few or as many people as you'd like. (You can also do this on a per-post basis, both before and after you post.) It's good to keep up with your own privacy settings by revisiting this page about once a month, Oberwetter says, as things on the Internet are constantly in flux. Facebook's policies are subject to change, while you'll add more friends and share different content. Checking in regularly with this page is a good way to keep abreast of these changes.
2. Be honest. Facebook operates on a "real name culture," which means that, instead of the traditional Internet world of anonymous screennames, Facebook is designed to encourage people to interact with each other just like they would in real life. By using their real full names, users are accountable to the wider community, and less likely to do something irresponsible or disrespectful.
3. It's also important to make sure your kids are using their real age, Oberwetter emphasizes — kids between 13 and 18 are given special protection under Facebook's safety policies, all of which is undone if they lie about their age. Kids under 13 are banned from Facebook, though they do get access — it's near impossible to monitor, but best if done with parental consent and supervision.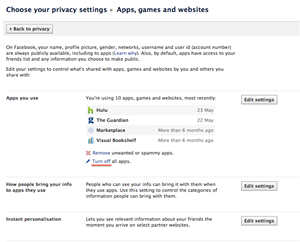 4. Be careful when using apps on Facebook. Facebook is both a product and a platform, which means that while your content is seen and (sort of) managed by the Zuckerberg empire, apps like Words with Friends, Farmville, and The Washington Post Social Reader, are not. When you install an app on your Facebook account, it will generally ask you if you're comfortable sharing certain information. Facebook's requirement is that an app can only ask for information it needs to make the app work (like asking for your birthday if it plans to suggest age-appropriate books, for example). But be careful — apps can also get information about you from friends who use them. If you're uncomfortable with this, log in to your privacy settings and deselect these permissions. If you want to stop using, and deny access to, all Facebook apps, you can un-enable Facebook Platform (under Privacy Settings – Apps, games, and websites, there's a link that says "Turn off all apps").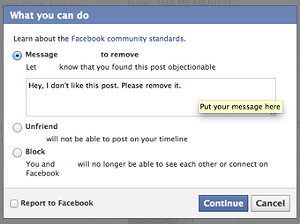 5. Make sure your kids know about Facebook's new social reporting tools, which help users deal with cyber-bullying and harassment within the social context in which they happen. Children aren't always comfortable reporting cyber-bullying offline, so this platform allows them to send the offending post to a mutual friend or trusted adult, on or off Facebook. Anecdotally, Oberwetter says, the program has so far helped kids to communicate with each other and with outsiders to work through online problems.
6. Don't be afraid to be the bad guy. Facebook's "Report" tool allows users to flag content they find inappropriate, offensive, hurtful, or alarming, under very specific categories. Oberwetter and the safety team encourage you to use the anonymous reporting function to alert Facebook to any harmful content or irresponsible underage users, and to take more immediate action when the situation calls for it, like informing the local police if you see something regarding crime or violence.
7. Know that Facebook is working behind the scenes to protect you and your children. Oberwetter assured the audience that the site's safety teams are available 24/7, around the globe, and able to respond in over 70 different languages. Facebook's safety arsenal includes photo DNA scans, as well as programs that detect excessive contact between adults and children and check for harassing language.
8. In the end, you're the boss. Set your own rules regarding your child's use of Facebook and social networking based on what seems to work for your family. Have a conversation with your kids to see what you're both comfortable with, and keep the conversation going as your relationship to social media evolves.
One of the best ways to stay safe on Facebook is to keep up with changes in the site's development. Oberwetter and her safety team have a Facebook page you can follow, where they share information regarding changes and new protections as they are developed. Most of the information is readily available, but underutilized, as people tend to ignore the Facebook info banners and spend their time chatting with friends, not perusing the safety guidelines. Take a minute next time you log on to read up on the Statement of Rights and Responsibilities, the Data Use Policy, and the Community Standards.
Don't have a Facebook profile? Have your tech-savvy teen help you set up an account, or go through the process of creating a page together if you're both Facebook newbies. Keeping the conversation honest and open, Oberwetter advises, is the best policy when it comes to Internet safety — both between Facebook and its users, and between parents and their children.
Editor's Note: Sachi Leith is interning this summer with Kids VT.