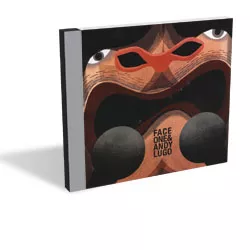 (Self-released, CD, digital download)
Burlington MC and producer Face One is a little bit hip-hop. 2nd Agenda front man Andy Lugo is a little bit rock and roll. On their newly released, self-titled debut EP, the two combine their opposing sensibilities. The result is a fascinating experiment in both musical and idealistic fusion.
With a sinewy, arpeggiated electric-guitar line, "Little City" kicks off the EP. Lugo drops in immediately with a intense, almost sub-melodic vocal line. He opens his love letter to Burlington from a wide angle — "a panoramic view of Earth" — before focusing in on the Queen City, all the way down to "the bottom of Lake Champlain." The song recounts his journey to this lakeside hamlet from the West Coast. With a bluntness befitting his gritty experience, Lugo switches from singing to rapping and recalls sleeping on park benches and busking on Church Street, before finally connecting with the town and its people. Face One's guitar-heavy beat swells in concert with Lugo, reaching its emotional apex at a transcendent, hook-laden chorus.
"First Breath" is next and highlights Face One's singular production style. Over a laid-back, head-bobbing beat, the producer unleashes a phalanx of sounds and samples that bathe the track in a murky, ethereal haze. Lugo proves a capable MC, nimbly matching Face One's unpredictable beat. The track features a pair of guest rappers, Humble and SK, who take the reins on the song's second and third verses, respectively, and provide a loose contrast to Lugo's determined flow.
On "Lab Ratz" the duo takes a turn for the irreverent. Over a hybrid dub-electronica beat, Lugo sermonizes on the failings of American culture, from sensationalist tabloids at the grocery store to the futility of playing the lottery and our obsession with sports. He then literally lectures — he doesn't rap — on the plight of Native Americans. In less capable hands, the unexpected diatribe could border on pseudointellectual activism. Lugo maintains a fine balance between earnestness and honesty, never quite preaching but getting his point across nonetheless.
"Going Mad" ratchets up the intensity with a frantic, schizophrenic beat. Lugo tempers Face One's manic production with succinct, purposeful rhymes, skewering the growing gap between America's rich and poor.
The EP closes with "Stockholm Syndrome." Following a disjointed intro in which Lugo casts himself as a deranged carnival barker, the track hits with sludgy, sinister bombast. It's the EP's strongest cut. Lugo cleverly equates the rat race with a rigged carnival game, noting that if you find success, "You might win a teddy bear." It's a fine finish to an intriguing collaboration.
Face One and Andy Lugo celebrate the release of their debut this Saturday, May 14, at Radio Bean.