Courtesy Of Andrew White
Jon Piana
Long shadows were all that remained of an October afternoon. Sapling fruit trees, arranged in meandering berms, lined the drive to a regal timber-frame barn that looked new and old at once. Beneath three arched carriage bays, cider presses kept company with burlap bags, presently stuffed with wild apples. Tarps, hand tools and farm implements crowded the space in the clutter of a working farm. The hill descended into the wide basin where the Clark family raised dairy cows for generations, until its last farmer fell victim to a bull in 2010.
Beneath the barn, a cool tunnel shelters wines made from apples and grapes, currants and berries, honey and sap. For the past several years, Fable Farm Fermentory brothers Jon and Chris Piana have been fermenting and collecting these liquids — most of them apple-based — in a mishmash of barrels, tanks, carboys and demijohns. Over time, the Pianas will blend and transform the liquids into beverages that resonate as a flavor of place. Call it cider as wine.
In the barrel cave, handwritten notes mark each vessel's contents. Jon uncorked one labeled "Eastman Blend," siphoned out the Champagne-yellow liquid and dropped it into tasting glasses. The wood had already begun to soften the cider's flavor. Round notes of oak, redolent of an old wine, had begun to seep in.
"We should probably get this out of here sooner rather than later," Chris said — lest the cider take on too much oak.
Jon poured three samples from a stainless-steel tank across the cellar. In contrast to the first, this second cider-wine tasted of sun-warmed wild apples — tart and feral, with spicy mineral notes and a scent suggesting damp soil and yellowed field grasses. "This is the same cider," Chris said — except for its time in the barrel.
Then, a taste of 2015's End of Season Blend: raw, sharp and biting in a way many backyard cider makers understand.
"Both of these ciders need some reckoning," Chris said, sticking his nose into the glass.
Last November, the brothers poured the juice into an old steel tank and left it to do its thing for many moons. It was the final press of a marathon apple season: In 2015, Vermont's trees produced apples in historic numbers, and the fermentory milled some 3,500 gallons of juice, more than double its 2014 output. Nearly all of it flowed from apples picked in pastures and roadsides, then hauled on tarps from sites as far as 10 miles from the farm.
In time, the brash cider will mellow. Depending on how it develops, the Pianas may blend it with juice from other places, presses and years. They'll bottle and age it — perhaps with herbs or other fruits or crushed apples from this fall's presses, or with grape pomace from mentor winemakers Deirdre Heekin and Caleb Barber of nearby La Garagista. Or maybe they'll let it go to vinegar and use it in the kitchen — only time will tell.
Chris and Jon never planned to become winemakers. The brothers grew up in southern New Hampshire and, after college, both landed farm jobs in the Champlain Valley. When Barnard cattle farmer Joe LaDouceur agreed to lease them land at his Bowman Road Farm in 2007, they moved to the area to plant a CSA garden.
"That was our first commitment to space," Chris said. As LaDouceur flipped the sod on those two acres, Jon and Chris accepted responsibility for a piece of landscape that was then mostly new to them.
They rented a village farmhouse just off the common. Apples were ripe and abundant and free for the taking. As they sampled home-fermented ciders from friends around Vermont, the brothers' farm-based homebrew aspirations evolved into basement cider experiments.
In 2009, the Pianas supplemented their Bowman Road plot with a half-acre garden behind their house. For the next three summers, CSA members gathered there for Thursday vegetable pickups, lingering over BYO drinks and wood-fired pizzas from the farm's backyard oven.
By 2012, CSA membership had grown to about 100. Thursday attendance was often twice that, and the farm was hosting dinner theater and other happenings on the wide lawn, fringed by the low canopy of a knotted old apple tree.
As young farmers starting out in the post-2008 financial disarray, the Pianas wanted to explore new models in the spaces where agriculture and community overlap. But the flurry of activity in Barnard's sleepy downtown made some residents uncomfortable.
And, as new event hosts, the brothers weren't operating exactly to code. "We had never done this before," said Jon, acknowledging the time as a learning experience.
In response to local concerns, the Barnard Selectboard convened a town-hall forum in the autumn of 2012. Addressing his adopted community, Chris recalled asking, "What does agriculture look like in this age?"
He remembered applause echoing through the town hall as forum attendees expressed support for their land-based cultural mission.
What's more, Chris added, locals didn't need to worry about sustained increase in traffic around the village square: Fable Farm was moving across town to the former Clark Farm.
Collective Effort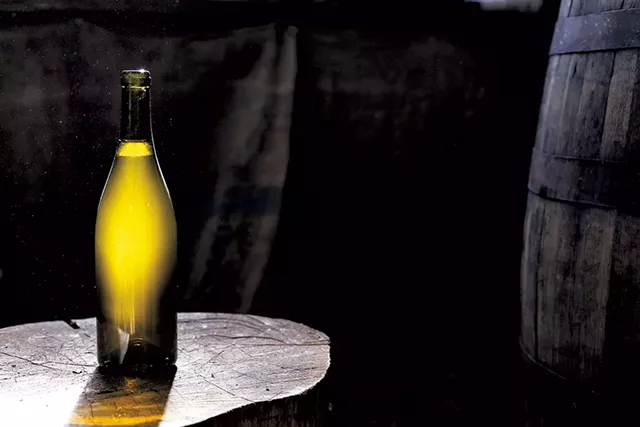 On land bisected by Royalton Turnpike, the fermentory shares about 250 acres with Eastman Farm (pork and beef), Kiss the Cow Farm (dairy) and Heartwood Farm (vegetables).
These businesses — jointly known as the Fable Collective — lease the property from the Vermont Land Trust, which conserved the Clark Farm in 2007 with funds from the Barnard Conservation Commission and dozens of individual donors.
Here, on Thursdays in June through October, the collective hosts the Feast & Field Market (the final 2016 market is October 20). Near a stone-walled maple tree line, locals gather beneath a yellow and white tent for CSA pickup and dinner, live music, and other performances, much as they did in town during Fable Farm's early days.
Beyond the market venue, the property ascends gently, then unfurls in rolling pastures and curved rows of vegetables. Across the turnpike to the west, the farmers also share the Rumney Barn, which houses the winery and barrel cave along with a commercial kitchen, event space, cold storage and equipment bays. The farms use these spaces as their collective home base, while the Pianas' Fable Farm works with Eastman Farm chef Joseph Morel to host weddings, parties and culinary and cultural events around the property.
"We're trying to fuse all these things together," Chris said, conscious of the complexities involved in blending theater and music, food and drink production, and market gatherings. Then there is navigating the many tacit partnerships between individuals and businesses working in the same space.
In 2016, the Piana brothers withdrew from vegetable production. Justin Park of Heartwood Farm now runs the CSA, while Fable Farm has shifted its focus to perennial crops such as apples, pears, currants, grapes and herbs to service the Fermentory.
Looking out into the basin, Jon pointed to a nearby pocket of fruit trees just beyond view. "There are hundreds of apples in here that we're bringing back," he said.
"Our mission is kind of to plant this whole valley," Chris said.
That night, over dinner at the Rumney Barn, Chris uncorked a small, unlabeled bottle. This cider was fermented on apple skins in fall 2014, then racked into bourbon barrels, where it aged for most of a year. Spicy and tannic, with bright apple flavor and evanescent esters, the drink offered the shifting complexity one might expect from a great wine. Each sip revealed something new and fascinating.
"It's a small batch," Jon said, indicating that the cider was an experiment and would probably never see the open market. Because seasons, blends and pressings of fruit are unique, most Fable ciders and wines include some trial element. Using the cellar as researchers might use a library, the brothers can borrow and blend until they arrive at a product that tastes true to place. That's why Fable's bottled offerings vary widely from one release to another.
Midway through dinner, local winemaker and Wines of Vermont author Todd Trzaskos stopped by. The conversation shifted to grapes, which have been so bountiful in Vermont this year that many vineyards are selling their excess. Fable is developing a vineyard on the property, but it won't bear fruit for several years. This fall, the brothers arranged to buy fruit from Lincoln Peak Vineyard in New Haven.
To Trzaskos, the brothers seemed to question whether trellising a vineyard aligned with the spirit of their mission. "I don't want to have to baby [these vines]," Jon said. Since the fermentory's inception, the Pianas have worked with plants that thrive in this place regardless of human intervention. They accept what the land offers and facilitate its transformation into native beverages. At what point does fussing with a finicky, nonindigenous species tip from cultivating crop diversity toward imposing your will on a place?
In a conversation later, Trzaskos contextualized Fable's work. "They're carrying on a tradition from a time when there were no ways to control the process," he said. "[Historically, there was no] introduced yeast — or temperature control, other than opening the cellar door to cool it off or warm it up." Working with native plants, he added, introduces "aspects that are part of the landscape — to give the land a voice through the cider."
Back on the farm, Jon sipped a glass of salmon-colored pét-nat, which sparkled with tiny bubbles, much as Champagne might. "It's really that cider is wine," he said.
"It really always has been," Chris added. "Ever since back in the day."