On a gusty October morning just before peak foliage, Nancy Winship Milliken greets me in her tan RAV4 at the entrance of Shelburne Farms' stately grounds. She's dressed for the weather in mud boots and work pants; a few fist-size tufts of sheep fiber drift on the floor of her car. After a short drive through the drizzle, Milliken pulls in under the archways of the Breeding Barn, a large, ornate structure built in 1889 to show off the estate's massive horse-breeding operation.
"You're seeing it in the dark and dreary, but it's pretty spectacular in the light," says Milliken, her voice echoing under the towering roof of the empty building, which once housed a 375-foot equine exercise ring. "Doves fly in and out, and sparrows, and swallows. It's just a cool place. It's an incredible, cathedral-like barn. I mean, it's an incredible studio."
Milliken, 52, is a sculptor who currently divides her time between Charlotte and western Massachusetts, though she says she's lived in just about every northeastern state. One of several artists completing residencies for the multidisciplinary statewide project "Of Land & Local," she created an original outdoor installation — an array of 10-to-40-foot-tall "sails" — that has been attracting attention since it first went up at the farms in late September.
Milliken got a bachelor's of science degree in health education from the University of Vermont in 1984 and an MFA from the Massachusetts College of Art and Design in 2008. In between, she taught courses in outdoor adventure, painting, farming movement and theater. Currently represented by the Boston Sculptors Gallery, the artist has had more than two dozen gallery shows and residencies since she turned to art full-time six years ago.
Milliken creates site-specific work that relies on an intimate knowledge of the landscape. "Every place has its own history and character and wind shifts and sun moods," she says. "Every place has its people and animals that develop its character."
"I love to be in residence, because otherwise I'm not going to know enough about the land," she continues, "and I like to shake hands with it and really know it." While Milliken has no formal education in agriculture, farms frequently inspire her work. "It's a New England thing," she quips. "It's like, 'When in Rome...'"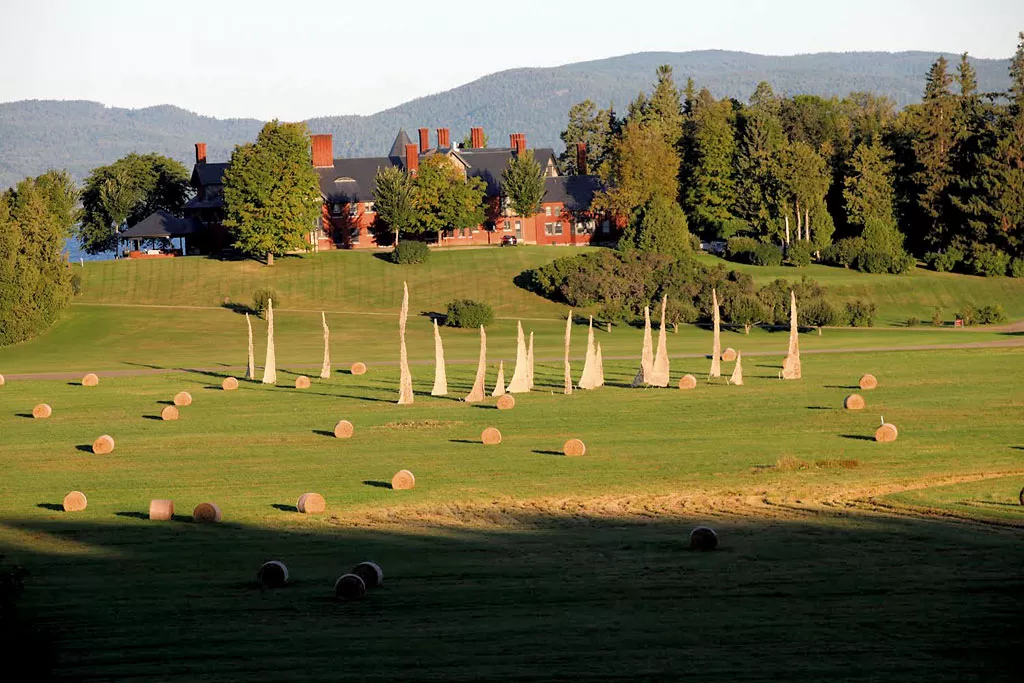 Milliken's "Windscapes" at Shelburne Farms
But, she adds more seriously, "These small organic farms are a passion of mine. And the material is just so rich. It's life, it's death. There's mud, beating hearts."
For the past four months, Milliken has been "shaking hands" with the pastures and hills — and mud and beating hearts — of Shelburne Farms. It's her way of finding inspiration; it also happens to jive with the mission of "Of Land & Local," which aims to prompt discussions about and engagement with the Vermont landscape through panels, art exhibits and events at five locations statewide.
Milliken and a rotating group of volunteers assembled "Windscapes," her outdoor installation, over a period of several weeks. To make the sails, they took wool sheared from Shelburne Farms sheep, wove it into nets and attached those to "masts" made of felled Norway maples (an invasive species in Vermont.) Each sculpture is rigged with a "leash" that cuts the sail loose in high winds. Thus bad weather doesn't necessitate repairs, only retying.
The night before our interview brought one of the first big rainstorms of autumn, so Milliken drives over to scope out the damage. "I come by every day," she says, driving through the farm's well-groomed fields. "It's interesting, because they're going to get destroyed by the environment, so you let 'em go. But they continue to surprise me all the time, in different lights."
Sited on a sprawling field between the Inn at Shelburne Farms, the Coach Barn and Lake Champlain, the sails are commanding figures. Heavily laden with water and billowing in the wind, they look like ghostly apparitions or underwater plants. Tufts of wool lie scattered in the field. "The wind pulls off some of the wool, and it allows the wind to go through," Milliken explains. "It's doing what it's supposed to do."
Though she admits she's "not a purist," Milliken likes to use organic materials from the landscape where she creates. "The sheep eat the grass and then they grow the wool, so the wool is really of the land, and [the art] is more about the landscape than putting a sculpture out in it," she says. "It's really of the landscape."
The largest sail — a 40-footer that Milliken has named "Abuela" — flaps loose from its mast. "They look a little ratty today, but we all do in the rain," says Milliken with a laugh. "They kind of take on the character of the environment. When it's wet, they look wet and we feel wet. When it's bright and sunny, they go bing and reflect the sun."
It's not the first time Milliken has worked with sails: She's created others from metal or felted wool. It's a form she likes for aesthetic reasons as well as theoretical ones.
"The sail is pregnant with possibilities," explains the artist. "It's a two-dimensional form that turns three-dimensional with something that's invisible."
Milliken decided to create sails at Shelburne Farms during one of the many walks she took to acquaint herself with the landscape. "I saw the hairs rising up on these hillocks ... and it looked like waves on the ocean, and seagulls from Lake Champlain were following the mower," she remembers, standing amid her sails and gesturing toward the lake, where the silver clouds are starting to part. "And suddenly I felt like I was on the ocean."
Since the completion of "Windscapes," Milliken has used the remaining days of her residency to experiment with sails made of cob and aluminum; she plans to make some out of local limestone, as well.
And, though she lives just one town south of Shelburne, Milliken insists she didn't really know the land of Shelburne Farms until now. "I can say I've hiked these hills," she says. "But you don't until you know the rhythms of the farm: When are they haying and mowing? When are they putting the livestock in the pastures? You know, you think you can know a drop of water, but you can't, until you drink it."
INFO
The original print version of this article was headlined "Of the Land"