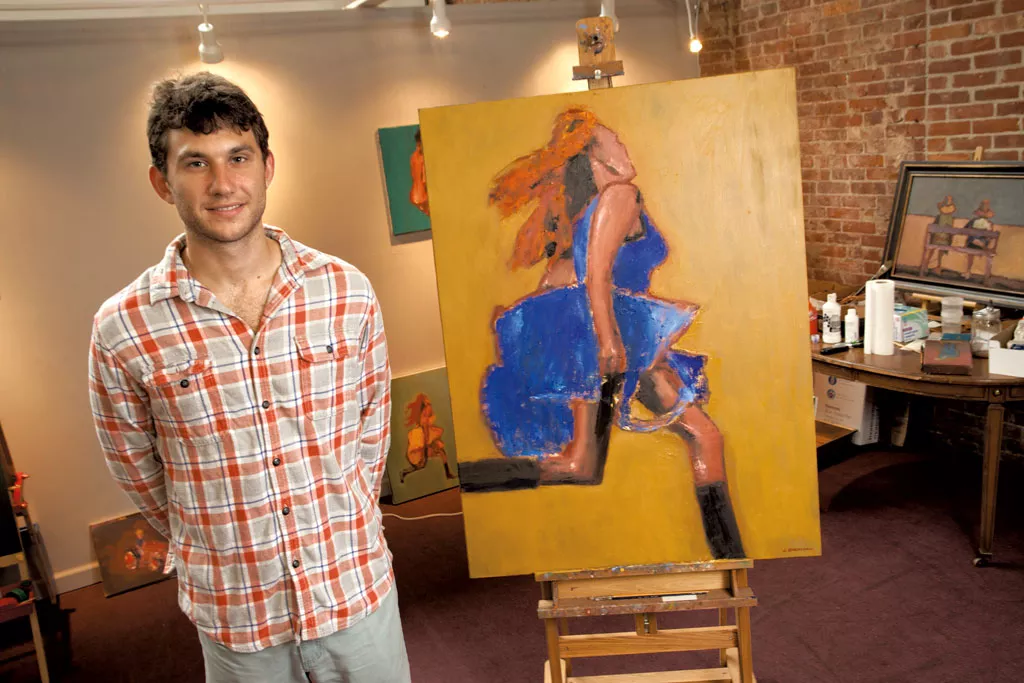 Matthew Thorsen
Julian Cardinal
Some artists are dreamers who remain uncompromisingly dedicated to their aesthetic vision, regardless of the public's response. Others are pragmatists who approach art more as a profession than a mission. Having identified a demand, they work to supply it.
Julian Cardinal is an artist of the second sort. At age 25, the trim, dark-haired Vermonter has already achieved what many older painters in urban art centers never will: He earns a living from his brushes and tubes.
Cardinal produces multiples of images that attract buyers. He says he's painted — and sold — at least a dozen versions of "Running Girl." It shows a blond or red-haired woman wearing boots in midstride, her head tilted away from the viewer and her right hand hitching up her flouncy yellow (or blue or white) skirt. Cardinal dramatizes the action by isolating his subject against a monochromatic background, which also varies from canvas to canvas.
Three new copies of "Running Girl," in different sizes and colors but always depicting the same motion, are propped against the walls in Cardinal's spacious and orderly studio just off Flynn Avenue. They'll be available for sale, at prices in the $1,000 to $1,500 range, during this weekend's South End Art Hop.
Cardinal has also found success with a scene of two frumpy women in summer hats seated on a park bench with their backs to the viewer. The one on the right appears to have only one leg. The creator of "The Bench" says he's not sure why it sells so well. Maybe it's because the painting poses a mystery that will never be solved: Who are these women? What do they look like?
"I usually leave out faces," Cardinal says. "When you include them, there's less ambiguity. They may remind someone of someone else. And I've found that's not what people want."
There's another practical reason for the omission of eyes, noses and mouths from nearly all his figure paintings. Cardinal acknowledges that, like many artists, he has difficulty composing convincing-looking facial expressions.
Both "Running Girl" and "The Bench" have other attributes typical of Cardinal's art. With the exception of a few paintings of male jazz musicians or cyclists, as well as forays into floral and nautical scenes, he stays focused on the female form. "It's more curvy, less rigid, more interesting visually" than man art, he says. Some of his women transmit an erotic charge, as well.
All of Cardinal's figure paintings are based on photographs included in compilations such as Vogue: The Editor's Eye, a copy of which he's currently combing through in search of shots that might translate effectively into paintings. He favors black-and-white photos because, he explains, the absence of color opens infinite options for rendering on canvas what's shown in a book. Cardinal is also more comfortable working from photos than from life, although he says he wants to try using models "one of these days."
Just as nearly all the paintings in his studio feature the same compositional elements — female figures set in an indeterminate space — Cardinal's method of producing them is consistent. He begins every work by covering the canvas in brown acrylic. Next, he sketches a human form in Venetian red, either oil paint or pencil. Other colors are then added for clothing and flesh. The background comes last, because, Cardinal says, he can touch up the body and the head of his subject as he applies the color that will surround her.
He points out that his dad, Cape Cod-based landscape painter Robert Cardinal, works in much the same way. It's clear that the son has been profoundly influenced, and helped, by the father, who's now 78. Julian seems to have learned more by observing Robert and painting alongside him than by taking studio-art classes at the University of Vermont, where he earned a BA in English literature.
The younger Cardinal's sales have been made primarily at the elder's gallery in Provincetown, Mass., or at a gallery in Essex, Conn., where his father also shows. Julian Cardinal says he's sold nothing in Vermont.
Not that he hasn't tried. Along with business partner and fellow UVM grad Zachary Pliner, Cardinal opened Scarlet Galleries on Bank Street in Burlington in late 2011. This ambitious enterprise — the name was given the plural form because Cardinal envisioned Scarlet as the cornerstone of an art empire — featured representational work by mostly New England painters. Scarlet, which is the middle name of Cardinal's now-4-year-old daughter, closed its doors about 18 months after it opened.
"We could've kept it going another couple of years," Cardinal reflects. "Sales were decent for a first year in business." But Pliner moved to New Jersey, and Cardinal wanted to paint, not administer a gallery.
Now he and his father — a frequent visitor to and painter of Vermont — are considering opening a gallery in Stowe, Cardinal reports. But this market-attuned, self-confident striver has his sights set higher and farther. "I want to have a gallery in Chelsea represent me," Cardinal says. And he might just manage to gain entry to the New York art world. "Someone at the gallery in Essex has an in there," he confides. "It's really just a question of when it'll happen."
The original print version of this article was headlined "Go Figure"