It's a blindingly bright winter afternoon when glass artist Ethan Bond-Watts greets a visitor at his childhood home in Charlotte. The room's west-facing windows look out over a frozen Lake Champlain. Metal sculptures protrude from snowbanks in the yard, reflecting the light.
Inside, Bond-Watts sets down two glasses of water on a table. Even in a living room adorned with original works by local artist friends, these drinking glasses, made by Bond-Watts for his parents, draw the eye. Mine has a simple filigrana pattern, clear with a threadlike white line winding up the side.
"It's nice to find that line," Bond-Watts notes, indicating the pattern on the glass. "Here's an object that you hold in your hand; you put it up to your lips. That's a sacred thing."
Evidence of his skill in classical glassblowing is all over the house: vases, bowls and pitchers in a range of colors and patterns, and elaborate Venetian goblets that would look at home in a period drama. But Bond-Watts' playful glass mobile currently on display in "Supercool Glass," an exhibit at the Shelburne Museum's Pizzagalli Center for Art and Education, suggests a more modern influence: Alexander Calder.
You could say the artist grew up with glassmaking. Bond-Watts, now 30, began at age 15 as an apprentice for Burlington-based glass master Alan Goldfarb, who eventually promoted him to "gaffer" and gave him his own furnace at age 19. Bond-Watts made what he calls a "pilgrimage" to Venice when he was 20 and spent months observing master glassblowers in their studios. "It was my obsession for 10 years," he says. "It still is my obsession, but I have all these other little obsessions crowding it out."
Bond-Watts' home also displays examples of what he calls his "divergences" from his longtime glass craft. Tacked to the wall or hanging from the ceiling are miniature versions — or "drafts," as he calls them — of the artist's abstract, conceptual, mixed-media sculptures. These have netted him major public and private commissions in recent years. "I think you can communicate a sophisticated idea by combining materials and traditions of making from across disciplines and history," Bond-Watts says.
Examples: A wooden, Japanese-inspired sculpture hanging on a hallway wall echoes the steel geodesic armatures in the yard. Both, in turn, resemble Bond-Watts' "Seed #2," a mossy living sculpture on the grounds of the Helen Day Art Center in Stowe. The glass-blown sculpture suspended above Bond-Watts' front entryway — composed of abstract, colorful, biomorphic shapes that he aptly refers to as his "swooshy things" — is visually and conceptually similar to several of his higher-profile installations in recent years.
A number of those have made a splash in venues throughout the Burlington area, such as "Monique," that piece in the "Supercool Glass" exhibit; and "Emergence," which was installed in the Dudley H. Davis Center at the University of Vermont in 2009. (Bond-Watts graduated magna cum laude from UVM with a degree in environmental science that year.) Last year, Fletcher Allen Health Care commissioned Bond-Watts to create "Emma," which is now a permanent art installation in the hospital's intensive care unit.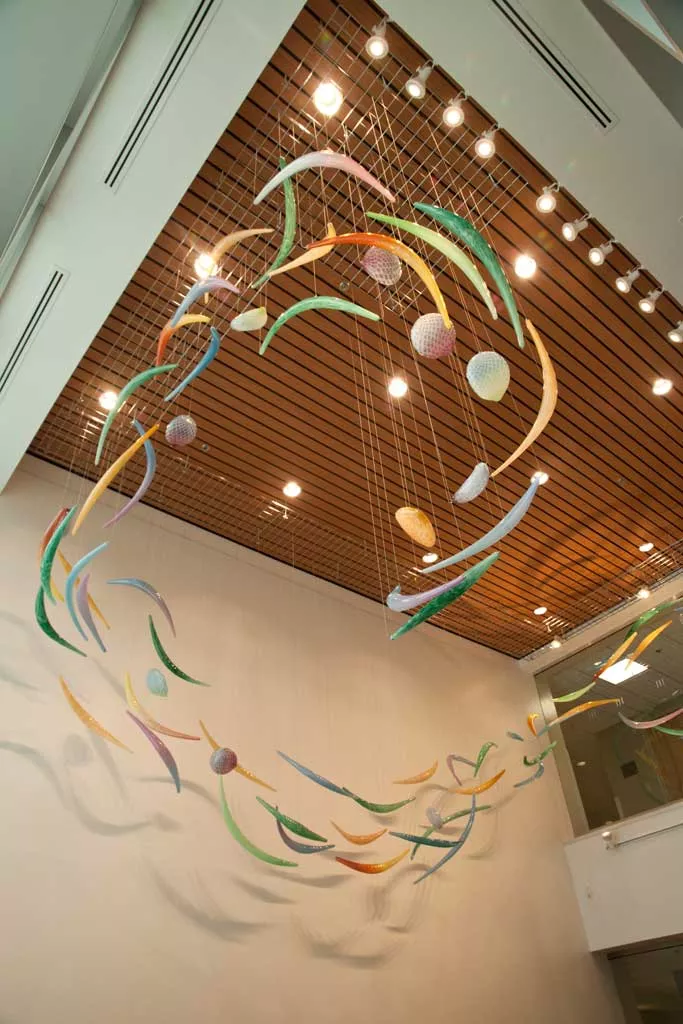 For an artist who spent a decade working on a craft that peaked during the Italian Renaissance, Bond-Watts spends a lot of time thinking about "the new modernism." He says he wants to develop an aesthetic that "borrows [techniques] from history and different cultures," and to make pieces that resonate with all of them. The bottom line, says Bond-Watts, is to make the art accessible.
"I'm a real art geek, so I can sort of take postmodern, snarky, clever art about art," he says. "But a lot of people can't. A lot of people are alienated and pissed off [by it]."
The same might be said for traditional crafts, as Bond-Watts is quick to point out. The ornate glass that Venetian masters spend lifetimes perfecting, for example, is and always has been intended for use by an elite echelon of society.
Bond-Watts still makes functional glass — the demand for high-end pieces for weddings and other occasions is "bread and butter," he says — and he still loves it. "I feel like I'm still fully in that tradition," he says. "It keeps my aesthetic honest because it reins me in. It keeps me from going too far off into the conceptual deep end."
Even so, what sparked Bond-Watts' imagination when he visited Venice nearly a decade ago wasn't any glass product per se. Rather, it was the "economy of movement" and "grace of the line" that he observed in the glass masters as they moved around a hot furnace in fluid motions making intricate goblet stems, chandelier pieces or ornaments.
"They built up the heat, and it was just one move," he recalls. "It was so graceful, like the Shoji paintings from Japan where there are only four or five strokes, but they're so intentional and graceful."
Bond-Watts' signature "swooshy" hanging sculptures seem to have been born from attempts to recapture that graceful line and sense of motion. He works with abstract forms and accessible conceptual starting points such as ecological systems to draw in viewers and encourage them to "make their own associations," he says. His suspended glass installations have a sense of movement even though their elements are stationary.
Courtesy of Ethan Bond-Watts
"Seed"
"In the first experiments, I was assembling the pieces like a traditional chandelier — it had this inertia to it, a density; it wasn't as buoyant an aesthetic as the one I was looking for," Bond-Watts says.
Over years of experimentation with attaching individual glass forms to stainless-steel wires, he developed a way of "hanging glass in space without any dense core. Almost like liberating the glass," he says.
In the case of "Emma" at the ICU, the glass seems to liberate the space in turn. The featherlike, swooping pieces of the sculpture direct the viewer's gaze around the room, seeming almost to fly through the windows. Bond-Watts recalls sitting in the ICU for two days last year "looking at the colors and the way the light changed." He observed medical staff in scrubs, family members of patients, janitors.
"People from all walks of life came through there," he says. "It was really people who wouldn't go to public art venues ... people who are really, really stressed out, making peace with the death of a loved one."
Bond-Watts returned to the ICU last week for the first time since "Emma" was installed. "I couldn't believe the positive feedback I got from the passersby," he says. "They were incandescent. They said the sculpture completely transforms the mood of the families' experience while waiting for their loved ones. I felt a sense of satisfaction and contribution unlike anything I've felt before. It was wonderful."
The original print version of this article was headlined "Glass Appeal"
Courtesy of Ethan Bond-Watts
Filigrana vase