Circulus Sapientiae/Circle of Wistdom
Artist Claire Van Vliet's Northeast Kingdom skies started small. When she moved to a high plateau in Newark, Vt., on an unpaved mountain road, her initial efforts to capture the boundless skies and rolling hills were rendered in 5-by-7-inch watercolors on Japanese paper. "I didn't want the edges," explains the painter, printmaker and bookmaker, now 81. "I wanted the colors to flow together." Her work, along with her reputation, has since grown bigger.
On an April afternoon that vacillates between humid rainstorms and hazy sunshine, Van Vliet leads a pair of visitors around her home and studio. Enormous windows look out over acres of meadows; warm hardwood floors, creamy walls and sparse décor give the space an open feel. "I moved here because of the clouds," she tells her visitors. "Look how close they feel here. Doesn't it feel like you can just touch them?"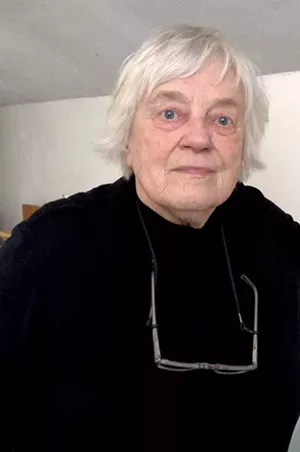 Courtesy Of Xian Chiang-waren
Claire Van Vliet
For years, Van Vliet's specialty in two-dimensional art was pulp paintings of clouds or horizon lines, for which she used mineral pigments to color paper pulp. The pulp itself created texture. She also crafts intricate broadsides, sometimes with poetry or political text, and in the past three years has favored making black-and-white lithograph prints, sometimes over a pulp painting.
Examples of her 2-D "wall art," as she calls these works, adorn the studio. So does a painting of a man riding a flying horse through a cityscape, made by her friend and fellow NEK paper artist Peter Schumann, of Bread and Puppet Theater. More of Van Vliet's works are stored in blueprint file cabinets that line several walls. In the back of the space — her bookmaking studio — she has created the works that have brought her international renown.
Van Vliet has been quietly churning out visually stunning, museum-quality artist books from her secluded studio since she and her then-husband, glassblower Michael Boylen, moved there in 1966. Van Vliet founded Janus Press, which publishes small editions of artist books, in 1955 in San Diego. She was slightly ahead of the curve of the conceptual-arts movement of the 1960s, which popularized the form and eventually led to the establishment of the Center for Book Arts in New York in 1974. Institutions including the National Gallery of Art, the Smithsonian Institution and the Library of Congress have acquired Van Vliet's work.
Janus Press will be 60 years old next February, a remarkable feat itself for a small publishing company. (Fellow artist Ruth Fine produced a catalogue raisonné of Janus' first half-century in 2006.) But Van Vliet is reticent about her success: "I think of myself as a bookmaker, not a book artist," she says. "It's such a pretentious term, 'book artist'!"
Nonetheless, Van Vliet has received acclaim in the field, particularly for pioneering a technique of using colored-paper pulp to create illustrations and, in recent years, for her experiments in nonadhesive binding. Her delightful "mantle books," for example, are paneled landscapes that can be folded and juxtaposed to create new scenes.
In her studio half an hour north of Lyndonville, Van Vliet has continued to make artist books in editions of a few hundred, several times a year. For each book, she and an assistant create the illustrations, research and proof the editorial content, carefully select and lay out the type on a traditional hand-cranked press, and hand-bind the book. Though some books are entirely Van Vliet's creation, from the writing and art to the finished product, Janus Press has also designed and published books for artists such as Lois M. Johnson, Fine and Schumann, and for writers including Seamus Heaney and Raymond Carver.
"The nice thing about bookmaking is that you can put all kinds of art inside them," Van Vliet notes. "There's a limit to what people will put on their walls. If someone buys a book, they usually want another [one]. Whereas, if someone buys a painting for that wall, the space is kind of filled."
Galleries, she adds, "would rather sell a $5,000 painting than a $500 book," which she finds disappointing. Janus books range in price from $75 for smaller volumes to $1,000 (for The Tower of Babel), but most fall in the $300-to-$500 range.
In 1989, Van Vliet won a MacArthur "genius grant" of more than a quarter million dollars. She used part of the money to travel. The landscapes that appear in her wall art come from Ireland, New Mexico, Australia and Denmark. Besides having an oft-professed love of big sky, Van Vliet feels drawn to places where "the temperature gets down to zero and the colors become amazing," she says. Though she has lived in cities in both the U.S. and Europe, the Canadian-born artist says she's always liked rural isolation — it makes her productive.
Van Vliet and her husband, she recalls, chose Vermont in the 1960s because it was one of two depopulating states in the country; she guesses that Newark, at the time, had only a few hundred residents.
These days, Van Vliet's work is circling back to a more local landscape — and a politically charged one. At night, flashing lights from nearby wind turbines now obscure her formerly unencumbered view of her beloved Northeast Kingdom sky. A recent broadside she made depicts a stark red sky punctuated by spiky turbines, black ink lending an angry edge to the ridgelines. She doesn't like the eyesore, or the relative flood of development that's hit the Kingdom in recent years. "It's too bad, because Newark is such a down-home place," she says ruefully. "It always was."
But at her age, Van Vliet says, she is staying put. "I'm not traveling anymore; I'm done," she says with a laugh. "I don't really need to travel for inspiration anymore. Because I have all those things, all those places I've been."
The original print version of this article was headlined "Works on Paper"