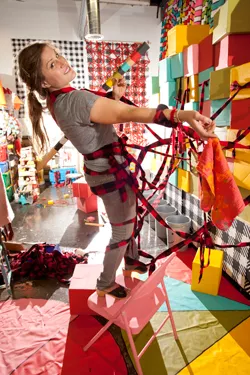 Matthew Thorsen
Abby Manock in her studio
Serendipity has favored Burlington artist Abby Manock. That's partly because her colorful, elemental style lends itself to cool collaborations, and partly because of her adventurous spirit. If a proposed project holds a glimmer of interest, Manock is in.
Her studio, in the new Satellite space behind Feldman's Bagels on Pine Street, hints at the diversity of Manock's art making. A large stack of painted blocks stands along one wall (they're actually Magic Hat Brewing Company boxes, and will star in an upcoming video), and an oddly striped fake-fur "hide" is tacked on the opposite wall. Two big, hand-painted plaid squares take up space on the back wall, while an oversize jellyfish with bulbous eyes ogles the room from a perch on a shelf. A tiny cupcake sits on Manock's workbench, surrounded by neatly labeled studio supplies.
There's a touch of whimsy even here — paint colors and boxes are labeled, but so are more obvious objects, such as the unopened package of straws, or the Mason jar tagged "FEAR." Closer inspection reveals a crumpled spider inside.
And then there are the faces. Nearly every flat surface has a smile drawn on it with a Sharpie pen, a practice Manock started 10 years ago when she lived in Boston. She says she was "maybe kinda lonely" when she began adding smiles to old coffee cups, but the practice quickly turned into a habit.
"It's my army of assistants," she says, pointing at a bevy of grinning 10-gallon buckets in the corner. "If that was just a bunch of buckets, you wouldn't even notice them. But when it has a face on it, it's like its own entity … all of a sudden it's just kind of friendly."
"Kind of friendly" applies to one of Manock's best-known projects, too: a family of 18-foot inflated "noodles" modeled after the popular air-powered, inflatable roadside attractions often used by car washes and dealers to get drivers' attention. But Manock's noodle family, which will be showcased at Seven Days' tent this Friday at the South End Art Hop, is a different beast altogether.
"I think of them as actors or performers," Manock says. "The form is just a stock shape — they're regular car-wash noodles — but now they're wearing my costumes."
Manock created the Noodle Family Traveling Circus for the notoriously colorful Coachella Valley Music and Arts Annual Festival in Indio, Calif. She landed the commission while painting 12-foot plywood murals at the Bonaroo Music & Arts Festival in Manchester, Tenn., where she crossed paths with the visual-design organizer for Coachella. Manock's first proposal — a scaled-back version of the noodle family — was rejected, but the Coachella design team invited her to revisit the idea the following year.
"I was, like, really? OK, now how am I going to make it say something about my work? If that many people are going to see your work, you want to really love it!" Manock says. "I wanted it to look like my work, not just something you'd see at a car wash. So I started to research how I was going to do it."
As in many of her projects, color was the answer. Wild stripes and chevrons in Manock's five signature colors — red, pink, yellow, teal and green — cover the tubular balloons, which are inflated by a plaid-covered blower and topped by, of course, a smile. The colors are heat-printed on a soft, silky material that snaps briskly in the breeze, giving each noodle its characteristic wave.
In Manock's studio, the noodles are draped over a high rod, waiting for their next deployment. They're "kinda like my children," she says, while brainstorming aloud about expanding the family for her next Coachella proposal.
"I thought I was done with music festivals when I was, like, 18, but I still love being behind the fence and seeing people look at your work," Manock says. "People really get into it in a way that they don't at galleries or museums. It feels good to just make people smile when they look at my work."
Manock's next local project, a series of large-scale jellyfish that will float on cables in City Hall Park, promises similar levity, although the artist is giving it a science-y spin by wearing a white lab coat for the installation.
"I'm going to weight them so they hang and swish around like real jellyfish," she says. "And if they get damaged by people in the park, it's going to be, like, 'Why are you destroying this species?'" She stops to think for a minute. "Even if it gets tampered with, I can get out there and make signs like 'Save the Jellyfish!'" Manock exclaims. "I'm excited to see what might happen!"
In the past, waiting to "see what might happen" has landed Manock gigs creating art for Phish shows, hand-stenciling entire barns with Cabot Cheese plaid and covering local walls with murals. She also runs a design business called abbyabby, for which she creates custom fabric, bags and pillows. Many feature a nebulous-looking, four-legged creature.
"Really, though, I love to draw and to create," Manock says. "I don't want to be a corporation. I'm primarily supporting myself through my art and always looking for projects. If I'm approached by someone who wants me to make something weird, hell, yeah! Don't you go looking any farther. I'm interested."
The South End Art Hop is this Friday through Sunday, September 6 to 8, in Burlington.
The original print version of this article was headlined "Happy Face."