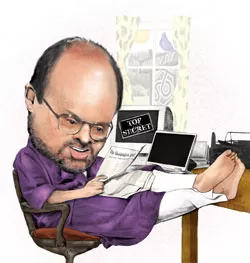 It's a long way, physically and figuratively, from South Pomfret, Vt., to "Liberty Crossing," the nickname of the suburban Washington, D.C., headquarters of two federal agencies engaged in espionage and counterterrorism. It's a distance that Washington Post reporter William Arkin traverses regularly, and not without danger.
Arkin, 54, lives across a sleepy street from the Teago General Store in a 150-year-old house once owned by Bunny Bertram, an inventor of the rope tow and the founder of Suicide Six. From his sunlit and wood-beamed home office, Arkin has a fine view of the resort's modern ski lift. The chichi town of Woodstock, a source of sushi for the bearded, balding journalist, lies less than five miles away on a rolling road that draws more bikers than drivers on a sunny summer day.
How unlike Liberty Crossing.
Although it houses nearly 3000 federal employees and private contractors, "Liberty Crossing tries hard to hide from view," Arkin and co-reporter Dana Priest write in their recent Post series on the exponential expansion of the national-security megaplex. "But in the winter, leafless trees can't conceal a mountain of cement and windows the size of five Wal-Mart stores stacked on top of one another rising behind a grassy berm. One step too close without the right badge, and men in black jump out of nowhere, guns at the ready."
Arkin spent the past two years straddling the disconnected worlds of rural Vermont and covert installations like Liberty Crossing, the latter of which form what the Post reporters describe as "an alternative geography of the United States." Working much of the time on a DSL-connected computer in a home without cellphone service, Arkin helped trace the contours of "Top Secret America," as the Post's three-part exposé is entitled.
Here are some of the series' key findings:
1271 government organizations and 1931 private companies are now engaged in counterterrorism, homeland security and intelligence work in about 10,000 locations around the United States, nine of them in Vermont.
A publicly disclosed portion of the U.S. intelligence budget has increased 250 percent since the 9/11 terror attacks; its $75 billion sum is 75 times the size of the Vermont state budget.
An estimated 854,000 federal workers and private contractors now hold top-secret security clearances. That's 200,000 more people than live in Vermont.
The National Security Agency intercepts 1.7 billion emails, phone calls and other types of communications per day.
General Dynamics, with a factory and offices in Burlington, has profited enormously from the growth of the national-security state. Annual revenues from its work on top-secret projects have quadrupled in the past decade, rising to $10 billion, while its workforce has more than doubled to include 91,700 employees — more than twice the population of Burlington.
Asked in a recent interview whether all this adds up to a potential police state, Arkin says, "It could have that quality." The vast but largely invisible network constructed since September 11, 2001, "could be abused," he acknowledges, noting, "There are always outliers; there are always special projects; there are always bad actors."
But he doesn't believe the U.S. will necessarily devolve into Big Brother despotism of the sort imagined in George Orwell's 1984. Top Secret America is so wasteful and lumbering that it short-circuits its own tendencies toward totalitarianism, Arkin implies. Referring to the 1.7 billion communications intercepted daily, he notes that "about 1.69 billion are intercepted overseas," and only a tiny fraction ever get analyzed by an agency whose reach far exceeds its grasp. Besides, government eavesdroppers and their corporate helpers "are so focused on our adversaries that they barely have time for the rest of us," Arkin assures.
He also expresses an abiding faith in the power of the press to mobilize citizens to defend their democracy. Exposing the excesses and unaccountability of Top Secret America will help prevent it from violating the very freedoms it is supposed to be protecting, Arkin suggests. "The only way to control them," he says of the hundreds of thousands of spooks and security operatives, "is not through self-regulation but through exposure. Self-regulation doesn't work in the school system or the post office, so it's certainly not going to work with this."
Stephen Dycus, a professor of national-security law who knows Arkin personally and professionally, describes him as "a real optimist in regard to participatory democracy." According to Dycus, who teaches at Vermont Law School, Arkin believes that "the truth, as painful as it may be, might help us stay free. As much as anything, that's what's behind the work that Bill does."
Sure enough, Arkin says in the interview, "With the 10th anniversary of 9/11 coming up next year, it's my hope that the American people can finally close the door on this chapter of American history."
In keeping with his civic-minded outlook, Arkin frames his investigative work as a patriotic endeavor. His aim, he says, is "to make our country safer and make our government more accountable and to use my particular skills to be a good citizen."
Arkin argues that, by operating in the shadows without public oversight, counterterror and snooping agencies limit their own effectiveness. "They have an insularity that is self-defeating," he says. Aiming a spotlight into these dark recesses may actually improve the quality of intelligence products — or at least prod the producers into maintaining a mentally healthy perspective. Arkin offers this analogy: "Everybody has a friend who spends far too much time in the basement playing video games. You can watch that person through their separation from society becoming more and more out of touch and even paranoid."
Such neurotic behavior is particularly worrisome in the case of government agencies, because it isolates them from the citizenry they were established to serve. "They instinctively see anything that isn't part of their system as a virus to be thwarted," Arkin says.
Arkin's avowals of good intentions haven't shielded him from snakebites from the venomous right. Peter Huessy, a contributor to Fox News' Fox Forum and several similar outlets, accused Arkin and Priest, a two-time Pulitzer Prize winner, of giving "our enemies a road map of our security infrastructure." Writing on a website associated with race-baiting smear-meister Andrew Breitbart, Huessy likened the Post duo's revelations to "sending Japan and Nazi Germany details of our war effort."
A more mainstream commentator has also implied that the Post series has a treasonous tinge. "Priest and Arkin have spent two years trying to expose all manner of classified government activities," Thomas Mahnken, a former high-ranking Pentagon official, writes in a blog on the Foreign Policy magazine website. "Arkin has in fact made a career of it." According to Mahnken, the journalists "have made it easier for America's enemies to defeat U.S. efforts to ferret out their secrets and have thereby made it more rather than less likely that the United States will be surprised by a future adversary."
Arkin makes a particularly inviting target for conservative polemicists because of his background as a progressive activist. His past affiliations read like a roster of the country's leading peace-advocacy, human-rights and green groups.
In the 1980s, Arkin coauthored the first volume of the Nuclear Weapons Databook for the Natural Resources Defense Council, an environmentalist lobby and think tank. He subsequently worked for the Center for Defense Information, the Institute for Policy Studies, Human Rights Watch and Greenpeace — none of which would be invited to the Tea Party. Arkin also contributed in the 1980s to the German Green Party's efforts to rid Europe of scores of nuclear arsenals. He identified U.S. atomic weapons sites throughout West Germany and used that information to design a map used as a Die Grünen poster — which Arkin proudly points to on the wall of his South Pomfret home office.
In the late '80s, he initiated and led Greenpeace International's "Nuclear Free Seas" campaign, which documented frequent U.S. violations of many countries' bans on port visits by ships carrying nuclear weapons. These disclosures helped persuade the administration of the first President Bush to remove tactical nuclear weapons from U.S. ships and submarines.
In his work with Greenpeace, Arkin recalls, "I used to tell young idealists, 'If you feel like you're going to change the world, you're going to go home every night thinking you've failed.' I hope I can have some impact on the world," Arkin continues, "but I really just wish to use my prodigious research talents to help our country better understand a part of our government that doesn't want to be understood."
As that credo suggests, Arkin cannot be accused of false modesty — even though he prefaced his Seven Days interview by declaring, "I'm not one of those egotistical journalists." Arkin does have reason, however, for proclaiming, "My contributions and value [to the Washington Post] transcend the issue of what someone might say about me."
In addition to all the left-leaning entries on his résumé, there are plenty of establishment citations, beginning with four years of service as a U.S. Army intelligence analyst in West Berlin in the '70s. Arkin has taught at the Johns Hopkins School of Advanced International Studies, Harvard's Kennedy School of Government and the U.S. Air War College.
Bristling at being called an activist — "That's a value-laden term," he objects — Arkin says he prefers to be seen as "an extremely well-informed and active citizen who thinks locally but acts globally."
Further defining himself as "a military expert who happens to work in the journalistic world," Arkin argues that his past work as an advocate poses no impediments to the job he has held since 1998 as a blogger and reporter for the Washington Post. "When I work for the paper, I have to comply with the conventions of the paper," he says. "When I write a report for the government, I have to comply with the conventions of the government."
The conventions of mainstream journalism no longer seem obvious or stable, however. The emerging importance of citizen-journalist websites such as WikiLeaks challenges received notions of how news should be gathered and packaged. Arkin is eager to defend WikiLeaks against the charges of irresponsibility leveled by the journalists'-rights group Reporters Without Borders. "Give me a fucking break!" he says with a groan. "The notion that the First Amendment only applies to certain people and that only certain voices deserve to be heard is one I completely reject."
New forms of reporting and new types of news organizations do justify hopefulness about the future of journalism, Arkin says. He points to ProPublica, a nonprofit, foundation-funded investigative-journalism outlet that won a Pulitzer Prize for its examination of conditions in one New Orleans hospital in the aftermath of Hurricane Katrina. "There's finally a recognition on the part of the philanthropic community that there's value in journalism," Arkin exults.
But there are also clear limits to what the new news media can achieve in comparison with old-media stalwarts such as the Post, he adds. "I can't imagine the Huffington Post or anything like that allowing even one journalist — let alone two — to investigate and produce something like 'Top Secret America.'"
Despite its financial woes and consequent cutbacks in newsroom capabilities, the Post "never wavered" in its commitment to the series, Arkin says. In fact, the paper's editors assigned more than 20 employees to work on various aspects of "Top Secret America." And, for a media dinosaur, the Post did manage to distinguish itself in its digital presentation of what Priest and Arkin uncovered. Online elements were built into the series "from birth," Arkin notes.
Which is not to say the Post's performance would universally be seen as conforming to the strictest standards of independent, crusading journalism. As the paper's editors indicate in a prefatory note to the series, on two occasions months apart, "we allowed government officials to see the website … and asked them to tell us of any specific concerns." Two objections were lodged, although "one government body objected to certain data points on the site and explained why; we removed those items," the editors say. "We made other public-safety judgments about how much information to show on the website."
Even though it engaged in what some might see as prepublication self-censorship, the Post acted appropriately in this instance, Arkin believes. David Mindich, chair of the St. Michael's College journalism department, agrees. "When they do hard-hitting work like this," Mindich says of "Top Secret America," "journalists often have to make some sort of compromise to get sensitive information out there." What the Post's editors did in this instance "wasn't necessarily a bad compromise," Mindich adds.
Both the methods and content of the Post's reporting are strongly defended by Middlebury College professor Allison Stanger, author of a recent book detailing the growing extent and dangers of the U.S. government's dependence on private contractors. "This is one of the Post's finest achievements since Watergate," Stanger says, referring to the paper's outing of criminal behavior on the part of top-level Nixon administration officials, including the president himself. "It's difficult to see ['Top Secret America'] as compromising national security," Stanger says. "I see it as a huge public service."
Stanger is quoted in the Post series as warning that the use of contractors in war zones poses special dangers because it blurs the line between legitimate and illegitimate uses of force. And private individuals under contract to the government have become ubiquitous outside as well as inside war zones. Priest and Arkin estimate that, of the 854,000 people with top-secret clearances, almost one-third are private contractors. The numbers are difficult to pinpoint, however — even for Secretary of Defense Robert Gates. "This is a terrible confession," Gates told Arkin and Priest. "I can't get a number on how many contractors work for the Office of the Secretary of Defense."
Dycus, the Vermont-based specialist in national-security law, similarly lauds Priest and Arkin for their efforts during the past decade to "democratize the intelligence part of our government." At the same time, the reporters have been "extraordinarily careful" to avoid disclosing information harmful to national security — "as opposed to embarrassing people in power," Dycus adds.
To report on the inner workings of institutions deeply embedded in the Beltway, Arkin says he finds it helpful to live far outside it. "I don't live in D.C.; I live here," he declares with a wave of the arm meant to encompass the mountain outside his window, the village of well-tended clapboard homes and, probably, the political culture of Vermont. "It's important to get beyond the elite of D.C., to get beyond the bullshit of the 'self-licking ice cream cone' of D.C.," he says with the toothy grimace that's as close as his face gets to a smile.
Arkin relies partly on the Internet but mainly on sources with whom he speaks by phone when he reports from Vermont on stories with national-security or U.S. military dimensions. At the same time, he does find it essential to travel to Washington once a month — when work on a series like "Top Secret America" doesn't demand his presence there for extended periods. "I do have to rebuild my personal capital every once in a while," he explains. "If I don't have face time with certain people, it's hard to get them to be sources."
A native of Manhattan, Arkin moved to Vermont in 1993 for the same reasons as many other urban expatriates. He and his then-wife, who has relatives in Vermont, wanted a better quality of life as well as a safe, nurturing place to raise a family. (Arkin's two daughters, ages 15 and 12, now live mainly with their mother in Connecticut.)
He says he loves small-town life and still enjoys being in the big city. It's the suburbs that Arkin can't handle. "I've never lived there and never will. I've never commuted to work," he says. "In D.C., I walked to work every day for 13 years, and I walk to work every day now, too, mostly in my slippers and pj's."
When choosing where to settle, Arkin found the "Hanover-Woodstock orbit" appealing because it includes "a university, a decent library and a little airport." So why South Pomfret rather than, say, Enfield, N.H.? "Oh, I didn't want to live on the other side of the river," Arkin replies. "I definitely feel an affinity for what goes on in Vermont."
Musing on what his future as a Vermonter might bring, Arkin suggests half-jokingly that he could establish a think tank. "Let's see, I could call it the 'Pomfret Institute of Security Studies.' That'd be a good acronym, right?"