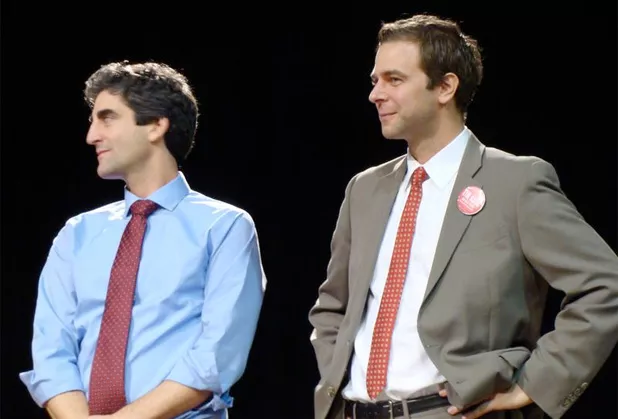 Miro Weinberger and Tim Ashe at the caucus
Burlington mayoral candidates Tim Ashe and Miro Weinberger first met each other watching a Red Sox playoff game at a mutual friend's house in 2004 — but they don't agree on which game it was.
Ashe, a Democratic/Progressive state senator, remembers it as a 2004 American League Championship Series game that pitted his beloved Sox against their archrivals, the New York Yankees. Weinberger, a housing developer and airport commissioner, recalls it was the Sox versus the Anaheim Angels in an American League Division Series game.
Now the two disagree about something far more important — something that may determine the next mayor of Burlington. After emerging from the marathon Democratic caucus tied at 540 votes apiece, Weinberger and Ashe will square off in a final runoff to determine who will face Republican Kurt Wright in the mayoral election in March.
Both Dem candidates agree about who should be allowed to vote in the runoff: only voters who were registered at the November 13 caucus. But they disagree about when it should take place. Ashe wants it as soon as this weekend. He believes voters have endured a "grueling" campaign and "would like to conclude it." Weinberger counters that a vote before the Thanksgiving holiday would "disenfranchise" many eligible voters who are juggling "multiple jobs, child care and travel obligations" in the days ahead.
Ultimately, the Burlington Democratic Party's executive committee will pick a date for the revote at a meeting scheduled for Wednesday.
In many ways, Weinberger and Ashe are cut from the same cloth. Both are die-hard Red Sox fans. Both are graduates of Harvard's Kennedy School of Government (Ashe earned his master's in public policy in 2004; Weinberger in 1998). Both worked for one of Vermont's current U.S. senators (Weinberger worked in Patrick Leahy's Washington, D.C., office; Ashe for Bernie Sanders in Burlington). And both candidates hold day jobs as housing developers (Weinberger founded and runs the Hartland Group; Ashe is a project manager for nonprofit developer Cathedral Square).
But as the nominating contest moves into extra innings, expect to hear more about their differences — if not from the candidates themselves, then from their supporters. When they emerged on stage to announce a recount at Memorial Auditorium on Sunday, Ashe and Weinberger were all smiles. But a Weinberger supporter was already throwing chin music.
Before the recount had even been announced, Weinberger backer Dave Gibson posted a video link to his 913 followers on Twitter that shows Ashe in 2009 downplaying the seriousness of Burlington Telecom's public debt.
Like the pre-2004 Red Sox, Burlington Democrats have been cursed not to win the mayor's office — losing to Progressives or the GOP in every election since 1981. How the Weinberger and Ashe campaigns play these next few weeks could affect Democrats' fortunes in the general election. They don't need to play softball, but a bench-clearing brawl could hurt the Dems no matter which candidate ends up winning.
The Fine Print
How did the Democratic caucus almost end in a situation where one candidate had more votes than the other, but not enough to win?
After the third round of voting on Sunday, Burlington Democratic Party chair Steve Howard announced that Tim Ashe led Miro Weinberger 541 votes to 540. But, Howard told the shocked crowd, neither candidate had met the majority threshold of 542 votes, and therefore there was no winner. The votes would be recounted. If after that there was still no winner — as turned out to be the case — a runoff election would decide the contest at a later date.
Blame it on the fine print — or lack thereof.
The Democratic caucus bylaws specify that any vote for a candidate who had already been eliminated in a previous round of voting (in this case, state Rep. Jason Lorber and City Councilor Bram Kranichfeld) would be discarded and not counted toward the majority threshold. There were three votes for Kranichfeld in that last round, which were tossed out.
But the bylaws don't say what to do with write-in votes — and there were two of them in that third round of voting. After huddling in the bowels of Memorial Auditorium, Democratic lawyers and party leaders ruled that the write-ins must count toward the majority total because the bylaws don't specifically say that they shouldn't. That meant the total number of ballots cast was 1083, and the winner needed 542. Ergo, no win for Ashe.
On the recount, Ashe and Weinberger came out even at 540 votes apiece, so the write-in issue became moot.
For Ashe, it's probably a good thing he didn't actually win by just one vote. Many Democrats already view him suspiciously for his strong ties to the Progressive Party (he was a Prog city councilor for four years and wears both the P and D labels in the state senate), and such a slim margin might lead some to question the legitimacy of his victory.
But the same might be said for Weinberger, who, should he win the nomination, would almost certainly need Progressive support to beat Wright in March.
The Other Curse
By endorsing Jason Lorber, the Burlington Free Press has continued its long tradition of picking losers in Queen City mayoral races.
Vermont's largest daily backed Lorber largely for his stated commitment to transparency and open government, which has become something of a crusade for the Freeps. Lorber boasted about the endorsement in emails and reproduced the editorial in posters that his supporters plastered all over Memorial Auditorium at Sunday's caucus. He was the first candidate eliminated.
Maybe Lorber should have disavowed the endorsement instead. It seems to be something of a curse.
As the usual author of this column, Shay Totten, has noted, the Free Press has an abysmal record of endorsing winners in Burlington mayoral elections. Since 1981, the editorial board has only once endorsed the candidate who ended up winning: Progressive Peter Clavelle over Republican Kurt Wright in 1999.
Endorsements aren't necessarily about picking winners. They are statements of a news organization's values, and the Free Press values nothing if not "transparency." But when an editorial board and its presumed readership are so far apart on something like this, someone looks out of touch.
The good news for the Freeps: The revote offers another chance to endorse — and, maybe this time, get it right.
Of course, if I were Miro Weinberger or Tim Ashe, I'm not sure I'd want it. Here's a tip for the candidates: If you reinterview with the editorial board, steer clear of the transparency issue. It just might get you a blessing you don't want!
Ending the Occupation
Two weeks after setting up in City Hall Park, the Occupy Burlington encampment is history.
Burlington police and city hall shut down the tent city following the death of 35-year-old Josh Pfenning, who fatally shot himself inside one of the tents on November 10. Later that night, chanting occupiers clashed with Taser-toting police after one demonstrator was detained for allegedly crossing into the roped-off crime scene.
By Monday, November 14, the only signs of the former encampment were squares of dead, yellow grass where occupiers' tents once stood. Sections of the park remained cordoned off with crime tape until maintenance workers could rake for condoms, broken glass and other hazards left behind.
What lessons can be drawn from this tragedy, and the short-lived occupation?
Occupy Burlington organizers say they weren't equipped to handle the influx of campers with substance abuse and mental health problems — including Pfenning, who friends say struggled with alcoholism — but did their best to provide a de facto shelter. The encampment had a code of conduct that banned alcohol, drugs and weapons, but organizer Anna Krutak says such rules were impossible for the occupiers to enforce in a public space like City Hall Park.
"The events of Thursday were really, really unfortunate, but I don't think that they were a manifestation of our failure to effectively establish a code of conduct," Krutak tells Fair Game. "It was a very isolated event that wouldn't necessarily have been repeated if the camp continued."
Burlington cops have taken a different view. In a letter to occupiers last Sunday, Police Chief Michael Schirling wrote that he saw no way that police could guarantee the public's safety should the encampment continue.
"Quite the contrary, emerging safety issues ranging from violence and deaths to outbreaks of disease have begun to emerge in similar encampments across the nation," the chief wrote, adding a note of thanks to occupiers for vacating the park voluntarily.
Weighing the "pros and cons" of the two-week protest, Krutak says the clash with police was a "con." In the emotionally charged hours after Pfenning's death, Krutak says occupiers were fearful of an Oakland-style police raid and cops were afraid that demonstrators might "storm the crime scene." Krutak still blames Schirling for not warning demonstrators beforehand that cops armed with Tasers and tear gas had arrived at the park to secure the crime scene, but she also blames occupiers for "acting too quickly."
Krutak doesn't see the events as a setback for Occupy Burlington. Instead, she says they "further highlight the need for change in our system. That's what this movement is all about. It's about moving into a system that is more equitable and more just, that centers around human values rather than human vices."
In fact, she says, not having to manage an active campsite has freed up occupiers to work on other priorities. This Thursday, Occupy Burlington is organizing a rally in support of unionized postal workers at the Elmwood Avenue post office, followed by an event at Edmunds Middle School called "Teach In/Speak Out — Makin' Trouble for the 1%: Tales of Labor Activism from the 99%."
"I can definitely say with certainty," Krutak says, "that no one is ready to give up on this movement."
(Editor's note: Tim Ashe is the domestic partner of Seven Days publisher and coeditor Paula Routly. See disclosure in Letters to the Editor).