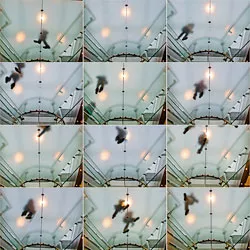 In a corner of the PHOTOSTOP Gallery, three photographs of turbulent gray sky are printed almost edge to edge on a broad white background. In the first frame, a Delta passenger jet flies toward the left side of the image, jet trails billowing behind it. The trails extend, disjointed, through the center and right frames, suggesting the plane's movement as well as its absence. Austere and sequential, the work reframes an utterly common occurrence as a narrative event with visual and emotional resonance. It is quietly, beautifully elegiac.
The work, "Disturbed Air," is one of 17 photographic pieces by Keith Johnson that are currently on view at the White River Junction gallery. The Connecticut-based artist studied with photography legends Aaron Siskind and Harry Callahan at the Rhode Island School of Design in the 1970s, and he has been teaching, working and exhibiting photographs ever since.
Johnson's works at PHOTOSTOP could be thought of as miniexhibitions. In each picture, between three and 25 neatly arranged images hover in mathematically precise grids on clean, white backgrounds. The images relate like works in series — for example, multiple frames of turquoise pond water, or roiling clouds in a stormy sky. The title of Johnson's exhibition, "The Photograph: Extended," refers to images placed in sequence, as in the grids seen here, or in film. He writes in his artist's statement, "Extended imagery is similar to what a poet might do when combining paragraphs, or a filmmaker does when splicing film into a montage … Sometimes extended viewing of a visual idea would reveal not only the idea but, additionally, [changes in] time, light, color and comparison."
Gallery owner Lia Rothstein points out that Johnson's lens seems particularly focused on changes at the intersection of the natural and manmade worlds. In "Plano Pool v 2.0," three photographs of a section of a brilliant aqua swimming pool at first seem identical. With careful observation, it's clear the photographs are cropped slightly differently, and that the trio illustrates a breeze traveling across the surface of the water. In the first frame, the water's surface is wavy and crystalline; in the second, it looks like lightly frosted glass. In the last, the pool's surface has a matte patch, as though ruffled by a gust of air. Johnson's repetitious technique draws the eye to subtle differences in the frames and to the effect of the environment on the subject, as well as implying the passage of time.
In his "Found Alphabets — Lost Languages Series," Johnson's gift for seeing pattern is put to use in exploring "found" language. In "Cuneiformulaic," he photographed white symbols spray-painted on a black asphalt surface. The artist captured each mark sequentially, as he found it, and arranged them left to right, top to bottom, in the same order in his grid. Taken together, the 16 frames progress from painterly diamond shapes with lines through them to uncrossed diamond shapes, before ending with a diffuse diamond shape that seems swept over, nearly erased. The forms are recognizable as a language — a series of symbols understood to mean something — yet their meaning is hidden from the viewer. The simultaneous clarity and mystery of the figures underscores the human desire to assign meaning to symbols, to know and communicate.
Johnson's often-restrained palette and linear format may feel repetitive or demanding to some viewers, as these works require them to look closely. But, with thoughtful attention, Johnson's works unfold in surprising and complex ways. "Extending" these photographs gives viewers a unique glimpse into the process and vision of the photographer. Johnson writes, "The viewer is given a bunch of picture ideas … just as I had when I made the pictures." He creates a multiplicity of storylines, and viewers can choose their own adventure.