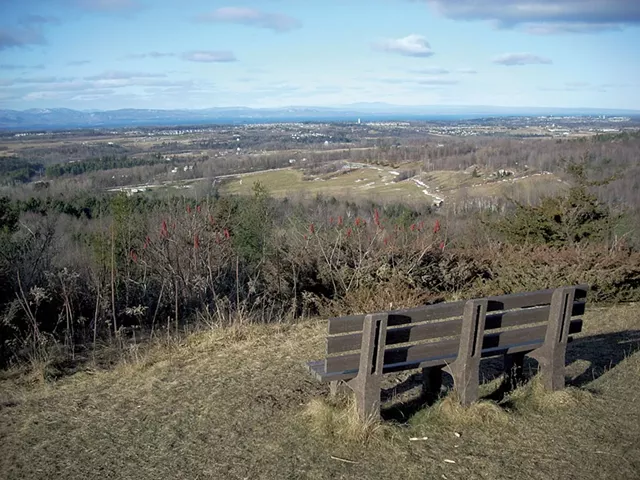 Courtesy of the Town of Williston
The view from Sucker Brook's Five Tree Hill overlook
About a year ago, I enticed my 11-year-old to go on a "quick hike" with me at Sucker Brook Hollow Country Park in Williston. He consented after I agreed to bring him to a store where he wanted to make a purchase when we were done.
It was a glorious day, with blue skies, moderate temperatures and no wind. Within moments, my son said, "Mom, I like this hike." When I asked why, he said, "Because there are lots of little ups and downs, lots of bridges and interesting stuff to see."
Even before the pandemic, Sucker Brook, which can also be accessed from the Five Tree Hill trailhead on Sunset Hill Road, was one of the more popular trails in Williston. (The town owns a few small parcels along the trail; the rest of it passes through a privately owned easement.) But since March, there has been a "crazy uptick" in use, said Melinda Scott, a friend of mine and the town's senior planner. That's caused some wear and tear to the trail.
To show respect to any trail you love, practice "leave no trace" principles. Really, all you have to do is only walk on the trail — don't stray off of it. This sometimes entails walking right through the center of a mud puddle. Skirting the edge of a puddle may not seem like a big deal, but when multiple hikers do it over time, the spot gets inexorably wider and more eroded.
On our hike last year, we saw some beautiful old trees along the trail. It took me years to realize I was only seeing adolescent trees on most of my Vermont excursions. (In tree years, 60- to 80-year-old trees are considered adolescents.) But once I saw some truly venerable specimens, I realized that, just as the skin of a teenage human looks different than the skin of their middle-aged or elderly self, so does a tree's bark. Young tree bark tends to be smooth and taut; it gets shaggier over time. Along the Sucker Brook trail, we admired huge shagbark hickories, sugar maples, beeches and ashes. If you're curious about comparing young and old tree bark, Tom Wessels' book Forest Forensics: A Field Guide to Reading the Forested Landscape has a section with side-by-side photographs of both for many common Vermont species. Just for the record, I prefer the bark of older trees.
We also stopped to check out a lovely hemlock grove, an impressively intact stone wall and a bus-size glacial erratic (a boulder that was dropped by a glacier). We tried to figure out whether the wall was built around a cultivated farm field by looking for rocks as small as a fist, removed from the field so they wouldn't break the plow. A wall next to a former pasture would likely contain only larger rocks. (Our best guess was that Sucker Brook once bordered a pasture.) The going was easy and interesting for both of us.
And yet, before we got to the overlook, my son asked me if we could turn back. He was concerned about the dog, he said. We had forgotten to bring water for him, and he was panting a little. Perhaps eagerness to get to the store also played a role.
I, however, wanted to get to the top. It was only 1.1 miles from the trailhead to the overlook, and the dog was fine. The first time I had been to Sucker Brook, with the Williston team of Vermont Master Naturalists, we had barely made it halfway because we had been wandering, with the man who had donated land for the trail as our guide, exploring interesting spots including a former mill site where Sucker Brook jumped its banks and carved a new course during a bad storm in the 1980s. That had been a fantastic walk, but I was curious about what was beyond the halfway point.
So I urged my son to forge on. He didn't push back much. We made it to the overlook on pleasant terms, and our dog enjoyed a lot of love from the family sitting on the bench at the overlook when we arrived. We made it back to the car and to the store in about an hour and a half, all told.
In hindsight, I wish I'd listened better. It was a perfect opportunity to hear what he was saying and be responsive. I fear that sometime in the future, when I want to go on a short hike with him, he might remember that my definition of "short" doesn't align with his.
Thinking back to my son's explanation of why he liked the trail, I'm reminded of a passage I read years ago in a book called The Geography of Childhood that has really stuck with me: One of the authors reflects on how adults are always scanning for the next dramatic vista, but kids are happy to drop to the ground and look for pine cones and rocks.
"Wilderness is not some scenic backdrop to gaze at," the passage from the book goes. "It is responsive to our exploratory urges. It is where you can play with abandon."
Heather Fitzgerald teaches field ecology and environmental science at the Community College of Vermont, University of Vermont and Saint Michael's College.
To volunteer for a Sucker Brook trail workday, contact Melinda Scott at 878-6704, ext. 4 or mscott@willistonvt.org.