Courtesy Of Victor Diaz Lamich
Morcheeba at the Montréal International Jazz Festival
Fantasy author Vera Nazarian once mused, "If music is a place, then jazz is the city." She might have been talking about Montréal. Just 90 miles north of Burlington lies Québec's vibrant, island metropolis, nearly Manhattan-like in its diverse urban rhythms. Montréal is the world's fourth-largest francophone city, according to the Rand McNally World Atlas, and the Québécois cherish their mother tongue. But come summer, the only accents that really matter are syncopated, as music is the language you're likely to hear everywhere.
As with Burlington's Discover Jazz Festival, the Festival International de Jazz de Montréal has Québec's largest city pulsing with celebration: Bass notes boom from its parks, bucket drums echo through alleys, and brassy horns burst into the evening air.
Since its inception in 1979, Montréal's jazz festival has flourished. Featuring musical icons from Ray Charles and Leonard Cohen to Stevie Wonder and Prince, the weeklong gala has drawn genre superstars and millions of fans to la belle province. Now, 40 years hence, it is unmatched in spectacle and scope.
Centered on the city's pedestrian-only Place des Arts, the jumbo fête boasts a full square kilometer of action from midday to midnight. And most of it is free. Public pianos are primed for passersby; kids can climb on colossal congas. With more than 150 concerts on a dozen stages, this fest is the undisputed king of cool. But you don't need to know John Coltrane's Giant Steps or understand a 2-5-1 chord progression to enjoy the party.
Whether it's an evening with reggae lions Steel Pulse, Grammy Award-winner Norah Jones or new-gen rockers alt-J, the festival weaves a tapestry of dynamic global talent. On my midweek visit, I was spoiled for choice. Making a rare Morcheeba show meant missing sax avatar Joshua Redman. #firstworldfomo!
English trip-hop pioneers Morcheeba marked two decades of downtempo with a sizzling, electronic set at MTELUS on rue St. Catherine. Guitarist and cofounder Ross Godfrey's psychedelic solos matched a light show whose searing visuals surely prompted flashbacks, as the capacity crowd moved hypnotically to a wall of woozy reverb.
Though she joked, "I have songs older than some of you," vocalist Skye Edwards hasn't lost her edge. Draped provocatively in a bespoke, dragon-winged dress and scarlet hat, the London-based chanteuse snaked through lush classics such as "Part of the Process" and "The Sea" with soulful command. Even the breezy track "Friction" enchanted with its reggae-flavored backbeat. "Blaze Away," the title track from Morcheeba's 2018 studio album, treated fans to the same seductive, late-night soundtrack the band has been spinning since the mid-'90s.
That show proved a worthy aperitif as I moved from steamy club to open-air dance floor at the nearby Heineken Place, just steps off St. Catherine. After dark, Montréal's jazz fest feels a bit like crashing someone else's party, with a fresh keg for currency. Faces of every color smiled warmly, and eyes that met for only a moment glimmered with common purpose. Was it the Hendrick's Gin Bar, or genuine joie de vivre that loosened me? Before long I was grooving to a boisterous twin-sax attack, courtesy of native sextet the Liquor Store Band, whose jams left me sweat-soaked and satisfied.
Free shows run past midnight in the Quartier des Spectacles, which makes for a heady, carnival-like atmosphere. Thudding beats careen off buildings, teasing untold surprises.
Facing a second marathon day, I sought nourishment beyond the festival's one-trick food trucks. Flush with worldly kitchens, Montréal is a gourmand's dream. Cafés dot every corner, but there are also Portuguese fish houses, Syrian grills, Jewish delis and poutine temples. Remarkably, I scored a seat at Joe Beef, the city's toughest table and a perennial pick for Canada's top resto.
Nestled amid Little Burgundy's busy shops, this iconic eatery wows from the first bite. Owners David McMillan and Frédéric Morin may have traded white linen for chalkboard menus, but their celebrity is unbowed. Dishes such as croquettes de viande fumée and duck-fat fries are uniquely Québécois, while torchon de foie gras and bacon-stuffed morels hail from the very pages of la bonne cuisine française. The coveted, honeycombed mushrooms were a showstopper, pairing beautifully with a bottle of Spanish Trepat.
At its upscale price point, Joe Beef isn't exactly festival food, but the detour is worth it, especially if you're headed to the jazz fest's newly expanded satellite venue in Verdun. South of Centre-Ville, with an urban beach bordering the St. Lawrence River, this blue-collar borough charms like Brooklyn and now has the beats to boot.
Of course, even at its best, Montréal's alternating one-way streets and ever-present construction make for tough driving. So, ditch the wheels and trust your feet. Those who haven't visited in a while will relish the convenience of the jazz fest's official smartphone app, which puts artist bios, festival maps and schedules right at their fingertips. The sharp mobile design connects easily with Facebook, pushes showtime alerts and even pins user location, guiding travelers to nearby venues.
This isn't your daddy's jazz festival. Everything is tailored for a plush experience, including the curated Spotify playlist that introduced me to local talent such as Urban Science Brass Band. For the third straight year, the 12-piece hype team led revelers joyfully across the Place des Arts in a hip-hop parade of splashy trumpets, tubas and megaphone MCs. What better way to laissez les bon temps rouler than by dancing with new friends under the spell of a hazy July sun? I joined the parade on my way into the Quartier des Spectacles' hallowed Maison Symphonique, where even wilder sounds awaited.
Home to Montréal's classical orchestra, the exquisite, 2,000-seat symphony hall was built for musical worship. Surely our Canadian hosts had that in mind when they booked Mexican firestarters Rodrigo y Gabriela. For nearly two hours, the classical guitarists held court sans accoutrements. From their percussive, hard-charging opener "Krotona Days" to a stunning, 20-minute adaptation of Pink Floyd's "Echoes," the couple spoke in masterful, six-string tongues.
Rodrigo Sánchez picked fleetly through leads on his Fender Jaguar, while Gabriela Quintero plucked arpeggios and raked her strings theatrically, palms thumping the guitar like a hand drum. Fan favorite "Hanuman" showcased the duo's affinity for blistering, Santana-like chord progressions, while 2006's "Tamacun" evoked humbler instrumental beginnings. Their astonishing acoustic-electric trade-offs offered tapas-size bites to a crowd hungry for Hispanic flair.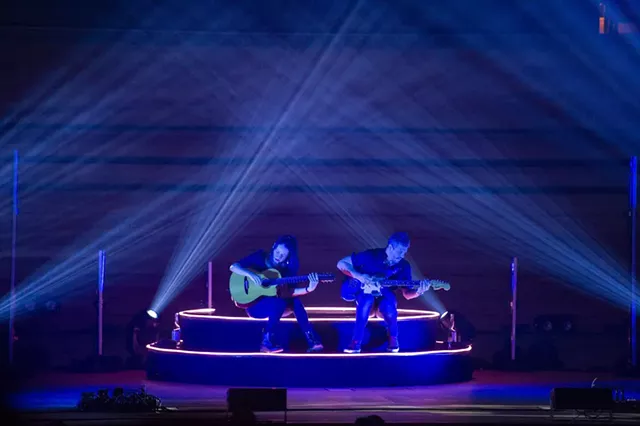 Courtesy Of Victor Diaz Lamich
Rodrigo y Gabriela
Long removed from their early days busking in Dublin, Rodrigo y Gabriela have since famously covered Metallica, collaborated with Hans Zimmer and headlined a White House concert for president Barack Obama. At once delicate and dangerous, the band's driving rhythms climaxed during 2019's "Mettavolution," as each phrase swelled impossibly faster. Clapping along feverishly, the audience exalted when Gabriela at last raised her fist to the sky in an iconic rock-star pose.
It was an exhilarating reminder that jazz is beguiling; it is intimate and universal, coarse and sophisticated, spiritual and alive. It belongs to all and none of us. We congregate each summer because music brings a sense of rebirth. And if we're lucky, we get to celebrate in the Quartier des Spectacles, where worldly vibrance flourishes.