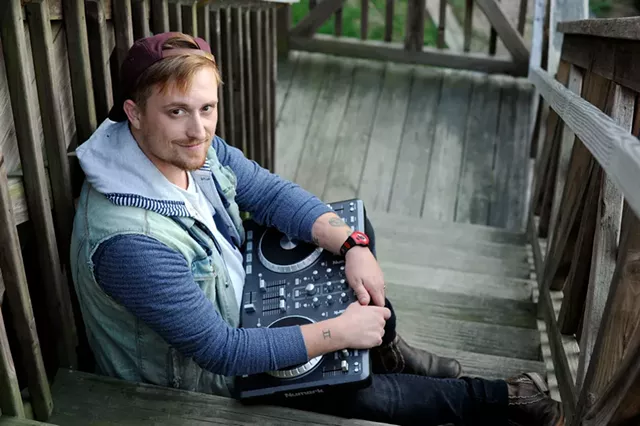 Jeb Wallace-Brodeur
Musician Julian DeFelice, of Orange Julians, with his digital DJ controller at his home in Stowe
Julian Rumney DeFelice is the man behind Vermont's freshest electro-pop project, Orange Julians. He lives high in the Green Mountains, in Stowe. From this lofty vantage, DeFelice says he feels a bit daunted by what he sees as a local scene with minimal room for the kind of sounds he makes.
"Vermont is a really hard place to do this kind of music," he says. "It's not the easiest to describe when you're trying to book shows."
Perhaps this is because no qualifier aptly describes his particular take. Orange Julians isn't exactly dance-pop, though certain cuts will surely inspire a booty shake or two. Nor is it straight-up synth-pop, disco or vocal house, styles that have made sweeping comebacks recently in the form of Tesla Boy, Midnight Magic and Disclosure, among others. With no subgenres or trendy modifiers to cling to, Orange Julians is, in essence, simply pop. And that broad term makes claiming a niche nearly impossible.
The orange-haired 30-year-old just dropped his first album as Orange Julians, a 10-track, hook-heavy monster called Object. The album-release party is Friday, October 21, in the Tap Room at Switchback Brewing in Burlington.
In its current form, Orange Julians has existed for less than a year. For most of the 2010s, DeFelice released music as J. Rumney, but recently he decided to don a new persona — albeit a little reluctantly.
"I often battle with myself about whether I should've changed it or not, because I actually started to build a little something [as J. Rumney], but [since] my musical tastes have changed so much, can you really call it the same thing?" he ponders.
DeFelice made his initial recordings in his early teens. His first band, the Sparkling Love Brothers, was inspired by mainstream techno of that era — think the Crystal Method and the Prodigy. He claims to be grateful that none of those recordings is still kicking around.
His new work, Object, is a deeply personal album, mainly about loss. In 2015, DeFelice lost his father to liver cancer, a mere two weeks after the disease was diagnosed. Those who've been around Vermont a long time may remember Robert DeFelice's keyboard work with the Blues Brothers-inspired Union Street Band in the late 1970s — or as proprietor of DeFelice's Café in Northfield. The day after his father died, Julian DeFelice adorned his left arm with a memorial tattoo.
"It's a 'next' button," he says, pressing down on the tattoo as if to skip ahead to whatever the future will bring.
The album also reveals some of DeFelice's stress and fears regarding relationships. While he acknowledges the dystopian architecture of modern dating, such as Tinder and consent apps, he considers himself a romantic at heart.
"A lot of this album was me thinking about my teen years, like when I was 19 and had no idea how relationships worked," says DeFelice. Nor does he claim to be an expert at age 30. "Our parents taught us the way that they were raised to believe in relationships. How were they supposed to know that [relationships] would completely change?" he asks.
DeFelice has had a hard time sitting still since graduating Harwood Union High School at age 17. His wanderlust has taken him all around the country — a year in Brooklyn, a brief stint in Maine and nonconsecutive years in Montana. Yet he's always been drawn back by Vermont's siren song.
"It's always been about where I can play music," DeFelice says. "You can certainly do it in Brooklyn, but you spend so much time working to stay [there] that your projects can really get subdued."
His father's passing was a key factor in DeFelice's most recent return home, as was his desire to help his mother with his two sisters, both of whom have special needs.
DeFelice uses an arsenal of electronic instruments for Orange Julians, including the Korg Pa1X Pro keyboard, a Roland AIRA TR-8 drum machine and a Numark DJ controller for sampling during live performances. In his show, Orange Julians is a true one-man electronic band. DeFelice intends to keep it that way.
"If I'm the only one up there, I'm the best-looking guy onstage," he quips. "I'm also the worst-looking guy."
Synthesizers and samples are the foundation for nearly all of DeFelice's work, and he creates most of the samples he uses in his live act. His "synth-spiration" is deeply rooted in '80s pop, and he cites Brian Eno as his true north. DeFelice is adept at cobbling together stuttering samples of disparate origins. An earlier version of "Inside Joke," which was formerly available on SoundCloud, paired '90s alt-guitar riffs with a Motown-esque sample, sprinkled with 16-bit Super Mario Bros. synth.
However, the current version of "Inside Joke" has been chopped and screwed within an inch of its life. Many of Object's previously posted tracks disappeared before the album's actual release. DeFelice takes a certain Kanye West-style approach to finalizing his songs.
"[If] I'm committed to a release date, [but] I get dissatisfied with a song's mix, I feel like I have all the way up to that date to Life of Pablo that shit," says DeFelice, referring to the near daily tweaks West made to his most recent album leading up to and even following its release.
In addition to being a songwriter and producer, DeFelice considers himself a DJ. Though 90 percent of what we hear from Orange Julians is original, vinyl samples are essential to the composition. However, by the time the songs are complete, the samples are hardly intact after the chop-and-screw process.
"The idea is to subtract as much as you can [from a sample] until you have something that's yours," DeFelice explains.
"Here We Are," the oldest song on Object, contains the most notably intact sample, a musical theme from Tavares' "Never Had a Love Like This Before."
Throughout Object, DeFelice's vocalizations vary drastically from track to track. He comes off as scraggly and desperate on "I Can't Breathe." But on "Together, Again" and "Here We Are," he's smooth and laid-back. DeFelice relates this to his educational background. He holds a degree in acting and directing from Castleton University, where he once mounted an original rock opera. He finds that taking on the identity of various characters better informs his songwriting when he's struggling to articulate.
"You don't always agree with yourself. A different character might have a different outlook than you," DeFelice says.
His nomadic tendencies and somewhat isolated, mountain-man lifestyle could help explain why he feels like an outlier in Vermont's music community. Or it could just be his own insecurities — though his seeming confidence in person and onstage belie that. DeFelice's style may be underrepresented locally, but Orange Julians is likely to be well received by lovers of true pop.