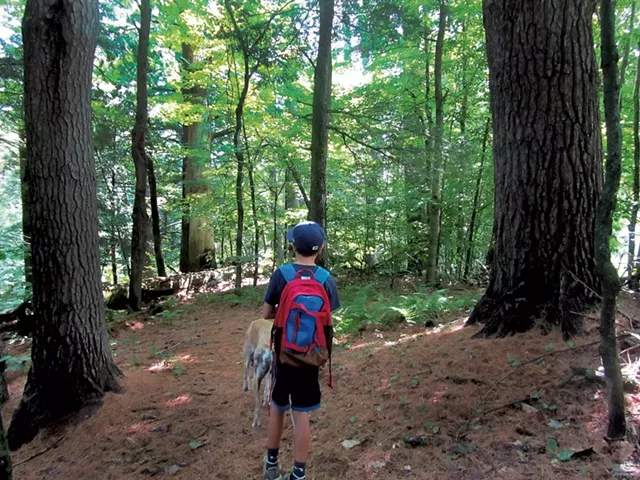 Courtesy of Heather Fitzgerald
Jesse exploring the massive white pines at Cambridge Pines
When my son, Jesse, was born 10 years ago, the one thing I knew for sure was that I would bring him to the library regularly. Other parenting advice might be complicated and contradictory, but the benefits of reading to him seemed simple enough. Suddenly, though, he was practically in kindergarten, and we hadn't gone much.
Then I read Sandra Steingraber's wise parenting book, Raising Elijah, where she suggested going to the picture book area in the library, randomly pulling out books by authors with last names beginning with "A," checking out the maximum allowed, then doing the same thing with the "B" authors the next week, and on through the alphabet. This advice freed me from my paralysis and, in short order, we became library regulars.
I think something similar happens when we contemplate exploring the woods with our kids. We know we are supposed to get them outside, but we think we have to climb tall mountains with smiles on our faces and know all the answers to whatever nature questions they might lob our way. It can feel overwhelming.
What I've come to realize is that all kids really need in an outdoor space is something interesting to explore — trees, water or rocks are good. But — just as picture books sometimes have intricate illustrations or children's movies include a few "adult" jokes that go over kids' heads — parents need something to think about while their kids explore at what can sometimes feel like a glacial pace. Old-growth forests can provide a rich experience for everyone.
What is old growth? Ecologists are quite picky about how they use these words, and most Vermont forests, which started growing in the early 20th century on land that had been cleared multiple times, don't qualify. Trees more than 30 inches in diameter are a good bet, but some trees can get big fast, and others can be small but ancient. So keep an eye out for other clues: dead trees that are still standing, big branches or logs on the ground, gaps in the canopy, deep undulations on the forest floor created when trees fall and rot in place, and trees of different sizes. Bark that has coarse plates or looks unusually shaggy or furrowed (because older trees tend to produce smaller annual growth rings, but put on the same thickness of bark each year), and plentiful moss, fungi and lichens are also good signs. Today, less than 1 percent of the original forest in New England remains, so even if a forest is old, it's probably not "virgin." But if the forest is at least 150 years old, and it has never been completely cleared, it is considered primary old growth.
Years ago, I found several local places to look for old-growth trees in The Sierra Club Guide to the Ancient Forests of the Northeast, and I recently brought my son to explore some of them. Here are a few of our favorites:
Wilmarth Woods Natural Area, at the base of Snake Mountain in Addison, provides an instant gratification nature experience — it takes just 15 minutes to get from your car to your destination. Just a few minutes after you depart from the Snake Mountain trailhead, you'll see a sign announcing land preserved by the Nature Conservancy. If you step off the trail to your right, a few hundred feet after the sign, you'll start seeing huge, ramrod-straight oaks, hickories and maples within a few feet of the path. Some of these trees are three or four feet in diameter.
The Guide to the Ancient Forests describes a history of livestock grazing and some selective logging in the 1800s in this area, and it says the trees here range from 130 to 220 years in age. Jesse and I made a game of finding and hugging each big tree we found and returned to the car probably more satisfied than if we had climbed the mountain.
Directions: Park in the lot near the corner of Wilmarth and Mountain roads in Addison, and head toward the trailhead for Snake Mountain.
Cambridge Pines in the Cambridge Natural Area is another easy spot to visit, once you know where to find it. When you get out of your car, you'll see the first huge white pine just a few feet away. From there, more behemoths are scattered across the small but steep hillside leading down to a sandy creek. According to the Guide to the Ancient Forests, the biggest hemlock here is more than 300 years old, though the pines may not have gotten their start until the 1800s. No significant logging has occurred here since 1860, and the state purchased the spot in 1944, so it is now protected.
After we finished wandering down the hill to the creek and back up, my son, usually not one for stillness, suggested we sit next to a big tree at the top for a few minutes before getting back in the car. We topped off the expedition at the dessert case of the Cupboard Deli & Bakery, a few miles down Vermont Route 15, at the junction with 108 in Jeffersonville.
Directions: Access is through a private driveway, so please be considerate. Drive through the driveway of the red house at 253 Bartlett Hill Road, into Mountain View Cemetery. Continue up the right side of the cemetery and park at the end. The forest is down the slope to your right.
Closer to Burlington, my favorite big trees — including pitch pines, oaks, and the biggest hop hornbeams I've ever seen — don't make it into the guide book. They are at Shelburne Bay Park, along the Clarke Trail, which hugs the lake, and the Allen Hill Trail, which the Clarke Trail runs into after a little more than half a mile. There's also a huge oak right along the Ti-Haul Trail, just across Bay Road.
Directions: Park in the Shelburne Bay Park lot on Bay Road. Head toward the lake to pick up the Clarke Trail. Or cross Bay Road to get to the big oak on the Ti-Haul Trail. You'll spot it from the parking lot.
All of these old trees get me wondering about all the things that have happened around them since they first started growing, especially the ones that have been there since before Europeans began their extensive clearing of the Champlain Valley in the late 1700s. It's a question to contemplate with your young explorer on the drive home.
Heather Fitzgerald is a graduate of the Ecological Planning program at the University of Vermont and has taught field ecology and environmental science courses at the Community College of Vermont and at UVM for more than 15 years.