Along Whetstone Brook, factory blocks tell tales of milling and machining in downtown Brattleboro. Narrow streets climb a moderate grade away from a wide, silty river, lined by old brick buildings gridded with single-sashed windows and granite sills. Shot on black-and-white film with no cars in sight, many photos of eastern Vermont's largest city would look much the same now as they did 100 years ago.
Today, those factory buildings house mom-and-pop shops selling records or comic books; their picture windows showcase yarns, fine linens and baked goods glistening with fresh fruit. And, of course, there are bars and restaurants, more than we could possibly detail here.
A former firehouse holds McNeill's Brewery, the town's excellent, suds-soaked brewpub and one of the state's oldest such establishments. Upscale farm-to-table eats are served with white napkins in an old diner car at T.J. Buckley's, while nearby Peter Havens and a newcomer called duo Restaurant offer casual spins on locavore new-American cuisine. In West Brattleboro, a diner grows its own produce and eggs and gets meat from small farms nearby.
The sheer scope of the town's global cuisines makes it worth a visit. A native Yucatán family prepares Mayan meals at Three Stones Restaurant; a Turkish chef slings kebabs at Turquoise Grille. Taste of Thai's gas-station food truck has locals lining up for Pacific Rim specialties, and a Sichuan chef serves dim sum in an avant-garde gallery.
Over three days, two Seven Days food writers ate their way through town. The trip played out like one long episode of "Cheers." Almost boisterous in its friendliness, Vermont's gateway town is the kind of place where bars remain open long after last call so patrons can watch the end of an overtime game; where a mother and son commiserate over a game of checkers in a sunlit vegan café.
Even with all the trappings of a tight-knit community, the town exudes a hometown feel that's neither parochial nor exclusive; it welcomes guests with casual grace.
Though out-of-towners may think of Brattleboro as more of a stopover than a destination, we'll be going back. And, with several excellent Brattleboro eateries on the roster for Vermont Restaurant Week, which starts Friday, April 22, that may be soon.
To whet your palates, here's a taste of our delicious 56-hour journey. (Yes, we sometimes had two dinners.)
Provisions for a Stay
Vermont Country Deli, 436 Western Avenue, 257-9254, vermontcountrydeli.com
Before you check into your hotel, swing by Vermont Country Deli on Route 9. Open seven days a week, this deli and general store is little more than a mile from historic downtown Brattleboro.
Stock up on crusty baguettes made in-house, local cheeses and jams. You'll find cookies as big as your head and other baked goods made on the premises, including pies, cakes and whoopie pies.
Craving a late-afternoon snack? The deli is packed with hot, ready-to-go food ranging from pulled pork to mac and cheese — or you can make your own sandwich. Sodas, juices, local beer, wine and cider complete the package.
Be sure to check out goods made in the Brattleboro area that may be hard to find outside southern Vermont, such as cheese from Sugarbush Farm in Woodstock. And if you need nonedibles such as trash bags and paper towels, or general goods like tea or ketchup, hop across the street to the store's annex.
— M.H.
Drinks, Dinner, or Dinner and Drinks
Peter Havens, 32 Elliot Street, 257-3333, peterhavens.com
If you're in the mood for cocktails and amuse-bouches, Peter Havens is the place to be. We didn't have dinner here, but the quality of the starters suggests it shouldn't be missed.
The rich, smooth duck liver pâté is served with buttered toast, whole-grain mustard, pickled red onions and cornichons. Other apps include a Caesar perfectly dressed and topped with duck confit; mussels in a white wine-tomato sauce; escargots; ahi tuna; and a vegetarian take on a crab cake made with hearts of palm.
Pair any of those with a house cocktail or two. We enjoyed the El Boracho, a concoction of tequila, mango, pomegranate, lime and agave, and found the Bee's Knees very well done. Often the honey-gin blend can be overly sweet, but Peter Havens' version was well-balanced. Both cocktails rang in at $10. Guests can also sip one of 11 wines available by the glass or bottle.
We wandered in on a Wednesday evening and grabbed seats at the bar, but if you prefer to score a table, reservations are advised for the intimate 10-table dining room. The restaurant seats for just a few hours; when we visited, the last seating began three hours after opening.
— M.H.
Turkish Affair
Turquoise Grille, 128 Main Street, 254-2327, turquoisegrille.com
Hannah Palmer Egan
Turquoise Grille
Vermont's Turkish Cultural Center estimates that the state is home to only about 140 people who identify as ethnically Turkic. Which means that legit Anatolian fare is a rare score.
Hale Kiziltan co-owns two Main Street restaurants, Turquoise Grille and next-door Tulip Café. At the former, where she's head chef, she dishes out spice-scented kebabs, including a hand-minced lamb adana kebab that packs a daring amount of red-pepper spice. Kiziltan's on-the-mark Turkish meze dips include hummus, rust-colored walnut-pepper muhammara, and garlic-and-feta haydari.
Those looking to nibble over drinks will find classics such as the Last Word — a cherry-lime gin sipper with a splash of Chartreuse — sharing the cocktail list with darker studies in booze. The Black Pearl, for instance, is an off-sweet martini made with Haitian rum, sweet vermouth and blood-orange liqueur, tempered with a spritz of rhubarb bitters.
Turquoise's cocktails stand up against those of any cutting-edge urban cocktail den. As our trip progressed, we would find that's par for the course in Brattleboro.
— H.P.E.
Beers Before Bed
McNeill's Brewery, 90 Elliot Street, 254-2553
In the world of Vermont brewing, McNeill's is an institution. In business since 1991, it's one of the state's oldest brewpubs. Spending time there is like imbibing a draft of local history.
Owner Ray McNeill holds court at his bar with a firm but jovial approach. He sizes you up before you walk in the door and knows your drink order before you've finished scanning the selection of 20-some draft house beers. These range from accessible classics such as the malty, easy-drinking Firehouse Amber Ale (named for the location's former incarnation as a fire-ladder company) to the juicy, hop-heavy Lazarus Double IPA to one-off brews that explore new hop varieties.
"Take two and pass 'em," McNeill ordered last week, sliding a bowl of peanuts toward two buddies at the end of the bar.
They obliged, clearly knowing better than to argue.
"Do we throw the shells on the floor?" a visitor asked, unfamiliar with the rules.
"We frown on that," McNeill said. "People started slipping and falling a lot. It became a liability."
The conversation spun from topic to topic: floorboards buried beneath peanut litter; tumbles and stumbles and too many drinks; Sen. Bernie Sanders' Wisconsin victory; what defines a real Vermonter. Hint: It isn't about being born in the state. "If the cat has kittens in the oven," McNeill said with a snicker, "does that make them muffins?"
Fortunately, being a true Vermonter isn't a prerequisite for being welcomed at McNeill's. Just don't throw your peanut shells on the floor.
— H.P.E.
Morning After: A Greasy Spoon With Homegrown Eggs
Chelsea Royal Diner, 487 Marlboro Road, West Brattleboro, 254-8399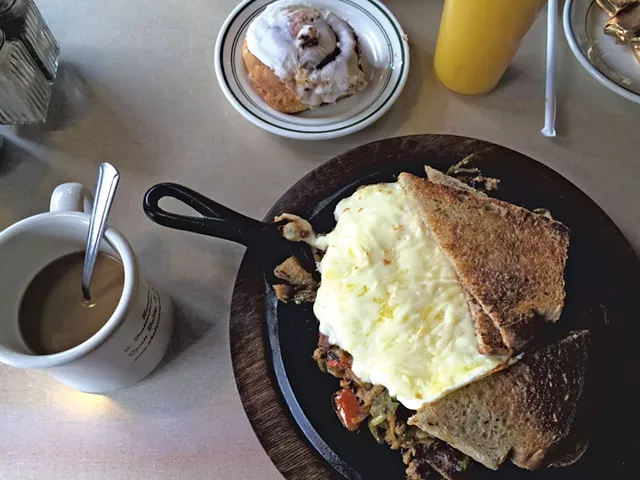 Melissa Haskin
Chelsea Royal Diner
Eating at Chelsea Royal Diner, where breakfast is served all day, makes the drive to West Brattleboro well worth it. This is one of the nation's few remaining Worcester diners, which were created by the Worcester Lunch Car Company for easy transportation. Most boast oak and mahogany interiors.
No matter what you order, you'll get a good old-fashioned hearty serving, so bring your eating pants or save room in your fridge for leftovers. Like any good diner, the Chelsea Royal has a strong selection of omelettes and combination breakfasts. The Royal Feast offers half a Belgian waffle, pancakes, eggs, bacon, ham and hash browns, all for just $10.50. But bring cash or in-state checks; no plastic is accepted here.
The Cajun Skillet Breakfast comes out sizzling in — you guessed it — a cast-iron skillet. And it's not just literally hot; mixed in with the peppers, onions, sausage and potatoes is a spice that will wake you right up. And the cheese content might just spike your cholesterol count.
When you get this much food for so little money, you may assume you're eating the bounty of distant factory farms. But the Chelsea Royal Diner, in true Vermont style, gets its produce — including eggs — straight from its own backyard farm. What it can't grow there, this Vermont Fresh Network member gets from other local sources.
— M.H.
Coffee Stop
Mocha Joe's Roasting, 183 Main Street, 257-5637.
In need of serious joe or a place to lounge? Drop by Mocha Joe's Roasting in downtown Brattleboro. This cozy coffee shop offers quick, knowledgeable service and everything from flat whites to mochas to red eyes. Mocha Joe's roasts its own beans, and the result is full-bodied, well-rounded java. Grab some to go, or munch on pastries in a space filled with art and loaded bookshelves. It's perfect for relaxing and deciding where to go next.
— M.H.
Workaday Lunch Spot
Superfresh! Organic Café, 30 Main Street, 579-1751, superfreshcafe.com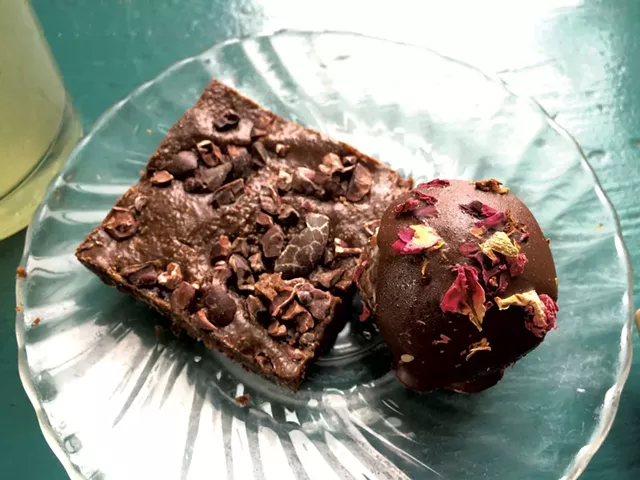 Hannah Palmer Egan
Superfresh! Organic Cafe
"I love you," said the coffee mug, which actually held steaming, pale-green yerba maté. The words weren't spoken but were glazed into the base of the stoneware vessel in willowy script.
If Brattleboro offers Vermont's "welcome" sign, Superfresh! Organic Café is the community meeting room that helps newcomers get acclimated. A wall of notices offers doula training, dance classes and CSA shares. Beneath the soaring, pressed-tin ceilings, arched windows overlook Whetstone Brook Falls.
Behind the counter, chattering ladies pour chaga shots or cure-all "fire cider." They cold-press raw fruits, herbs and vegetables into foaming glasses of juicy bliss.
Without being preachy, the menu at Superfresh! takes a "food as medicine" approach, treating diet as the basis for all health. Folks with dietary restrictions can have free range here: The menu is vegetarian (and vegan, except for a little honey and bee pollen) and free of gluten, soy and peanuts. Most everything is organic and GMO-free.
Your hash-browns breakfast with greens? Its seasonal veggies probably came from a tiny local farm. At lunch, you can rest assured that everything in your nondairy quesadilla — from nut cheese to kimchi — was made in-house.
Or you can visit Superfresh! between meals and sip tiny, energizing cups of teas and tonics, tap on your computer, and soak in the view and good vibes for hours.
— H.P.E.
Pre-Dinner Flight
Hermit Thrush Brewery, 29 High Street, Suite 101C, 257-2337, hermitthrushbrewery.com
When Christophe Gagné and Avery Schwenk opened Hermit Thrush Brewery in November 2014, they weren't interested in owning some cookie-cutter Vermont brewery. Rather than pump out hoppy ales and booming stouts, Gagné and Schwenk would specialize in sour beers — low-ABV, Belgian-inspired ones that are tart on the tongue, delicate in flavor. Their beers would ferment in oak barrels and age for months, maybe years.
It was a long-view plan, and risky: Was there really a market for that many sour beers? Hermit Thrush was the first (and remains the only) Vermont brewery to go all-in on these unusual styles.
In the ensuing year and a half, the brewers' gamble paid off. They quadrupled production, expanded into an adjacent space and became one of Vermont's most talked-about new breweries. Beer geeks oohed and aahed at their lip-smacking, not-so-hoppy suds, which include pale, bright sips such as the apple-tinged flagship Brattlebeer and the Deep Woods, a piney black ale with plenty of funk.
Inside the wood-lined tasting room, the brewers carved out a gorgeous L-shaped bar. There, visitors can sample the day's drafts, which generally number about a dozen, described by Gagné's zippy (and highly informative) patter.
As one might expect of a brewery that makes beers called Jolly Abbot, Dizzy Vicar and Silly Friar, this is an ebullient place to set your afternoon aflight with tiny tasting pours, served in sets of four.
— H.P.E.
Far East Feast
Cai's Dim Sum Teahouse and Catering, C X Silver Gallery, 814 Western Avenue, 257-7898, dimsumvt.com
Hannah Palmer Egan
Cai's Dim Sum
As Route 9 winds west out of town, it passes through a gracious Victorian neighborhood. A sign outside the sprawling gray house at 814 Western Avenue reads "C X Silver Gallery." Below that: "Dim Sum."
Inside, Adam and Cai Xi (pronounced "tsai-shee") Silver, a quirky pair of empty nesters, serve serious Sichuan dim sum in their downstairs art gallery. It's available daily by reservation only, except during monthly Sunday buffets.
Cai Xi is a native of Chongqing, China, where she met Adam 30-odd years ago. Her cooking is perhaps the best, most authentic Sichuan-style Chinese food available anywhere in Vermont.
It's a feast worth lingering over, so go early and bring an appetite and as many friends as you can find. With all but a few dishes priced at $5 to $15 and portioned for a crowd, you'll need help if you want to try more than a few. And you choose your dishes when you reserve your table, so there's no backtracking once the food starts coming.
Maybe you'll begin with a steaming bowl of glassy yam noodles in delicate chicken broth, floating with crisp julienned veggies, chicken and tofu. It could be the antidote to a too-cold, not-quite-spring day.
Or perhaps you'll try a tangle of dan dan noodles studded with mouth-numbing Sichuan peppercorns. (Silver can make everything on a spectrum of spice to accommodate tamer palates.) The dish also features crunchy whole peanuts and cashews, scallions, herbs, dried cranberries, and ribboned raw carrots that add enough sweetness to soothe the burn.
Then, maybe a bamboo basket of Cai Xi's xiao long bao dumplings. The paper-thin porky pouches are divine and excellent warm-ups for the fillets of fish that came next, smothered in scorching red chile sauce with peanuts and green onions.
All the while, the Silvers are wonderful hosts — happy to discuss the food, their history, their adopted hometown or the art on the walls. Show any interest, and Adam will usher you upstairs for a journey through his wife's work. It's a stunning collection of paintings, drawings and textiles that spans a life lived between cultures on two continents.
The experience is a feast for many senses — and if you go early enough, you'll have time to grab a nightcap back in town.
— H.P.E.
Nightcap With a View
Whetstone Station Restaurant and Brewery, 36 Bridge Street, 490-2354, whetstonestation.com
Looking for a view? Stop by Whetstone Station Restaurant and Brewery, overlooking the scenic Connecticut River and New Hampshire on the other side. Snag a seat on the deck in warmer months, or, if they're all taken, try the bar — the view is almost as good. Order a housemade beer, or grab a sampler. The guest tap list rotates, but one week in April, Maine Beer's A Tiny Beautiful Something, two brews from Hill Farmstead Brewery, and von Trapp Brewing's Weissbier were among the drafts.
— M.H.
Power Breakfast
The Porch Too, 648 Putney Road, 579-1433, theporchtoo.com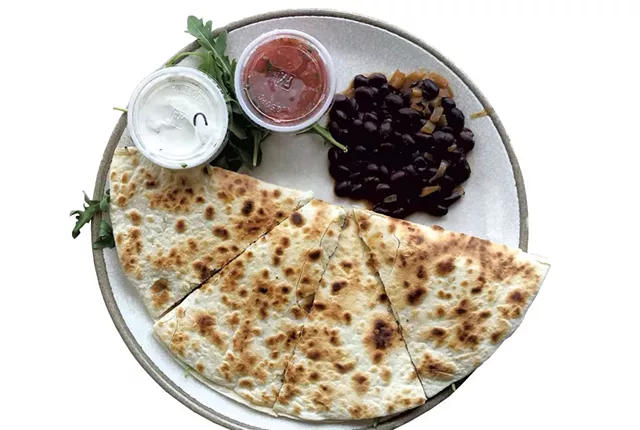 Melissa Haskin
The Porch Too
If you ask locals where to eat, they'll probably mention the Porch Too, a wholesome breakfast-and-lunch joint on Putney Road. Pick from several breakfast-sandwich options, such as the Boomer Egg Sandy: eggs, mushrooms, caramelized onions, sundried tomato pesto and Gorgonzola tucked into a brioche roll. Or go a little more modern and healthy with a breakfast bowl that includes two eggs over easy, Sriracha, and roasted root vegetables such as beets, sweet potatoes and carrots.
Come for lunch, and you'll find sweet potatoes making an unusual — but exceptionally effective — appearance in a quesadilla. A perfectly toasted flour tortilla is layered with thin slices of sweet potato, cheddar, arugula, caramelized onions and avocado. It comes with sour cream and salsa, but they aren't necessary; this guy packs a lot of flavor. The lunch menu includes several more quesadillas, salads and sandwiches, including a grilled PB&J.
— M.H.
Some Smoke for the Road
Top of the Hill Grill, 632 Putney Road, 258-9178, topofthehillgrill.com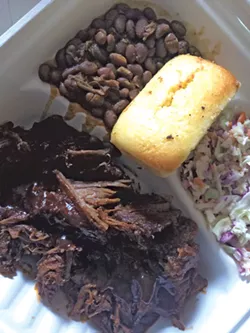 Hannah Palmer Egan
Top of the Grill
Smoke signals rise from a wood-sided shed on Putney Road. There, overlooking an estuary full of cattails, pit-master Jon Julian serves hickory-smoked northern 'cue that's garnered nods from the New York Times, Rachael Ray and Yankee magazine.
At lunchtime, cars crowd the parking lot as locals bend over picnic tables, finger-deep in the smoke-tinged, flaky brisket, beans and pulled pork.
The fat-girdled ribs are meatier than most, tender and chewy. The baked beans are rich with molasses (though not overly sweet) and livened with a touch of vinegar. The corn bread is moist and fluffy, the pecan pie gooey and rich.
It's finger-licking fun, down to the crustiest and blackest of the brisket's burnt ends.
— H.P.E.
Add Some Spice
Taste of Thai, 1114 Putney Road, 490-4482, tasteofthaivt.com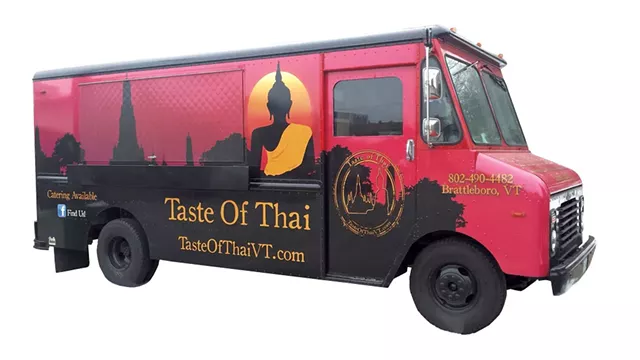 Melissa Haskin
The Taste of Thai food truck
Believe it or not, you'll find some of Vermont's best Thai food in a gas-station parking lot just east of Interstate 91. Noulieng Keopraseuth and his wife, Som, cook up Southeast Asian cuisine in their red food truck and serve it most weekdays at the Mobil station from 11 a.m. to 7 p.m.
Originally from Laos, the Keopraseuths spent five years in a refugee camp in Ubon Ratchathani, a province in northeastern Thailand. Now their family-run business offers rices, curries and Thai noodle dishes at exceptionally affordable prices. Bring cash, because they don't accept plastic. The Thai Fried Rice, $7, almost suffices for two meals with the addition of chicken for $1.50, which comes in tender, juicy, snow-pea-size strips. You can also add shrimp for $3.25 or tofu for $1.50.
A steal at $2 per skewer, the chicken satay comes with a peanut sauce that is salty, sweet and smooth, with just a touch of heat. It's perfect for driving and eating. Or, if you have time, spread out and enjoy the feast on a picnic table beside the truck.
— M. H.