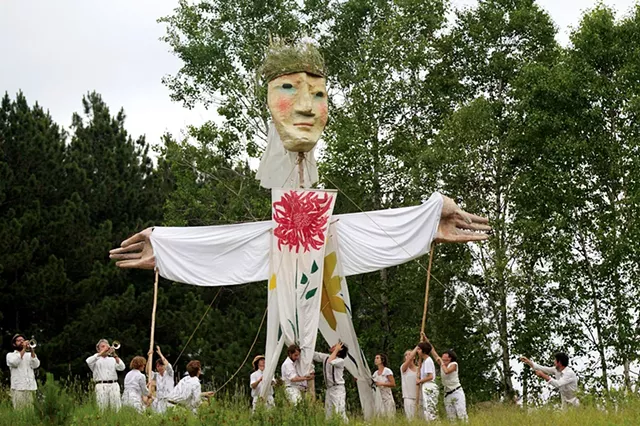 courtesy of Mark Dannenhauer
Bread & Puppet Theater
Locals have this saying: "The best thing about Burlington is that it's close to Vermont." As awesome as BTV is, we can't help but agree: Getting out of town every so often is crucial. The following Green Mountain State destinations are good reason to leave Burlington — at least for the day.
Provocative German artist Peter Schumann brought his radical troupe of political puppeteers to Vermont's Northeast Kingdom in 1974. The world-renowned group houses its massive collection of giant puppets, masks and paintings in a 150-year-old barn/museum that's open to visitors — just turn the lights on when you enter and off when you leave. Plan your trip for a summer Friday or Sunday, when you can enjoy a show in the Dirt Floor Theater with a slice of sourdough rye — underlining Bread and Puppet's belief that art is as basic to life as bread.
1281 Route 100, Waterbury, benjerry.com
Jeb Wallace-Brodeur
Ben & Jerry's Factory
What kind of guide would we be if we didn't tell you to visit the Wonka-esque HQ of Ben & Jerry's? Yes, it's super touristy. But a factory tour will give you the inside scoop on Vermont's homegrown ice cream empire, the Flavor Graveyard will capture your imagination, and the cone counter will leave a sweet taste in your mouth.
Sunset Lake, Brookfield
One of just three such structures in the country (and the only one east of the Mississippi), Brookfield's Floating Bridge is just what it sounds like: a bridge that floats on the surface of Sunset Lake. You can drive over it — but jumping off it in the summertime is more fun.
Carolyn Fox
The Pump House at Jay Peak
Most people head to Jay Peak Resort to ski or ride. We go for La Chute, a 65-foot waterslide that drops you through a 360-degree loop at 45 mph in a terrifying six seconds. The cure for your winter woes, this water park also has a lazy river, poolside bar and Double Barrel Flowrider (read: surf station).
558 Graniteville Rd., Graniteville, rockofages.com
Vermont's granite quarries look so otherworldly that this one made a cameo in a Star Trek movie. Tour the world's largest operational quarry — it's nearly 600 feet deep — then roll a rubber ball down the outdoor granite bowling lane. Don't miss nearby Hope Cemetery, where the headstones showcase local stone carvers' unique artistry.
Mad River, Waitsfield
With light rapids, smooth stretches and plenty of beaches for sunbathing, Waitsfield's Mad River is a local favorite for summertime tubing. Make it easy by renting tubes from Clearwater Sports (clearwatersports.com). They'll drop you off and shuttle you back — and even provide a float for your beverages.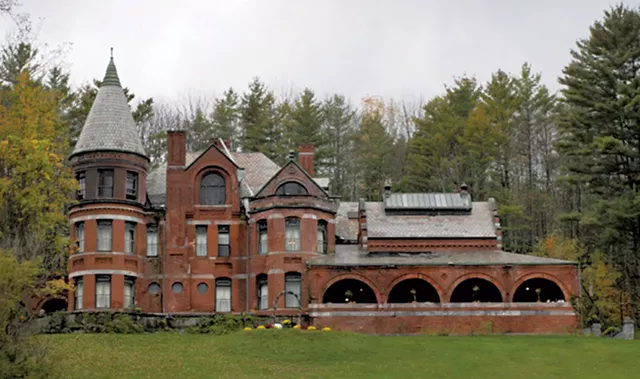 Courtesy of Wilson Castle
Built in 1867 for $1.3 million, this is Vermont's only true castle. Admire the strikingly beautiful arches and turret, then head inside to feast your eyes on 32 rooms, 84 stained-glass windows, 13 fireplaces, and Far Eastern and European furnishings. Love getting the heebie-jeebies? Go in late October for a haunted tour.