Courtesy Of Zoe Richards
Exploring the Burlington Wildways
You might not realize it from the hustle and bustle of downtown, the postwar suburban sprawl of the New North End, or the hip postindustrial South End, but Burlington is pretty wild. Like, Henry David Thoreau/Walden Woods kind of wild. Despite its urban trappings, Vermont's largest city hides a treasure trove of natural wonders. The trick is knowing where to find them.
Courtesy Of Zoe Richards
Exploring the Burlington Wildways
Launched in 2017, a coalition called Burlington Wildways has been working to improve, preserve and promote some of the Queen City's most spectacular natural areas, from restoring wetlands at Oakledge Park to reforesting a new park along North Avenue. Last fall, the nonprofit organization celebrated the grand opening of the Intervale Wildway. That's a 5.5-mile trail that winds alongside the Winooski River from Salmon Hole in Winooski to Ethan Allen Park in the New North End.
Burlington Wildways is a partnership of the Winooski Valley Park District, the Intervale Center, Rock Point and Burlington Parks, Recreation & Waterfront. All are major public-facing landowners in the city.
"One of the things that all of us collectively realized is that there are these amazing natural areas in Burlington, but they were hard to navigate your way through," said Burlington Wildways director Zoe Richards.
Courtesy Of Zoe Richards
Exploring the Burlington Wildways
The Burlington Wildways trail project doesn't involve building new trails. That's partly because there are already too many of them, according to Richards, a wildlife biologist. Most are what she calls "social trails" — informal, unmaintained and usually unplanned pathways that can be tricky to find and follow. The idea is to improve and condense existing trail networks so they're well marked and more navigable.
"Our goal isn't to litter the landscape with trails," said Richards. "It's to make fewer trails, but in the right places that are more ecologically sensitive and easier to find."
Courtesy Of Zoe Richards
Exploring the Burlington Wildways
The Intervale Wildway is accessible at numerous points, including trailheads at the Intervale Center and the Ethan Allen Homestead. It's a gentle, scenic walk through floodplain forest and marshland. Much of the trail hugs the banks of the twisting Winooski River, where you're apt to see ducks floating in the lazy current or the occasional beaver or otter sliding into the water. Over the winter, a wildlife camera on the trail caught a bobcat walking along the river.
"It's not just theoretically wild; it's actually wild," said Alicia Daniel, a field naturalist with Burlington Parks & Rec. "And we want to make sure that it stays wild."
Eventually, the Wildway will connect natural areas throughout the north end of the city. These include Arms Forest, a 30-acre park where you'll find a number of unusual geological features and rare plant life, such as yellow lady-slipper orchids.
Arms Forest abuts Rock Point, which is home to the famous Champlain thrust fault. Here, older orange rock overlaps younger, darker rock, creating jagged cliffs that jut out over Lake Champlain and offer some of the most dramatic views in Burlington.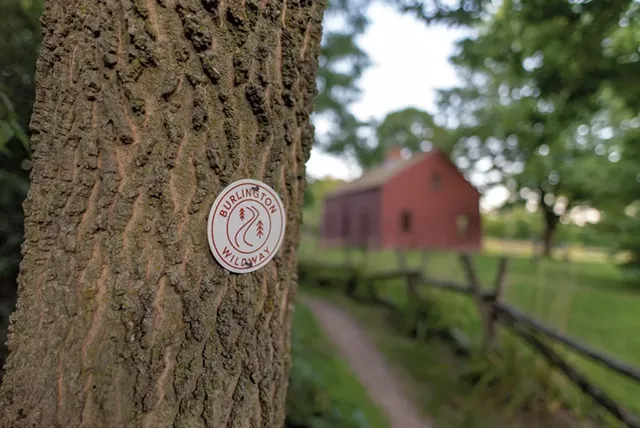 Courtesy Of Zoe Richards
Exploring the Burlington Wildways
"You'll be able to go from our lowest point almost to our highest point along this trail," explained Daniel. "You just get a sense of variety and how rare our natural habitats are, from the floodplain to the limestone bluffs of Rock Point."
"About a quarter of the city is in natural areas," added Richards, noting that roughly 49 percent of Burlington is either natural area or open space. "We want to make sure that we still have these natural areas over time, to grow a love for them and make sure we have them in perpetuity, and also to allow more equitable access to them."
---
Courtesy Of Zoe Richards
Exploring the Burlington Wildways
On ne s'en rend peut-être pas compte dans le brouhaha du centre-ville, dans la banlieue d'après-guerre du New North End ou encore dans le quartier postindustriel du South End, mais Burlington a vraiment un côté sauvage. Comme dans « Walden ou la Vie dans les bois », de Henry David Thoreau. Malgré sa façade urbaine, la plus grande ville du Vermont cache un véritable trésor de merveilles naturelles. Encore faut-il les trouver!
Courtesy Of Zoe Richards
Exploring the Burlington Wildways
Lancée en 2017, une coalition appelée Burlington Wildways s'est donné pour mission d'améliorer, de préserver et de promouvoir certaines des aires naturelles les plus spectaculaires de la ville, qu'il s'agisse de restaurer des milieux humides à Oakledge Park ou de reboiser un nouveau parc longeant North Avenue. L'automne dernier, l'organisme à but non lucratif a célébré la grande ouverture de l'Intervale Wildway. Il s'agit d'un sentier de près de 9 km qui suit les méandres de la rivière Winooski depuis Salmon Hole, à Winooski, jusqu'au parc Ethan Allen, dans le New North End.
Burlington Wildways est un partenariat entre le Winooski Valley Park District, l'Intervale Center, Rock Point et Burlington Parks, Recreation & Waterfront. Tous sont d'importants propriétaires de terrains publics dans la ville.
« L'une des choses que nous avons tous réalisée collectivement, dit Zoe Richards, directrice de Burlington Wildways, c'est que nous avons de formidables aires naturelles à Burlington, mais qu'il est difficile de s'y retrouver. »
Courtesy Of Zoe Richards
Exploring the Burlington Wildways
Le but du projet Burlington Wildways n'est pas de créer de nouveaux sentiers, en partie parce qu'il y en a déjà trop, selon Zoe, qui est biologiste de la faune. La plupart sont ce qu'elle appelle des « sentiers sociaux » – informels, non entretenus et habituellement non planifiés, et donc souvent difficiles à trouver et à suivre. L'idée est plutôt d'améliorer et de condenser les réseaux de sentiers existants, de sorte qu'ils soient mieux balisés et plus faciles à suivre.
« Notre objectif n'est pas de polluer le paysage avec des sentiers, dit Zoe. Nous voulons qu'il y ait moins de sentiers, mais aux bons endroits, et qu'ils soient plus écosensibles et plus faciles à repérer. »
Courtesy Of Zoe Richards
Exploring the Burlington Wildways
L'Intervale Wildway compte de nombreux points d'accès, notamment à l'Intervale Center et à la ferme familiale d'Ethan Allen. C'est une promenade agréable, dans un cadre pittoresque de forêt alluviale et de terrain marécageux. La plus grande partie du sentier épouse les berges sinueuses de la rivière Winooski, où l'on peut observer les canards qui se laissent porter par le faible courant, ou encore un castor ou une loutre glisser dans l'eau. Durant l'hiver, une caméra à détecteur de mouvement installée sur le sentier a capté un lynx déambulant le long de la rivière.
« Il y a vraiment une nature sauvage ici, ce n'est pas que de la théorie », dit Alicia Daniel, naturaliste de terrain au service Burlington Parks & Rec. Et nous voulons qu'elle reste sauvage. »
À terme, le Wildway reliera les aires naturelles dans tout le nord de la ville, y compris Arms Forest, un parc de 12 hectares où l'on trouve des formations géologiques inhabituelles et des plantes rares, comme le sabot de Vénus jaune, un type d'orchidée.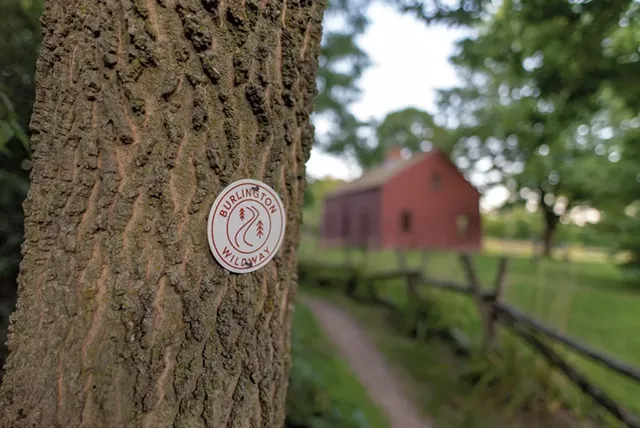 Courtesy Of Zoe Richards
Exploring the Burlington Wildways
Arms Forest jouxte Rock Point, où se trouve la célèbre faille de Champlain. Ici, les couches rocheuses plus anciennes de couleur orangée chevauchent les couches plus récentes, plus sombres, créant des escarpements irréguliers qui surplombent le lac Champlain et offrent certaines des vues les plus époustouflantes à Burlington.
« Vous pouvez passer du point le moins élevé au point quasiment le plus élevé en parcourant ce sentier, indique Alicia. Cela permet de constater toute la variété et la rareté des habitats naturels, de la plaine inondable aux falaises de grès de Rock Point. »
« Près du quart de la ville se trouve dans des aires naturelles, ajoute Zoe, qui souligne que Burlington compte environ 49 pour cent d'espaces naturels ou verts. Nous voulons assurer la pérennité de ces aires naturelles, et faire en sorte que les gens les aiment et puissent y accéder plus équitablement. »