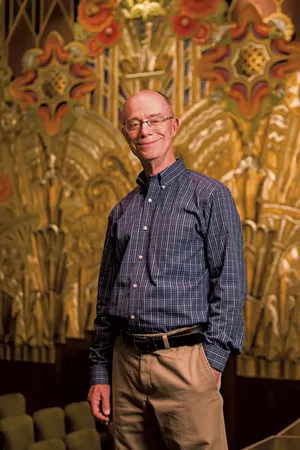 Oliver Parini
John Killacky
It's a warm Father's Day morning, and John Killacky is at Windswept Farm in Williston tending to Pacific Raindrop, his Shetland pony. Eight years ago, Seven Days met him and Raindrop at this very spot, shortly after Killacky was hired as the executive director of the Flynn Center for the Performing Arts. Coming full circle, this morning's interview marks his exit.
Last September, Killacky announced he would be stepping down; last week, the Flynn introduced his successor, Anna Marie Gewirtz, currently CEO at State Theatre New Jersey. Next month, Killacky will hand her the reins.
Right now, though, he's more concerned about the reins attached to Raindrop. Sitting in the little cart that the pony pulls in a loop around the barn, Killacky explains that she got jittery rounding the corner after switching directions. In turn, he began to hold the reins a little tighter in that moment, oh-so-subtly signaling his own nervousness. Horses are sensitive to the tiniest changes, Killacky notes. Now he's focused on loosening his grip, and Raindrop is beginning to relax on the curves.
Later, Killacky extrapolates this behavioral exchange to human interactions. The take-away: Be in charge but not controlling. That could be his leadership mantra.
When he came from California to work at the Flynn in 2010 — with his husband, Larry Connolly, and his beloved little horse — Killacky had a striking résumé in hand. He had been program director of the philanthropic San Francisco Foundation for seven years, and executive director of the Yerba Buena Center for the Arts for another seven before that. Before coming to the West Coast, Killacky was curator of the performing arts at the Walker Center for the Arts in Minneapolis for eight years, and program officer at the Pew Charitable Trust for two.
In his final year at the Walker, Killacky experienced the surgical mishap that would render him — a former dancer and runner — a paraplegic. That he can now walk with the minimal assistance of a cane is less a miracle than a testament to his positivity, discipline and sheer will. It is also why, as Killacky told Seven Days in 2010, "I don't sweat the small stuff."
All these experiences and qualities brought him to the Flynn, where he succeeded Andrea Rogers. In her 30 years there, Rogers was the visionary — and master fundraiser — behind the facility's transformation from run-down former movie house to nonprofit state-of-the-art performance center with a (now) $7.7 million annual operating budget and $11 million endowment. The theater alone is a restored art-deco jewel in the Queen City's crown; its performing-arts season, year-round educational offerings and artist residencies rival those of much larger facilities.
As Chico Lager put it, "Andrea practically invented the Flynn." He was on the committee that chose Killacky to step into her very large shoes. Lager, a former Ben & Jerry's CEO, has been on the Flynn board longer than he can remember — "probably 13 or 14 years," he guesses. Having chaired the board at the end of Rogers' tenure and the beginning of Killacky's, he's in a good position to assess these past eight years.
"The great thing about John is, he knew he was coming into a very successful organization, and that Andrea had done an incredible job making [the Flynn] one of the predominant arts organizations in Vermont," Lager says. "He honored and celebrated everything Andrea and her team had done. He took his time to get acclimated, meet people, integrate into the job and the community." The change, he adds, was "evolutionary, not revolutionary."
Lager recalls being impressed by how quickly Killacky embraced his new community — and it embraced him back. "One significant difference was that he really set about trying to foster collaboration, both outside of and within the Flynn," Lager says. Although the center presents a performing arts season, it is also a rental venue and home to other arts organizations, including Lyric Theatre and Vermont Stage.
"John saw that the Flynn could be more supportive of resident companies and rentals," Lager adds. One small but significant gesture was to begin including their shows in the Flynn's print and online materials. Rather than competing with other organizations, says Lager, "John said a rising tide lifts all boats — we're going to help our partners. He really championed this."
For his part, Killacky shares an anecdote that underscores his belief in what would become a catchphrase: "One Flynn."
"When I first came to town, my cab driver told me that he'd been the first person to take a bow at the Flynn — he'd been the conductor at the first Lyric performance in 1974," Killacky says. "He [later] gave me the conductor baton and the program from that show. It was How to Succeed in Business Without Really Trying. Right from the beginning, [the Flynn] was meant to be a house for local performing organizations."
This open disposition motivated one of Killacky's most notable contributions to the Flynn, and the community: expanding the organization's commitment to access and inclusiveness. Building on the outreach established under Rogers' leadership, the Flynn now works with 81 human and social service agencies to provide discounted tickets to their clients. Of the 38,000 schoolchildren who attend shows annually, more than 7,000 do so for free. The Flynn generates $30,000 each year for scholarships to classes and camps.
For Killacky, though, inclusivity is about more than different income levels; it's about different abilities. His dedication to both the spirit and the deed of "access" has manifested in multiple ways. A recent exhibition titled "Flourish" at the Flynn's Amy E. Tarrant Gallery — which Killacky himself has curated in recent years — featured works by artists with disabilities. The show was presented in conjunction with VSA Vermont and the Vermont Association for the Blind and Visually Impaired.
Programming the Flynn's season is the job of artistic director Steve MacQueen, but there, too, Killacky's sensitivity to the "differently abled" has had an impact. The Flynn has added "sensory-friendly" shows for kids who are on the autism spectrum or, as Killacky puts it, "experience things differently." At such shows, house lights are dim but not dark, volume is lower, and kids are provided fidgets, coloring books or weighted blankets as needed; in most cases, they're allowed to move around.
In a commentary on Vermont Public Radio, Killacky reflected on the 2017 residency of the Chicago Children's Theatre, which presents multisensory, experiential theater for youngsters on the autism spectrum. He sat in on a show called Red Kite, Brown Box, each performance of which could be attended by no more than 12 children and their adult caregivers. Killacky watched in wonder as the four adult performers gradually and gently turned withdrawn kids into delighted participants.
"I wept with joy and gratitude for these artists and the support the Flynn has to enable this," Killacky said in the commentary. "I am more alive because of this experience."
As programmer, MacQueen says, "I've had total freedom to do whatever I wanted, and that's a testament to John." But Killacky's ability to procure grants related to education and disabilities "allowed us to go down that path," he says.
Occasionally, differently abled performers appear at the Flynn, too. This past season included British dancer Claire Cunningham, who uses crutches; and violinist/songwriter Gaelynn Lea, who has a congenital physical disability.
It's no coincidence that a fund recently created to honor Killacky's legacy is called "Everybody Belongs at the Flynn." So far, says Lager, that campaign has raised more than $2.6 million. The donations will be channeled into an endowment focused on access and inclusion, and a bridge fund.
Killacky has achieved another goal at the Flynn. When he was hired in 2010, he says, "I told the board I would probably stay five to seven years and would help transition [its] intergenerational leadership." Killacky had observed that several longtime Flynn personnel besides Rogers were due to retire, according to Lager. Most of those torches have now been passed, and the executive director is ready to take his turn.
"I don't want to be in the way," Killacky says. "I'm ready for a change."
But "retirement" is not exactly his game plan. When he announced his departure last fall, Killacky was sure he didn't want to run another arts organization, and did want to stay in Vermont. He and Connolly — an actor and instructor in the University of Vermont Department of Theatre — are happy here. So, by all appearances, is Raindrop. Their family has grown by a cat and a dog.
This spring, Vermont Rep. Helen Head (D-South Burlington) decided not to seek reelection. Killacky decided to run for her seat. In April, he filed as a Democratic candidate in the district.
Killacky, who just turned 66, is not without relevant experience for the role. In addition to testifying before the legislature on matters germane to arts nonprofits, he has served on the Vermont Tax Department Advisory Board, among others.
"It's great to have advocates for the arts in the legislature," MacQueen says. "I'm all about him going into politics."
Whether or not he wins, Killacky is clear on how he feels about his time — so far — in Vermont: "This has been the greatest eight years of my life."