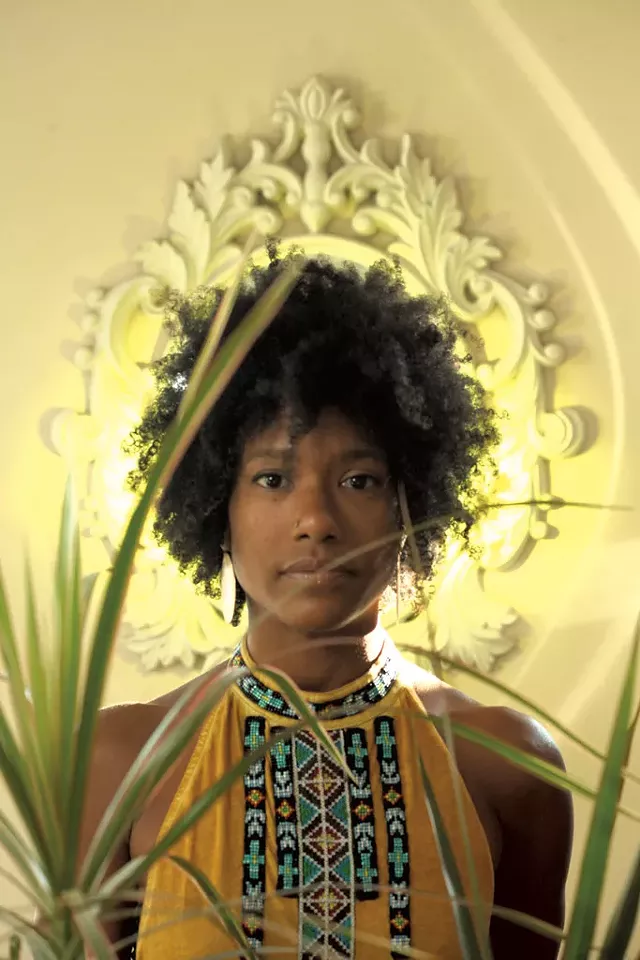 Matthew Thorsen
Stephanie Heaghney
When singer-songwriter Stephanie Heaghney agreed to meet up to chat about her music career, I prepared myself to be as awestruck and hypnotized as I was during her recent performance with the brand-new Burlington neo-soul outfit JUPTR. The juicy, synth-heavy five-piece — essentially a rebirth and reimagining of the defunct soul-hop outfit Smooth Antics — revealed its burgeoning repertoire to a rambunctious, drunken crowd during Halloween weekend. But not even beer-spilling yahoos and the cacophony of their incessant chatter — or, frankly, her powerhouse bandmates dressed in cultish hooded robes — could detract from Heaghney's palpable stage presence. In that moment, she eclipsed all peripheral sensory information.
But the genial, disarming woman seated next to me at a watering hole in Burlington's South End seemed like a different person. Dressed in fashion-forward garb — albeit much more conventional than the glamorous ensemble she wore the last time I saw her — Heaghney sipped a pink cocktail and smiled warmly, her divergent curls partially obscuring large, gold earrings. Just as quickly as she once hypnotized me, she put me at ease. Chatting with her felt like reconnecting with an old friend — a stark contrast to the mythic, unknowable entity that is her stage persona.
"Effect achieved," Heaghney said cheekily. "I feel like it's almost my true self onstage. I'm a better communicator. I'm more relaxed and open. It feels really good."
Aside from fronting JUPTR, she's a vocalist, songwriter and flutist in the 10-piece soul orchestra smalltalker and recently lent her talents to recordings by two of the Queen City's most noteworthy electronic and hip-hop producers, SnakeFoot and Loupo. Given her growing ubiquity in local projects that push the boundaries of soul and hip-hop, you'd never guess that Heaghney, 34, is relatively new to the spotlight.
Onstage, the Burlingtonian musician exudes as much confidence and experience as someone who's been at the center of attention for decades. As she stakes her claim as one of the city's go-to collaborators, she's inching closer to finding the balance between mystique and earnestness.
"It's a risk," Heaghney said. "I guess that's the hard part about sharing music. Sometimes I can definitely clam up a bit. [But] there's also a part of me that wants to open up."
Heaghney grew up in a large, musically inclined family in the unincorporated village of Beebe Plain in Orleans County. She recalls early influences such as Earth, Wind & Fire, the soundtrack to the Diana Ross musical The Wiz, and jazz singer Sarah Vaughan — all played on vinyl.
"If you've never skipped a record from dancing around too hard, you haven't lived," she said.
Since graduating from North Country Union High School in 2000, Heaghney has taken the scenic route in life — literally. The world traveler has visited locales including Turkey, Scotland and Ecuador, often with her husband of 11 years, Tim Heaghney, who co-owns Cold Hollow Contracting. When she's not pursuing music or globe-trotting, the singer works as a hairstylist and dabbles in modeling.
Heaghney's trajectory toward the limelight has been slow and steady. Aside from a short-lived high school band called Main Squeeze, which she describes as a late-1990s cross-section of ska, Jamiroquai funk and Radiohead-esque obliqueness, her career in music and performance began in the world-infused hip-hop group ONEoverZERO and the Spielpalast Cabaret.
Then came Smooth Antics, which debuted in 2014 with a monthlong Nectar's residency alongside electro-pop expats argonaut&wasp. That was when Heaghney began to hone her writing chops.
"When you're performing as lead vocalist, you [become] the communicator between the audience and the band," she noted. But she admitted that opening the lines of communication can sometimes be daunting and a little uncomfortable.
"The earlier Smooth Antics [music] was safer, to avoid that type of feeling," she explained, adding that she's recently begun "giving a little bit more" of herself in her writing. "Part of my trick is reminding myself that we all have those insecurities."
The music on Smooth Antics, the group's only album, is hardly fluff. But you can hear what Heaghney means by "safer." For instance, she keeps things light and breezy on the titillating "Laced With Lust." But she also touches on some heavier subjects, such as systemic economic injustice, on "Change." From track to track, she oscillates between safety and full-blown exposure.
Around the time Smooth Antics dissolved in late 2016, Heaghney joined smalltalker and debuted collaborations with SnakeFoot. She appears on the bass-heavy, electro-R&B cut "All Gifted" and alongside indie rapper Billy Dean Thomas on the producer's EP American Dream. Subsequently, instrumental hip-hop wunderkind Loupo recruited Heaghney for the nostalgic song "Letters" on his third album, Good Company. The wistful track romanticizes Heaghney's snail-mail correspondence with her husband at the beginning of their relationship.
When producers like Loupo or SnakeFoot bestow her with an instrumental demo, Heaghney devours it.
"Anytime someone has an empty track, it's like candy," she said.
"She gets work done," said JUPTR and smalltalker bassist Mike Dondero. "It's impressive how fluent her creative process is."
Matthew Thorsen
Stephanie Heaghney
After Heaghney ingests a vocal-free cut, she ascribes a feeling to it.
"Sometimes it's [related to] what's going on with our planet or relationships between human beings and the many problems that we have," she explained.
And sometimes it's about the legacy of a dead celebrity.
"Cassius," a smalltalker song, is an ode to the late boxer Muhammad Ali. The heavyweight champion and outspoken political and civil rights activist died of Parkinson's disease in 2016.
"He [fought for] a lot of the freedoms and rights that I enjoy today, and I'm grateful for that," Heaghney said.
She is playful in her writing and often leans on wordplay and metaphor.
"It's a way to communicate without being completely literal," said Heaghney. "But maybe it's also me being a little bit guarded."
On JUPTR's "Pictures of You," she strikes a fine balance between those dueling inclinations. She sings, "I look up to you / Cuz I always believed / I could look up to you / Cuz you're taller than me."
"[Metaphor is] actually something I'm trying to move away from," Heaghney continued, reiterating a desire to put more of her own feelings out into the world in vivid, personal detail.
"Trying to lose the fear," she added, smiling confidently.
With only two performances under their belt, JUPTR are like a newborn baby, and Heaghney talked about the band with the giddiness of a proud mother. She also lit up when mentioning her participation in the Tuned In Collective, a group of female, femme and nonbinary musicians seeking to redistribute power within Burlington's music scene.
"No offense to the boys in my band, but how have I not been playing with any females?" she wondered. "I would like to see more women and more people of color in the music scene. I know we live in northern Vermont, but come on."
Heaghney advances that goal with every lyric she writes. Descriptions of JUPTR's forthcoming material, such as the group's painstaking efforts to craft a distinct tonal palette and Heaghney's commitment to exposing more of her inner thoughts and feelings, suggest that a more fully formed vision of the band is emerging. As is Heaghney's musical identity.
"The [Halloween] show was sort of an intro," she said. "We haven't even started. You haven't seen anything yet."