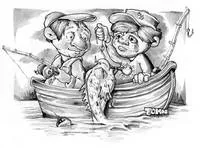 Ah, Vermont in the spring. Drive along any river in the state and you're bound to see an angler out there, tempting a trout lurking in the riffling water. On lakes, fishermen float motionless in flat-hulled boats with spinning reels, hoping for a rowdy small-mouth bass or a feisty, prehistoric-looking northern pike. The water is naked and clear, hiding nothing.
But appearances can be deceiving. The Vermont Department of Fish and Wildlife regularly puts out a "fish alert" that lists the locations and types of fish that have been found to contain unsafe levels of hazardous substances. Some Vermont bodies of water are so polluted with mercury and PCBs that the Vermont Department of Health's Fish Alert says it's unsafe to eat any quantity of fish caught there. One such tainted waterway is the Hoosic River, in the southwestern part of the state, which had the misfortune of being a dumping area for an old tannery in Pownal and an electrical components manufacturer in North Adams, Massachusetts.
Meanwhile, eating one's catch is still a local tradition. So just how dangerous is it?
Mercury is a naturally occurring metal in soils and waters. The problem for Vermont and other eastern states is that industrial smokestacks in the Midwest belch it out, the jet stream carries it eastward, and the rain deposits it in rivers and lakes, where it turns into a toxin called methylmercury. Then it "bioaccumulates," which means that it concentrates as it climbs the food chain from algae to small fish to bigger fish to — if one is so inclined — the dinner table. When consumed in high quantities, methylmercury can cause a wide range of health problems, from skin rashes to cerebral palsy, coma and death.
PCBs — short for polychlorinated biphenyls — are no less savory. Before they were banned in the 1970s, they were used primarily as cooling and insulating fluids for industrial transformers, and they have a nasty reputation for being carcinogenic. Unfortunately, they also have a tendency to stick around and hence are known as "persistent organic pollutants." In other words, PCBs that were dumped into Lake Champlain when the Village People were hot are still making the rounds among fledgling lake trout and walleye.
Sound scary? It is. But there are reasons to be encouraged, because the state's rivers, streams and lakes are arguably cleaner now than they have been since pre-industrial times. Stormwater regulations are reducing detrimental farm runoff, wastewater regulations have put an end to "straight-piping" human waste into the backyard brook, and Vermont has outlawed many products that contain mercury. Most of the waters in Vermont have less restrictive advisories than the Hoosic River, or none at all.
Brian Chipman, a fisheries biologist with the Vermont Department of Fish and Wildlife, urges people to read the Vermont Fish Alert, which is also available at the Department of Health website. But it's clear that he regards mercury and PCBs in fish as just one of life's many risks. If a person eats more fish than the health department recommends, that doesn't mean he or she will get sick. "There is an elevated risk of health problems" from eating fish with mercury, Chipman explains, "just like there's a risk of getting hit by a bus when you walk across the street."
Ed Schirmer, a fishing guide and owner of Schirmer's Fly Shop in South Burlington, advises: "I wouldn't hesitate to eat a nice rainbow trout dinner, but I wouldn't do it too often."
Frequency of consumption is the Vermont Fish Alert's main concern. Women of childbearing age, especially pregnant women, women planning to get pregnant and breastfeeding mothers, need to be extra careful, as mercury may harm an unborn baby's or young child's developing nervous system. Children 6 and under, too, should abstain from eating walleye of any size and Lake Champlain lake trout larger than 25 inches. In general, because of bioaccumulation, "larger fish tend to have a higher level of contaminants," says Chipman.
Enthusiasts of fresh-caught finned fare may want more info. The Pennsylvania Fish and Boat Commission has a special website devoted to assigning the mercury risk its place among the throngs of everyday hazards. It describes a typical day in the life of an angler: She gets out of bed, walks down the stairs, makes breakfast in the kitchen, drives to the river, wades in the water, has a beer at lunch, and eats her catch for dinner. In that prosaic list, eating the fish is "probably one of the least risky things the angler did all day." According to this website authored by unabashed fish lovers, the bottom line on mercury is that "no one should be afraid to eat their catch in moderation. Fishing is a safe sport and consuming fresh fish is a healthy thing to do."
So healthy, in fact, that "Many health experts believe that the positive health benefits of eating fish may outweigh the potential risks of negative effects," notes Chipman. The Journal of the American Medical Association tends to agree. It advises that fish is a good source of protein, selenium and omega-3 fatty acids, a special type of fat that can help lower blood pressure and heart rate, and improve cardiovascular health. Indeed, JAMA reveals that the very people most vulnerable to mercury risk may need fish for other reasons: "For pregnant women, mothers who are breastfeeding and women of childbearing age, fish intake is important because it supplies DHA, a specific omega-3 fatty acid that is beneficial for the brain development of infants."
All fish, however, are not created equal, and some are known to contain higher levels of mercury, such as shark, swordfish, king mackerel and golden bass. JAMA notes that one can make the "health benefits of eating fish greatly outweigh the potential risks" by keeping that list in mind and heeding the special fish advisories. Furthermore, since PCBs congregate in fatty tissue, Chipman says that avoiding the belly of the fish — the fattest part — and sticking to the lean upper half will reduce the risk of ingesting the pollutant. Mercury, by contrast, distributes itself evenly throughout the fish and can only be limited by reducing total intake.
Soon people won't have to worry about memorizing the Fish Advisory for their trips to the seafood section of the grocery store. State Toxicologist Bill Bress says Vermont will be the first state in the Northeast to post the alert in stores, probably accompanied by a color poster, in multiple languages, with accurate drawings of fish that may contain mercury.
Will the signage stop eager anglers from sampling the fruits of the state's aquatic bounty? Probably not. Reilly McCue, a fishing guide at Spikehorn Ridge in Washington, says he likes to pan-fry fresh brook trout — no need to filet them. Bob Shannon, the head guide at the Fly Rod Shop in Stowe, has cooked wild brook trout streamside for his clients. Such al fresco dining is marked by its simplicity: tin foil, olive oil, lemon, garlic and a campfire are all that's required. Since trout is a sweet-tasting fish, it goes well with spicy companions such as mustard greens and cayenne. Want to get fancy? Smoke your own rainbow and serve it as an appetizer with a good baguette.
The Wayside Restaurant in Montpelier has served fresh perch for years. Jeff Virg, a chef-manager at the eatery, says he generally gets the fish from individual ice fisherman a day or two after they're caught. "We hand-bread them, deep fry them, and serve them throughout the winter."
What about the fish advisories? "We've never had any problems with it, so I guess we'll just stick with tradition," Virg says. Part of that tradition is the Wayside's homemade tartar sauce, a natural match for perch. "They taste just like a fresher type of haddock — sweet and juicy," Virg notes. "We can't get enough of them."