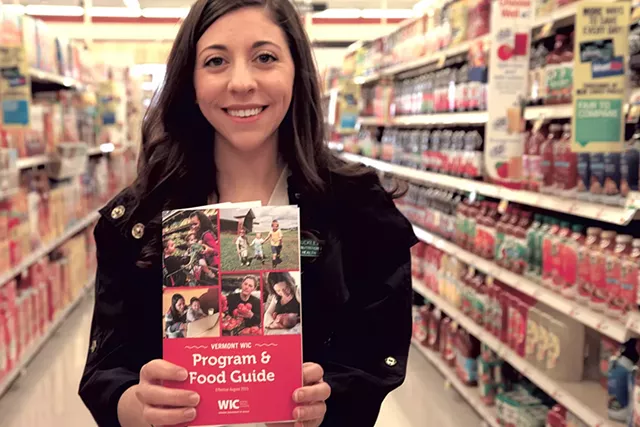 Matthew Thorsen
Madeline Buckley
Madeline Buckley strode through the aisles of the Colchester Price Chopper, stopping at the baby food section. The public-health nutritionist spotted a blue "WIC" sticker above the retail tag for Beech-Nut Naturals banana. She picked up a jar and, using the WIC Shopper app on her phone, scanned the bar code to verify that the item was on the WIC-approved food list before setting it back on the shelf.
On April 1, Buckley, along with her colleagues and volunteers, was stationed at WIC-authorized supermarkets throughout Chittenden County to help cashiers and recipients through a major transition: rolling out the electronic benefits, or eWIC, card system. They're similar to electronic benefits transfer cards in that they can be swiped at checkout, but, rather than a dollar amount, they hold credits for specific amounts of food.
When Buckley arrived at Price Chopper at 10 a.m., cashiers reported that two families had already done their shopping.
"They told me everything went smoothly. The cashiers know what they're doing, and there are WIC tags everywhere, which is awesome," Buckley said.
Since last summer, Vermont's Special Supplemental Nutrition Program for Women, Infants and Children — better known as WIC — has been preparing for the eWIC cards, which replaced home delivery of WIC food items. WIC is designed to serve income-eligible women and children, and, according to Vermont WIC program director Donna Bister, the state has close to 13,000 recipients and spends some $9 million each year on food for the program.
Putting that money on eWIC cards will offer improvements over the previous food-delivery system, Buckley said. By entering the grocery store, families are presented with more food options under each category — and more control. They can also buy items as they're needed rather than have to store large amounts of food, Buckley explained.
Swiping a card at checkout also allows families to purchase food in a "dignified way, like any other person," Buckley said, as opposed to having food dropped off at their front door, which can identify them as low income. Perhaps more importantly, Buckley continued, "they have a lot more ownership and responsibility."
The transition required a lot of preparation in the months-long run-up to April 1. Many supermarkets took stock of their inventory: To be WIC-authorized, they must be able to maintain the minimum variety and quantity of WIC-approved foods all year 'round. Lynn Ellen Schimoler, assistant director of retail operations at Burlington's City Market/Onion River Co-op said the store added a couple of items, including bags of dried, packaged beans and baby foods containing meat. They also trained their front-end employees on how to use the eWIC card.
The Department of Health held classes for WIC recipients, some taking place in community rooms at apartment complexes so that families wouldn't have to travel. Participants received a copy of the WIC program and food guide and were reminded to check the serving size on food labels.
Many families were excited about being able to get certain store brands, Buckley said. "They are really interested to know about the different kinds of peanut butter they can get," she noted.
Matthew thorsen
Scanning a cereal box with the WICShopper app
While the benefits list is limited to specific types, sizes and brands of foods, explained Buckley, families can make substitutions in each category of food. For example, you can substitute one quart of milk for yogurt. "A lot of our New American families use the milk to make yogurt. Now they can buy it to use as a starter culture," the nutritionist said.
Twenty-year-old Maya Chittenden from Colchester has been enrolled in the WIC program since September 2014. She attended a training session at the Association of Africans Living in Vermont and said she was "super excited" about going grocery shopping. "To be completely honest, when [they] leave food at your doorstep, people can take your food," she said. "I've definitely had plenty of times where I got WIC delivery and not all of my food was there."
A provision in the Healthy, Hunger-Free Kids Act of 2010, signed into law by President Barack Obama in December 2010, required that every state switch to a card-based WIC system by 2020. Since the Burlington district office, which serves Chittenden County, was the second-to-last to roll out the eWIC card, it benefited from watching others. When the pilot program began in Rutland last summer, the WICShopper app wasn't available, and finding WIC-approved items in stores was challenging at first, said district public health nurse supervisor Melissa Richards.
Another snafu: Families started buying all of their food in one trip, making it very difficult for stores to stay stocked with the necessary items. "The stores were completely wiped out of infant formula," said Buckley. "They didn't anticipate that." In her learning sessions, she advised families to buy formula as needed rather than stockpile it, just like they would any other food.
Sometimes challenges crossed state lines. Families in rural towns often have limited grocery stores to choose from. For example, some shoppers in Rutland frequent a nearby store in New York State, so it was essential that it adopt the eWIC system. "I do think that if we weren't able to get that store up and running, it could have [created] some issues for some families, because that's where most of the families do their shopping," Richards said.
In the future, Buckley hopes even more Vermont supermarkets will get WIC certification. Some smaller markets have card readers that won't work with eWIC, she said. "For many of the ethnic markets, it came down to the sizes of the food," she added. Such stores often have bulk bags of rice instead of the smaller WIC-approved packages.
City Market director of community engagement Allison Weinhagen has some suggestions for the Department of Health. There are items she'd like to add to the WIC list, and some foods need new package sizes because the WIC-list-approved items are obsolete, Weinhagen said.
Wrinkles aside, what Buckley wants most is for families to have an easy shopping experience, free from confusion or embarrassment. "Many families have said to each other, 'Let's go shopping together the first few times.' That is so comforting," she said, "because we worry a lot about our clients."