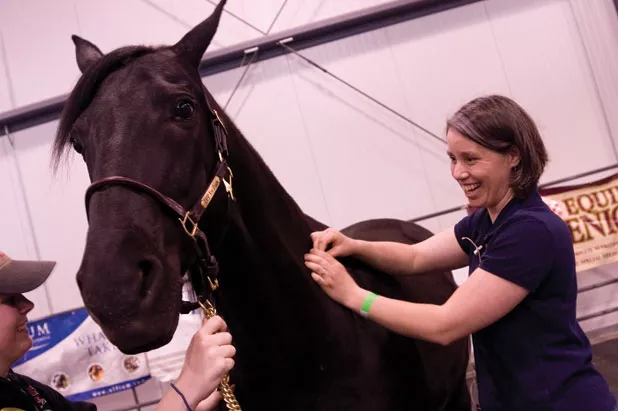 Perhaps it was the time of my arrival Sunday morning at Everything Equine, but there were few examples of real, live horseflesh on display. However, the rich subculture of their fans was well represented. I was greeted by a large horse plop on the walkway toward the Champlain Valley Fairground's Expo Center, which was surrounded by horse trailers for sale and a fried-dough vendor.
As I walked through the corridors of booths filling three adjacent buildings, I was confronted with a horsey version of the Jewish mother's dream: everyone from equine dentists to a litigator specializing in horse-related disputes. The naturopathic bent the industry has taken was evident as well, with "Natural Himalayan" salt licks and organic helmet fresheners.
I then attended a lecture on equine acupuncture. With the cooperation of a 12-year-old Morgan horse named Night Rider, Dr. Emilie Beaupré demonstrated how needles can be inserted into a horse's skin to treat TMJ, or even cure kidney and liver infections.
In the Kid's Corner, I met Harley Heath of Gray Ghost Farm in Milton. The 10-year-old was taking part in the "Scoop the Poop" game, which was exactly what it purported to be, but with Play-Doh turds. Kids could also practice bandaging techniques on a fake horse leg or identify parts of a horse in pin-the-tail-on-the-donkey style.
In the next room, the Breyer Horse model show was taking place. Breyer is the manufacturer of the model horses that collect dust in many a little girl's room. Here, the toy horses were serious business. Though these models are made in a factory from molds, that didn't stop this club from judging them by conformation-to-breed standards.
The more advanced "handlers" even took apart and recalibrated limbs, carefully repainting the animal's anuses to their breed's standard coloration. Harnesses were carefully held in place with dental wax. One local woman handmade a medieval knight's saddle with real leather for a hyperrealistic model jousting match.
As one novice Breyer enthusiast painted purple spots on her horse, a handful of real horses stood nearby in pens, meeting their public. They may not have conformed to standard as well as some of the models, but I would rather feed a carrot to Blackjack, a 14-year-old Morgan, any day.