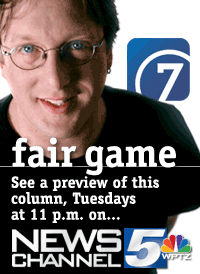 This week the University of Vermont will reveal the results of its months-long investigation into the relationship between Rachel Kahn-Fogel, wife of outgoing president Dan Fogel, and a top university fundraiser. The probe seeks to determine if their amorous connection violated university policies or caused any UVM funds to be misspent.
A Seven Days records request in late April brought the relationship to the attention of UVM officials.
UVM trustees are scheduled to meet in secret on Wednesday to discuss the report. That should be followed by some kind of public statement from Board Chairman Rob Cioffi. No disciplinary action is expected, but the board is likely to enact new rules to avoid a similar "situation" from occurring in the future.
As UVM worries go, the investigation has been dwarfed by ongoing public outrage over Fogel's golden parachute. The university's legislative trustees are now on the defensive.
To recap: The trustees voted to give Fogel a 17-month severance package valued at more than $35,000 a month, which includes his "salary," as well as monthly housing and "wellness" allowances. At the end of the 17 months, Fogel is scheduled to join the UVM English department and teach — for $195,000 a year.
Meanwhile, trustees have frozen most staff and teaching salaries for the year and are asking its maintenance workers to accept a raise that amounts to 1 percent at the end of three years.
As "Fair Game" noted last week, nine current and former lawmakers, as well as three gubernatorial appointees, serve as UVM trustees. On Monday, seven of them penned a "Dear Colleagues" letter to defend their decision to super-size Fogel's severance package. It was signed by Reps. Bill Botzow (D-Pownal), Carolyn Branagan (R-Georgia), Joan Lenes (D-Shelburne), David Potter (D-Rutland), Kesha Ram (D-Burlington), Donna Sweaney (D-Windsor) and Sen. Jeannette White (D-Windham).
"Overall the board approved transition arrangements and faculty salary that recognized Pres. Fogel's many accomplishments over nine years and the challenges he is dealing with," the letter read. "Adjustments were made to reflect his sooner than expected departure for personal reasons."
The lawmakers went on to defend Fogel's package because, well, everyone else in academia is doing it.
"Competitive compensation and other arrangements are essential to successfully attracting talented candidates, and while Vermont's quality of life is an attractive element, many other locales and campuses are also attractive and we need to compete nationally for excellent candidates," the lawmakers noted, adding that the state's "economic environment and economic values do not necessarily match those of other states."
In other words, you haven't heard the last of this story.
Presidential Packages
How does UVM president Dan Fogel's $320,000 salary and $600,000-plus severance package stack up against those of other presidents at publicly funded Vermont colleges? Very well, thank you.
In FY 2012, Vermont's presidential payouts look like this:
Dave Wolk, Castleton State College: $149,211
Joyce Judy, Community College of Vermont: $142,800
Barbara Murphy, Johnson State College: $156,506
Steve Gold (interim), Lyndon State College: $125,000
Philip Conroy, Vermont Technical College: $140,000
Timothy Donovan, Vermont State Colleges chancellor: $193,000
In addition, each president gets a car and is required to live on campus in an official presidential abode. The only exception is CCV's president, since CCV has no central campus.
Twelve percent of each president's pay goes into a retirement fund — the same percentage enjoyed by every full-time VSC employee. That figure ranges from $15,000 to nearly $20,000, depending on the salary, according to Dan Smith, VSC's director of community relations and public policy.
VSC has had to gild the occasional parachute. When LSC president Carol Moore stepped down earlier this year, VSC trustees agreed to honor the last year of her contract, paying her $151,000 through next year.
When VSC chancellor Robert Clarke retired in 2008, his contract — signed in 2004 — included a year's paid leave of absence valued at $175,090.
Those salad days are over. "Provisions like this are no longer included in any other executive contracts," noted Smith. "The standard arrangements for departing presidents in the VSC system are pretty simple. No contracts for current executives in the system include any commitments after the last day of the contract beyond the standard benefits to which any eligible retiring VSC employee is entitled."
The Gall of It All
More voices are joining the chorus of lawmakers angry about UVM's largesse. Janet Ancel, chairwoman of the powerful House Ways and Means Committee, called Fogel's severance package "galling" and "seriously out-of-whack."
"Whatever his accomplishments, and they were significant, the decision of the UVM Board of Trustees is out of touch with the lives of average Vermonters," Ancel wrote in a Friday email to constituents.
Ancel told "Fair Game" she hopes the trustees will "take this and learn from it," but she isn't sure anything can be done retroactively.
Maybe not, but it's likely that a bill introduced last session by Sens. Tim Ashe (D/P-Chittenden), Peter Galbraith (D-Windham), Hinda Miller (D-Chittenden) and Richard Sears (D-Bennington) will get a closer look next session. The bill — S. 71 — would bar lawmakers from serving as UVM trustees or as trustees of the Vermont State Colleges so they wouldn't be conflicted in their double duty to the institution and the taxpayers.
Minority Leader Don Turner (R-Milton) would surely support such a bill in the House. He said he was given assurance two years ago that trustees "got the message" when he raised concerns about six-figure salaries among UVM's administrators. But nothing has changed.
"I'm definitely going to pursue this," Turner told "Fair Game." "I had questions about why the trustees agreed to give Fogel this much money, and I wasn't happy with this response. It's just outrageous that this is still happening when so many people are struggling to send their kids to UVM."
Sauce for the Gander
Where does Gov. Peter Shumlin stand on the Fogel fiasco? Why pay exorbitant salaries to lure faculty to Vermont, the gov argued, when it's likely they'd come anyway? No need to sweeten the deal, given the state's quality of life.
You tell 'em, gov! Where's the sense of shared sacrifice and public service?
Too bad Shumlin didn't heed his own advice when he assembled Team Shumlin. Shumlin filled some positions that Gov. Jim Douglas left vacant for years and boosted the annual pay of some incoming commissioners by $10,000 to $30,000.
In all, Team Shumlin is spending almost $400,000 more than Douglas on these top positions. Meanwhile, he asked state employees to take unpaid furloughs in order to shrink the budget.
Is Shumlin Safe?
In a poll conducted by a North Carolina-based company, Gov. Peter Shumlin bested several potential challengers by safe margins. Public Policy Polling forecasted that he'd win by 8 percentage points over former Lt. Gov. Brian Dubie if the 2010 election were to repeat itself. That's the good news for Shumlin.
The bad news is that Shumlin's favorability rating has yet to crest 50 percent. While Dubie trailed Shumlin 40 to 48 in a head-to-head matchup, the numbers practically reversed when it came to favorability ratings.
Dubie's favorability was 48 percent, while 33 percent disapproved of him. Shumlin's favorability among voters was 45 percent, while his unfavorable rating was 36 percent. In the same PPP poll, former Gov. Jim Douglas managed a 56 percent favorability rating.
On Tuesday, Public Policy offered some possible hypotheses to explain Shumlin's low marks.
The poll found Vermonters were closely divided on two of Shumlin's major policy issues: enacting single-payer health care and closing down Vermont Yankee.
Forty-five percent of those Vermonters polled think Yankee should be allowed to operate beyond 2012; 41 percent want it shut down.
Only 40 percent favor the gov's signature single-payer health care law, 35 percent oppose it and 25 percent are unsure.
The poll found that Democrats support the health care law and oppose VY, while Republicans oppose the health care law and support VY. Independents, meanwhile, support both the health care law and the power plant. They also prefer Dubie, by 9 percentage points.
Dubie is expected to announce after Labor Day whether he'll challenge Shumlin to a rematch.
BT's Breach
Two Burlington taxpayers suing the city in an effort to recoup $16.9 million "borrowed" by Burlington Telecom are now asking Superior Court Judge Helen Toor to levy the full legal responsibility of repayment against former chief administrative officer Jonathan Leopold.
Gulp!
In their motion for summary judgment, plaintiffs Fred Osier and Gene Shaver contend Leopold admitted being responsible for funneling pooled cash funds to BT and didn't monitor compliance of BT's certificate of public good before November 2008.
"Even after the violation was pointed out, however, he allowed it to continue and grow worse," the pair notes. "In these circumstances, Mr. Leopold is responsible for reimbursing the City treasury for the total amount of the losses."
They are also asking Toor to declare that Leopold had "breached his duty of faithful performance," something that criminal prosecutors declined to do.
While it's likely the city's insurance company would foot the $16.9 million judgment, even if Leopold was fingered as the guilty party, the move to pin this all on Leopold is more likely a last-ditch effort to get someone — anyone — to be held responsible for BT's debt to taxpayers in a court of law.