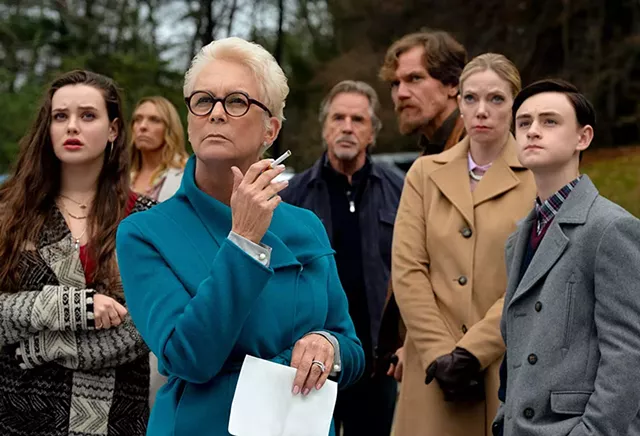 SHARPEST TOOLS A world-class ensemble plays the rather awful Thrombey family in Johnson's throwback murder mystery.
In the 1970s, Hollywood periodically took refuge from politics and "serious" subjects in drawing-room-style mysteries. Movies like Murder by Death and The Last of Sheila doubled as playgrounds for seasoned character actors to ham it up to their hearts' content. Writer-director Rian Johnson clearly remembers those days. In his first feature, Brick (2005), he brought midcentury noir to a modern high school. Now, in Knives Out, Johnson offers a semi-parodic Agatha Christie pastiche set in a Queen Anne mansion, with an ensemble big enough to fill "The Love Boat."
Cleverly plotted and stuffed with delectable dialogue, the movie is a throwback in every way but one: Johnson applies his satirical carving knife to political topics, too. That aspect of Knives Out lacks the edge that viewers may expect if they come for "a Clue board game drawn up by .... Bernie Sanders," as a Washington Examiner op-ed rather hysterically put it. As a smart entertainment, though, the movie succeeds brilliantly.
One dark night in his brick manse, best-selling mystery writer Harlan Thrombey (Christopher Plummer) slits his own throat. Or does he? The cops are inclined to close the case. But detective Benoit Blanc (Daniel Craig), hired to investigate by an anonymous party, has his doubts.
Practically every member of Harlan's contentious family could reap potential gains from his demise. And, on the eve of that demise, he managed to offend most of them, from his philandering son-in-law (Don Johnson) to his feckless grandson (Chris Evans) to his mooching daughter-in-law (Toni Collette) to the obsequious son (Michael Shannon) who runs his publishing empire.
In fact, Harlan may have only one intimate who likes him: his nurse, Marta (Ana de Armas), a first-generation American whom the Thrombeys treat with impeccable condescension. Blanc enlists Marta to help him sort out the others' conflicting stories because of her handy tendency to be truthful: Lying makes her literally puke.
Clear-eyed Marta serves as an emotional anchor for the audience as the whodunit launches into a series of whiplash turns. Sympathetic as she is, though, it's the film's gallery of rich rotters and grotesques who leave the deepest imprints.
The performances in Knives Out are a high-end dessert tray. How do you choose between Jamie Lee Curtis as Harlan's business shark daughter, who's raised bitch-face to an art form, and Craig as a nonchalant sleuth who caresses each word with his New Orleans drawl? Or between Collette's self-righteous caviar liberal, Shannon's deceptively tweedy man of letters and Evans' glinty-eyed, casually nasty playboy? These actors are having a ball, and so are we.
The critics praising Knives Out for its "subversive" import (Time, NPR) may be giving the movie a little too much credit for a jaundiced portrayal of elites that's typical of its genre. A mystery that encourages us to root for the underdog is nothing new. When Johnson has the Thrombeys actually talk politics, the scene feels forced, a Ryan Murphy-style attempt to push as many hot buttons as possible.
Johnson's script is much sharper when it simply demonstrates all the ways in which the Thrombeys undercut their own pretensions — to enlightenment, to deserving privilege, to American aristocracy. They are terrible people, and they are intensely fun to spend time with. From its ruddy interiors full of obsessively detailed bric-a-brac to its spot-on costuming and vehicles, Knives Out brings a lost era of movies to life. To see it is to be reminded that razor-sharp dialogue is as dazzling as any special effect.