Maple Open House Weekend & Vermont Maple Festival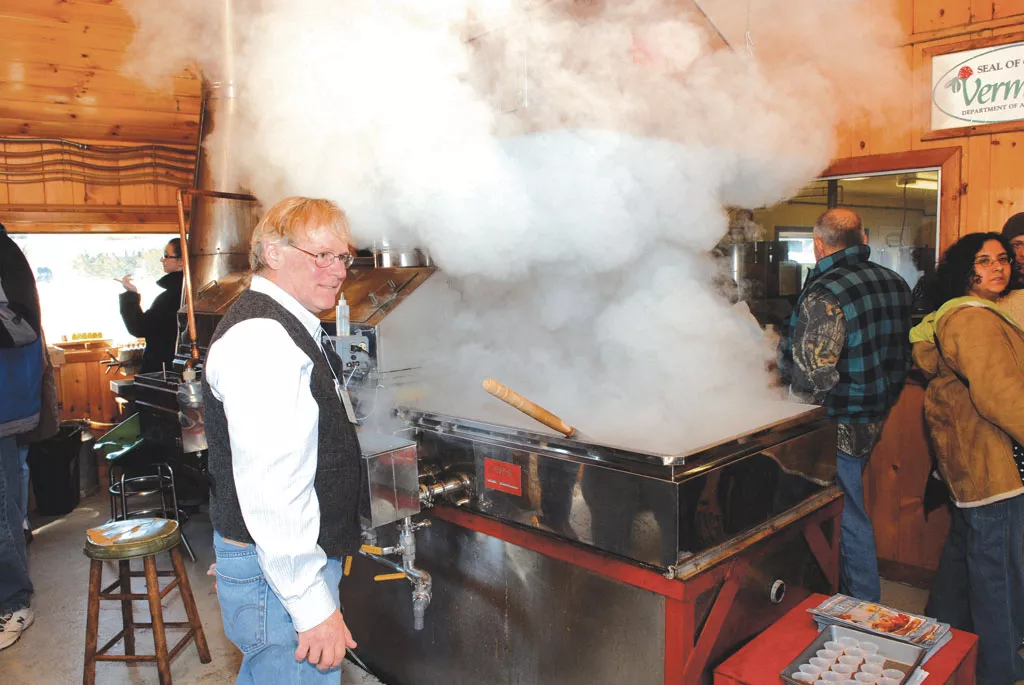 Dakin Farm
Inside the Dakin Farm sugarhouse in Ferrisburgh
A successful maple-sugaring season depends on a unique climate. Vermont strikes just the right balance of freezing nights and daytime thaws for good sap flow, making the state the leading maple-syrup producer in the U.S. And if you want to sample some of our "liquid gold," there are plenty of opportunities.
The 12th annual Maple Open House Weekend draws visitors to sugar shacks all over the state to celebrate its first agricultural crop of the year. Watch the sap bubble away over an open fire, help tap a tree or tour the sugarbush. Activities vary by sugarhouse, but you'll almost always be able to try a regional specialty: sugar on snow.
Even the most powerful sweet tooth will meet its match at the three-day Vermont Maple Festival, known to attract more than 50,000 people annually with street entertainment, a fiddlers' variety show and the Sap Run Road Race. Don't miss the mouthwatering edibles; maple cheesecake, maple pan-seared scallops and maple creemees are among the past highlights. Parting with this fest is sure to be sweet sorrow.
Maple Open House Weekend: Saturday, March 23, and Sunday, March 24. Visit vermontmaple.org/events to find a list of participating sugarhouses statewide. Free. Info, 763-7435.
Vermont Maple Festival: Friday, April 26, through Sunday, April 28, in downtown St. Albans. Most events are free. Info, 524-5800, vtmaplefestival.org.
La réussite de la saison des sucres dépend du climat. Au Vermont, l'équilibre entre les nuits de gel et les jours de dégel est idéal et favorise l'écoulement de la sève, ce qui fait de notre État le premier producteur de sirop d'érable aux États-Unis. Si vous avez envie de goûter l'un de nos délicieux sirops « d'or liquide », les occasions ne manquent pas.
Lors du 12e week-end annuel Portes ouvertes, les cabanes à sucre de tout le Vermont accueilleront les visiteurs pour célébrer la première récolte de l'année. Vous pourrez voir l'eau d'érable bouillir à gros bouillons, aider à entailler un érable ou faire une promenade dans l'érablière. Les activités varient d'une cabane à sucre à l'autre, mais partout vous aurez l'occasion de déguster une spécialité régionale : la tire sur la neige.
Même les plus grands friands de sucreries auront affaire à forte partie, car le Festival de l'érable du Vermont, qui dure trois jours, attire plus de 50 000 personnes chaque année. Plusieurs activités sont au programme : spectacles en plein air, concerts de violoneux et l'épreuve sur route Sap Run Road Race. Ne manquez pas de goûter l'un des incontournables : gâteau au fromage à l'érable, pétoncles sautés à l'érable ou crème glacée molle à l'érable, ou « creemee », comme on dit au Vermont. Quitter cette grande fête n'est pas toujours facile!
Maple Open House Weekend : samedi 23 mars et dimanche 24 mars. Visitez le site vermontmaple.org/events pour avoir une liste des cabanes à sucre participantes dans tout le Vermont. Gratuit. Info, 763-7435. Festival de l'érable du Vermont : du vendredi 26 au dimanche 28 avril, au centre-ville de Saint Albans. La plupart des événements sont gratuits. Info, 524-5800, vtmaplefestival.org.
Vermont Restaurant Week
You've gotta eat — so why not eat well? That seems to be the mindset of Vermont restaurateurs, who together have built a thriving food scene known for its creative cuisine and strong farm-to-table ethic. While dining out at any time of the year is a treat, it's worth saving your appetite for this spring's Vermont Restaurant Week. Organized annually by Seven Days, Vermont's alternative newsweekly, this nine-day event offers delicious deals through prix-fixe menus at participating local eateries. Seasonal dishes offer a true taste of place, while an array of food-themed events proves equally tempting. Pastry chefs go head-to-head in a popular dessert competition called the Sweet Start Smackdown, cinephiles devour mouthwatering foodie flicks at the movie theater, and notable experts contribute to a salon-style discussion of the price of going locavore. Pickings are plenty — so be sure to eat it all up.
The Sweet Start Smackdown on Wednesday, April 24, kicks off Vermont Restaurant Week, which runs from Friday, April 26, through Saturday, May 4. Visit vermontrestaurantweek.com to find a schedule of events and a list of participating restaurants statewide. Info, 864-5684.
Puisqu'il faut manger, autant bien manger, pas vrai? Voilà la mentalité des restaurateurs du Vermont qui, ensemble, ont établi un secteur prospère reconnu pour sa cuisine créative et ses solides principes éthiques favorisant les produits locaux. Il est toujours agréable de manger au restaurant, mais gardez-vous de l'appétit pour la Semaine des restaurants du Vermont qui a lieu au printemps. Organisé tous les ans par Seven Days, hebdomadaire alternatif vermontois, cet événement de neuf jours propose de délicieuses aubaines grâce à des menus à prix fixe dans les établissements participants. Les plats de saison vous permettent de goûter les saveurs du terroir, tandis qu'une série de thèmes culinaires vous fera faire toutes sortes de découvertes. Les pâtissiers s'affrontent lors d'un populaire concours de desserts appelé le Sweet Start Smackdown, les cinéphiles se régalent de films sur la cuisine et des experts participent à une discussion informelle sur les avantages et les inconvénients de devenir locavore. Concoctez votre propre menu!
Le concours Sweet Start Smackdown, le mercredi 24 avril, amorce la Semaine des restaurants du Vermont, qui s'étend du vendredi 26 avril au samedi 4 mai. Visitez le site vermontrestaurantweek.com pour avoir le calendrier des divers événements et une liste des restaurants participants dans tout le Vermont. Info, 864-5684.
Spielpalast Cabaret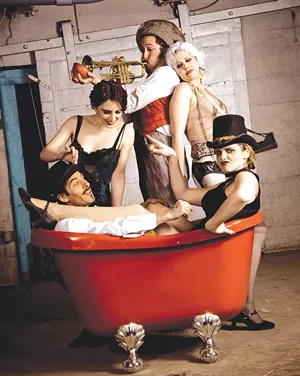 The saucy crew behind Burlington's Spielpalast Cabaret has burlesque entertainment down to an art. Their risqué business, which has toured as far away as the Edinburgh Fringe Festival in Scotland, ushers audience members inside a nightclub straight out of 1930s Berlin. What follows is a wanton whirlwind of original song, dance and satire — courtesy of a master of ceremonies, a dozen dancing ladies, cigar girls and other steamy characters with detailed fictional biographies. Top it off with a swinging house orchestra, scandalous costumes and a respect for history, and you have an avant-garde spectacle that pays homage to show biz with both wit and brains.
Friday, May 10, through Sunday, May 12; Friday, May 17, and Friday, May 18; Thursday, May 23, through Saturday, May 25 at Burlington City Hall Auditorium. Doors open at 7 p.m.; shows start at 8 p.m. All performances for adult audiences only; special "Scandalous Shows" on May 12, May 18 at 11 p.m., May 23 and May 25. Info, spielpalastcabaret.org.
Au Cabaret Spielpalast de Burlington, le style burlesque est pratiquement un art. La troupe, qui s'est produite aussi loin qu'au Fringe Festival d'Edimbourg, en Écosse, entraîne les spectateurs dans un night-club sorti tout droit du Berlin des années 1930. Il s'ensuit un tourbillon de chansons, de danses et de satires originales, présentées par un animateur, une douzaine de danseuses, des filles au cigare et d'autres personnages sulfureux aux biographies fictives détaillées. Ajoutez à cela un orchestre endiablé, des costumes provocants et le respect de l'histoire, et vous avez un spectacle d'avant-garde qui rend hommage au show-business de manière intelligente et humoristique.
Du vendredi 10 au dimanche 12 mai; vendredi 17 et samedi 18 mai du jeudi 23 au samedi 25 mai au City Hall Auditorium de Burlington. Ouverture des portes à 19 h; début du spectacle à 20 h. Pour public adulte seulement. Spectacles sulfureux additionnel le 12 mai, 18 mai à 23h, le 23 et el 25 mai. Info, spielpalastcabaret.org.
KeyBank Vermont City Marathon & Relay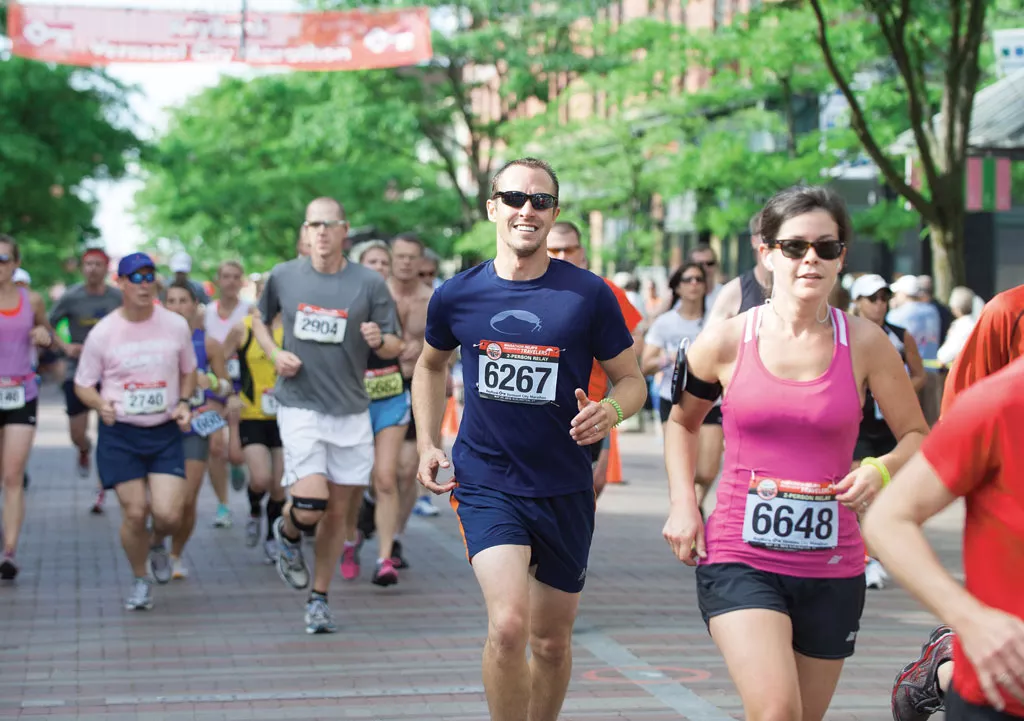 Keybank Vermont City Marathon
Twenty-six point two: That's the number to reach at Burlington's downtown marathon, now in its 25th year. The course begins and ends by the shores of Lake Champlain, covering city streets and waterfront bike paths in between. The scenic surroundings recently prompted Outside magazine to name it one of the five best destination marathons. Attracting 8000 athletes annually, the challenging race balances hills with plenty of straightaways — and keeps runners motivated with a variety of musical entertainment, from taiko drumming to blues tunes. Not interested in pounding the pavement? Join an estimated 30,000 onlookers and treat it like a spectator sport. The Church Street Marketplace, Battery Park, Oakledge Park and Waterfront Park are the best spots to see the "show."
Sunday, May 26, 8 a.m., in downtown Burlington. Info, 863-8412, vermontcitymarathon.org.
Vingt-six virgule deux : c'est le nombre de milles à parcourir pour terminer le marathon de Burlington, qui en est à sa 25e édition. Autrement dit, 42 kilomètres. La course commence et finit près des rives du lac Champlain, et passe par les rues de la ville et les pistes cyclables au bord de l'eau. Les magnifiques paysages environnants ont incité le magazine Outside à classer ce marathon parmi les cinq meilleurs aux États-Unis. Ce parcours exigeant, qui attire chaque année 8 000 athlètes, comporte un bon équilibre entre côtes et terrain plat, et stimule la motivation des coureurs en offrant toutes sortes de divertissements musicaux, depuis les tambours taiko jusqu'aux airs de blues. Vous n'êtes pas un adepte du jogging? Rejoignez les quelque 30 000 spectateurs qui suivent l'épreuve. La rue Church, le parc Battery, le parc Oakledge et le parc Waterfront sont les meilleurs endroits pour regarder passer la course.
Dimanche 26 mai, 8 h, au centre-ville de Burlington. Info, 863-8412, vermontcitymarathon.org.
Compagnie Marie Chouinard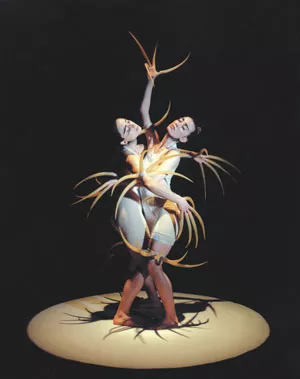 Since her 1978 debut, Montréal choreographer Marie Chouinard has gained a reputation as the "bad girl" of dance. Though her performances are often set to classical masterworks and draw on ballet positions, you won't see her company members leaping daintily in traditional leotards and tights. Chouinard's dancers have been known to growl, crack eggs onstage and display partial nudity.
On its third visit to Burlington's Flynn Center for the Performing Arts, the company presents two of Chouinard's most respected works: Le Sacre du Printemps (The Rite of Spring) & Prélude à l'après-midi d'un faune (Prelude to the Afternoon of a Faun). Filled with otherworldly beauty and a touch of humor, the daring pieces celebrate the might and motion of the human body.
Saturday, March 30, 8 p.m., at Flynn MainStage in Burlington. $15-45. Contains partial nudity; recommended for mature audiences. Info, 863-5966, flynntix.org.
Depuis ses débuts en 1978, la chorégraphe montréalaise Marie Chouinard a acquis la réputation de « mauvaise fille » de la danse. Bien que ses spectacles soient souvent basés sur des œuvres classiques et s'inspirent des positions de ballet, vous ne verrez jamais ses danseurs faire de gentils petits sauts en collant et justaucorps. Les membres de sa troupe ont plutôt tendance à grogner, à casser des œufs sur scène et à danser partiellement nus.
Lors de sa troisième prestation au Flynn Center for the Performing Arts de Burlington, la Compagnie Marie Chouinard présentera deux de ses chorégraphies les plus encensées : Le Sacre du Printemps & Prélude à l'après-midi d'un faune. Ces deux œuvres audacieuses osées célèbrent la puissance et le mouvement du corps humain avec une beauté éthérée et un brin d'humour.
Samedi 30 mars, 20 h, sur la grande scène du Flynn à Burlington. De 15 $ à 45 $. Scènes de nudité partielle, pour public adulte. Info, 863-5966, flynntix.org.