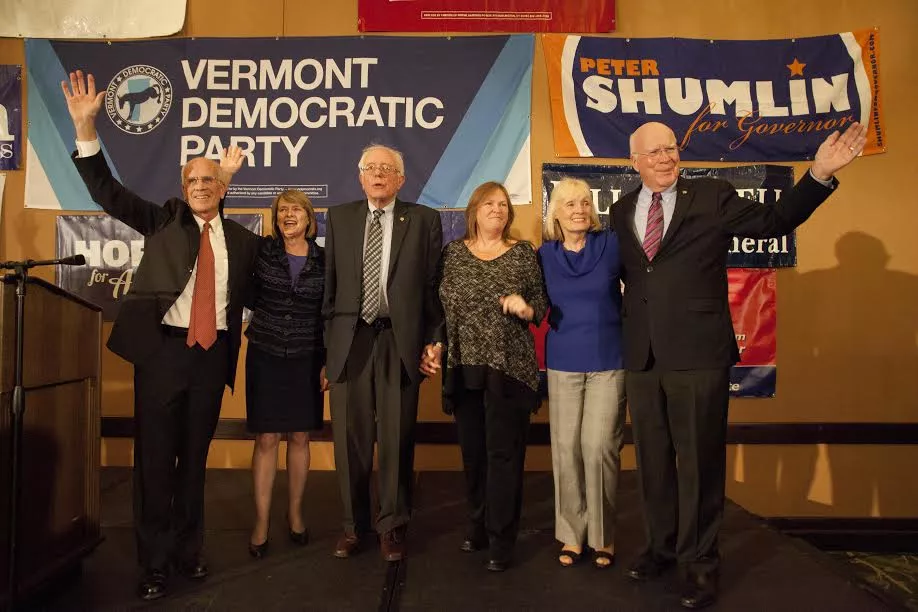 Matthew Thorsen
Vermont's congressional delegation — Rep. Peter Welch, Sen. Bernie Sanders and Sen. Patrick Leahy — and their spouses on Election Day 2014.
Sen. Bernie Sanders (I-Vt.) has had little trouble talking rank-and-file Democrats into supporting his surging presidential campaign. He's now the — wait for it — front-runner in Iowa and New Hampshire, and he's holding his own in national polls.
But, no surprise, the guy who penned a memoir called Outsider in the House is having trouble courting the insiders who play a major role in selecting the Democratic nominee.
Of the nearly 4,500 delegates who will cast a vote at next July's Democratic National Convention, an estimated 713 of them are so-called "superdelegates" — party muckety-mucks who can vote however they please. And according to Bloomberg's Mark Halperin and Jennifer Epstein, Democrat Hillary Clinton's campaign claimed last month that it had already secured more than 440 commitments from that crowd.
The Clinton campaign won't confirm its delegate count on the record, but the Hill has been keeping track of the endorsements of one block of superdelegates: Democratic members of Congress. Clinton has 119 of them, while Sanders has, um, none.
Well, maybe one. Though the independent senator has never served as a Democratic superdelegate before, senior adviser Tad Devine and Vermont Democratic Party executive director Conor Casey say they believe Sanders will be named one this year. Which is nice and all.
But even among Vermont's superdelegates, Sanders isn't doing so hot. If both he and former Democratic National Committee chair Howard Dean are given slots, Vermont will send nine superdelegates to the convention, according to Casey. Of those, four are backing Clinton, three are undecided and two — including Sanders himself — are backing the hometown hero.
Clinton's committed superdelegates include Dean, Gov. Shumlin, Sen. Patrick Leahy (D-Vt.) and national committeewoman Billi Gosh of Brookfield.
"Since 1980 I've been pushing to get more women involved in politics," says Gosh, who's attended every convention since 1984. "I can just feel that maybe we're gonna do it this time."
Vermont's undecideds include VDP chair Dottie Deans of Pomfret and vice chair Tim Jerman of Essex Junction. Both traveled to the New Hampshire Democratic Party's state convention last weekend and say they walked away impressed with both candidates.
"Hillary was awesome. I was very, very impressed by her speech," Deans says. "Bernie was great, as always."
Perhaps staying neutral for now is wise. Both Deans and Jerman face reelection to their posts in November. If they backed one of the presidential candidates too soon, supporters of another could try to topple them.
Then there's Congressman Peter Welch (D-Vt.), the highest-ranking Democrat in Vermont to avoid endorsing.
"I have believed from the beginning that this campaign was going to take some surprising twists and turns. I want to see it develop," he says. "I have immense respect for Bernie. I have immense respect for Hillary, too, and [Vice President Joe] Biden."
Why wait to weigh in? It's not like Welch doesn't know his options. Dude ran in the same congressional race as Sanders in 1988, endorsed him in 1990 and has served alongside him since 2006.
"In '90, the real question was whether the Democrats were going to run somebody and make it a three-way race," Welch explains, referring to the year the independent beat Republican incumbent Congressman Peter Smith. "I thought that was a very bad idea."
Is Welch just being politically cautious? After all, Shumlin got slammed for his ill-timed endorsement of Clinton just days before Sanders announced his candidacy.
"I would say 'respectful,'" Welch clarifies. "If anything, when you look back at the timing of [Leahy's and Shumlin's] endorsements, the quote-unquote 'safe' decision was to endorse the 'inevitable nominee.' And I didn't do that. So I would say it's respect for the voters."
Sanders has picked up one Vermont superdelegate other than himself: Democratic committeeman Rich Cassidy. The Burlington lawyer says he wrote Sanders nine months before the senator announced, urging him to join the race.
"I am absolutely delighted he's willing to take this challenge on," Cassidy says. "I think his effort is tremendously important, and I could not be more supportive."
Is Clinton's superdelegate lead insurmountable?
According to Halperin and Epstein, "Barring some major scandal or controversy, and given Hillary and Bill Clinton's long-standing ties to Democratic Party elites, overcoming her superdelegate edge would be quite a challenge" for Sanders or Biden, the latter of whom hasn't said whether he'll run.
But Devine, Sanders' senior adviser, argues quite the opposite.
"They can say they've got everybody, as far as I'm concerned," he says. "I don't view that as a real obstacle, because if Bernie does really well and wins with the voters, the pressure on superdelegates to step back from the process is going to be enormous."
Devine notes that Clinton had a hefty superdelegate lead over Barack Obama eight years ago, but the party eventually coalesced around the guy who won more delegates at the ballot box.
"I do wish we had 800 superdelegates right now," Devine says. "That would make it easier. But that's never been the path for Bernie."