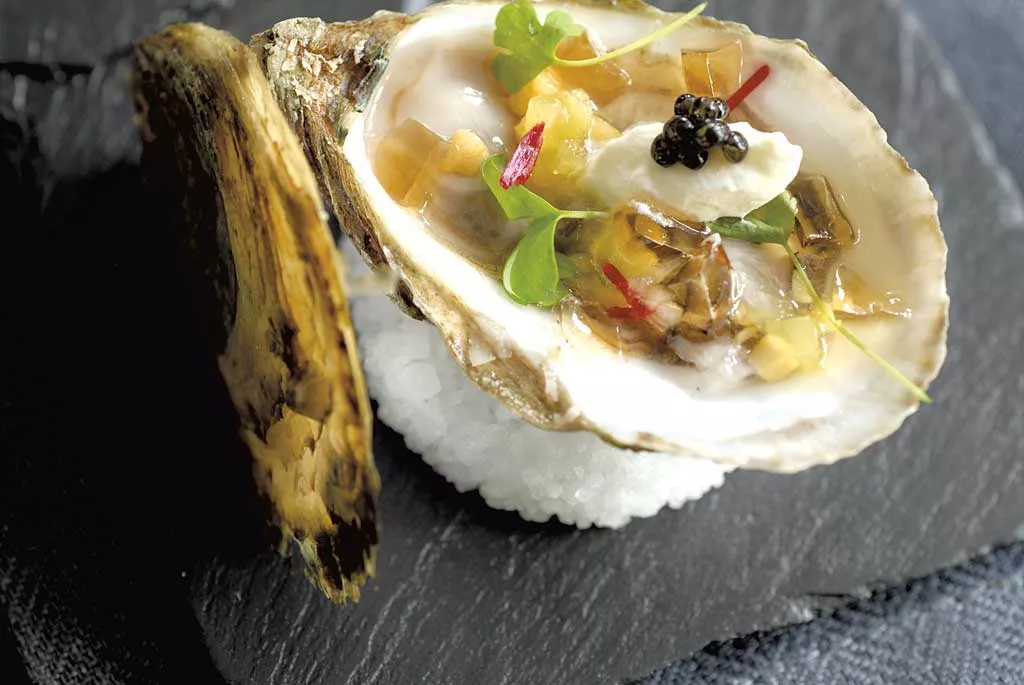 The server leaned forward, a wooden box in his hands. "Madame, would you like a cigar?" he asked. It was barely 15 minutes into dinner.
Maybe this is a Montréal thing I've never encountered before, I thought. When I politely declined, the server opened the box anyway; inside was a lone cheese "cigar" that had been rolled in panko flakes and fried. I took a bite: It was like heaven's version of a mozzarella stick.
Or was it? Halfway through the tasting menu at Restaurant Europea in the heart of downtown Montréal, I started to wonder how many of my perceptions were shaped by the theatrical presentation. Everything about the three-hour meal was dramatique, and my tasting notes became superlatives: sublime, diaphanous, intoxicating.
On the eve of Vermont Restaurant Week, everyone at Seven Days is focused on food and its provenance — as, no doubt, are many Vermonters. With "local" and "fresh" as the watchwords on everyone's lips, presentation — how food looks — can sometimes seem like a secondary concern. But my meal at Europea, one I haven't been able to forget, reminds me that style need not suffer at the hands of substance.
The restaurant is deeply rooted in its own Québec terroir, where chef-owner Jérôme Ferrer has obtained most of his ingredients over the past 12 years. At the same time, Ferrer gives European-style attention to the pacing and theatricality of a meal. It's a combination of freshness and flair that's slightly over the top, but it offers a lesson in having fun.
Eat local this week — but after Vermont Restaurant Week ends, head over the border for a surreal culinary experience with Europea's tasting menu. Here's a preview.
I arrived at Europea in late February at the invitation of the organizers of the Montréal en Lumière Festival. The sprawling music, art and theater event also has a gastronomic component: Dozens of restaurants host visiting chefs or roll out tasting menus to celebrate the province's cuisine.
Though hotshot chefs were pulling off foodie pyrotechnics all over town, I went to Europea expecting to find an excellent but predictable Québec-French dinner of sauced meats and impeccable desserts. The visiting chef for that evening, Jean-Paul Hartmann, hailed from France, as does Ferrer. With multiple eateries in his stable, Ferrer is to Montréal, I imagined, what Paul Kahan is to Chicago or Mario Batali is to New York.
The restaurant itself buttressed my preconceptions. Europea occupies a stately townhouse; velvet covers many surfaces, and elaborate red drapes frame brick walls. On that night the tables were adorned with miniature inuksuit, as well as single red roses poking from silver vases. The crowd skewed toward suits and pearls.
So the ensuing parade of tiny, trickster plates was quite a surprise. Each one was delivered and removed with stealth; each incorporated local produce, meat or cheese; and each came with its own illusion. Ribbony shards of duck charcuterie were pinned to a miniature clothing line; truffle-dusted popcorn was piled into a paper cone and perched in rock salt; a "lollipop" of chewy goat cheese and pesto came on a stick.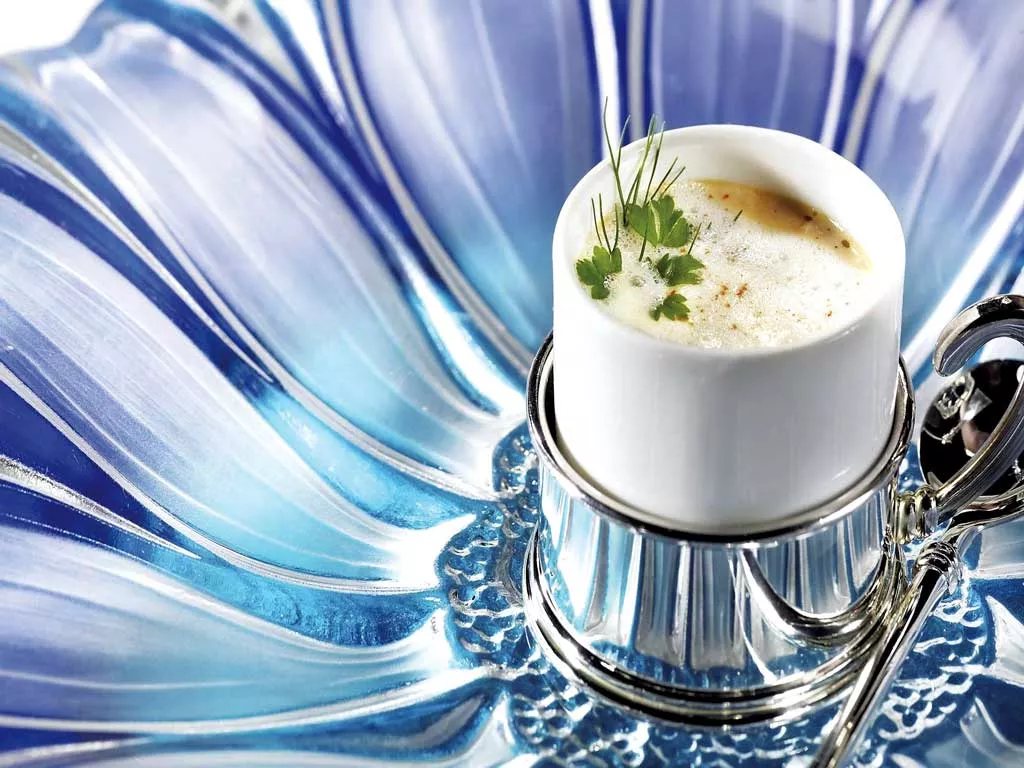 Courtesy Of Europea
Lobster cappuccino
Just when I thought we were through with the amuse-bouches, more appeared: breadsticks served with three kinds of exquisite butter; a "mock egg," or paper-thin flop of scallop, its center anointed with a golden mango coulis; and frothy, earthy, truffle-scented lobster "cappuccino" served in a coffee cup.
The wildest dish of all was a faux-wooden box that, when opened, gave off a scent of maplewood smoke. Inside was a dainty round of pastry topped by a smear of smoked salmon.
It was an hour or so before Hartmann's portion of the night commenced. His dishes — all impeccably composed and presented — seemed staid by comparison with our starters. However, it was hard to find fault with scallop-and-clam bouillabaisse in intense saffron broth, the clams still clinging to their shells. Equally impressive were a curl of halibut atop asparagus and silky squash purée, with a nickel-size blot of caviar clinging to its side and a vodka-star-anise-fish stock underneath; and a rack of Appalachian deer in a Grand Veneur sauce punctuated by intensely tart berries and sea buckthorn. Oh, and with a seared, melting hunk of foie gras on top.
After four courses from Hartmann, Ferrer's handiwork emerged again in the form of a Willy Wonka-esque metal tree whose limbs were decked out in hanging candies and bright-pink cotton candy, along with a cup of mock piña colada (mango with coconut panna cotta).
The three-hour meal at Europea was designed to take diners on a journey, and I was curious about the path that brought this chef into culinary theater.
Since Ferrer is fluent in French but far from proficient in English, Europea's publicist, Céline Kilidjian, translated his answers to my questions.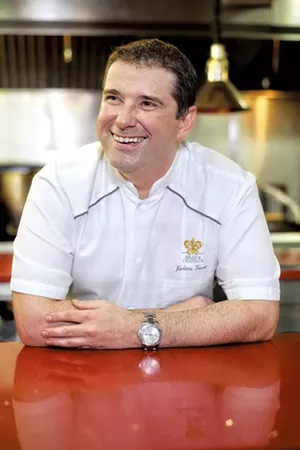 Courtesy Of Europea
Chef Jérôme Ferrer
SEVEN DAYS: When did you first tune in to the power of presentation with regard to food? Was it part of your training?
JéRôME FERRER: For me, gastronomy has a special dimension. It ought to be lived more as an experience than as a meal. As much as a meal can be fabulous, I feel it can sometimes become boring when it is always served the same way. I like a meal that has a certain twist to it, like in a play or in a good movie. Going to a gourmet restaurant is a short-lived pleasure. It is the experience as a whole that has to be remembered, and not the bill.
SD: Can you recall the first dish you found truly beautiful to look at, as well as delicious to eat?
JF: In my oldest memories, it is not a meal but actually a dessert that left a significant mark. In fact, it was my grandmother's candied-fruit rice cake. Not only was the preparation perfect, it was truly an explosion of flavors of vanilla, caramel and red fruits. It's a secret recipe that I will forever cherish.
SD: What was the concept behind Europea? And how do you continue to differentiate it from your other eateries?
JF: Personally, I believe more in a restaurant's identity rather than its concept. Our identity at the beginning was simple: a great product, a great price and a great service. Europea has always wanted to put in evidence Québec products and producers, and I consider a kitchen to be the best ambassador for local products. To be honest, I have never had the impression of wanting to be different than others, but it seems like our work indeed differentiates us from others.
SD: Many of the dishes at Europea are startling and theatrical in their presentation. Can you talk about the creative process behind at least one of the dishes — perhaps the salmon in the smoke-filled book/box?
JF: I was lucky when I arrived in the province of Québec, because it is here that I was able to truly develop my signature, having no landmarks on the province's, Montréal's and Canada's culinary identity. I truly let my imagination go loose.
As early as my first year here, I understood that the culinary habits came from a varied influence due to the very present multiculturalism. A trip across Canada from east to west with little winks to certain communities here and there is something I try to incorporate [in]to my cooking. Cooking is a question of personal taste, and the hardest thing to do as a cook is to act as a unifier. Through my vision of work, it is certainly something I express with my dishes. The maplewood-smoked salmon in a book expresses the beginning of a story. The salmon itself is a fish that is part of Canada's culinary identity, and the maplewood smoking is the pure evidence of Québec's richness.
SD: Do you think Québecois or French chefs pay more attention to presentation than in other parts of Canada, or than chefs in the United States?
JF: A very interesting question ... Having had the chance to visit many provinces in Canada, I find that some of them are well ahead of Québec. Ontario and British Columbia made huge steps in valorizing high-quality natural products. I find the architecture of tastes more important, in my opinion, than the architecture of colors — because they don't blend. I was so impressed that I don't see Québec as the pioneer of gastronomy in Canada.
SD: Where do you like to eat in Montréal when you are not working?
JF: My work truly is my passion, and my institutions become my home, considering the great amount of quality time I spend there. When it is time to take it easy and relax, I always opt for friendly meetings either at home or at a friend's place. Whatever the quality of the food is, it is always a pleasure, and I consider it as the best table in town.
Restaurant Europea, 1227 rue de la Montagne, Montréal, 514-398-9229. europea.ca.
The original print version of this article was headlined "Trickery at the Table"