Today's Vermonters practically have a "shop local" gene in their DNA. We've bemoaned the stores that have shuttered their doors since the economy tanked in 2008, and we've been conditioned to bolster the independent businesses that still stand, lest they, too, someday leave us. But their fates may not be as dire as we fear. Like some bizarro alternate reality, many indie storefronts exist solely online these days.
We're talking, of course, about Etsy, an internet marketplace that breeds small businesses. Launched in 2005, the popular site — dubbed "a crafty cross between Amazon and eBay" by the New York Times — allows anyone with a camera and a computer to create his or her own virtual shop of handmade or vintage items. Vendors sacrifice a 20-cent listing fee per item and 3.5 percent of each sale to gain access to a bustling global marketplace — one that was responsible for $525.6 million in sales last year. And Etsy's "shop local" search tab reveals that plenty of Vermonters are in on the deal.
Some of these locally run Etsy shops — such as New Duds, the fabric-goods business of Colchester's Tessa and Torrey Valyou — have turned into thriving full-time jobs. Others peddle such niche products that even a Church Street address wouldn't keep them in brick-and-mortar business, yet their internet sales flourish. We culled the site, breaking down sales stats, to introduce you to some of Vermont's most successful Etsy artists you've never heard of.
C.F.
Native Vermont Studio: Operated by Ryan Fowler, Middlebury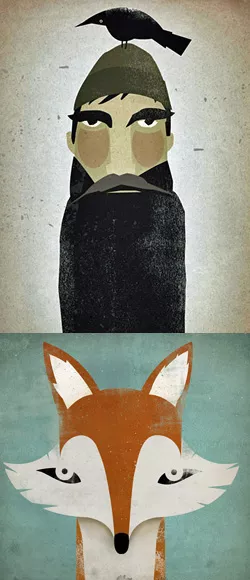 1895 sales since July 15, 2009 (approximately 59 sales/month)
"This is a portrait of Timothy Burr," begins the product description for Ryan Fowler's "Lumberjack and Crow" series. "He goes by Tim. Tim is a third-generation lumberjack in the Northeast Kingdom of Vermont. Every morning at dawn, he takes Otter Road up Willoughby Gap in a little red truck to a plot of forested land that has been in his family nearly 127 years. He'll cut trees and walk the forest until dusk each day. Tim still prefers his trusted axe over a chainsaw."
Tim Burr doesn't exist. But his portrait — as an austere, fully bearded man with a crow perched on his knit cap — was one of the first pieces Fowler, an illustrator who splits his time between Chicago and Middlebury, posted to Etsy. "I thought of my father-in-law, who would go out and chop wood," he recalls. "It was sort of a quintessential Vermont piece."
That's true of many items in Native Vermont Studio, a shop filled with images of whimsical animals (such as dogs on skis), vintage-style advertisements for maple syrup and "typographic wall art" listing the names of local mountains. Some images, like the lumberjack, come with fictional stories; others have tales that are actually true. They all seem tailor-made for, well, native Vermonters — yet Fowler's customers tend to be based farther afield.
"I would sell tons of [the lumberjack] in the Netherlands," says Fowler. "I thought, There's either a lot of Vermonters in the Netherlands, or they're similar people." It's the same story with his other illustrations and prints. "It's weird thinking there's a pub in Ireland that has something that has Vermont on it," he muses.
Fowler's Etsy mission? To make affordable art for others — signed prints start at $20 — while making a living for himself. Since leaving his job as a teacher and department chair at a Chicago boarding school in January 2011 and setting up his Middlebury operations, he has more than doubled his salary ... "not that that's necessarily saying a lot," he jokes. "When I stepped away from my full-time job, the opportunities really picked up in my work ... That was very reassuring."
C.F.
The Vermont Branch Company: Operated by Tonya and Michael Gunn, Westfield
1745 sales since October 20, 2009 (approximately 60 sales/month)
Secondary Etsy shop: Natural Earth Farm and Fiber Studio
964 sales since September 13, 2005 (approximately 12 sales/month)
Deep in the wooded heart of the Northeast Kingdom resides Etsy's version of the von Trapp family. Westfield's Tonya and Michael Gunn have seven children, and they don't sing; they craft.
They run two family businesses: the Vermont Branch Company, which sells rustic wedding and home décor; and Natural Earth Farm and Fiber Studio, which focuses on eco-friendly children's toys. Nearly all of their products — from birch-branch centerpieces to wooden rhythm sticks — are cut and sanded from branches selectively harvested from friends' fields.
"Michael will say, 'At two o'clock, we're gonna go out to collect,' and there's usually three or four [children] who will go with him. Even our 4-year-old will help clip the branches," says Tonya. "We all work together." Their 16-year-old son recently launched his own Etsy shop, Nolan's Handcrafts, selling buttons and instrument wall hangers also made of wood.
The Gunns have supported themselves solely from Etsy and a few related online wholesale endeavors since October 2009, shortly after they tapped into the wedding market — arguably the source of Etsy's most coveted clientele. But the family lives thriftily on a small homestead, growing its own veggies and driving around in one old car. ("We still have dial-up internet, and we're doing just fine," notes Tonya.) They're less concerned with the bottom line than with leading a simple life.
"We could probably earn more money if we both worked outside the home," Tonya says. "It's more important for us to have time to be together."
C.F.
Sharp mAntiques: Operated by Matt Brittenham, Montpelier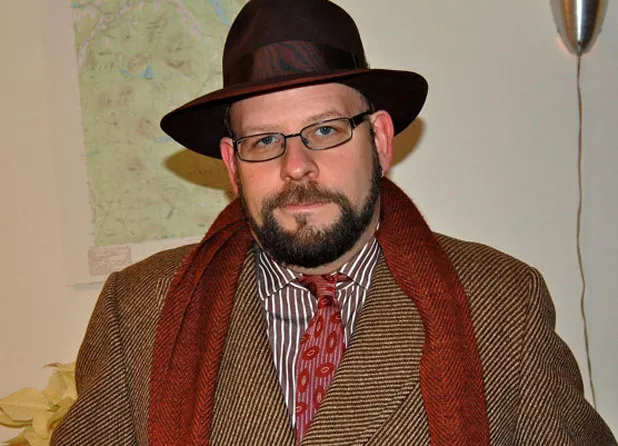 205 sales since October 18, 2011 (approximately 40 sales/month)
Etsy has a reputation for being a girlie place — that's the simplest reason Matt Brittenham stands out.
"Etsy is crafty-woman-centric," he says. "You're competing against all the other crafty women." So after a stint selling handmade aprons, Brittenham, 40, turned to something manlier: vintage razors, men's hats and blazers. It hasn't made him rich, and he still has a day job — IT support for the Montpelier school district — but in just five months Brittenham has established a solid customer base.
He's also polished his identity as "Mr. Sharpman," on- and offline. You might catch him walking around downtown Montpelier in a gray Stetson fedora and bespoke suit jacket.
"When I get an interest in something, it sometimes gets to the level of geekery," Brittenham admits. Such was the case with vintage razors. Shaving had long frustrated Brittenham, who has worn a full beard since he was 17 and shaves his head every day. A year and a half ago he began hunting online for an alternative to disposable razors.
Pretty soon, Brittenham had tapped into the online shaving hobbyist community. (Yes, there is one. Check out badgerandblade.com, named after the hair used in high-end shaving brushes.) He started buying vintage razors, primarily on eBay, which he cleans, refurbishes, polishes and sells on Etsy.
Brittenham used to sell on eBay, too, but left that site because of the high seller's fee — 9 percent compared with Etsy's 3.5 percent. Besides, eBay can feel like "the Wild West," he says. Etsy's shop format allows sellers to establish regular customers and a sense of trust. "They're more inclined to be paying top dollar for [your product], because they don't think it's just some junk you scrounged up," he says.
After all, Brittenham shaves with vintage razors, too. His favorite? The gold-plated 1934 Gillette Aristocrat, which comes in a gold-plated case lined with rich blue velvet.
Now, that's sharp.
M.J.
One Piece at a Time: Operated by Jean Samples, Chester
10,672 sales since November 11, 2007 (approximately 202 sales/month)
Jean Samples has tried the brick-and-mortar retail thing. Years ago, she had a struggling bead shop in Bellows Falls. "To be stuck in a shop eight hours a day without any customers makes you crazy," she says.
These days, she's one of the most successful Etsy sellers in Vermont.
It took her a while to hit her stride online. In 2007, while working a day job as a nurse, Samples, 58, started selling handmade jewelry. "But there are, I don't know how many, millions of people selling handmade jewelry on Etsy," she says. So, in 2009, she switched to jewelry supplies.
These days her shop, called One Piece at a Time, is brimming with filigree, patina brass, vintage chains, glass stones and clasps, most of which she buys wholesale from warehouses in the Providence, R.I., area, once the jewelry capital of the world.
Last year, Samples quit her day job. She still works two shifts as a nurse on weekends, but Etsy is her career. Last year, she says, she made $34,000 before taxes.
It's a lot of work, though. "It's definitely seven days a week," she says. "It's kind of easy to do 10- and 12-hour days when you're at home." That load is one reason Samples invited her daughter, Jessica, who had been juggling two jobs in Virginia Beach, to Vermont to work with her.
Jessica now has three Etsy shops of her own: Vintage Wrapture, You Are Not the Boss of Me and the Bitter Peacock. "She has a job as a waitress, but it helps her through the hard times," says her mom.
The key to a good Etsy shop, Samples says, is simple: "You have to find what people want, and you have to have a wide variety." From there, she adds, the possibilities are endless. "You have the world, and you have 24 hours a day and seven days a week."
M.J.
Emily Balivet: Operated by Emily Balivet, Pittsford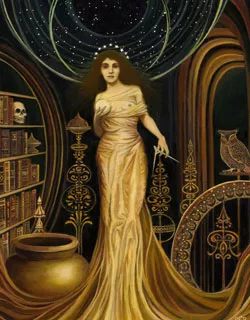 4612 sales since March 28, 2006 (approximately 63 sales/month)
Etsy was still relatively new when Emily Balivet set up shop there. A thirtysomething self-taught artist who had been painting all her life, she had built up a stockpile of paintings over the years — most of which she categorizes as "mythological goddess art." She'd never marketed her work before.
Balivet did her research. She read all of Etsy's seller guides and learned to post her art not just on her shop page but on Flickr, Facebook and Twitter. She went to craftcount.com, which tracks the top Etsy shops, and took note of what was selling well.
Before she knew it, she had a full-time job.
"The door just absolutely burst open," says Balivet, who worked as a waitress before Etsy. "If I had my art in a gallery, how many people are going to walk through? When you have it on the internet, thousands of people see it."
Her paintings of goddesses are now licensed to a Los Angeles company that prints them on leather bags and shoes. Balivet finds she hardly needs to market herself anymore. "The internet is fascinating that way," she says. "If I post something new on my Facebook page [and] send it along to Twitter, people just post it themselves; they do the marketing for me."
When the recession hit in 2008, Balivet says she was scared that her Etsy bubble would burst. Surprisingly, sales went up. "I found that people got more emotional about art," she says. "When all the local stores around me were suffering, everyone was worried. I just couldn't believe it. People need art like they need food."
Balivet still seems awestruck by the good fortune that has allowed her to paint every day and work from home so she can spend more time with her kids. "I'm so friggin' lucky," she says.
M.J.
Bottles Sold Cheap: Operated by Dave Correira, Groton
1535 sales since December 2, 2010 (approximately 98 sales/month)
Who buys old bottles? "Everybody does," says Dave Correira.
Take it from a guy who has been selling them since he was 14. Growing up in Massachusetts, Correira used to accompany his landscaper dad to old dump sites and dig bottles out of the ground. He'd sell his loot at flea markets.
Aside from a few stints working for UPS, Correira, now 43, has made a living from old bottles. Milk bottles, perfume bottles, soda and beer bottles, poison and ink bottles (some dating back to 1790) — you name it, he sells it for cheap. Some people buy them as home décor or as wedding centerpieces; others buy them as collectibles. Correira has seen rare bottles sell for as much as $100,000 on eBay. He's sold one himself for $1000.
Correira started selling on eBay in 1998 after buying and emptying three warehouses of old bottle factories in Portland, Maine. The buildings were relatively inexpensive, he says, but he spent eight months cleaning them out. He recycled about 56 tons of glass and is still selling off the bottles he salvaged. "I probably will until I die," he says.
He estimates he has about 500,000 left in his Groton outbuildings.
When asked how he markets his bottles, Correira notes bluntly that, unlike other Etsy sellers, he doesn't post elaborate descriptions of his products. "I don't know why people do that," he says. "What am I going to call it? My stuff sells itself, apparently."
M.J.