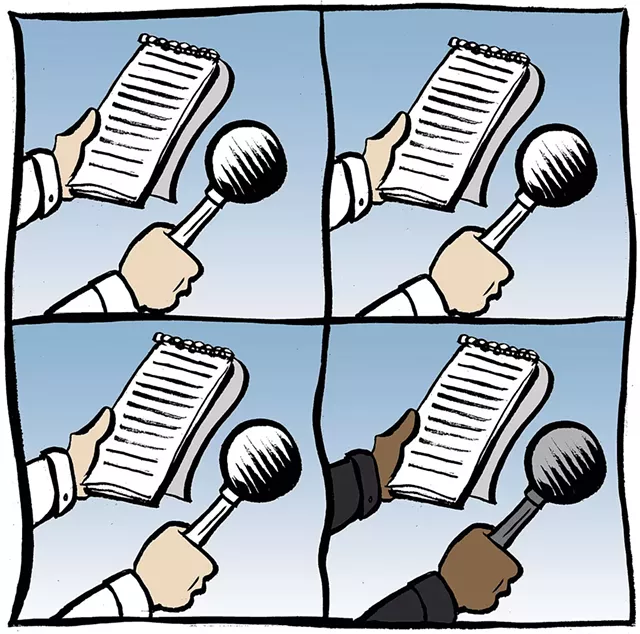 Would it surprise you to learn that newsrooms in Vermont are, by most metrics, stunningly low in diversity?
The state's news organizations do well in terms of gender diversity, from reportorial ranks to top management. But when it comes to ethnicity and race, our newsrooms are even less diverse than predominantly white Vermont. Two of the most prominent news outlets — Vermont Public Radio and Seven Days — have no people of color on their news staffs. VTDigger.org has one, said managing editor Colin Meyn. The Burlington Free Press, according to executive editor Emilie Stigliani, has two. A scan of online staff listings (with photos) shows that WCAX-TV has two and WPTZ-TV has one.
Leaders in the business agree that diversity makes for better journalism. The News Media Alliance, an industry advocacy group, asserts that a diverse newsroom can "help ensure that the final news products will tell the widest possible range of stories that best meet the audience's needs."
Vermont news editors share that belief. "We want everybody in Vermont to see themselves in our work," said VPR news director Sarah Ashworth. "We're not there yet."
VTDigger.org founder and editor Anne Galloway noted that the state's homogeneity "is not an excuse for lack of diversity in newsrooms. We need to understand our communities of color, especially with incidents of discrimination. We need to understand how and why it's happening and how Vermonters of color are responding."
Galloway cited recent examples of racial tensions in the state. In 2016, a plan to place 25 Syrian refugee families in Rutland sparked deep divisions in the city. Last year, Kiah Morris resigned her seat in the state House after becoming a target of racial harassment. Recently, the town of Hartford saw bitter debate over a proposed policy to shield undocumented immigrants from federal agents.
If Vermont editors embrace the value of diversity, they haven't been able to translate it into real life.
"We would love to address [diversity]," said Matthew Roy, Seven Days' news and politics editor. But... "We hire a lot of Vermonters. If you know about Town Meeting Day, state politics and culture, you've got a big advantage."
"Getting a [diverse] pool of candidates takes a lot of work," said Stigliani. "You have to tap into networks of people who might help get the word out. It's too late to do that when you have an opening to fill."
Editors say they are making job descriptions as inclusive as possible and posting them on websites frequented by journalists of color. Black journalist Eva McKend, a former WCAX anchor who's now based in Washington, D.C., said that may not be enough. "All newsrooms should invest in attending the National Association of Black Journalists conference," she said. "Be really intentional about seeking out those voices." Personal contact, McKend said, may help someone overcome any reservations about moving to a predominantly white state.
Curtiss Reed Jr., executive director of the Vermont Partnership for Fairness and Diversity, acknowledged that hiring can be a challenge — but offered more immediate steps for news organizations to take. First, coverage shouldn't start and end with racial issues. "Often, Vermonters of color are cast in the victim's role," he said. "Stories are mostly about social justice issues. But we have a wide range of experiences."
Reed added that journalists shouldn't turn to people of color only when the story is about race. "Who are your subject matter experts of color?" Reed asked. "Your Rolodexes should be reflective of the contributions that Vermonters of color are making in every area of life."
Journalists often consult their Rolodexes, analog or digital, when they need a quick quote on deadline. If they don't invest time in expanding their circle of sources, they can end up featuring the same voices over and over again. "Your kitchen cabinet may have 50 spices, but you're only using salt, pepper and garlic," said Reed. "The stories will be all the richer if you use everything in the cabinet."
Those who have worked with journalists of color testify to the benefits of a diverse workplace. "Eva brought voices we hadn't seen on air before," WCAX news director Roger Garrity said of his former anchor. "She opened our eyes and our viewers' eyes."
The same is true at Seven Days. Staff writer Kymelya Sari worked in our shop for nearly three years, often covering immigration issues and New American communities, before returning to her native Singapore in February. Her influence is still felt. "She developed an exhaustive source list for her colleagues," said Roy. "We are making attempts to continue her work."
Sari and McKend produced insightful reporting that contributed to a fuller picture of Vermont. But for the most part, newsroom staffing doesn't reflect the state we're supposed to be covering. Too often, our coverage fails to include a well-rounded depiction of Vermonters of color. That helps perpetuate the stereotype of Vermont as a white state in which people of color remain an "other" that largely exists as a focal point for conflict. Experience suggests that if our newsrooms were more diverse, we'd be more likely to recognize all Vermonters as equal participants in all aspects of life.
The Freeps' Bleak Future
It's too soon to tell how the merger of Gannett and GateHouse Media, announced on Monday, will affect the Gannett-owned Burlington Free Press. But chances are, it won't be pretty.
The merger will combine the two largest newspaper chains in America into one giant entity. The combined company aims to capture up to $300 million in "synergies," and you know what that means: cutbacks and layoffs. Most of the savings will come from combining management and operations functions, but newsrooms are certain to bear some of the burden.
Last week, Rick Edmonds of the Poynter Institute took a look at how the merger would affect Gannett and GateHouse news operations. "Both chains have been moving to group editors with responsibility for several papers," he wrote, as well as launching regional investigative projects using assets from multiple papers. That method of stretching resources is likely to grow, according to Edmonds. Which is fine, but it means a further retreat from the everyday reporting that makes a paper relevant to its community.
Recent circulation figures show that many readers have already decided the Free Press is irrelevant. When last we checked, in February, the paper's print circulation in the fourth quarter of 2018 was 15,040 for the Sunday paper and 11,765 for the daily. That represents a decrease of 16 and 18 percent, respectively, from the same period in 2017. (All numbers are from the Alliance for Audited Media.)
Well, the trend has only continued since. In the second quarter of 2019, circulation dropped to 12,374 Sunday and 9,558 daily. In a mere six months, that's a decline of nearly 18 percent on Sundays and 19 percent for the daily.
The good folks at Gannett would likely say that this reflects a pivot to digital news delivery. (I'm guessing, since they didn't return requests for comment.) Unfortunately, the Free Press is also shrinking in the digital space. Page views of its content have dropped by nearly 20 percent in the past year and unique browsers are about 17 percent lower. Even worse, paid digital subscriptions have slipped, as well — in spite of seemingly never-ending "limited time offers" of full access for 99 cents per month.
Why is the digital Free Press in decline? Simple answer: a lack of original content. A review of digital news offerings over the past week included a few noteworthy pieces of journalism, including a story about an overdue report on child sexual abuse from the Roman Catholic Diocese of Burlington, a look at how parents of transgender children make decisions about surgery and a court ruling in a fair-housing case.
But reported pieces were outnumbered by obvious clickbait. There were numerous stories that relied on available material without any actual reporting, and quite a few feature pieces on hard-hitting subjects like how to celebrate National Ice Cream Sandwich Day in Vermont, the importance of wearing life jackets while on the water, Burlington city rules on bonfires and a how-to guide on avoiding car-deer collisions. The latter advised readers to turn on their headlights after dark and honk their horns to try to warn off deer.
It's not for lack of effort. Free Press staffers work hard, but they operate on a shoestring. There aren't enough bodies to produce good content on a daily basis.
The Gannett-GateHouse merger is likely to make the situation worse. On his Media Nation blog, Northeastern University journalism associate professor Dan Kennedy recently wrote of the devastation wreaked on newspapers by private equity ownership. The conventional wisdom is that newspapers are dying because so many advertisers and readers have migrated to websites such as Craigslist, Google and Facebook. True, but Kennedy pointed out that some papers continue to thrive, such as Minneapolis' independently owned Star Tribune, while new business models are buoying the fortunes of papers like the Philadelphia Inquirer and Salt Lake Tribune. Private equity firms, by contrast, are driven by one simple motivation: maximizing profit.
Gannett, for all its faults, is fundamentally a news business. This merger will subject Gannett properties to the tender mercies of New Media Investment Group, the private equity firm that owns GateHouse. If Kennedy is right, those who depend on Gannett papers for local news are about to experience disappointment on a whole new scale.
Media Notes
Speaking of the Free Press, its corps of reporters is down by one. Jess Aloe wrapped up a three-year stint in Burlington last week and has moved to Cambridge, Mass.
Aloe declined to comment beyond a series of tweets, in which she said her decision had nothing to do with the workplace and everything to do with location. Her family and her partner live in the Boston area, and she wanted to be closer to them.
Stigliani praised her former reporter's "passion for watchdog journalism and for covering social issues," as well as her doggedness in discovering stories through public records requests.
Meanwhile, a new face is about to arrive at WCAX. Starting at the end of August, Calvin Cutler will be the new political reporter for Channel 3. He will take the place of Neal Goswami, who took a job in June doing communications for the University of Vermont Medical Center.
Cutler is a Massachusetts native who graduated from college in 2017 and spent the last two years at KNBN-TV in Rapid City, S.D. He'll have some big shoes to fill. The last three occupants of that spot were experienced — Goswami, Kyle Midura and Kristin Carlson.
"Calvin's got a lot to learn," Garrity acknowledged. He added that he asked multiple print journalists about moving to television, but none were interested. "Our first choice was an experienced political reporter," Garrity said. "Our second was another Neal. Third choice was to find a good TV person."
Third choice. Best wishes, Mr. Cutler.
Correction August 7, 2019: VTDigger has one person of color on its staff. An earlier version of this story contained incorrect information provided by Digger.