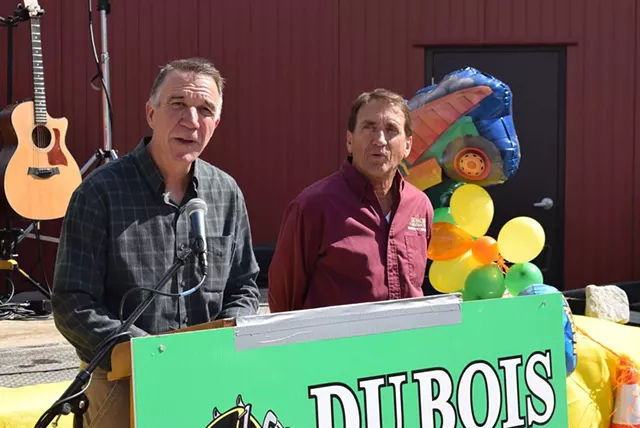 TERRI HALLENBECK
Republican gubernatorial candidate Phil Scott (left) announces he will sell his share in DuBois Construction if he's elected governor, as co-owner Don DuBois looks on Saturday outside the company's Middlesex offices.
If Vermont had an ethics enforcement process with any power, Gov. Phil Scott might be facing an official investigation. But it doesn't, so he won't.
Before he became governor, Scott owned half of DuBois Construction, a business that frequently bids on state contracts. His share was worth an estimated $2.5 million. When Scott took office in January 2017, he announced that he would sell his half-interest back to the company. But the firm lacked the cash for a straight purchase. Instead, the governor loaned the $2.5 million to DuBois on very friendly terms: a 20-year note at 3 percent interest with no money down and, at least initially, interest-only payments.
Virtually all of Scott's net worth is tied up in the loan, which also provides him a steady income. According to Scott's 2017 tax return, which he released last week when filing to run for a second term, he received $75,000 in interest payments last year from DuBois Construction.
Since Scott took office, the company has continued to bid on projects and win contracts. In 2017 it landed one, worth $250,000, to perform earthwork for the Department of Buildings and General Services, according to the state's Open Data portal. Between 2001 and 2016, when Scott was a state senator and lieutenant governor, DuBois earned more than $4 million from state contracts.
Political opponents, good-government organizations and reporters have questioned Scott's relationship with DuBois in the past, but there's a new development. Last week, the State Ethics Commission formally approved a code of ethics, and Scott's arrangement seems to violate it.
The key passage: "A public official shall avoid any actions that create a potential or actual conflict of interest with their official duties ... A public official should avoid the appearance of a potential or actual conflict of interest." (Italics are mine.)
"We have a governor whose administration has given large contracts to a business that gives the governor large amounts of money," said Paul Burns, executive director of the Vermont Public Interest Research Group. "By its very nature, it's a conflict of interest."
Scott's chief counsel, Jaye Pershing Johnson, defended the arrangement. The governor has no management control of DuBois Construction, she argued. "He's not a stakeholder. He's a creditor. He stands in the shoes of any other creditor. If the company goes under, there are laws on how creditors are paid."
True, but creditors might have to settle for a fraction of what they're owed. A successful DuBois is better for Scott's financial well-being.
Johnson also pointed to the code's definition of conflict, which refers to matters "pending before the official or before the agency or public body in which the official holds office or is employed." She asserted that no state contracts are "pending before" Scott. "The governor is removed from the contracting process," she said.
Sure, but his appointees are involved and could be tempted to tip the scales. There's no evidence of that, but there's "potential" and "appearance."
In any case, the ethics commission can't do much about it. "It's underfunded, understaffed and lacks authority," said Secretary of State Jim Condos, who lobbied the legislature for a much stronger panel.
"It's great to have a resource where people can air their concerns, but it needs authority," echoed Eric LaMontagne, interim executive director of Campaign for Vermont, a nonprofit advocacy group that lobbies on ethics and transparency issues. The commission is nothing more than a funnel — taking in complaints and routing them to other authorities, such as the Department of Human Resources or the attorney general.
State lawmakers have long been reluctant to adopt strictures that could apply to themselves. Many resent the implication that they need to be regulated and feel that disclosure is an unwarranted intrusion on their privacy. Which seems to lose sight of the fact that they are public servants with special obligations to the electorate. The 2017 passage of the bill creating the ethics commission was an exercise in watering down at every stop along the way, ending with a body lacking in power and resources.
One thing the commission can do, now that it has an ethics code to guide its work, is issue advisory opinions. From now on, if an inquiry is made, "we will do an advisory opinion on it," said Stowe attorney and corporate ethics consultant Madeline Motta, chair of the five-member commission. "It will be judged on the new state ethics code."
She shouldn't have to wait long. VPIRG's Burns vows to file an inquiry posthaste.
The commission has no authority to investigate or punish, but it does wield the intangible power of public embarrassment. Scott may soon find himself facing questions about DuBois all over again, but this time with a sharper edge.
And legislative Democrats, if they ever think purely political thoughts, may be kicking themselves for creating a toothless commission. "Governor Under Investigation" would make a hell of a campaign season headline, would it not?
Slim Disclosures
The May 31 filing deadline for candidates in Vermont's August primary was also the due date for financial disclosures required for the first time this year under the same law that created the ethics commission. But in most cases, the disclosures are so meager they're barely worth reading.
For which we can thank, once again, the legislature, which uses the gentlest of touches when setting rules for politicos.
Candidates are required to report any source of income totaling more than $5,000, including salaries and investments. But the actual amount isn't disclosed, and non-salary income is described in very broad terms, such as "investments" or "rental income."
A few random examples to illustrate what's missing:
Senate President Pro Tempore Tim Ashe (D/P-Chittenden) reports self-employment in "development consulting." Consulting for whom? And for how much?
Take his colleague, Sen. Chris Pearson (P/D-Chittenden). He, too, has a consulting business. Who are his clients? Can't tell from this form. But when he was a state representative, he consulted for Vermont Leads, an advocacy group fighting for single-payer health care — while he served on the House Health Care Committee, no less.
Crossing the aisle, let's take a look at Sen. Randy Brock (R-Franklin), the principal at Rockledge Risk Advisors. Who gets his advice, and how much is it worth? Apparently quite a bit, given his investments in stocks, mutual funds and real estate, and his wife's "investments in fine art." Each is worth somewhere above $5,000. How far above? We don't know.
"This is about where your money is coming from and where it's spent, and how it might affect you," said Condos, who advocates for more complete financial disclosure.
The situation's somewhat better for statewide candidates. They file the same weak disclosure — but they also have to include their most recent federal tax return. That's how we know that the governor earned $75,000 from DuBois Construction last year. (Though he wasn't required to, Scott alluded to the interest income in a handwritten note in the margins of his disclosure.)
To add insult to injury, the legislation included no penalties for failure to disclose. As the Burlington Free Press first reported, Republican gubernatorial candidate Keith Stern has so far refused to turn in his 1040 and Democrat James Ehlers has yet to submit his. Condos has no recourse. "This is the law. You're supposed to obey it," he said.
His verbal finger-wag is the least, and the most, he can do.
The Progs Defer
At a Sunday meeting in Barre, members of the Vermont Progressive Party considered endorsing candidates for statewide office. But in the race for governor, they decided not to decide. This means the party is unlikely to weigh in until after the Democratic primary on August 14.
Three of the four Dem contenders were on hand to try to convince Progressives of their lefty bona fides: environmental advocate Ehlers, former utility executive Christine Hallquist and anti-poverty advocate Brenda Siegel. Only 14-year-old Ethan Sonneborn was absent.
When it came time for endorsements, a motion was made to postpone action. Those who opposed the motion clearly favored Ehlers, although they didn't mention his name.
"We need to start working on behalf of a candidate," said Jill Charbonneau, president of the Vermont State Labor Council, AFL-CIO. Her union endorsed Ehlers after a process that didn't give the other three candidates a chance to participate.
"This is a moment of truth for us as a party," said Steve May of Richmond, a Progressive who's running for the state Senate as a Democrat. "Are we a party or just a faction?"
But most speakers advocated caution. "We have four good candidates for governor," said party treasurer Martha Abbott. "Each has strengths, but each has weaknesses. There's potential for any one of these candidates to be fabulous or to be a disaster. It's too early for us to decide."
The debate was followed by a secret ballot; the final tally was 29-16 in favor of waiting.
The Progs did endorse two statewide officeholders who run as Prog/Dems: Lt. Gov. David Zuckerman and Auditor Doug Hoffer. They declined to endorse anyone in the race for U.S. Congress in spite of the appearance of Dan Freilich, who's challenging incumbent Democrat Peter Welch on a platform of campaign finance reform. Welch relies heavily on corporate and political action committee dollars, while Freilich has pledged not to accept any such funds. The Progressives require that their candidates forswear corporate donations. As a result, the party has never endorsed Welch.

They are, however, quite willing to accept his support. On Monday night, there was Welch at Zuckerman's campaign kickoff, giving a rousing speech on behalf of the Progs' top officeholder. But hey, sometimes it's better to be pragmatic than Progmatic.
Media Note
It's not quite comparable to Lady Liberty shaking loose and walking away, but the departure of Susan Smallheer from the Rutland Herald is a noteworthy occasion. She worked at the paper for nearly 40 years, earning deep respect in journalistic circles. Last Friday was her final day at the Herald; she began Monday at its onetime southern Vermont rival, the Brattleboro Reformer.
"She's one of those reporters who can do anything," said Rob Mitchell, general manager of the Herald. "Crime, politics, features. She's the model daily reporter."
He attributes her departure to geography. Smallheer lives in Springfield; she used to cover southern Vermont for the Herald. But the paper's increasing focus on its home county meant that she was commuting to Rutland every day.
When asked for comment, Smallheer deferred to her new employer, New England Newspapers.
"Susan will have an immediate and positive impact in boosting the Reformer's news coverage in the region," Kevin Moran, executive editor of the Reformer and its sister newspaper, wrote in an email. "And it'll be nice not to have to compete against her — for once."
Disclosure: Tim Ashe is the domestic partner of Seven Days publisher and coeditor Paula Routly. Find our conflict-of-interest policy here: sevendaysvt.com/disclosure.
Corrected June 15, 2018: An earlier version of this column misstated the Progressive Party's policy on corporate donations. The party requires that all endorsed candidates forswear corporate money.