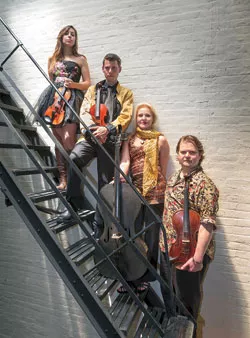 "We have some secret weapons. I'm not telling you what they are," says Ralph Farris, cofounder of and violist in the groundbreaking string quartet ETHEL.
Those weapons are of the musical variety, though, which is good news for attendees of the group's upcoming performance for the Lane Series at the University of Vermont's Recital Hall.
ETHEL shatter every preconception of what a string quartet can be. To pigeonhole the group as "classical music" would be to miss the point. Farris' colleagues are cofounder Dorothy Lawson on cello and Kip Jones and Tema Watstein on violin. Together, they excel in performing music of many genres — jazz, rock, folk, rap — and are more than happy to bust down any barriers between them.
The band's astounding list of collaborators reflects that passion for ignoring perceived musical boundaries. They include David Byrne, Andrew Bird, Joe Jackson, Todd Rundgren and Bang on a Can, as well as musical talents whose names may be less familiar, such as classical pianist Ursula Oppens, Czech avant-garde singer/composer Iva Bittová and ukulele virtuoso Jake Shimabukuro. ETHEL are not kidding when they speak of "the unifying power of music."
Farris, 42, never uses the words "quartet" or "ensemble" to refer to ETHEL. "We make up a string quartet, but the vibe really is that of a band," he says, speaking by phone from Manhattan. ETHEL are known for their improvisational shows and for disregarding the formal distance between performers and listeners.
Despite their nontraditional ways, Farris says that ETHEL have not, to his knowledge, been excoriated by the classical music community. He sees the group's work as a natural evolution of the form. "Every classical institution is having to reimagine their world now to keep themselves relevant … We didn't want to start something that we were going to have to change to make ourselves relevant," Farris says. "We wanted to be relevant from the beginning."
ETHEL's delight in defying convention is part of their appeal for the Lane Series. "ETHEL is exactly the kind of ensemble that we're interested in presenting," says director Natalie Neuert. "Their instrumentation is that of the traditional string quartet, their training is classical, and they can play all that music. But they've chosen not to go that route." Neuert praises not only the group's unique collaborations but its willingness to incorporate electronic music and effects.
In their Lane Series show, ETHEL will perform — for only the fourth time — "Grace," named for the sole album by the late American singer-songwriter Jeff Buckley. The centerpiece of the performance, though, is a suite of pieces by Italian composer Ennio Morricone from the 1986 film The Mission. Even Farris is surprised by how moved he and his bandmates are when they play this "gorgeous, lyrical" music. "We are just amazed at what the piece has come to mean for us," he says. "It gives us great joy to … put forth the spirit of this extraordinary score. I still well up with tears when I'm playing it."
The program also includes works by Brazilian composer Marcelo Zarvos, American multimedia artist Mary Ellen Childs and Vermont-born composer Nico Muhly. Neuert suggests "Grace" is "a great way to hear contemporary classical music, which we sometimes think can be dissonant and can make you uncomfortable. This concert is going to be like being bathed in light."
In one way or another, each of the selections in the program evokes its titular idea. "The concept of grace is a loosely binding element that is expressed in the various pieces in really different ways," says Farris. He refers to the "technical grace" of Vijay Iyer's complex piece "Mutation 1," as well as to the "grace and joy and love" of Carlo Mombelli's "Song for Sandra," which the South African composer wrote for his wife for their 30th wedding anniversary. "We're not prescribing an interpretation to the audience," Farris adds.
Asked about the music he's been enjoying lately, Farris lists off a highly eclectic roster: the a cappella ensemble Roomful of Teeth, Estonian composer Arvo Pärt, Rush ("There's no tighter band on the planet than Rush," he says) and Air Supply.
Wait — Air Supply? The Australian soft-rock titans? Turns out that Farris is working on a musical based on that group's oeuvre. The world may not be ready for one, but Farris and ETHEL surely are.
"There's some sort of validity in most artistic expression," Farris says. "There's always something of merit, and we're going to look for that … We are open-eared in our listening all the time."
ETHEL perform on Friday, November 15, 7:30 p.m., at the UVM Recital Hall in Burlington. Pre-performance talk at 6:30 p.m. $15-25. uvm.edu/laneseries