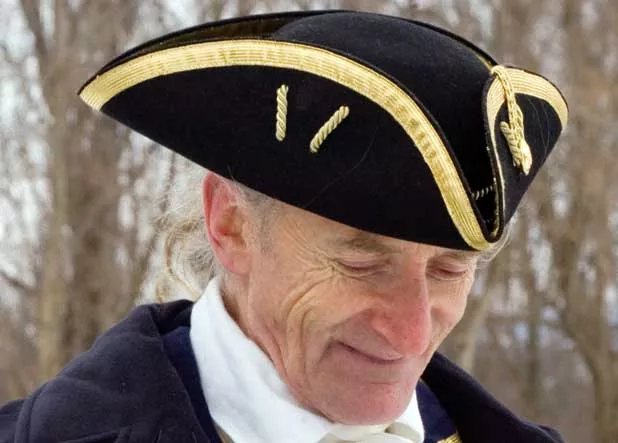 Matthew Thorsen
Hogue as Allen
Calais farmer and actor Jim Hogue has run for governor (in 2006), grilled policy analysts on WGDR at Goddard College, and brought his Ethan Allen living history presentation all over the state, performing at many Vermont secession-movement gatherings. But it's probably safe to say he's never appeared on Dutch TV.
That will change after the filmmaking team of Kel O'Neill and Eline Jongsma, U.S. correspondents for the television show "Metropolis," documents Hogue's latest performance for the weekly series on the Netherlands' public network VPRO. (It's also online with an English site at metropolisweb.tv.) "Metropolis" compiles short documentaries from "a global collective of video journalists and filmmakers," all addressing an overarching theme such as cops, drugs, beauty ideals or "the century of the city." Topics recently covered by O'Neill and Jongsma include a "cannabis clinic" in Oakland and an "America's Got Talent" contestant who preaches abstinence.
Now they will capture Hogue embodying Ethan Allen in "an improvisational/town meeting setting," according to a press release. "He will take questions and dispute the future of Vermont as Ethan returned from the grave" — all in the "idyllic" surroundings of tiny Adamant. Will the Green Mountain Boy convince a worldwide audience that Vermont needs to secede? Stay tuned.