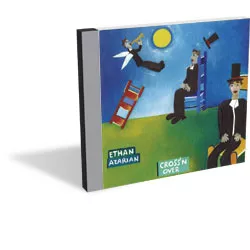 (Eat Records, CD)
On his latest record, Cross'n Over, Vermont native and Austin, Texas, resident Ethan Azarian continues to explore uniquely peculiar sonic territory. Fans of his surreal folk-art paintings will likely find the country-tinged album a fitting complement, while those unfamiliar with either will discover a gifted and distinct voice.
The album begins with the title track and imparts the same quaint, odd, handmade aesthetic reflected in the folk art gracing its cover — done by Azarian and his wife, fellow artist Melissa Knight. Over rambling acoustic guitar, Azarian paints a similarly strange but comforting paean to death. "Oh, dig a big hole in the ground, throw all your possessions in it / 'cuz you won't need 'em on the other side," he sings in a sweet, gruff baritone that exists somewhere in the space between folk-rock impresario Bobby Bare Jr. and legendary folkie Phil Ochs. Akin to his visual art, Azarian's wordplay is deceivingly simplistic; adolescent, but somehow also worldly and weary.
"Mexico" is next and seems to borrow the opening progression from Mazzy Star's classic "Fade Into You." Gary Newcomb's swooning pedal steel gracefully frames Azarian's gloomy musings.
"Upside Down" is pitch-perfect, blue-eyed country soul. There is an endearing, if stunted, innocence to Azarian's writing, fully on display here. But the singer contrasts his searching, straightforward prose with the album's most ambitious and nuanced arrangement, particularly on the song's driving outro, which features blooming steel lines over bright, staccato bursts from Knight's cello.
"Winter" is a curious highlight, especially considering that Azarian and Knight spend winters in Texas despite his claim in the song, "Winter is my favorite time of year." Still, Azarian's song, tactfully crafted and gleefully optimistic, may soften the impending blow in the Green Mountains for even the most ardent cold-weather cynics.
"Feet on the Ground" is yet another deliciously offbeat number, dedicated to the importance of keeping a level head amid life's unending challenges. There's something oddly reassuring in Azarian's unsophisticated delivery, almost like advice from your blue-collar father.
"1000 Miles" is a touching ballad, and an album highlight — thanks in no small part to Clare Surgeson's bashful backing vocals.
"Knock'n on Your Door" is another rambling gem, featuring some of Azarian's finest writing.
Following the truly strange "Clementine," Cross'n Over is laid to rest on a cello-driven, untitled instrumental, a beautiful elegy to a wondrously idiosyncratic record.
Ethan Azarian plays Burlington's Radio Bean this Friday, before the snowbird retreats to the warmer climes of Austin for the winter.