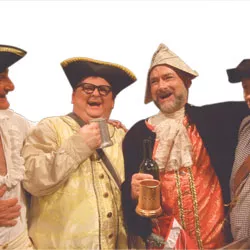 There's a lot going on in Jim Hogue's Mixed Nuts, which is part musical comedy, part history lesson, and built around a play within a play. The long and short of it: A band of Vermont State Hospital inmates are on tour with a musical revue — telling the story of Vermont history through popular American songs of the 1920s and '30s — when they decide to escape from hospital custody and form an independent republic.
Oh, and they're led by a charismatic inmate named Jeremy Stiles, who fancies himself the second coming of Ethan Allen.
The resulting screwball comedy goes up at the Unadilla Theatre in Marshfield next week.
Hogue, a Vermont historian, playwright and actor, is already well known locally for bringing to life the leader of the Green Mountain Boys. Several years ago, he wrote and performed a one-man show based on Allen's writings called The Gods of the Hills. This time, he's exploring a looser interpretation of the Vermont hero, focusing on independence-minded eccentrics and their fearless leader.
The protagonist of Mixed Nuts is "the McMurphy of the group," Hogue says, referring to the charming con man in Ken Kesey's One Flew Over the Cuckoo's Nest. "He leads them on to greater things. He understands them and he likes them, and, of course, he gets in trouble for it."
And like McMurphy's, Stiles' institutionalization is questionable.
"He knows damn well he's not Ethan Allen," Hogue says. "Other people think he thinks he's Ethan Allen, but he gets so wrapped up that he slips into 18th-century langauge all the time."
A member of the secessionist movement Second Vermont Republic, Hogue has long been enamored of Ethan Allen.
"He was always the guy out front taking chances, and he was a fantastic leader because nobody ever got killed, on either side, right up until the taking of Ticonderoga," Hogue says. "That blows me away."
In Mixed Nuts, Hogue hopes to dive a bit deeper into the character of Ethan Allen. There is certainly a theme of secession in the play, he says, but it is secondary to the relationships that develop among the inmates — Hogue's Green Mountain Boys — and their young caretaker, Dr. Elizabeth Darcy, who is just as swept up by Stiles' charms as the rest of them.
Musical numbers include songs made popular by Ginger Rogers and Fred Astaire, such as "Let Yourself Go," "Music Makes Me" and "Night and Day," which Hogue weaves throughout the show not just to entertain but to advance the plot, he says.
Hogue is especially pleased the play is opening at the unconventional Unadilla, he says, because Mixed Nuts is "way beyond the confines of what people normally consider theater." Audiences are in for "some great music and some great actors, and a lot of fun stuff that you would never see at those other stuffy theaters."
"I love working in a proscenium arch," he adds, "but sometimes I just want to break out."
When told he's beginning to sound a little like the independence-minded Green Mountain Boys he's written into his play, Hogue chuckles.
"There's a lot of me in this one," he says.